After an eventful morning spent at Maokong (貓空), the next destination would be Taipei Zoo (臺北市立動物園) which is located along the same Maokong Gondola line, and just two stations from Maokong.
---
Taipei Zoo (

臺北市立動物園)
(2pm)
As a solo traveller, zoo is not exactly my kind of thing, you know?  If it wasn't due to its close proximity from Maokong and its popularity as the largest zoo in Asia, I wouldn't have bothered. Anyway, many would visit this zoo just to see the star Pandas.
Now, at NT65 (USD1.95) entrance fee, there was really no reason not to just pop in and take a look, I'd thought.
Getting to Taipei Zoo
I opted for a regular cabin (not the glass-bottom) on the return trip. Guess what? I got the entire cabin to myself. Not that there wasn't anyone in the queue. Apparently, they did their best in not mixing groups giving each much needed privacy. Nice!
INFO: You can get unlimited MRT and Bus rides in Taipei through the Taipei Transport Fun Pass. It also gives you access to 5 tourist shuttle routes. One option also includes unlimited rides on the Maokong Gondola. Yes, unlimited. :) Most people who have used it think it's value for money. One good thing is that you can also save precious time by skipping the ticketing queue. 
You can either alight at Taipei Zoo Station where the main entrance is or Taipei Zoo South Station. I alighted at the latter as some reviewers said it's down slope and easier to walk.
TIP: If you are here solely to visit the Pandas, do alight at Taipei Zoo station (main entrance). Otherwise, you need to walk the entire zoo to see the pandas.

In any case, the panda section was one of the least impressive enclosures in the zoo. Too many people and too few pandas….think only two. I'd to stand behind rows of people to get a photo or two of the pandas.   
From the south entrance, I was told to board this cute shuttle train (FOC) that took me to the official starting point in the south.
Brisk-Walk through a very BIG Taipei Zoo
I'm not kidding. I brisk-walked through the zoo right from the start, only momentarily pausing to take photos with a few selected animals. That took me 3 hours even after skipping several "buildings" and segments. I was almost running towards the end because I was late for my next itinerary.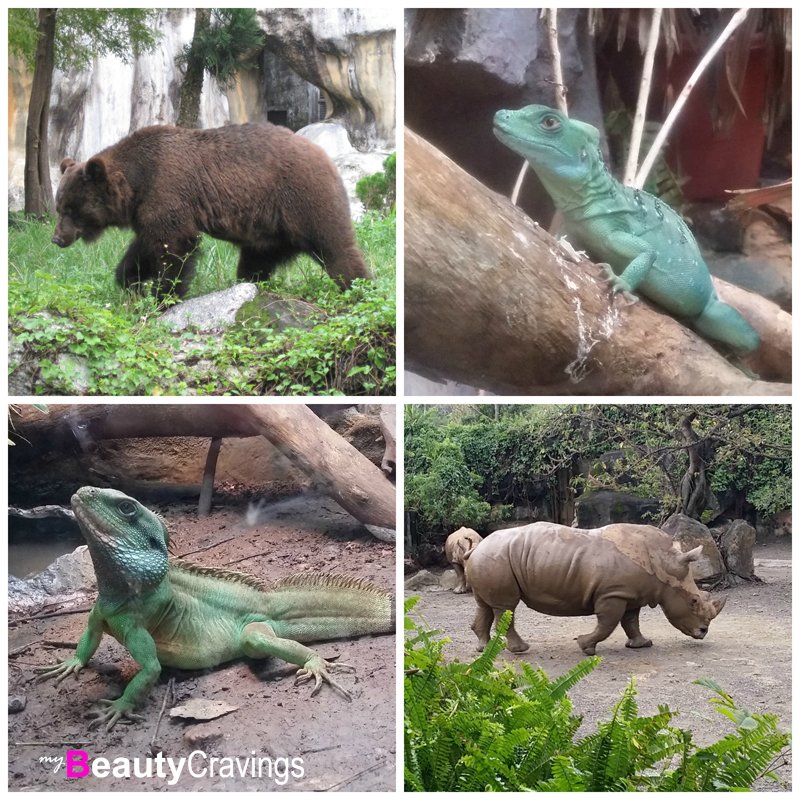 No wonder people said Taipei Zoo was TOO HUGE. It really was! I'd overheard so many times when people said "Wah. So late already. Let's hurry up."
There were just too many things to see, and you could easily spend an entire day here. Even if you skipped the segments, you would still need to walk a long way out. No wonder some online reviews shared that Taipei Zoo was in fact too huge for family with young kids. It required too much walking. 
Oh No. The Gorilla Charged At Us!
A macho-looking gorilla was sitting near the glass panel that separated him from the crowd who were observing his every movement. The huge animal was just sitting down and enjoying his afternoon veggie snack.
All of a sudden, he stood up and looked out of the glass panel. We were so excited to see his frontal view.
While I was distracted working on the camera, I heard a loud bang. It was loud enough to cause some to shriek. Looking up, I realised that the gorilla had charged towards the crowd and collided with great impact against the glass wall.
He backed off, looked a bit concussed and was clearly in great pain. He rubbed against his knee and frowned in agony, before sitting down to rest.
Why did he do that?
After re-watching the video, I noticed a Caucasian woman staring at the gorilla intensely and deliberately. She'd stretched her neck forward with her face almost touching the glass panel, and was looking fixedly into the gorilla's eyes. My guess is that she knew such an act would cause gorillas to react. Was she trying to provoke the gorilla so as to please her curiosity, and get her ticket price worth?
I felt sorry for the imprisoned gorilla who already had to endure being watched upon the entire day. And someone obviously thought it wasn't enough misery.
Is Taipei Zoo worth going? 
Yes. If you have an entire day for it, and if you or your kids love animals…and walking. But no if you have a tight itinerary. 
I'd reached the main entrance/exit around 5pm, after brisk-walking for close to 3 hours. On hindsight, I thought Zhinan Temple would have been a more suitable destination for me than Taipei Zoo – cool, high altitude, amazing scenery and touring at a more leisure pace. Next time maybe….
---
Shenkeng Old Street (深坑老街)
Next destination was the popular tofu street or more aptly described as the "Smelly Tofu (beancurd) Street.". It was just a short bus ride from the zoo.
Getting to Shenkeng Old Street
I took bus #236 from outside Taipei Zoo MRT – a 10-minute ride. If you can find other bus services that go there, please avoid taking #236. After alighting at the terminus stop, I had to walk 10 minutes to Shenkeng, out of which half of it was spent walking along busy road with no pedestrian walkway. The road was flanked mostly by car workshops, making it a rather unpleasant and unsafe walk.
TIP: Bus 660 from Muzha MRT Station may bring you straight to Shenkeng Old Street. Google it and confirm, ok? I took that bus on my return trip.
By the time you see a big tree, you would have reached the entrance of Shenkeng Old Street.
Tofu, Tofu and more Tofu
(5.20pm)
The street sold all sorts of tofu-related dishes and snacks. I tried tofu-ice cream (original flavor) and smelly Teppanyaki Tofu (铁板臭豆腐). The ice-cream (NT40) was okay, tasted like sweetened cold tofu, duh.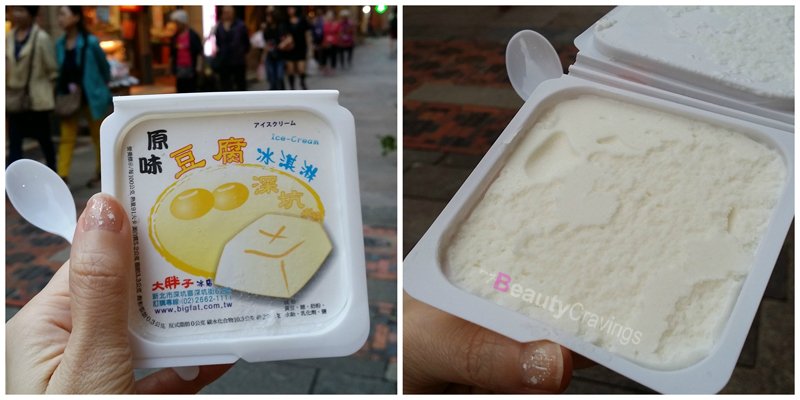 Ordering the Teppanyaki Tofu (NT35) was on the other hand, a huge mistake. It was two huge pieces of really stinky tofu that happened to be wet and gooey. The taste lingered on in my mouth, and I felt nauseous for the next few hours.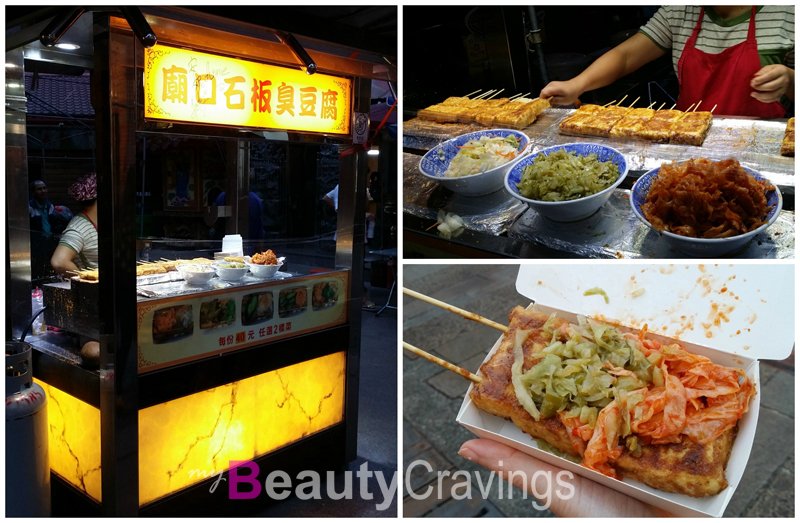 A solo traveler like me shouldn't order this as it was darn filling. I couldn't take in any other food thereafter. And that kind of concluded my trip to Shenkeng.
Is Shenkeng Worth Going? 
Just like any old street in Taiwan, you can find knick knacks, snacks and souvenirs here. However, I have to warn you that the street was very short. I'd spent less than an hour here despite trying my best to lengthen the duration.
It also lacked the kind of bustling ambiance I'd experienced at other old streets, such as Jiufen and Jinshan Old Streets. If it's not on the way, I wouldn't recommend you to make a special trip here….err….unless you are a lover of smelly tofu. 
How to get from Shenkeng Old Street to Taipei?
To get back to Taipei MRT network, cross the road from outside Shenkeng Old Street (the big tree). Take bus #660 and alight at Muzha MRT Station. Journey time: 15 minutes.
---
Ximending Again!
(7pm)
I was dead tired, having walked the entire day. But it was a little too early to conclude the day. Plus I needed to find something to get rid of the horrible taste that'd lingered on. I was still feeling nauseous. No joke.
Okay, here's how I was teased by my friend. I'd complained to him about feeling nauseous after eating the gooey smelly tofu.

"What do you expect? If you'd decide to go to Shenkeng (深坑), you should be prepared to find "sh*t" in the deep pit. Ha Ha Ha."

Shenkeng means "Deep pit" in Chinese. :/ 
In the end, I decided to revisit Ximending. It was a poor decision because I found that I was too tired to shop. My legs were aching. After getting a plum bubble tea (NT35) to wash off the Smelly Tofu taste, I called it a day.
28,000 steps walked today. That's equivalent to about 21km! I'm a crazy traveller.
That's all for today. Stay tuned to Day 4 of my Taipei 8-day Travel where I would cover North Coast Tour and Keelung.
Essential Info:
This post may contain affiliate links, meaning I earn a commission if you make a purchase, at no cost to you. Read my full disclosure for more info.
Accommodation:  Neosoho near Taipei Main Station
Month of Travel:  October
Itinerary for the Day:  Maokong (Camphor Tree Trail, Tea Appreciation) >> Taipei Zoo >> Shenkeng Old Street >> Ximending
Mode of Transport:  Metro, Bus
Free Taiwan 'Must-Buy' Checklist:  Download
Get Printables: 8D/7N Taiwan Itinerary
Like to hear about the fun things I did as a solo traveler in Taiwan? You can click the button below to subscribe, or connect with me through facebook or instagram. See you there!
---
Related Posts:
(Visited 7,207 time, 1 visit today)