My Taipei's 8 Days Tour had finally inched towards the end. Day 7, the eve of my return trip to Singapore was relaxing to the point of being uneventful. Ironically, it was also the day that saw me spending the most – yes, time to load up on souvenirs, gifts and whatnot.
Read on to find out "What Not to Eat in Taipei" because there were a lot more misses than hits in today's meal selection. So sad! :~(
The mini pancakes bought from Raohe Night Market the night before was still soft and delectable. Definitely a great choice for next-day indoor breakfast. As with the previous few nights of staying in an apartment, I'd been enjoying the luxury of waking up naturally (late). The relaxing pace saw me setting off only around noon, which should be acceptable since the tour was coming to an end. In Chinese, we call it  先苦后甜…meaning suffer first, then enjoy. Heh!
---
Shopping Around Taipei City Hall 
(12pm)
Travelling from my Airbnb apartment near Houshanpi MRT to Taipei City Hall was so convenient. 10 minutes was all it took to get me into the center of business and shopping activities. 
Xingyi Shopping District in City Hall comprises a few malls such as Hankyu, Shinkong Mitsukoshi (新光三越), Breeze and Eslite, some of which were interconnected.
As a first-time shopper in this district, it was a little confusing especially when I've had a task to complete, i.e. to look for a specific store – L' Herboflore known for its "legendary" sheet masks. There was supposed to be a L'Herboflore store in Shinkong Mitsukoshi, but I couldn't find it there. After leaving the mall and crossing some roads, I saw another ShinKong Mitsukoshi mall *rub eyes*. How many Shikong Mitsukoshi are there in Taipei City Hall? LOL . Sadly, the elusive L'Herboflore was not to be found in either of the malls.
In the end, I found L'Herboflore in Eslite Mall and spent a good NT1060 on just 9 pieces of sheet mask, and a box of eye masks.  
TIP: There was a L'Herboflore outlet in Taipei Main Station itself. You could get the masks on your day of departure. No need to search high and low for it, like I did! Alas, this I knew only on my last day in Taipei. Haiz!
Up till today, L'Herboflore is the most expensive masks I've ever used! The most expensive sheet mask within the range costs NT250 per piece, while the lowest end was retailed at NT50.
By the way, I'd never been a firm believer of sheet masks, and was never able to convince myself on the edge a sheet mask had over an intensive moisturiser or serum. Perhaps, this well-loved L' Herboflore sheet mask would change my thought?
Stay tuned to my review of L' Herboflore sheet mask, coming up soon.
---
Getting Souvenirs and Gifts in Taipei
With the trip coming to an end soon, today was the day to grab souvenirs and gifts. A random buy from a Taiwanese confectionery outlet located at the basement of Shinkong Mitsukoshi (新光三越) was well-received by friends and family members. Even the no-nonsense partner said it was good!  Of course it was good – I was able to sample them before buying! =) 
Must-Read: Things to buy in Taipei
Such freshly-baked Taiwanese bakeries come with short expiry date (to consume within 1 or 2 weeks) and hence should be purchased towards the final leg of your trip.
TIP: One very popular bakery that's renowned for its award-winning Pineapple Tarts is Chia Te Bakery (see location). You can skip the queue by ordering Chia Te Bakery online and picking it up from Taiwan Airport just before leaving Taiwan. In that way, you'll save yourself the effort of lugging too many things during the trip and also get fresh orders just before departure. However, please remember to collect them before entering Immigration, okay? :)
I also bought a few boxes of tea for myself from a tiny supermarket found at the basement of Shinkong Mitsukoshi.
---
Taipei McDonald's – Buy or Skip?
Lunch was a quick one at McDonald's, located within Taipei City Hall Station Underground Mall. I've always been keen to try food from international fast food chains when I travel, especially if the menu item is not available in Singapore. So far, it'd worked out well in many countries, such as the fabulously-thick and juicy beef patty from McDonald's@New Zealand (yum! yum!) and the succulent Wagyu beef from MOS Burger@Hokkaido. Unfortunately, my experience in Taiwan was a little different.
The pepper pork chop (NT104) was OMG, so disappointing! It was dry and pathetic looking, nothing like the photo displayed on their menu. Why didn't I learn a lesson from the awful McDonald's breakfast consumed on Day 1 in Taipei? Served me right, yes? 
---
Is Wufenpu worth going?   
(8.3opm)
Spent 4 hours from 4pm to 8pm just to complete the remaining 50% of the stores in Wufenpu (五分埔) which I couldn't complete on Day 5.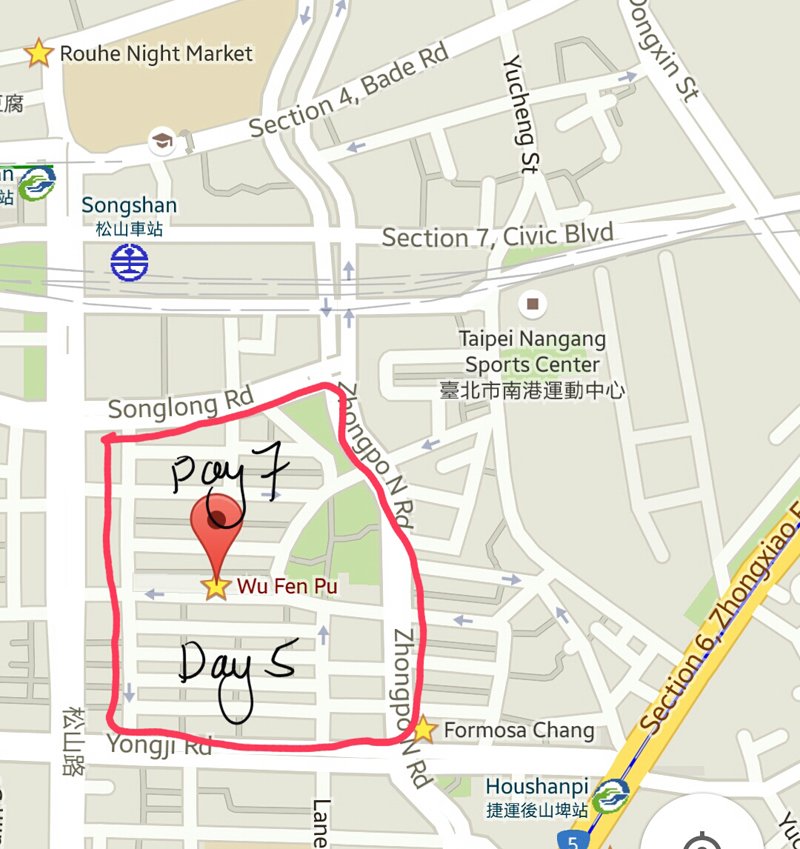 The second half of the stores nearer to Raohe Night Market wasn't as interesting. The clothes appeared more inferior and items were poorly designed. It was an uphill task finding things to buy, despite spending a good 4 hours combing the alleys.
What an incredible way to waste time! =P
Related: 9 Days Taiwan Itinerary Around Taichung
---
Raohe Night Market – So many stores closed? 
It was Tuesday and the experience was vastly different from the one I've had two days ago (Sunday). Many of the stores I'd wanted to try, such as grilled Escargot were not opened to my dismay. The street was also quieter as a result and easier to walk through, but less "happening".  For some psychological reasons, queuing makes the food taste better. =)
Must-Read: Raohe Night Market on a Sunday
TIP: Was it just a Tuesday-Sunday difference that resulted in a different level of crowd and number of stores in operation?

It was only after returning to Singapore that I figured out the reason. The huge crowd that I saw at multiple tour destinations could be due to my trip coinciding with China's 'Golden Week', a week-long public holiday in China. If you want to avoid massive crowds, please google and find out when the Golden Week would fall on. 
With limited food choices at Raohe Night Market today, I ordered 水煎包 (pronounced as Shui Jian Bao) and loosely translated as "Bun fried in water".
At NT12 per piece, it was probably the cheapest food I've ever bought in Taiwan night markets. As reluctant as I was in purchasing this initially, the Water-Fried Bun turned out to be quite good – it was served piping hot. When I went back with intention to get a second one, the store was closed. Arghh! 
The 大雞排 (pronounced as Da Ji Pai) is a popular Taiwanese street snack. It's basically a huge flat piece of Fried Chicken Steak. Of all the Taiwanese chicken steak I've tried in Taiwan, Singapore or Malaysia, this was the worst of the worst.
Instead of being boneless and made from Chicken breast, this 大雞排 (NT65) seemed more like a chicken part beaten flat as it was with all the bones in place.  Not only was it inconvenient to munch on (yeah, imagine spitting out pieces of bone while walking through the night market), it was not crispy at all.
All I could taste was powdery starch and tiny bone pieces. The taste wasn't to my liking which was a surprise given how difficult it was to go wrong on fried food stuff. If it wasn't convincing enough about how much I'd hated it, 70% was thrown away right on the spot.  Wasteful indeed, but the chicken steak wasn't worthy to be consumed. FYI, I hardly throw away food. This was an exception.
Thankfully, the next item ordered was a good reprieve from the series of bad food choices. The Bitter gourd Honey juice (苦瓜蜂蜜) was by far the best drink I've had in Taiwan (NT65) – so much more memorable and unique than Bubble Tea that's already prevalent in other countries. 
But auntie could have given me more of the bitter gourd juice. Discounting the froth on the surface, it was only 65% filled.  Not enough for bitter gourd lovers like me! 
As you can see, there were more misses than hits at Raohe today. What followed next – the grilled squid (NT50) which was selling at a great discount as proclaimed by the vendor ("I'm closing shop, here's a good deal for you") – was just average. A bit too bland and dry, and nothing to shout about, unless you are a bubble-gum lover, i.e. you love to chew! =)
---
So, that's it. Stay tuned to my final post where I would share tips on the easiest route to get through Taipei Train Station while lugging along heavy luggage (avoid stairs!), and logistics details on luggage-depositing services and how to get back to Taoyuan Airport.
Essential Info:
This post may contain affiliate links, meaning I earn a commission if you make a purchase, at no cost to you. Read my full disclosure for more info.
Accommodation:  Airbnb near Houshanpi Train Station
Month of Travel:  October
Itinerary for the Day:  Taipei City Hall Shopping District >> Wufenpu >> Raohe Night Market
Mode of Transport:  Metro, Walk
Free Taiwan 'Must-Buy' Checklist:  Download
Get Printables: 8D/7N Taiwan Itinerary
Like to hear about the fun things I did as a solo traveller in Taiwan? You can click the button below to subscribe, or connect with me through facebook or instagram. See you there!
---
Related Posts:
(Visited 5,099 time, 1 visit today)