Let's continue with our Osaka Day 2 itinerary and have a ride on Tempozan Ferris Wheel, as well as visit a mall next to it, known as Tempozan Market Place. I'll also share other attractions you can visit in the western part of Osaka. 
For better story flow, you may want to read about what we did earlier in the morning which included a visit to a cute shrine and a wonderful sushi meal. Once you are done, we'll begin our tour of West Osaka using the one-day unlimited subway pass that we got as part of the YOKOSO Pass (read review).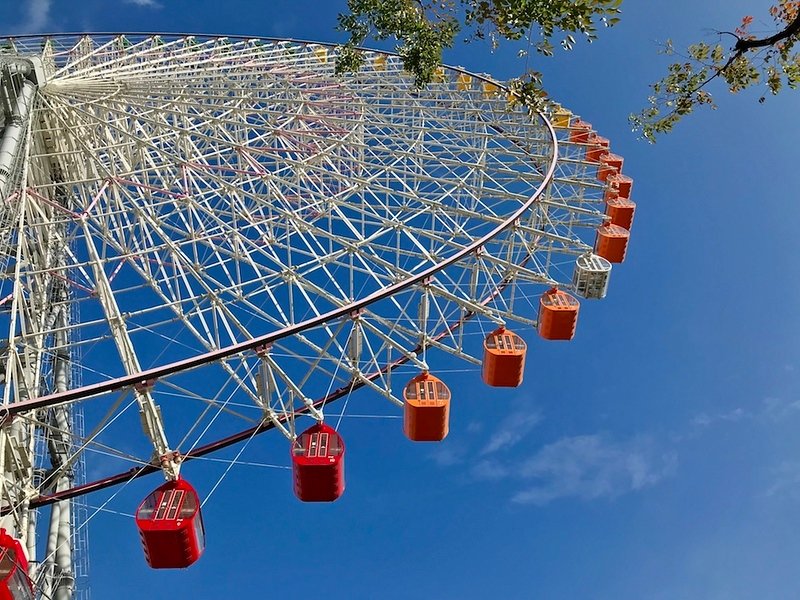 ---
Tempozan Giant Ferris Wheel in West Osaka
(10.45am)
After a wonderful sushi meal at Endo Sushi, we boarded a train at Awaza Station and alighted at Osakako Station. Tempozan Ferris Wheel is located within a short and comfortable 5-minute walk from this station. 
From a distance, we could already see the huge ferris wheel beckoning to us. Mid-way through the walk, we were distracted by some roadside vending machines and couldn't help feeding them (and ourselves). :) 
Here are the drinks we got! Vitamin C Lemon drink for the man and caffeine for me. 
As we approached Tempozan Giant Ferris Wheel, an equally gigantic "lady" giraffe stood at the entrance of a mall. Made entirely of Lego blocks, this cutie even came with long and voluminous eyelashes to enchant her visitors! 
For info, Osaka Legoland Discovery Center is located within Tempozan Market Place, a mall located next to Tempozan Giant Ferris wheel. 
TIP: For a family-friendly trip, you may consider adding Osaka Legoland to your itinerary. If you hold the Osaka Amazing Pass, you can get free entry to both attractions (and at least 40 others). 

In addition, the popular Osaka Aquarium Kaiyukan is also located nearby. 
Ticket Price: Tempozan Giant Ferris Wheel
(11.15am)
Finding the ticketing booth to Tempozan Ferris Wheel was easy as we were guided visually to the huge structure. There, we were relieved to see just a handful of people in the queue.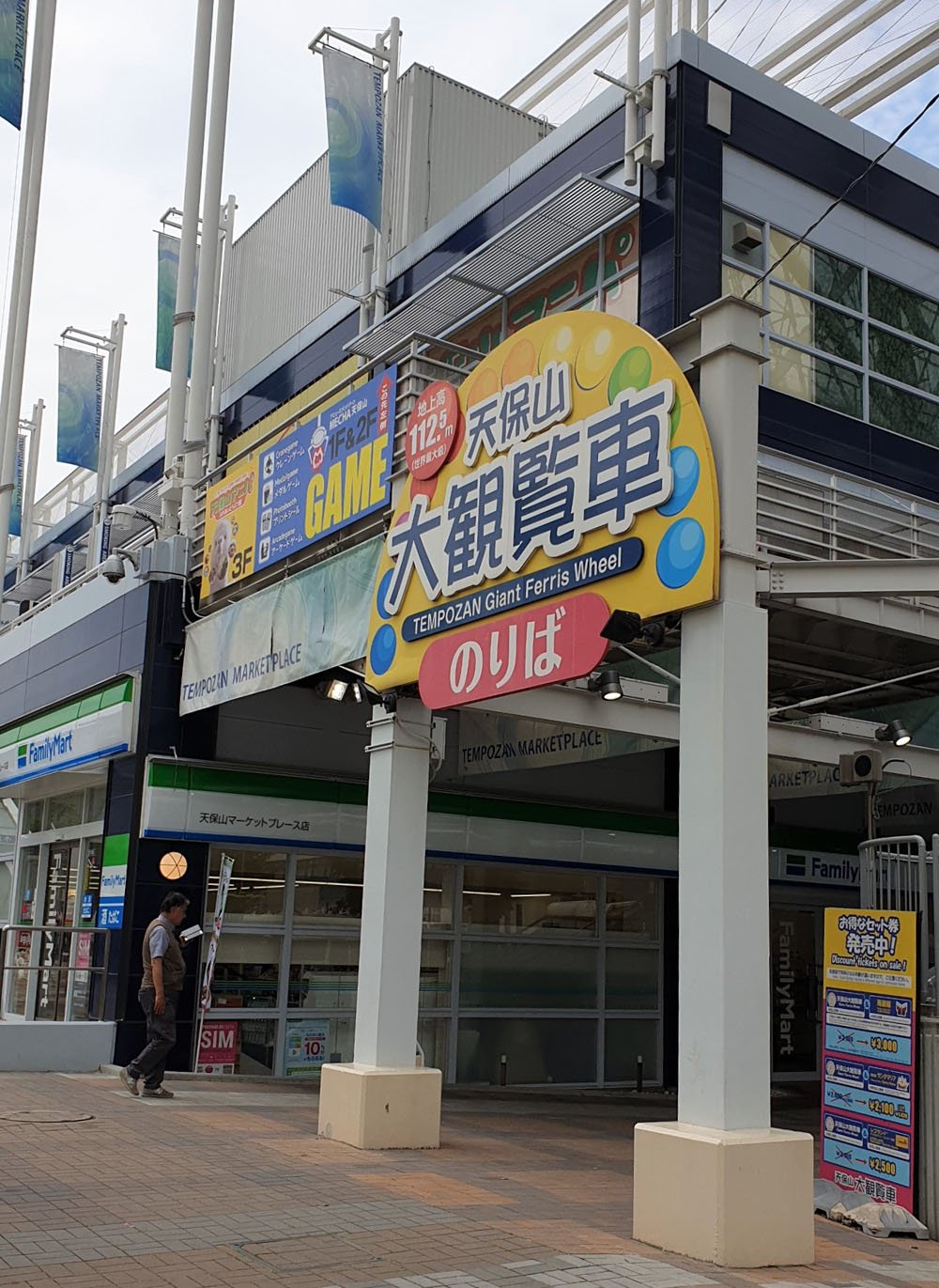 Since we didn't have the Osaka Amazing pass, we needed to pay ¥800 each for the ride. Luckily, our YOKOSO pass helped defray part of the cost when we enjoyed a ¥100 discount each by flashing the pass.
You may wonder why we didn't get the Osaka Amazing Pass since it's so value for money? Actually, we thought long and hard and would definitely have gotten it if we had more days to spend in Osaka. But we only had one full day and would leave Osaka the next day. 
Wonder where we traveled? Here's a quick summary of where we went and what we did in our 15-Day "Osaka & Around" Itinerary (Part 1  |  Part 2  |  Part 3)
If you are spending the bulk of your time within Osaka, I highly recommend you to get the Osaka Amazing Pass. You can make up the cost by visiting just 3 or 4 out of the 50+ free-to-enter attractions.
Types of Ferris Cabin at Tempozan Ferris Wheel
There are two types of cabin – those with glass bottom and without. Both are priced the same but those who opt for the latter (non-glass cabin) may be able to fast-tracked through the queue. 
Not super eager to see through the "bottom" having done that in Taiwan (and didn't find the experience fascinating), we opted for a normal cabin and were pleased to have the entire cabin to ourselves.
That's two persons occupying a cabin meant for 8. As such, we got to enjoy a memorable private moment in the air for at least 15 minutes.
Tempozan Cabin Experience: Worth a Ride? 
The air-conditioned cabin and the stable ride was so comfortable we could even walk around and set up tripod. Can't tell you how many comical photos we took since no one was looking (and judging).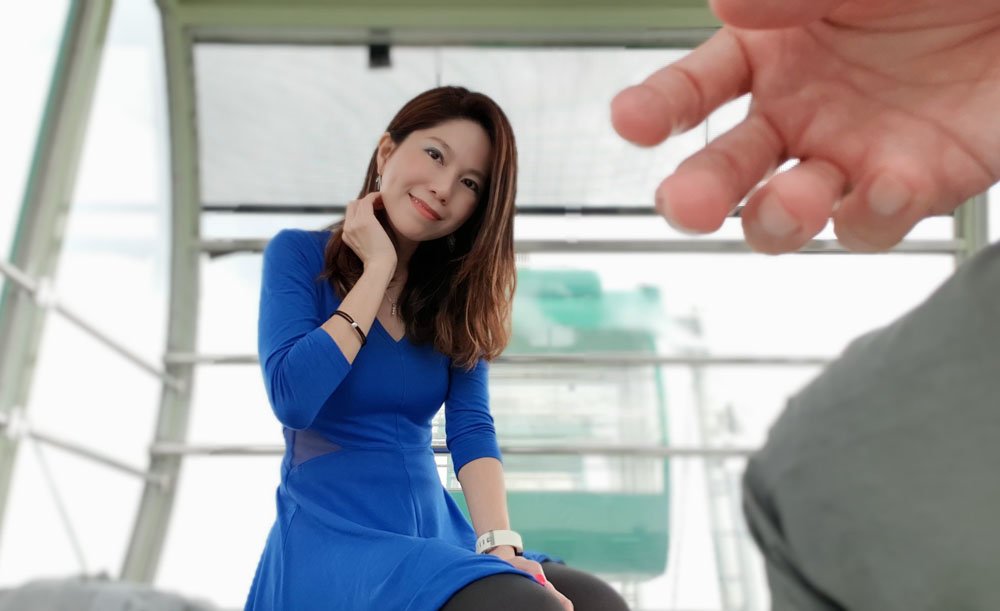 As for the view at Tempozan Ferris Wheel, it was good as you can see Osaka Bay, Mount Ikoma, Mount Rokko and Akashi Kaikyo Bridge from a height of 112.5 metres (about 35 storey tall).
However, the view wasn't stunning. But this may not be a fair statement coming from us, as we traveled extensively out of Osaka and were exposed to lots of spectacular views in various cities and towns.
All in all, I think Tempozan Giant Ferris Wheel offered a good experience within Osaka city and is worth a ride if you happen to be nearby, or if you hold an Osaka Amazing Pass. Coz why not since its free, right? 
Can't deny that we spent more time taking silly "wefies" in the air than in admiring the scenery. But that does count as a travel experience too, isn't it? :)
TIP: There are a few ferris wheels in Osaka such as HEP Five Ferris Wheel, Redhorse Osaka Wheel and Tempozan Giant Ferris Wheel. All of them are free if you hold the Osaka Amazing Pass. HEP is the easiest to get to. 
Attraction Info: Tempozan Ferris Wheel
---
Tempozan Market Place – Small & Kids-Friendly Mall
(11.40am)
Done with the fun ferris wheel ride, we instinctively entered Tempozan Market Place. This mall houses the Legoland Discovery Center, some fast food restaurants and a handful of local restaurants. 
Avid shoppers would likely be disappointed as the few shops at Tempozan Market Place sold mostly souvenirs and stuff targeted at kids. 
But one thing drew our attention – a room filled entirely with Gashapon, i.e. vending machines that dispense random capsule toys.
I strolled through the aisles and wanted to get a toy from one of the machines, but was overwhelmed by the huge selections. In the end, I walked out empty-handed, probably because none of the toys spoke to me. 
Well, at least I did spend some time studying the types of toy categories available, and vowed then to get one before I leave Osaka. :)
Attraction Info: Tempozan Market Place
Opening Hours: 11am to 8pm
Location: View map
---
Popular Attractions in West Osaka
To help you with your Osaka travel planning, here's a list of popular attractions in West Osaka:
1. Universal Studio Japan (Get online ticket)
2. Osaka Aquarium Kaiyukan (Get online ticket)
3. Tempozan Giant Ferris Wheel* (FREE with Osaka Amazing Pass)
4. Legoland Discovery Center* (FREE with Osaka Amazing Pass)
This concludes our "tour" of western Osaka. In the next post, you'll see us exploring Osaka Castle, Kuromon Market and more places in central Osaka. Stay tuned! And don't forget to subscribe to our newly-published honest reviews.
SUBSCRIBE
Related Posts:
Pin This!
(Visited 215 time, 1 visit today)