Hi babes and hunks (if any), it's been a while since I've last updated. For those who have been following me on Instagram, I was on a week-long trip to Thailand, covering Bangkok and Hua-Hin. More on the trips would be shared in subsequent posts.
Right now, let's have a quick look at the beauty items purchased from Bangkok Suvarnabhumi and Singapore Changi Airports (at tax-free prices). I'll also share a little on the things worth buying in Bangkok.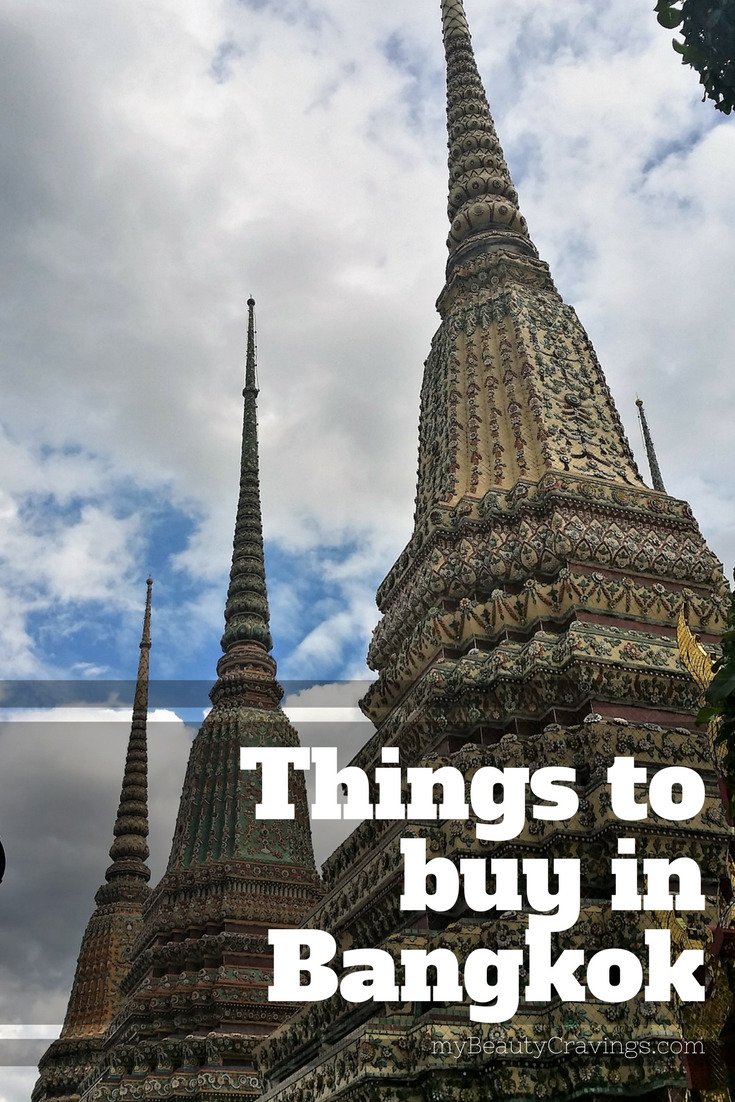 I'm sure many of us have been to Bangkok, because when I was there, I felt like I was in Singapore. There were SO many Singaporeans there…in Chatuchak, Platinum Fashion Mall, Central World….I was surrounded by Singaporeans.
---
Beauty Items Hauled from the Airports
One of the things I'll do before going on a trip is to list down items I like to buy from airport's duty-free shops. Most of the time, beauty items, perfumes and liquors are significantly cheaper than getting them in public retail stores.
Ok, let's not get distracted by me! Shall we zoom into the beauty items purchased during this trip?
1. Clinique Superbalm Moisturizing Gloss
This lip balm has been my all-time favorite and cured me of dry and chappy lips. You can read more about why I love Clinique Superbalm Moisturizing Gloss so much. This time round, I got myself a "Ginger" which is a mid-tone nude brown with a hint of pink – my favorite color thus far.
It was priced at 580 baht (S$23) at Suvarnabhumi Airport, about the same price if you buy it at Changi Airport (view latest price on Amazon, Ebay and Walmart). 
2. Lancome Virtuose Precious Cells Mascara
This is one of the rare Super Holy Grails of mine – a mascara that gives me length, volume and curl, and is quite resistant to smudges. Unlike fibre mascara, Lancome Virtuose Precious Cells feels comfortable – no entangling of the lashes or lashes sticking to each other.
Review: Best Mascara For Everyday Use | Lancome Virtuose Precious Cells Mascara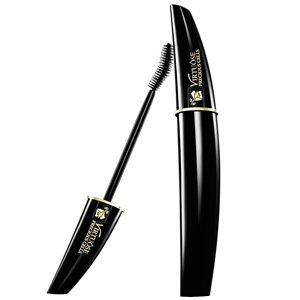 Try it if you haven't. I'm sure you'll like it too. I've already used close to 10 pieces of this everyday mascara. This sells for about S$37.50 and 935 Baht at the airports (view latest price on Amazon, Ebay and Walmart). 
3. Kiehl's Creamy Eye Treatment with Avocado
I normally consider my Holy Grail beauty items as those I would repurchase over and over again. With this repurchase, Kiehl's Creamy Eye Treatment with Avocado is newly categorized as one of my holy grail beauty products.
This time round, I got myself a jumbo size (28g) at less than S$60 from Singapore Changi Airport. A small bottle half the size would normally sell for $50 in Singapore. So this is quite a great deal (view latest price on Amazon, Ebay and Kiehl's Official).
There is a big price variation between the airports. Over in Suvarnabhumi Airport, this jumbo size sells for over S$80. So, get it in Singapore!  
By the way, I've just recently found out that this avocado eye cream works really well as a lip moisturizer…simply because it doesn't have a weird taste. In fact, it's tasteless which is great. Now you know why I'm getting the jumbo size. 
4. L'Occitane Hand Cream (Lavender)
This was an impulse purchase because my hands were really dry after the trip. Strangely so because I thought Thailand is a humid country, just like Singapore? Maybe the swim, daily salt on skin (due to perspiration) and dry cabin air caused my skin to peel.
Got L'Occitane Lavender Hand Cream at around S$24 at Singapore Airport. It costs slightly more in Suvarnabhumi Airport (see live price on Amazon, Ebay and Walmart). 
---
Other Beauty Products on my Airport Repurchase List
The above wasn't exactly a big list, right? That's because I still have backup stocks of the following. Otherwise, they would normally be on my Airport Repurchase List too. 
Click on each of the links above to read the detailed reviews. FYI, these are all my holy grail beauty items.
Post-edited in 2017
There are more DFS purchases made in 2017 and I'm sure you will love these products as well. Check out these posts. 
---
Things to buy in Bangkok?
Enough of the DFS items to get at airport. You may be curious about what to buy in Bangkok? Now, before we proceed, I have to declare that I'm not an expert. I've only been to Bangkok twice, the first being more than a decade ago. The following are what I personally found worth buying (or saw people lugging the items). 
Travel and Save: Enjoy 10% savings off hotels on Booking.com
My first shopping impression – there wasn't much things worth buying if we are talking about international brands. These brands which were commonly found in modern shopping malls, such as Siam Centre, Siam Paragon and Central World were priced about the same as that in Singapore. In fact, most of the time, I found them slightly more pricey.
An exception was Bras in general (e.g. Wacoal). A wacoal bra ranged from 600 to 800 baht (S$24 – $32).
Crispy seaweed snacks such as Tao Kae Noi were also almost half the price over in Thailand. Talking about Tao Kae Noi, you have to try the Tempura flavor if you haven't (about 39 baht or S$1.60). It was soooo good!
I also saw people lugging cartons of thai-produced instant noodles. I bought the spicy minced pork one, but you can also take a look at the Tom Yam flavored ones.
Pork floss and Koh Kae Peanuts were also local produce worth buying. 
I also bought almost $100 worth of snacks that were not available in Singapore, such as Tom Yam flavored Cashew nuts, mixed nuts, fried shrimps and fried tiny anchovy. Happy shopping and exploring on titbits. I'm sure you would have a great time with the wide array of delicious options.
How can we forget about apparels, right? You can get good deals at Pratunum Market. Due to the massive crowd and small alleys, it was a challenge for me to shop there. I could only manage to squeeze through and leave. Nonetheless, I ended up spending a few hours in Platinum Fashion Mall, another wholesale centre that came with air-conditioning.
Things may be more expensive over here than Pratunum and they hardly accept bargains, but at least it was a more comfortable shopping experience. You can get tops for about 100-300 baht ($4 to $12) on average. Do note that in both places, you do not get to try the clothes. It's cheap enough to take a bet on it. 
TIP: Are you visiting attractions such as SEA Life Ocean World, KidZania Bangkok and Safari World in Bangkok? If you are, these links can get you admission tickets that are significantly cheaper than the official rates.
Another brand that I saw people loading up on are Naraya bags and accessories. Naraya sells a good assortment of bags, tissue holders, pouch, pencil cases and even kitchen wares and soft toys. People were carrying shopping baskets within the bag outlet…quite a strange sight if you asked me. Thought that's a scene reserved for the supermarkets.
Tell you something, these customers' baskets were filled to the brim. I ended up being one of them, buying more than 5 bags and a few other accessories. All these for less than S$80.
What else to buy in Bangkok? Seafood and lots of them. They are dirt cheap. You really should consider spending more on food than just physical purchases. A steamed fish of more than 1 kg costs only about $15 at a modern Thai restaurant in Bangkok. You can probably get it cheaper elsewhere. For instance, we ordered one plate (about 25 scallops) for just $10 in a sea-side fisherman village at Hua Hin.
And don't forget to visit the street food bazaar. It gives you a glimpse of local thai food.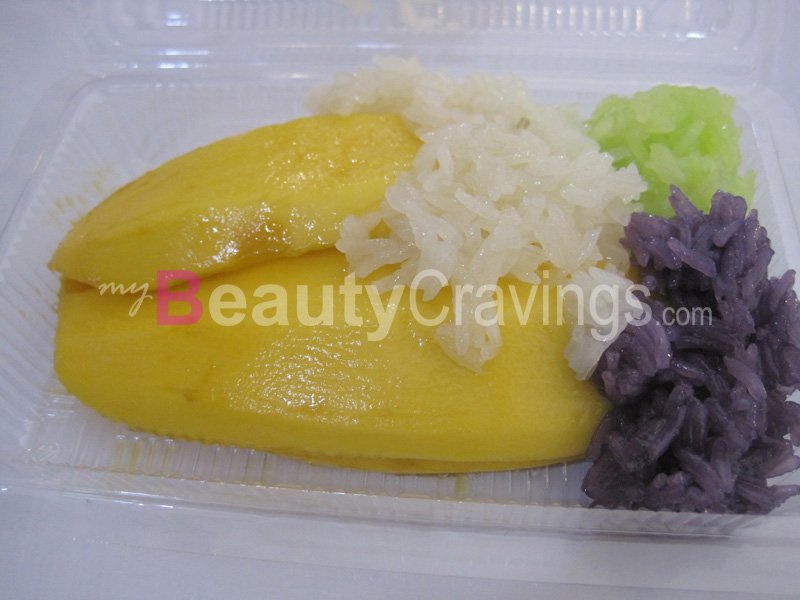 One food outlet to recommend – Chicken rice opposite Platinum Fashion Mall. The chicken and the rice is average, but the sauce is unforgettable.
You have to try it – sour and savory with a hint of pineapple and taste of green chilli. If my stomach could take it, I would have ordered a second plate.
This place was full of tourists when we visited it. Thought they would charge a lot, but can you believe a plate of chicken rice and a cup of iced tea cost only 40 baht. That's just S$1.60, my dear. So lucky to have walked past this casual outlet unplanned.
It was located along Petchaburi Road. As there were at least two chicken rice stalls there, here's a stall front photo to help you locate it.
(Note: This stall has no English logo. If you see one with English Signage and a Facebook Like Logo, that's NOT the one. We hardly see any patrons in that stall.) 
Last but not least, you have to 'buy' yourself a massage. A full-body massage may cost about 300 baht (S$12). An hour-long foot massage would cost about 200 baht (S$8). 
TIP: You can book an Unlimited 4G SIM Card online and collect it at Bangkok Airports. This card is highly-raved and many reviewers said it is cheap and easy to collect and use.
Ok. That's all! If I'm diligent enough, I'll do a day-by-day post on things we did and food we had in Hua Hin and Bangkok, and of course a lot more photos. Watch out for it. 
Let me know what else is good to buy in Thailand as I believe I'm heading over there again very soon. 
---
Want to receive updates on new post? Just click the button below to subscribe. I'll even give you some free and exclusive stuff. See you there!
This post may contain affiliate links, meaning I earn a commission if you make a purchase, at no cost to you. Read my full disclosure for more info.
(Visited 18,497 time, 1 visit today)