What are the things to buy in Phuket? Let me share my hits and misses after spending 6 relaxing days in Phuket. This list will cover both the things I bought as well as food I've tried, and the following questions will be addressed.
'What are the things to buy in Phuket? 

'What NOT to buy in Phuket?'
Hope this list can help you save some money. ;) Now, let's get started!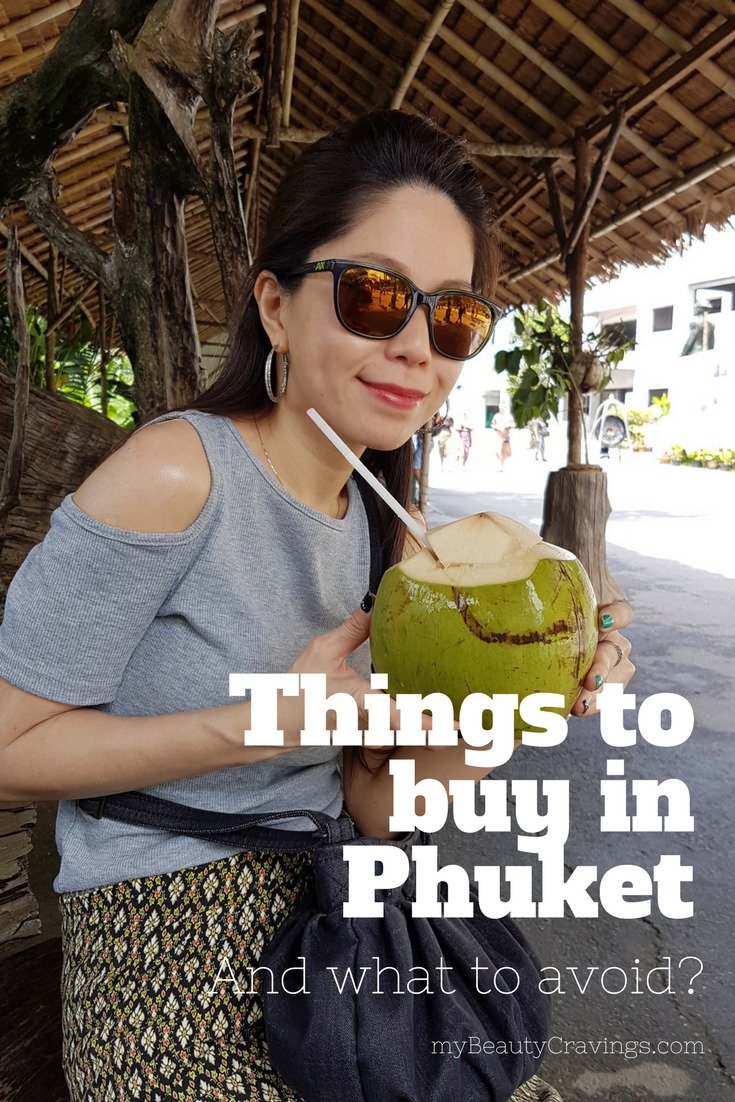 ---
Things to buy in Phuket
1. Tropical Fruits
You absolutely have to buy Rose Apples in Thailand. This country produces really sweet ones! In Phuket, you can find Rose Apples being sold in supermarkets or night markets. We bought a bag of rose apples at Chillva Night Market for B100 (USD3). It turned out to be a great buy as elsewhere were selling at higher prices. 
Other fruits to consider include Jackfruit, dragon fruit, pineapple and papaya. They were all good and cheap.
And of course, don't forget big Coconut in Thailand. It's definitely a must-have beverage, especially in this hot-climate country.
One fruit I don't recommend getting is Durian. If you love durian, you will know good durian should taste bittersweet. Get those when you visit Malaysia.  Thailand durian tends to be just sweet and hence less preferred.
TIP: Most first-time visitors would want to do some island-hopping and snorkeling when in Phuket. If you like James Bond, take a look at this Phang Nga Tour. If you like "The Beach" starring Leonardo DiCaprio, then look at this Phi Phi Island-hopping Tour. 

Both are highly popular tours that have received good online reviews.
---
2. Cosmetics from Maybelline and Loreal 
Maybelline and Loreal cosmetics were priced so cheaply in Phuket (and probably in Thailand too), I'm guessing that Thailand might be one of the manufacturing countries for these brands. Since matt lipsticks were all the rage these days, I bought a Maybelline and Loreal lipstick at less than B300 (SGD11) each. In Singapore, each lippie would have cost twice the price.
Don't forget to check out other Beauty items bought in Phuket and Changi Airports!
---
3. Sunscreen
In this sunny island of Phuket where sunscreen probably sells like hotcakes, it was great to see them being sold at a good price. They were significantly cheaper than those priced in Singapore and certainly worth lugging back.
---
4. Made-in-Thailand Snacks
Need food to munch when you relax in your hotel? Or looking to buy food souvenirs for your colleagues and friends? The best place to get them would be at supermarkets such as Big C or Tesco. Skip the supermarket in Central Festival Phuket as I recall them to be priced at a premium.
When you shop for snacks, remember to look out for those that say "Made in Thailand". Some of the recommended products are:
Tao Kae Noi Seaweed: One of the most popular Thai snacks! Get it! 
Chang Beer or Leo beer: Relax and chill with a can of local beer!
Thai Instant Noodles: These are popular take-home souvenir. Get ready your XL luggage.
Thai nuts: Be it peanuts, green peas or other nuts, get them if they are produced in Thailand. Because you'll be sure to sample unique flavor such as Tom Yum, Shrimp Paste or Coconut. 
Do also check out my earlier post (link below) as they, being Thai-made products are relevant as a 'Must-Buy' in Phuket.
RELATED: Things to buy in Bangkok
---
5. Treats for your Furry Baby (Pet food)
Some of the dog treats sold here in Singapore or Malaysia are imported from Thailand. You can get them cheaper in Thai Supermarkets. My dog absolutely adores the treats from JerHigh. So, don't forget to load up and surprise your pet who would be missing you and eagerly waiting for your return.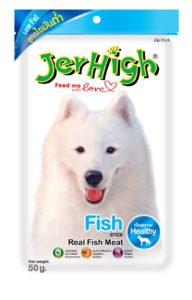 ---
6. Cheap Apparels
Many people would grab beach dresses from Phuket weekend markets. You could too if you are not so particular about quality and do not mind seeing other tourists wearing the same design.
TIP: If you are interested in culture, history, musicals and fun, take a look at these three shows – Siam Niramit, Simon Cabaret and Phuket Fantasea. What's the difference? The Siam Niramit boasts a fantastic stage performance, the Simon Cabaret stands out as a show by ladyboys and Phuket Fantasea is an "Entertainment Park" with performances thrown in. 

The links above gives you significant discounts off the official admission rates.
---
7. Authentic Thai Milk Tea
Thai milk tea is known for its rich Ceylon flavour, creaminess and sweetness. It is often sweetened with condensed milk and sugar and that explains why it's sweeter than tea latte from elsewhere.  If you have a sweet tooth, you would love it.
---
8. Local Thai Dishes
Be it at night markets or restaurants, don't forget to try authentic Thai dishes such as Pad Thai, Tom Yum soup, Pineapple rice, Mango salad and Basil Minced meat with Rice.
Travel and Save: Receive S$45 off your first Airbnb stay when you sign up through these special links.
---
9. Street Food Hits 
The best place to experience Thai Local food is to visit its night markets. There were so many food options and we were glad to have tried these great ones highlighted below:
From Chillva Night Market
Oyster Mango Salad: The best street food in our entire trip! So many oysters such that we had a few every mouthful. I'm not an oyster lover, but these oysters were amazing – fresh and refreshing. No foul odour or taste. It's spicy though, so beware. :)
From Phuket Weekend Market
Roti Banana Roll: The queue says it all. Try it if you like sweet desserts and crepes!
Fried Seafood in Batter: Great savoury snacks!
Coconut Jelly or Coconut-Anything: A refreshing dessert especially after a long hot day of sightseeing. 
FREE PRINTABLE: Download your Free Phuket Pocket Itinerary. It gives you one-click access to tips, logistics info and map locations. 
From Malin Plaza
Fruit Juice: Such generous portion of 100% real juices! Filled right to the brim.  
---
10. Recommended Phuket Restaurants
We highly recommend the following restaurants:
Tung ka cafe: Enjoy authentic Thai food while taking in gorgeous view atop Rang Hill.
The Sweet Restaurant: Savor authentic and affordable Thai Food at Patong Beach. The portions are generous and price is great!
168 Jap: Experience Japanese cuisine in a casual outlet that has yet to be invaded by tourists. It's not superb, but good enough to satiate your Jap craving. 
Sizzler: Missing Western food already and feeling like you could eat a cow? At Sizzler located in Central Festival Mall, you get free flow of Salad, fruits and desserts when you order a main.
Chester's Grill: Local fast food restaurant that sells healthier fast food choices such as grilled chicken.
To get to some of these restaurants, you'll need to have a rental car or engage a driver. Of course, renting a car is cheaper and I highly recommend it. We rented our car for just S$35 a day. That probably saved us lots of money from taking taxi, hiring a driver or joining day tours.
Transport Options: If you prefer not to drive, you can take the Phuket Airport Transfers to get to your hotel when you arrive. Then hire a private car to get to the popular spots in Phuket.
---
Avoid these in Phuket!
1. Premium Outlet Phuket
There's a premium outlet located in Phuket Town, somewhere near the Upside Down House. You can totally skip this premium outlet. We saw too many vacant shops.  After shopping for a while, we knew why – the things there weren't cheap. I could easily get cheaper stuff in a normal retail store in Singapore.
---
2. Pets on Sale in Market!?!?
It's amazing how pets were being sold in Phuket Weekend Markets. Actually, it didn't surprise me this time around as I'd witnessed it in Bangkok's Chatuchak market.
Dogs, Cats, rabbits and even squirrels and exotic reptiles were being sold here. If you are thinking of buying them, do note the challenges in importing these animals into your country (and make sure you are not against immigration laws).
---
3. Street Food Misses 
I'm not all that fussy about food. So when I say a food is bad, it must be really bad! Here were some of our food misses:
From Chillva Night Market
Grilled Scallops: It's so bland, tiny and tasted like rubber!
Fish cake: You can get much better fish cake elsewhere and anywhere in Singapore.
From Malin Plaza
Mama Som Restaurant: They gave me so much, but these flat noodle just stuck together like they were glued. Awful!
---
4. Restaurants to Skip
The Pizza Company: The portion was the smallest and thinnest pizza I've ever ordered in my life. Not filling enough. Skip!
---
5. Thai-made Tea Leaf
When I saw Thai-made tea being sold in Big C supermarket, I hesitated to get them as I couldn't recall Thailand being a tea-producing country. But I still succumb to the temptation because I'm a tea-lover.
Darn. I should have trusted my instinct.  Look at this Lemongrass tea from Thailand. I can't believe they included stems and twigs and made me pay for them. And they didn't even taste like lemongrass. 
The saddest thing was paying a premium as I saw similar tea package being sold in night markets at a fraction of the price I'd paid in Supermarkets.
---
6. Sandals
I bought a pair of pretty sandals at a good price (Baht 160). It was only when I started wearing it in Singapore that I realized how poor the quality was. First of all, it was heavy. Secondly, my toes started to hurt within less than 10 minutes of walk. Some parts were sticking out and causing abrasion to the skin.
So, avoid them. It's better to get shoes when you visit Malaysia.
---
7. International Brands in Malls
International brands found in Phuket malls weren't cheaper than those in Singapore. In fact, we found most of them being more expensive. It's surprising considering the cost of living in Thailand. I wonder how these brands were appealing to the locals.
That's all to my 'To-Buy list' in Phuket. Hope you've found them useful. If you like to hear about the fun things I do as a budget-savvy free and easy traveler? Just click the button below to subscribe. I'll even give you some free and exclusive stuff. See you there!
SUBSCRIBE
(This post was first published in Sep 2017 and updated in Jan 2019)
Pin This!
This post may contain affiliate links, meaning I earn a commission if you make a purchase, at no cost to you. Read my full disclosure for more info.
(Visited 27,131 time, 3 visit today)