What are the things to buy in Taiwan? Hey guys, if you are visiting Taiwan soon, take a look at this Taiwan must-buy list which I've gathered after a solo trip to Taiwan.
In this list, you'll not only get to see the things to buy in Taiwan, I'll also share which great Taiwanese food to try. As a bonus, I've included the things to skip so that you don't waste your hard-earned money.
In a nut-shell, this post answers two simple, yet important questions:
"What to buy in Taiwan?"

"What NOT to buy in Taiwan?"
Once you are done with this post, also check out Taiwan Must-Buy List (Part 2) which includes things to buy in Eastern Taiwan such as Hualien, Luodong and Yilan.
---
What are the Things to Buy in Taiwan?
1. Sheet Masks
Sheet Mask is definitely a must-buy for all tourists visiting Taiwan. In drug stores such as Watsons, Cosmed and Sa Sa, you would see generous and prominent shelf space dedicated to masks. Most of the sheet masks sold in Taiwan were at least half the price as compared to those retailing in Singapore.
My Beauty Diary (MBD) was selling for two boxes at NT$300 or $7 per box, when it was selling at $16.90 per box in Singapore.
Dr Morita was also selling at the same price point as MBD – $7 in Taiwan, but $17 in Singapore.
REVIEW: Dr Morita Hyaluronic Acid Facial Mask | A Love-Hate relationship
Naruko sheet masks were retailed at slightly higher price, around NT$300 to NT$400 for two boxes, making each box about $9. Don't let your jaw drop when I reveal the retail price of Naruko in Singapore. It's $29.90 per box in Singapore – that's three times the price!
So if you want to get the best value, buy Naruko though I can't vouch for its effectiveness because I didn't buy it. I only knew about the substantial price difference after I came back to Singapore.
Taiwan Sheet Masks that are not available in Singapore
Which sheet masks did I buy? Contrary to popular buying trend, I didn't buy My Beauty Diary (MBD). I have never really been a fan of MBD, because the blue-cover Hyaluronic acid sheet masks broke me out.
My selection criteria in buying a sheet mask in Taiwan was simple. I wanted something that's not sold in Singapore. A Cosmed sales assistant told me that MBD was mainly popular with Chinese tourists because it was priced steeply in overseas markets.
"Taiwanese prefer brands like Kissui, not MBD", said the sales assistant.
Trusting her advice, I bought three boxes of Kissui, even though it was much pricier, at NT379 per box. Each box contains only five masks while other brands typically have 8 to 10 masks. On a per sheet-mask basis, Kissui is about five times as expensive as the rest.
Related Readings:
Kissui was not the most expensive sheet masks I've purchased in Taipei. L'Herboflore set me back by NT1000 for a total of only nine sheet masks (assorted). Their masks ranged from NT50 to NT250 per mask.
What? NT250 per mask? L'Herboflore Hyaluronic Acid Moisture Energy Biocellulose Mask better be exceptional! It's so expensive that I've yet to try it….will let you guys know soon on its effectiveness. Stay tuned!
UPDATE: I've tried it! Go get it!!! See review of L'Herboflore Hyaluronic Acid Biocellulose Mask
---
2. Beauty Products
Some Japan-originated beauty brands I didn't expect to see outside of Japan were available in Taipei.
Integrate & Integrate Gracy by Shiseido
Integrate, a product line from Shiseido was sold here. Get Integrate Mascara if you want luscious and smudge-proof lashes.
Related Reviews:
Another highly recommended product is Integrate Mineral Powder Foundation which has received a high rating over here.
REVIEW: Integrate Mineral Powder Foundation an absolute must-buy in Japan and Taiwan
Suncut by Kose
And don't forget to load up on Japan-made sunscreens. I bought two bottles of Suncut Protect Gel Sunscreen in Taipei (after finishing two bottles bought from Japan). Right now, I'm wondering why I didn't buy more. Mom also complaining. Sigh!
Perfect Whip Cleanser by Senka
Last but not least, do bring home a few tubes of Perfect Whip Foaming Cleanser. I bought some at NT99 per tube (S$4.30) which is way way cheaper than those retailing in Singapore.
MUST-READ: Review of Perfect Whip Foaming Cleanser by Shiseido
Opal Hair Treatment
If you are struggling with dry and chemically damaged hair, grab Opal One Minute Hair Treatment. It will make your hair as smooth as silk within one minute.
REVIEW: Opal One Minute Hair Treatment rescued me from damaged and entangled hair
---
3. Local Tea
If you are a tea lover, get yourself some affordable tea pressies from local supermarkets or convenience stores. I bought Oolong tea and Oriental Beauty tea at a very reasonable price (from NT55 to NT90 per box).
Don't be misled into thinking these economically-priced paper-box tea packs ain't good. Till now, i'm still enjoying every sachet of these tea and regretted not getting more. Yes, they may not be presentable as gifts (as compared to premium gourmet tea), but a gift to yourself need not be that presentable, right?
By the way, if you know where the hypermarts or decent-sized supermarkets in Taipei are located, can you share with me? I've had difficulty locating a good-sized supermarket in Taipei and had to make-do with a tiny supermarket located on basement of Shin Kong Mitsukoshi Shopping Mall (新光三越), near Taipei City Hall MRT Station.
UPDATE: I've found a large Carrefour near Ningxia Night Market when I revisited Taiwan (see location). Check out my travelogue and see what I bought from Carrefour.
---
4. Taiwan Confectionery
Bought some freshly-made Taiwan Confectionery from basement of Shin Kong Mitsukoshi Shopping Mall (新光三越). Such pastries were in ballpark figure of around NT400 per box. Ain't cheap!
The snack I bought from Yu Jan Shin, a confectionery brand from Tai Chung, received raved reviews from family and friends. You can try them before buying!
---
5. Food
Food to try at Ximending Shopping District
You MUST try Ah Chung Mee Sua at Ximending. Let me repeat: It's a MUST! But be warned, we are talking about pig innards here or pork intestines to be specific. Heh!
TIP: It's cheaper when you buy a voucher online to redeem for Ah Chung Mee Sua. Here's how to reach Ah Chung Mee Sua store (see map).
Food to Try at Raohe Night Market
In Raohe night market, try Japanese Omelette, grilled Escargots and Abalone, Black Pepper Bun, Quail Egg Prawn Ball, Shaved Ice desert, Bitter Gourd Honey Juice etc.
Read the following posts to see more food photos and detailed reviews.
Food to Try at Miaokou Night Market
In Miaokou night market, try assorted fried seafood.
Local Food to Try
Elsewhere and everywhere, try local staple such as Oyster Mee Sua, Shark's Fin Bee Hoon and Bubble Tea.
Don't forget to buy unique local deserts and drinks from their 24/7 convenience stores. Check out Mung Bean (green been) desert, Papaya milk and Black sesame drink. A little bit sweet though….don't say I didn't warn you?
Oh, how about a cold Taiwan Honey Beer for a relaxing night, heh. =)
---
6. Fashion
Get fashion jewelries such as ear rings, bracelets and hair bands from Ximending. They are cheap, pretty and stylish.
---
7. Water-Absorbent Ceramic Coaster
If you visit the tourist attractions in Taiwan, you would likely see Ceramic Coasters as one of the souvenirs to purchase.
These coasters miraculously absorb condensations when you place cold beverages on them. Amazing, no?
To avoid getting fake products, read the labels carefully to ensure the ceramic have been heated under high temperature and function as a water-absorbent coaster. Such coasters typically come individually wrapped in brown hard paper.
You will probably see them in most tourist attractions. Just make sure they are made in Taiwan. I got mine long time ago from Fort San Domingo, and repurchased them again in Oct 2016 from a random store in Shifen Old Street for NT100. The former was of better quality.
TRAVEL & SAVE: If you are booking accommodations soon, don't forget to enjoy S$62 off your first airbnb stay and experience.
---
What Not to Buy in Taiwan?
1. Apparels from Wufenpu
I'd wanted to recommend you getting some apparels in Wufenpu, Taiwan because they were cheap (read my account here), like just NT100 per piece.
Luckily, I am so slow that I only churned out this post today. Most of the apparels bought in Wufenpu were unwearable – shrunk, holes, disintegrate, faulty print etc.
Perhaps a disclaimer is warranted. 80% of the clothes bought from sales rack placed outside the stores were defective. So perhaps, those not on sales may be better in quality? Anyone here knows? Can share your experience?
---
2. International Brands (e.g. Clothes, Cosmetics)
If you are a Singaporean, why not get these international brands in Singapore? I'd found things more expensive in Taiwan departmental stores, and not necessarily better in style.
---
3. Food
Here are the food mishaps:
UPDATES: Hey, I've visited Taiwan again. Here's Part 2 of Things to Buy in Taiwan.
I've also created a Free Taiwan "Must-Buy" Checklist to help you remember the things to buy when you are in Taiwan. It contains extra recommendations such as food in Luodong, Hualien and Yilan. The checklist also points you to google map locations so that you know where to find those Taiwan great stuff. Don't forget to download it for free.
Love honest reviews? If you like to get notified of newly-published beauty reviews and travel stories, just click the button below to subscribe. I'll even give you some free and exclusive stuff. See you there!
SUBSCRIBE
(This post was first published in June 2016 and updated in August 2019)
Pin This!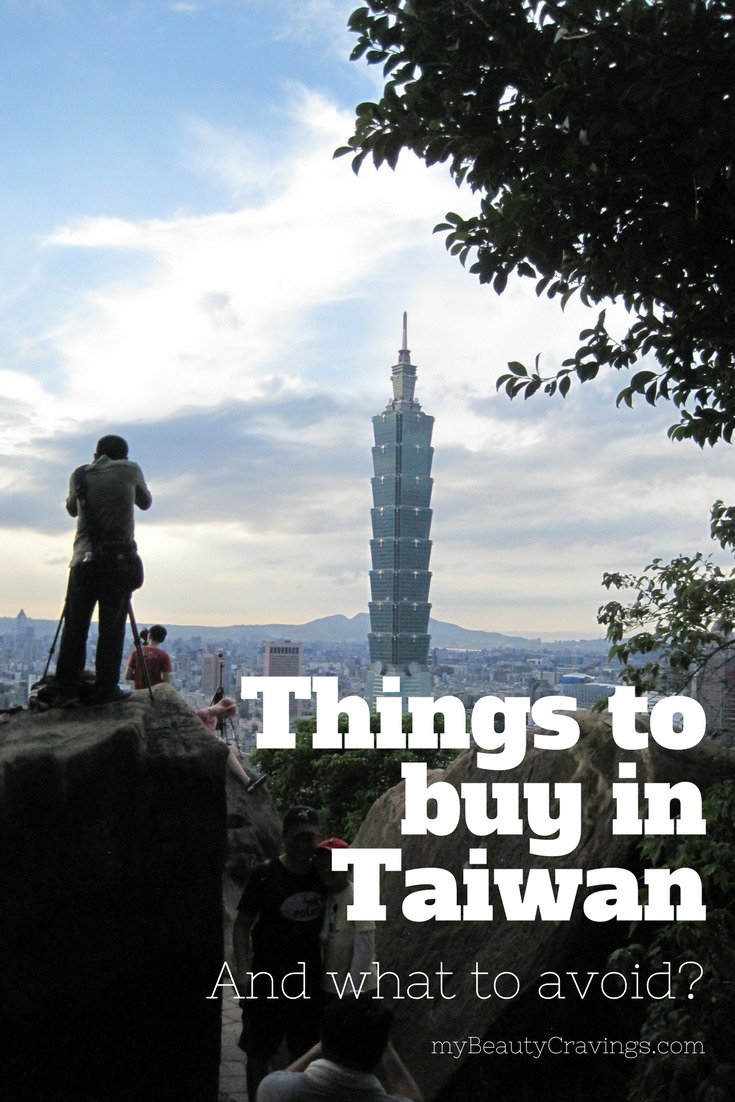 This post may contain affiliate links, meaning I earn a commission if you make a purchase, at no cost to you. Read my full disclosure for more info.
(Visited 167,884 time, 13 visit today)