What are the interesting things to do in Da Nang? I've earlier shared with you what we did from Day 1 to 5. Today, I'm going to share the cool places we visited from Day 6 to 10, such as the magical Ba Na Hills and UNESCO ancient town of Hoi An.
It was also in Da Nang that I enjoyed the best pool view I've ever had in my life – will show you which hotel later!
To recap, we'd earlier stayed near the beach at Minh Toan Safi Ocean Hotel, and later shifted to Hilton Da Nang Hotel on Day 5 which is located at the City Centre. Now, let's continue our journey from Day 6 onwards in this Part 2 series of our Da Nang relaxing trip! 
>> MUST-READ: 10 Days Da Nang Itinerary (Part 1)
---
Day 6: Day trip to Hoi An Ancient Town
Today, we started the day with a great hotel buffet breakfast at Hilton Da Nang Hotel. It was the best quality breakfast we've had among the three hotels we've stayed in Da Nang. Food were yummy and we could get made-to-order coffee and tea, served right to our table.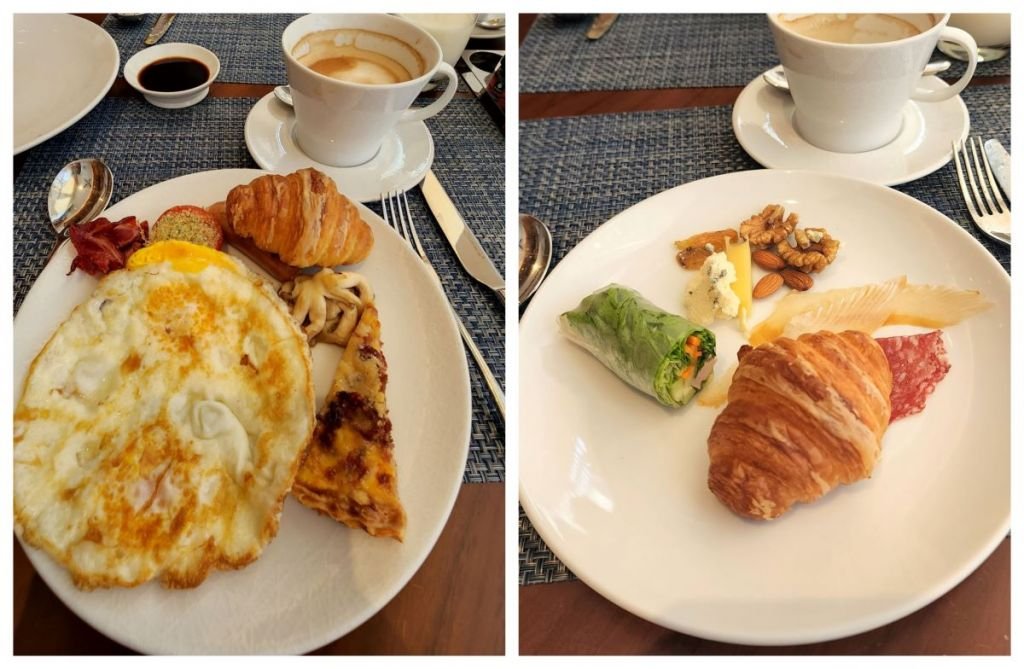 After breakfast, we did our usual routine and visited the gym, which was also the biggest among the hotels we've stayed in Da Nang. What you see below is just one-third of the gym at Hilton.
The workout session was a rushed one as we needed to get ready by 12pm to be picked up by our pre-booked driver. He would send us to Hoi An, a city within an hour's ride from Da Nang. 
>> MUST-READ: Hoi An Itinerary – How we spent a day in Hoi An
We spent the rest of the day in Hoi An, exploring the UNESCO ancient town, taking lots of IG-worthy photos and soaking up the colourful night scene. The day ended beautifully with a boat ride where we got to release paper lanterns on the river. 
Because the UNESCO town is such an important attraction, I've dedicated an entire post on my experience at Hoi An. Have a read!
Map Location for Day 6 Da Nang Itinerary
Breakfast & Gym at Hilton Hotel >> Hoi An Ancient Town
---
Day 7: A fun-filled day at Ba Na Hills
Caught an amazing sunrise over the reflective Han river when I got up for a toilet run. :) Yes, I've always had luck seeing beautiful sunrise when nature disrupts my sleep. If you can recall, I'd enjoyed an ocean sunrise view on Day 4 when I stayed near the beach. 
Back to Day 7 which was another full day of activity. After a sumptuous buffet breakfast at Hilton Da Nang, a pre-booked driver picked us up at at our hotel at 11am. He would bring us to Ba Na Hills for a day of fun in a magical world. 
TIP: For those travelling solo, taking shuttle bus to Ba Na Hills may be more cost-effective.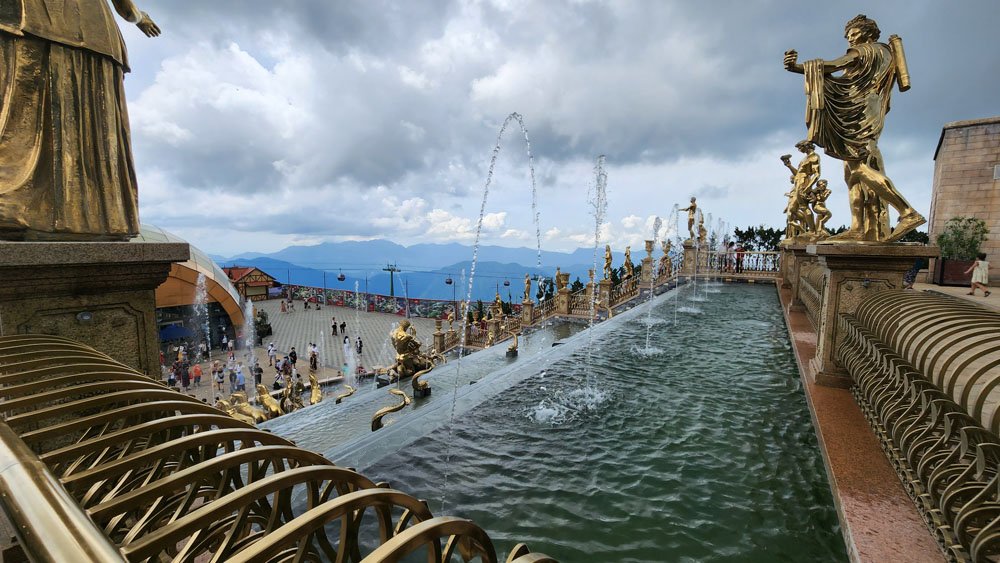 Travel Savings: Get cheaper Ba Na Hill tickets when you book online. Doing so can also help you skip the physical queue. 
The admission ticket to Ba Na Hills wasn't cheap by local standards. After working out our math, we proceeded to purchase the Ba Na Hill tickets online as it was cheaper. This ticket would give us access to all cable car rides, theme park rides as well as free arcade games. You can choose to opt in for a bundle that includes lunch which is worth it if you enjoy buffet.
TIP: I do not recommend that you get the evening admission ticket. You may end up not seeing much. 
One of the must-dos at Ba Na Hills is to get onto the Golden Bridge that is "held up" by gigantic palms.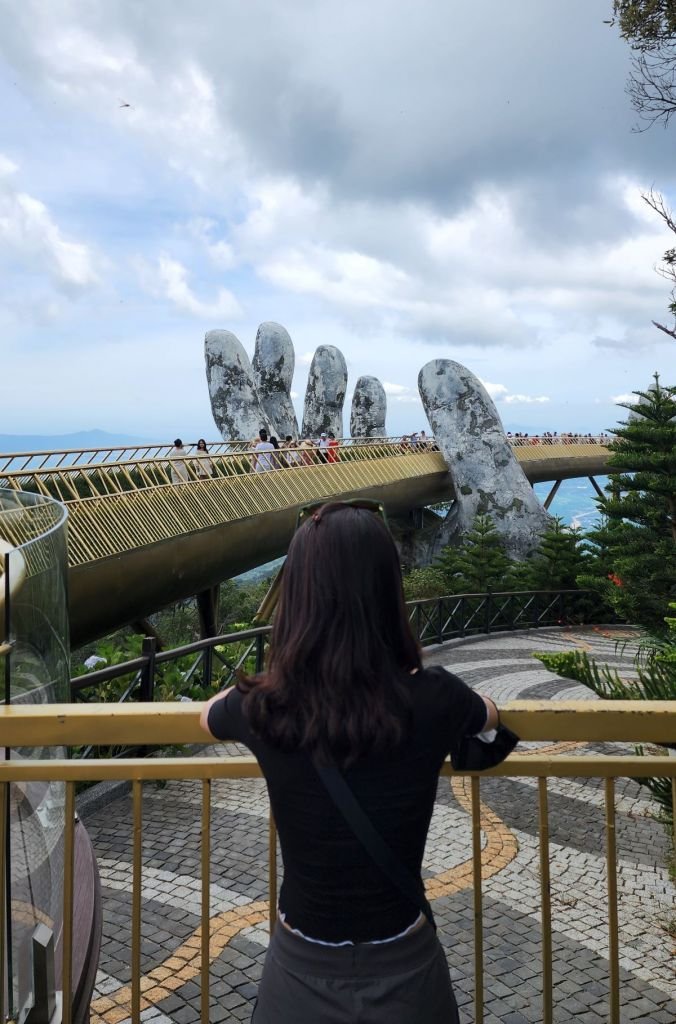 I was also super impressed by the French Village, which really set me into the medieval-era mood. For a moment, I thought I was a hobbit standing outside the church and castles.  
>> MUST-READ: 10 Days Da Nang Itinerary (Part 1)
Kids (and adults) could also have fun at Fantasy Park – an indoor place housing free amusement rides and arcade games. There are also two Alpine Coasters which you can share a "sled" with your loved one and zip down the outdoor tracks. Be prepared to queue though.
Ba Na Hills offered me a wonderful and memorable experience that I've written a dedicated post on it. Check out the things to do at Ba Na Hills. 
TIP: If you visit Ba Na Hills during summer, please wear layers that you can strip in case the climate isn't as cold as what the weather forecast says. We dressed for 24°C and suffered because it was 30°C up there in the mountain (in July).

Fantasy Park was worse as it was hot and stuffy – not sure if aircon was turned on. 

It was so hot at Ba Na Hills (in July)
When we were done with Ba Na Hills, the pre-booked driver picked us up on time and dropped us at Vincom Center as per our request.
Vincom Center was by far the most decent-sized shopping center we've seen in Da Nang – not huge but decent enough unlike Lotte Mart (read Day 2).
We had a Korean buffet dinner (500k VND per pax or S$30) at Sumo Yakiniku, which I thought was pretty average. At such a price in Da Nang, I was expecting beef of better quality as the 1 million dong we paid for two could buy us many lobsters in Son Tra Night Market (read Day 3).
After the buffet dinner, we only had enough time to shop at Win Mart where I took the chance to get some local-made snacks as souvenirs. 
Map Location for Day 7 Da Nang Itinerary
Sunrise at Hilton Hotel >> Ba Na Hills SunWorld >> Vincom Center >> Dinner at Sumo Yakiniku >> Shop at Winmart 
---
Day 8: Con Market, Big C & Street Shopping in Da Nang City
Today was a day with no fixed itinerary – yes, isn't it cool to feel totally relaxed when travelling? You can do so if you dedicate 10 days in a beach city like Da Nang. :)
In any case, we indulged in our usual hotel buffet breakfast, went to the gym and also explored the swimming pool at Hilton Da Nang.
INFO: As compared to Minh Toan Safi Hotel, the guests at Hilton were more international-based. As such, we received less cultural shock at Hilton, e.g. English Breakfast tea and creamer were given, and no one jumped into the swimming pool in pajamas. 

But we loved the cultural shock we received and enjoyed our stay better at Minh Toan Safi as it gave us an insight to the culture. And not forgetting that the view was to die for! But wait till I share with you our 3rd hotel which boasted the best swimming pool view I've seen in my life.
At 4pm when the weather was less hot, we ventured out to Con Market.
It was a big and interesting market which I've no doubt would interest many. We didn't spend much time there as we knew by then that we weren't a fan of day markets in Vietnam – personal interest, okay? :)
The next stop was at Big C where we settled for a quick lunch at KFC before spending a few hours shopping at the Go! (Big C) supermarket. It was a decent-sized supermarket that allowed me to get all my local-made souvenirs. 
At night, we decided to venture to the local shopping streets along Le Duan Road by foot. But it was a little too late when we got there and many shops were closed. Those that were opened didn't offer me much excitement.
And for dinner, we chanced upon a delicious Wonton Mee stall near 160 Le Duan Road. The man liked it so much he ordered another bowl.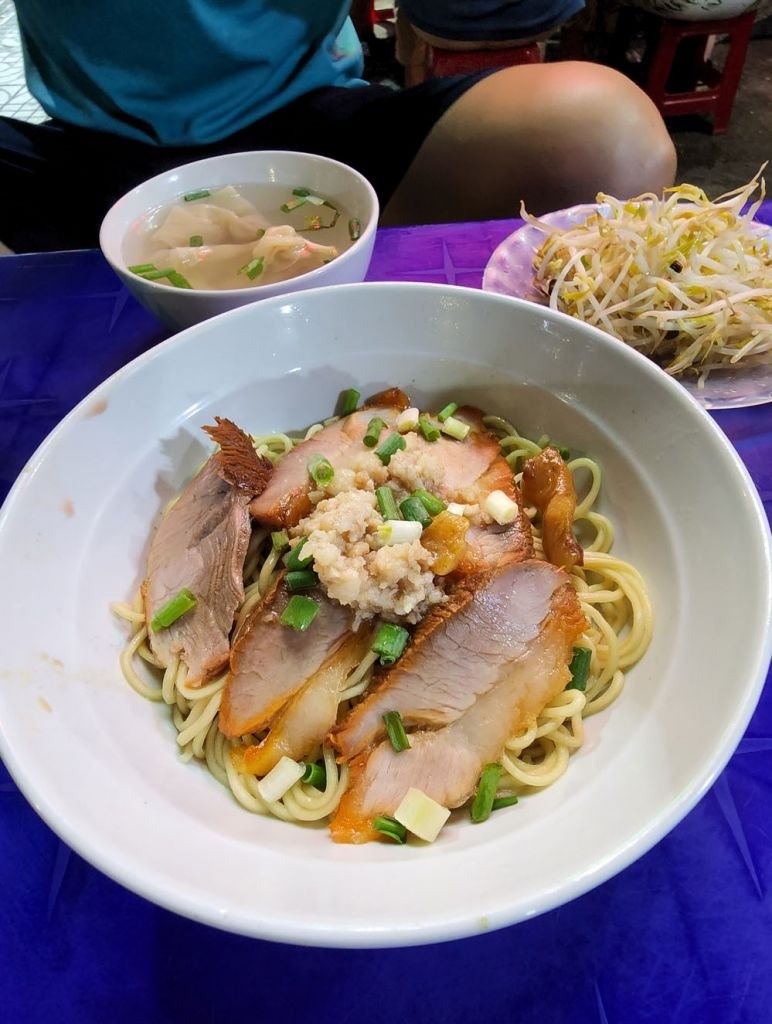 The last stop of the day was at a small and very local night market along Cho dem Le Duan. I was surprised that I actually bought something there.
It was the first purchase I've made from a night market in Da Nang because the price at some stalls were listed (I don't enjoy bargaining). My loot comprised two sandals priced at just 70k (S$4). I'd assumed those were poor quality sandals like the one I bought from Phuket Night Market, but was surprised later at how comfortable they were.
Very usable and super value for money! 
Map Location for Day 8 Da Nang Itinerary
Breakfast, Gym & Swim (Hilton Da Nang Hotel) >> Con Market >> Big C Supermarket >> Shop along Le Duan >> Delicious Wonton Mee >> Night Market along Le Duan 
---
Day 9: Back to Seafront Hotel, Spa, Cool Cafe & More Seafood!
We were excited to move back to the beach today. After another round of buffet breakfast at Hilton Da Nang (ok, 3 days is the max to have buffet at same hotel LOL), we checked out and took a Grab to Le Sands Oceanfront Hotel.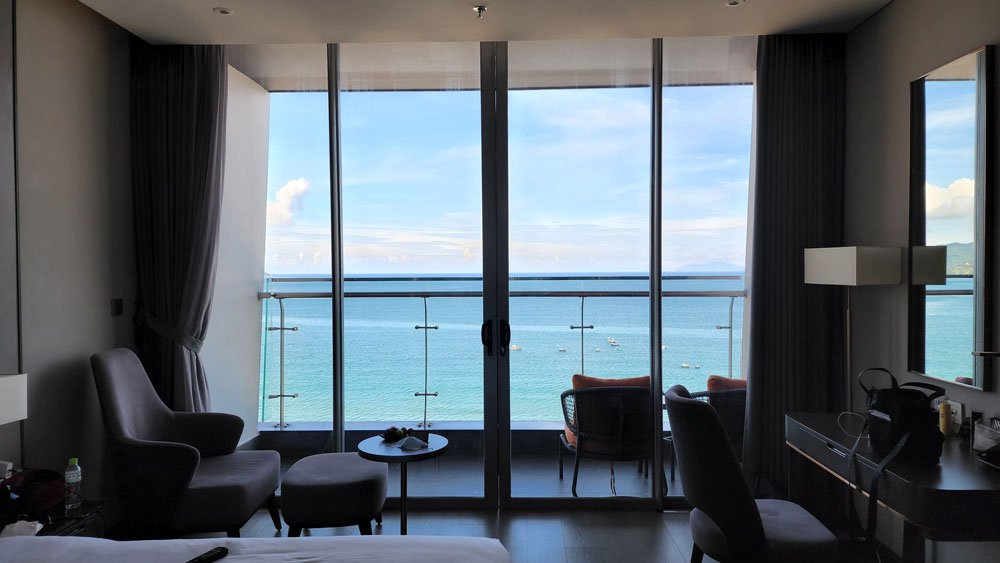 Le Sands was a very new hotel that came with premium and modern fixtures. Best of all, there was a usable balcony.
The room we had wasn't as big as Minh Toan Safi Ocean Hotel, but it appeared so much nearer to the sea. And the water seemed bluer. Do however note that this is at a more remote area of Da Nang beach (very north). 
After spending some time admiring our room, the man got hungry and we ventured to Per Korean Restaurant. The food was not bad and quite generous in portion! 
What's next was a second round of spa session for me – at Luxury Herbal Spa, which you can book the spa service here. The massage was not bad, but not the best I've had in Da Nang.
Done with the massage, we then walked to Dreamer Cafe based on positive reviews on Google Map. Patrons paid a surcharge of 10k VND (only SGD 60 cents) per pax on top of drinks to enjoy the live band.
I ordered two drinks for myself – iced salted coffee and apricot tea because the singers sang so well (in Vietnamese, English and Korean) and I didn't want to leave.
So, what's for dinner on Day 9? I went back to a seafood restaurant (Hải sản Mộc quán) that I'd visited, sat down and left on day 1 because it was difficult to order as a solo diner.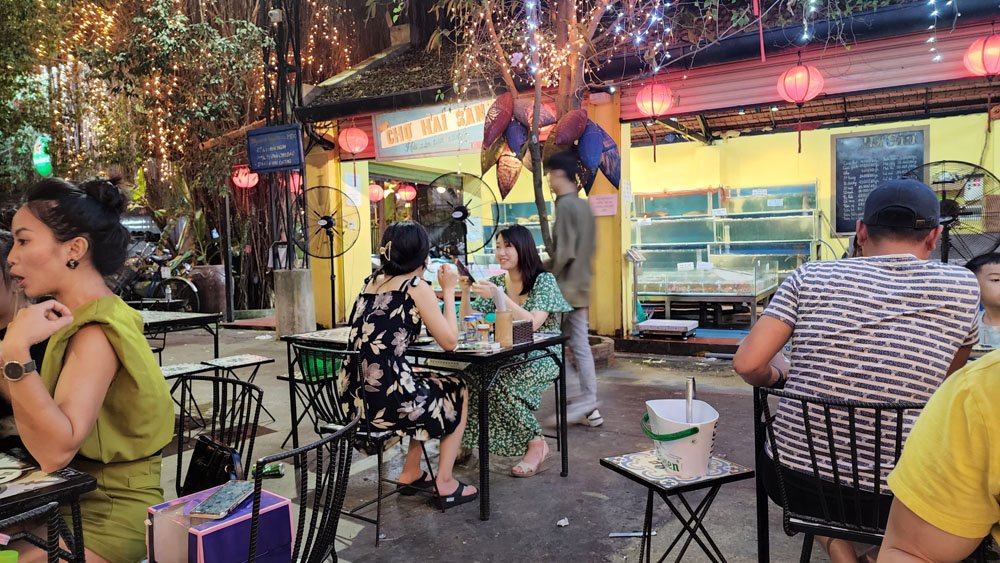 This time around, with a man's stomach to support, we ordered Grilled Octopus, Scallops, Oysters, Prawn Sashimi, and a plate of veggies.
Spent about 600k VND (S$36). Other than the prawn sashimi which was delicious, the rest of the order was alright – some were a tad too salty and the oysters were smaller and less succulent than the ones we had at Son Tra Night Market.   
Map Location for Day 9 Da Nang Itinerary
Breakfast at Breakfast at Hilton Hotel >> Check in Le Sands Oceanfront Hotel >> PER Korean Restaurant >> Luxury Herbal Spa >> Dreamer Cafe >> Seafood at Hải sản Mộc quán
---
Day 10: Seafood again,Best Pool View and 3rd Massage of the trip!
We still had a few places that we'd yet to visit in Da Nang, such as Hai Van Pass, Linh Ung Pagoda and the Ban Co Peak – all of which were located near to our third hotel at Le Sands. But in the end, we decided that since we only had one more day at Le Sands hotel, we wanted to treasure the moment and spend our remaining time there. 
It was a great decision and I'll elaborate why later. Let me first show you our buffet breakfast at Le Sands – too many people and the food standard and spread were not as good as the other two hotels.
The gym was however not bad – fitted with modern and new machines and boasted a great view.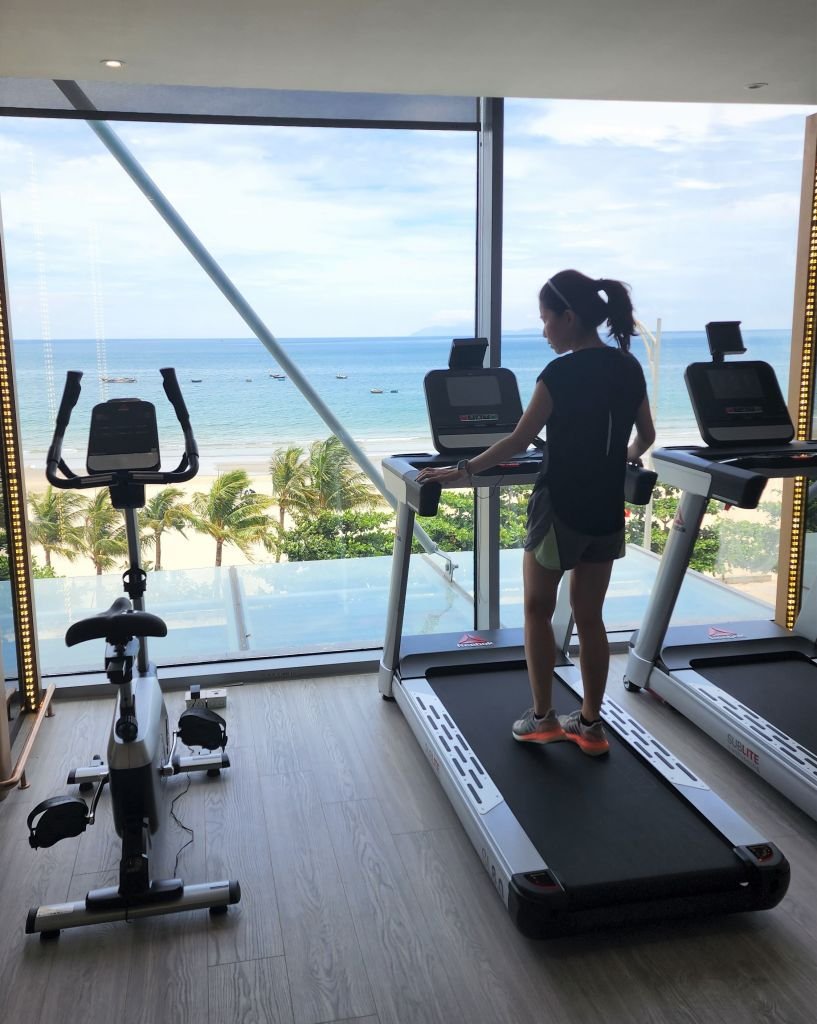 But the best has to be the pool! When you are in the water (left outer-most corner of pool), you can take in a 270 degrees panoramic view of the ocean on your right, mountain in the middle and river on the left.
It was such a spectacular view that we hung there in the water for a long time. The bonus was how comfortably-warm the water was, making it easy to overstay (oversoak and over-tan).
Unfortunately, I didn't capture the view on photo as I didn't have my phone with me. I did return to take photos but couldn't capture the same unforgettable sight, unless I get into the water.
By 3pm, we ventured out and stopped by a seafood restaurant (Quan Bien Rang) which was within short walking distance from hotel. As only the man was eating, he ordered prawns, clams and vegetables with prawns (500k VND).
Once again, he over-ordered and I'd to help eat some of the prawns, which explained why I put on so much weight after the trip. 
What's next? Remember, we were going to fully enjoy our limited time at Le Sands? We did and stayed at the balcony to enjoy the sea view while sipping my Vietnam local beer.
We were rewarded with a partial rainbow to mark the last day of our trip. Sob! So touched!
What a relaxing day! 
When night fell, we went out for our third massage of the trip. This time, we visited Huong Tram Spa – a place that seemed more Chinese-influenced (decor, music and rubbing oil). The massage was quite good, sequential and procedural. Price was reasonable too, at 390k VND + tips (optional).
Finally, our last dinner of the trip was at a random roadside "Tze Char" shop. It was an interesting experience as everything was in Vietnamese, and the person couldn't speak English.
In the end, we managed by way of pointing to food photos on the wall and ordered fried noodle, mackerel fish and omelette (300k VND).
And that's the end of our 10-day Da Nang trip. We had a good sleep and departed the next morning.
Sayonara, Da Nang! 
>> MUST-READ: Check out what we did from Day 1 to 5 in Da Nang
Map Location for Day 10 Da Nang Itinerary
Breakfast & Gym at Le Sands Hotel >> Magnificent Pool View >> Seafood near hotel >> Relax at Balcony >> Huong Tram Spa Massage >> Dinner at random Tze Char shop
---
Grab & Transport Cost in Da Nang
All in all, we spent about S$100 on Grab transport over the 10-day period. This excludes the cost of pre-booking drivers for Hoi An and Ba Na Hills day trip (about S$66 for two pax in total). 
Hence, our total land transport cost adds up to S$166 for two pax. Do note that although most of our Grab journeys were made as a couple, there were some that we took solo (e.g. rides to/from airport or Asia Park). Meaning to say, we incurred double the cost during our solo rides to/fro some places.
How to spend less on transport in Da Nang? 
You would definitely incur less if you decide to rent a scooter, but do note that the traffic system in Vietnam is not the most orderly. Some said it's chaotic. For info, we've personally witnessed a bike accident that happened near Golden bridge. 
Even though it seemed to be a light collision, the motorist who seemed to be a local man was still on the ground when our Grab arrived 15 minutes later. 
Another way to save on transport could be to go on day tours. Yes, sometimes the day tour may end up cheaper if you look at the bundle they throw in (e.g. some may be inclusive of transport, meals and admission ticket).
For us, we generally prefer free and easy travel. But if I was to travel solo, I have no doubts that I would sign up a couple of day tours just to make life easier and safer (in numbers).
---
Yes, I will definitely revisit Da Nang!
I would definitely want to revisit Da Nang again and don't mind another 10 days there! The massage, sea view, gym, pool and buffet breakfast are enough to keep me happy. Plus there are still many places within and around Da Nang that I can explore. 
Hope you would have a good time there too. And remember to go during colder months and avoid summer holidays and typhoon season, ok?
That's all and stay tuned to more detailed posts of my Da Nang trip, such as my visit to Ba Na Hills.  Connect with me if you like to get notified of my latest and 100% honest reviews! 
SUBSCRIBE
This post may contain affiliate links, meaning I earn a commission if you make a purchase, at no cost to you. Read my full disclosure for more info.
(Visited 1,457 time, 5 visit today)