Heard of Hoi An? You would if you are planning a trip to Da Nang as Hoi An is one of the key attractions due to its proximity to Da Nang. This post will share what we did in Hoi An as well as provide a One-day Hoi An Itinerary (in hindsight). LOL!
If you've yet to read Part 1 of our 10-day Da Nang itinerary, do check it out first to see what we did from Day 1 to 5. On day 6, we would visit Hoi An from our hotel in Da Nang. Read on!
---
Day trip to Hoi An from Da Nang
The whole of Day 6 was dedicated to Hoi An Ancient Town, an UNESCO World Heritage Site that was once a trading port in the 15th to 19th century.
We enjoyed a top quality buffet breakfast at Hilton Da Nang Hotel, followed by a gym session before getting ourselves ready by 12pm to be picked up by our pre-booked driver.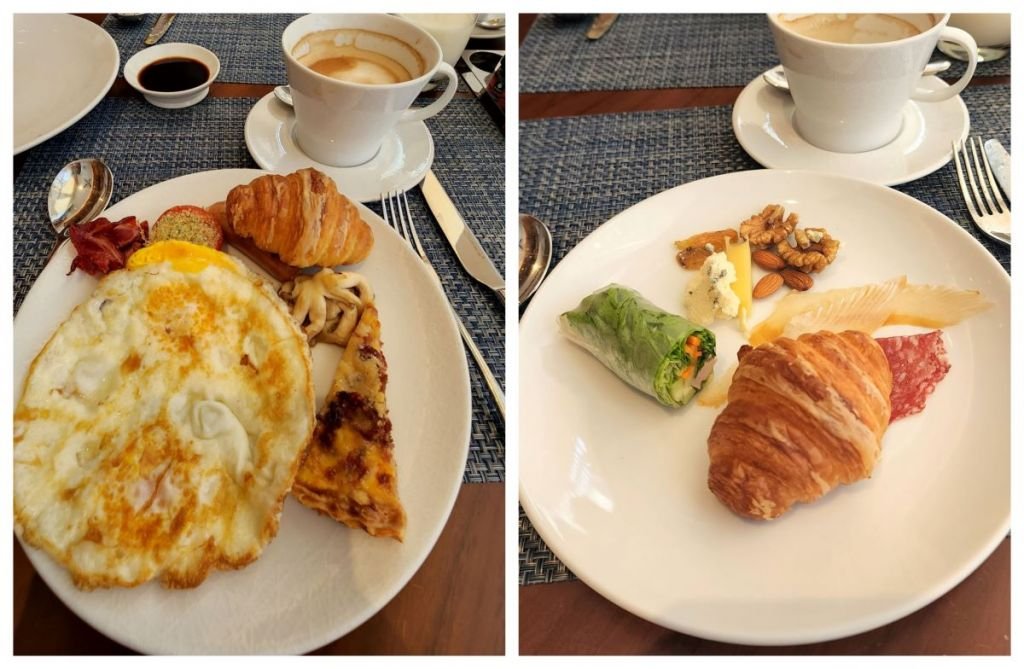 We absolutely enjoyed the comfortable 1-hour ride in the spacious SUV to Hoi An Ancient Town. Prior to pick-up, the communication with the pre-booked driver via WhatsApp was easy and seamless. The driver dropped us at a prominent landmark (location here) within the town and told us to meet him there later for the return trip. 
TIP: Pre-booking driver here was cheaper than booking Grab in Da Nang (as at time of visit) and I highly recommend that you book a return trip. That will give you certainty of price as well as service so that you don't get stranded in Hoi An (unless you decide to stay there overnight).

We did regular checks when we were in Vietnam and noted that Grab fee could surge significantly at night in Hoi An. So, it's important to get a fix price especially if you need to travel back to Da Nang.
First Impression of Hoi An Ancient Town
When we reached Hoi An at around 1pm, the streets were quiet and once again, it was extremely hot (in July)! So hot, it really dampened our mood to do anything. 
The fact that most restaurants and cafes were not air-conditioned didn't help. We could have purchased the cheap Hoi An old Town Admission Ticket that would grant us entry to five of the 22 historical buildings, but decided not to as our interest level in such topic wasn't high. 
Furthermore, as a Chinese who resides in Asia, some of those old buildings (e.g. temples, assembly halls) weren't new sights to us. We've seen similar old houses in Singapore, Malacca, Johor, Taiwan, Japan etc.
But if you are someone from outside the region and am into history and architectures, such buildings with their intricate designs and history may be of interest to you.
Travel Savings: Booking Hoi An attraction tickets through this link can give you almost 50% savings. Less than S$5 as at time of writing. 
Hoi An Ancient Town – A Photogenic Town indeed!
Even though we didn't enter the historical buildings, we were happy to take photos with the old, but well-maintained and colorful façade.
There were some shops opened, but we hardly saw any customers in the early afternoon.
>> MUST-READ: Ba Na Hills Guide – Is this pricey resort worth a visit?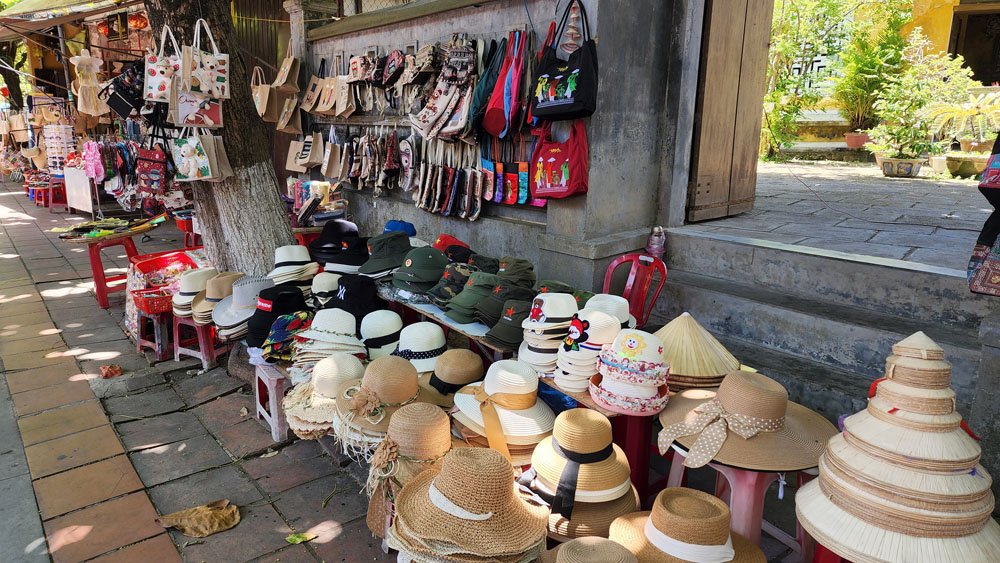 We also visited the popular Chua Cau Pagoda, also known as the Japanese Covered Bridge. Here's a shot of a woman posing with the Japanese bridge as the backdrop. 
And the next photo shows what you would see when you are standing on the wooden bridge. Can you see a temple with its entrance being manned by a staff?
Yes, it's one of the payable site that you can choose to enter with your Hoi An Old Town Ticket.
Another payable site that we visited was Cẩm Phô Communal House. We illegally accidentally strayed into the building because it was not manned, but didn't stay for long as we didn't know how to appreciate it. 
>> DA NANG ITINERARY: Click to read Part 1 (Day 1 to 5) and Part 2 (Day 6 to 10) of what we did in Da Nang
---
Hoi An Itinerary: Did we arrive too early? 
Having had a heavy buffet breakfast, I would normally skip lunch. But due to the need to find a place to rest and hide from the intense heat, we forced ourselves to go for early lunch.
We chose to dine at Morning Glory Restaurant simply because it was one of the rare places that came with air-conditioning. It probably brought the temperature from 36 to 29 degrees. =P
What's for lunch in Hoi An @ Morning Glory Restaurant? 
Although I was still very full, I succumbed to herd instinct by ordering two dishes that were often mentioned as the must-try food in Hoi An.
Yes, we are talking about Cau Lau and White Rose Dumplings? Are those worth a try?
I can only share my opinion based on my dietery preference. When the huge bowl of Cau Lau (85k) came, I regretted my order as I've never been a fan of thick noodles and high-carbo meal.
How about the rose dumpling? The White Rose Dumplings (75k) were not bad, but really nothing extraordinary especially if you've grown up in an environment where dumpling is a common sight.
Yes, you can give them a try just to show that you've been there and done that. But if you aren't particularly hungry, then I think it's safe to give them a miss without much regrets.  
My partner who was less easily influenced ordered a family recipe – a slab of mackerel fish (nice protein) which he enjoyed very much. He said it tasted like Otah fish (175k VND)!
Still killing time in Hoi An!
As much as we tried to drag our lunch session at Morning Glory, we could only do so till 3.30pm. It was a real struggle for us to find things to do till night fall, when most activities would come alive in Hoi An.
We even popped into some apparels, tailor and leather shops despite the lack of interest. The items were obviously priced for tourists – not cheap! I also didn't find the leather bags well-made.
But to be fair to them, I'm not an expert in hand-made leather stuff and could have been too used to mass-made leather products that are factory-made to precision.
By now, we've covered Hoi An Ancient Town several rounds and strolled past most notable attractions. Below is the Assembly Hall of Fujian Chinese which I bothered to pose with because the building stood out (and I was bored). 
I really should have heeded my partners' advice not to visit Hoi An this early. The original intention to avoid the crowd (and to take nice "me-only" photos) didn't seem worth the heat and forced idleness. 
In hind sight, we should have visited Hoi An around 4pm. 
TIP: Some people would combine Hoi An trip with a visit to The Marble Mountains. This day tour based out of Da Nang brings you to both places in a day. 
What did we do for the next few hours? We continued our walk – visited Hoi An Market, strolled by the river (under intense heat) and also crossed the bridge to reach An Hoi island. 
The photo below shows the short bridge linking the main island to An Hoi, an island that seemed more residential and sleepy. You can find some spa outlets here, as well as the Hoi An Night Market. 
Get used to Touters in Hoi An 
As a very touristy town, you have to get used to being "harassed" by touters who often offer "Buy 1 get 1 free" massage services. We were approached more than 5 times by one lady – every time we walked past her (near the bridge).
Unfortunately, the last thing you want to do with a body full of perspiration is to be rubbed. :)
By the way, the "saleswomen" spoke decent English which was rather uncommon in Da Nang.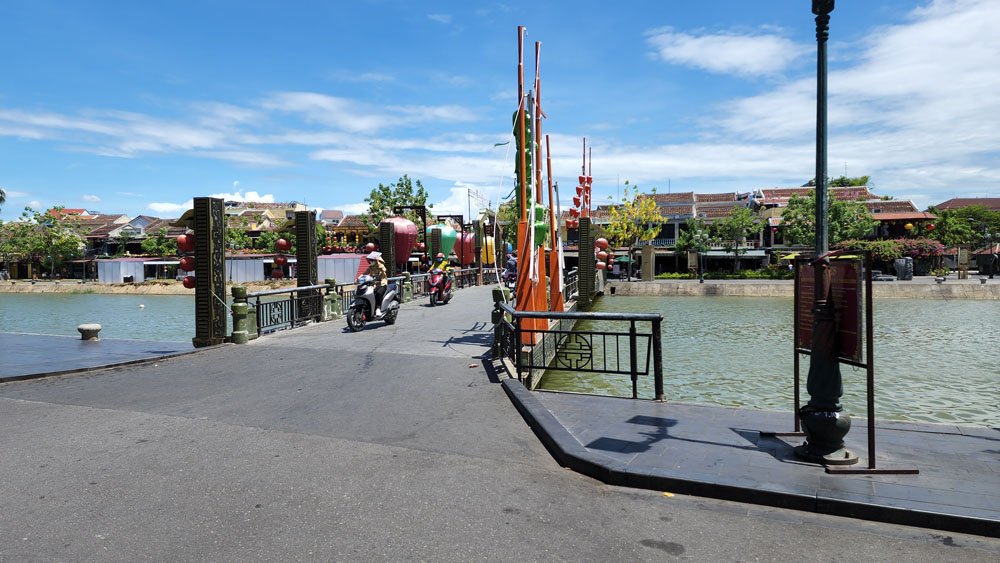 Another type of harassment that I read was that of old ladies carrying baskets of fruits, who would ask if you like to take photos with them. I read that if you do, they would harass you for payment.
Therefore, when we were approached by one, I warned my partner to walk away. But he ended up buying bananas from the old lady even though he didn't get any photos taken.
Think he got smitten by the bananas (or the Ah Mah). And I heard that he made the Ah Mah very happy, who offered him more bananas which he politely declined.
TIP: When another touter approached me, I brushed her off quickly. But the young lady was nice to warn me about pickpockets. 
People-Watch in Hoi An Cafe 
Our search for an air-conditioned café was in vain and we found ourselves settling for Aimee Cafe. I had my first try of Egg Coffee (55k VND), but found it too sweet. Also thought it tasted more like condensed milk than egg.
I think the recipe was a success because I read that egg coffee was invented in the 1940s when milk was scarce. So egg yolk whisked with a lot of sugar was used instead. While idling, we took the opportunity to e-book tomorrow's day trip to Ba Na Hills (both admission tickets & transport). 
Aimee Cafe was a good spot to do people-watching as we sat on the low stools near the entrance, and witnessed hordes of tourists arriving in groups from around 4.30pm onwards.
---
Hoi An finally came to life!
By late afternoon, the streets were full of girls in long pretty dresses, busy posing for photos. I looked quite out of place in my t-shirt and shorts, but was proud to remain unique and withstand vanity. LOL!
Vanity Time for Ladies!
The mood and ambiance improved significantly with these pretty sights and bustling activities. But you may struggle to take photos that have only 'you' in it.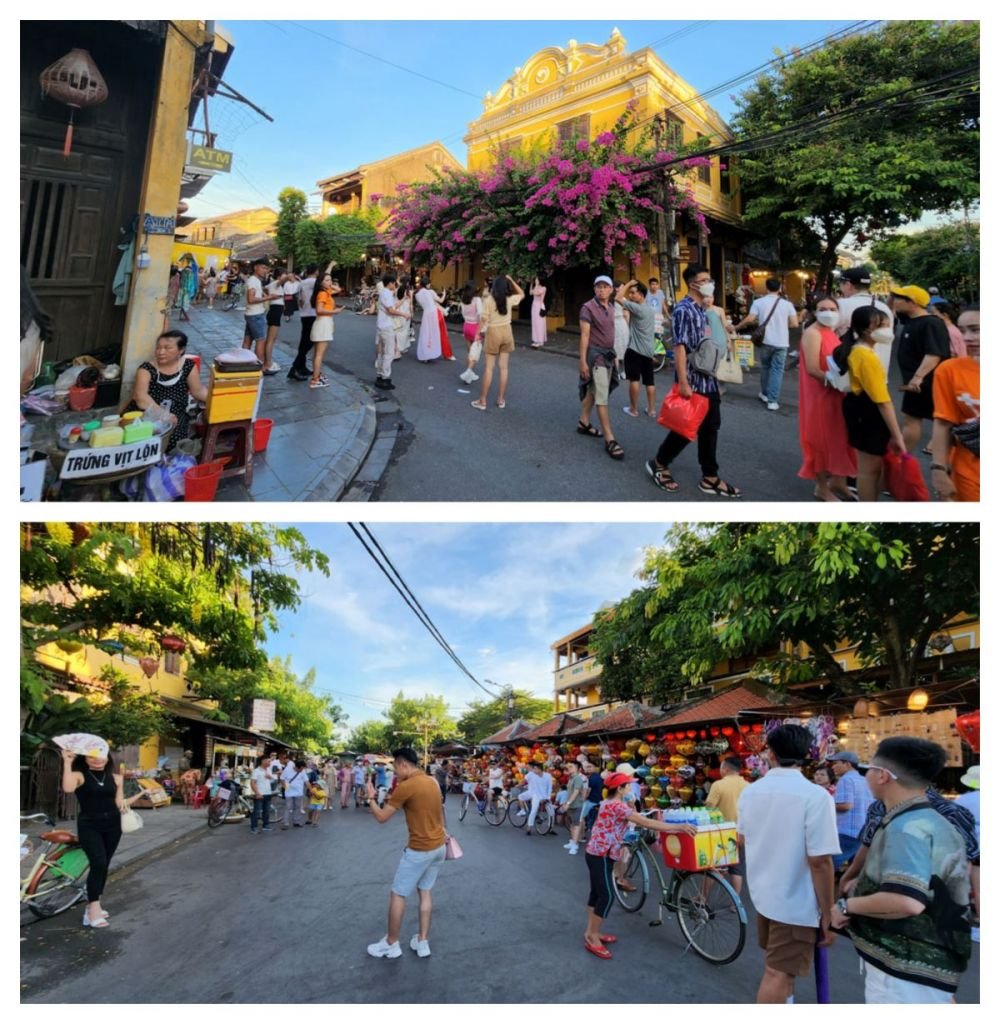 Hoi An Night Market now enjoyed more crowd
Once again, we crossed the bridge to visit Hoi An Night Market located on An Hoi Island. As compared to the earlier visit, Hoi An Night Market now enjoyed more crowd. 
I also saw people sitting and posing with the large beautiful lanterns. I believe this is a paid service as I saw money being transacted.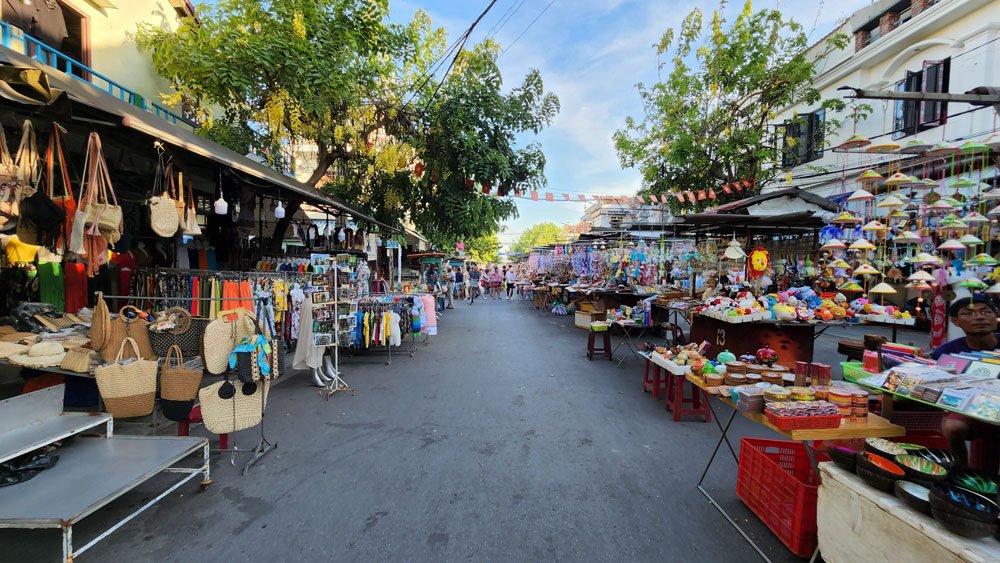 ---
Colourful Hoi An River in the evening
Hoi An River turned busy when night was about to fall. You'll see both boats and people getting ready for actions – they would take a sampan boat ride and release lanterns. 
The linking bridge is also a good spot to watch the sun set in Hoi An. Alternatively, you can choose to do so during the boat ride, but you have to choose to be on the boat at the right time! :)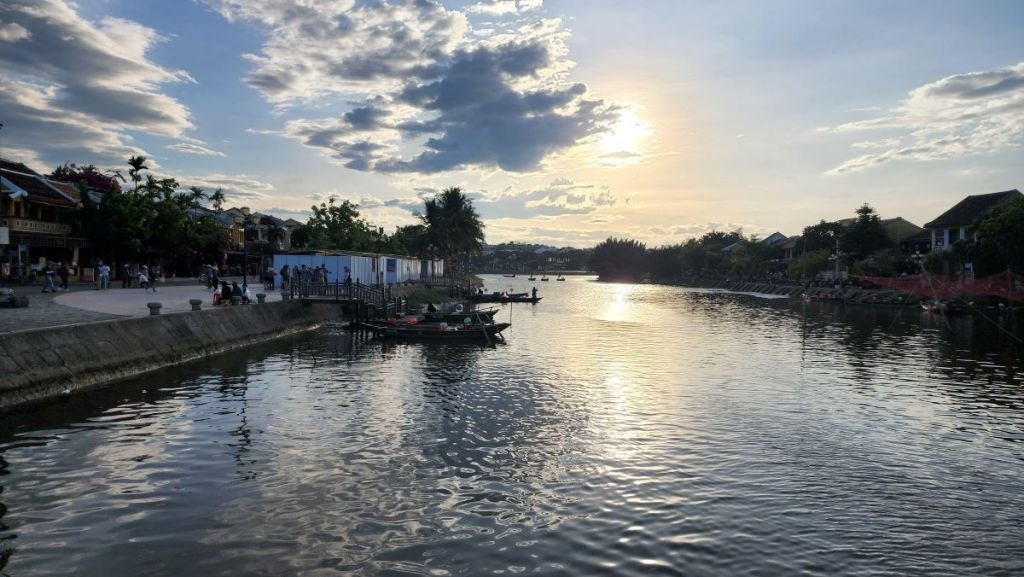 Dinner at Hoi An (by the River)
Finally, when night fell, we stationed ourselves at Cargo Club restaurant that fronted the river. This was a perfect spot to enjoy the colourful and romantic activities taking place along the river.
I also learned from my lunch lesson to order things I enjoyed eating than "touristy" food that I didn't have a genuine interest in. The protein-rich "Seared Tuna" that I ordered was an excellent choice (195k VND)! So yummy! 
Our turn to enjoy Boat Ride in Hoi An 
After dinner and beer, we took a boat ride and released lanterns at Hoai River. You can pre-book your river ride here or get the ticket from aggressive touters when you are there. :)
---
Goodbye, Hoi An! 
Though we initially told our driver (arranged through Klook) to pick us up at 9pm, we realised that we were ready to go off earlier, and texted him 30 minutes in advance (as per his instruction).
The driver came promptly at 8pm and we were happy to make our way back to Da Nang. It was a nice day – but we were hot and sticky! :P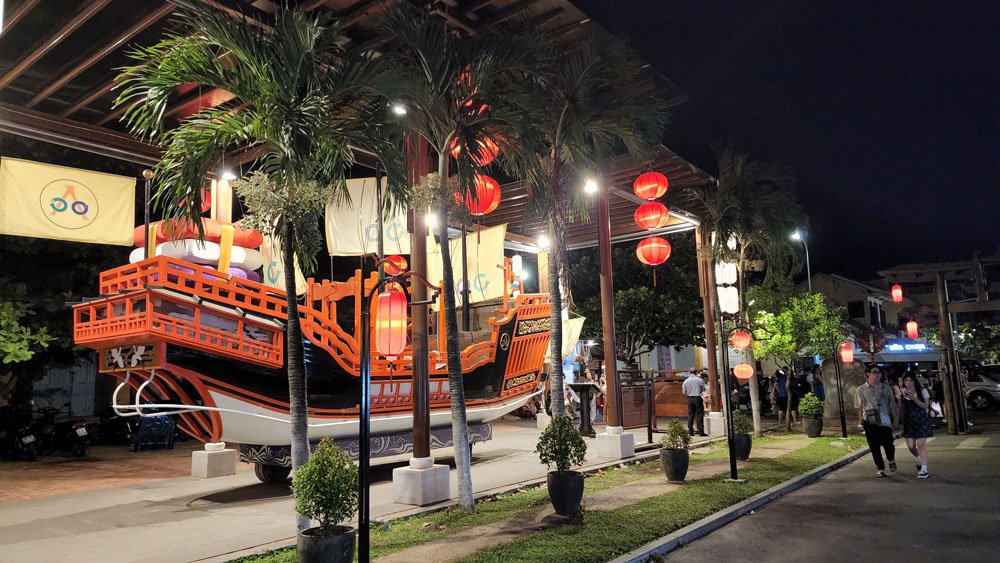 ---
Should you stay in Hoi An or Da Nang?
I'd earlier wanted to base myself entirely in Hoi An and am lucky I changed my mind at the last minute. There probably wouldn't be enough things for me to see, do and eat in Hoi An (based on my specific interest) as compared to the main city of Da Nang.
But it really depends on your stay duration and interest – we weren't keen in getting tailored shirt in a touristy town or buying leather products. But if we had stayed a few days in Hoi An, maybe we would go for some of the following activities: 
Visit An Bang Beach
Eat at Banh Mi Phuong (so called best Banh Mi in the world)
Solo travelers may enjoy a few days' stay in Hoi An as it is a very walkable town and you can get by easily without having to "grab", ride a motorbike or cross the notoriously-difficult-to-cross road of Vietnam. 
One Day Hoi An Itinerary
As promised earlier, here's a one-day Hoi An Itinerary for those who intend to visit Hoi An as a day trip from Da Nang. It's done in hindsight.
As you see, I would plan my arrival at 4pm instead of 1pm. It makes a lot of difference especially when you are visiting on hot months as the heat in Hoi An was intense.
Without any further ado, here's my one-day Hoi An Itinerary.
Time
Activity
3pm

Get picked up by driver at hotel in Da Nang (or take this day tour to skip the logistics).

4pm

Arrive at Hoi An, walk around town and admire historical buildings such as Japanese Bridge and Fujian Assembly Hall.
(Come earlier if you like to buy the old town tickets and enter 5 of those buildings. Try Banh Mi Phuong if the town is quiet to avoid the queue.)

4.30pm

Take vain shots against old facades 

Do people-watching at cafe. Try an egg coffee if you have a sweet tooth.

5.30pm
Admire sunset by the bridge (or on the boat)
6.00pm
Base yourself at a restaurant with a good river view, and enjoy your dinner and alcoholic drink :)
7.00pm

Go for boat ride and release lanterns. 

Visit Hoi An Night Market if you enjoy street shopping that requires bargaining.

8 or 9pm

Meet driver and head home
Map Locations for Hoi An Itinerary
Hilton Da Nang Hotel >> Hoi An Drop-off Point >> Japanese Covered Bridge >> Cẩm Phô Communal House >> Strolling within Hoi An Ancient Town >>  Morning Glory Restaurant >> Assembly Hall of Fujian Chinese >> Hoi An Market >> Aimee Cafe >> Hoi An Night Market >> Cargo Club Restaurant >> Boat Ride & Release Lanterns >>  Return to Hilton Da Nang
---
Thanks for reading through our Hoi An itinerary. Remember to check out what we did on Day 1 – 5 (Part 1) and Day 6 to 10 (Part 2) in Da Nang. 
Connect with me if you like to get notified to our latest and 100% honest articles and reviews! 
SUBSCRIBE
This post may contain affiliate links, meaning I earn a commission if you make a purchase, at no cost to you. Read my full disclosure for more info.
(Visited 1,120 time, 4 visit today)