Hey guys, have you been waiting for Part 2 of our Central Taiwan travelogue? Today, you'll read about the things we did in Taichung region from Day 5 to Day 9.
We hiked up a mountain in Hehuanshan, fed some touristy sheep in Cingjing and spent a few days deeply exploring Taichung City. The final day was dedicated to Taoyuan city. Woah, that's when something frightening happened – my heart was pumping so hard I'd to place my palm over it to calm it down. You can read the story below.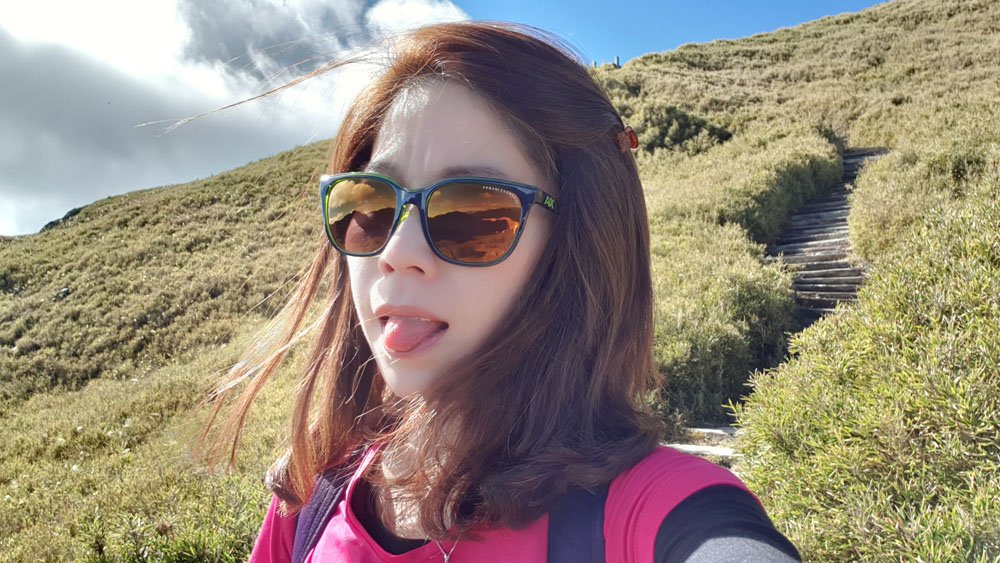 For better continuity, check out Part 1 of our Central Taiwan travelogue where we talked about the different modes of transport getting to Taichung City. We also shared why we eventually chose to rent a car for the entire trip.
Now, what you'll be reading below offers just enough information on the things you can do in Taichung and around. As usual, I'll follow up with individual day-by-day travelogue to provide in-depth info and extra tips. So do bookmark this post and check back often to look out for added links.
Okay, without any further ado, let's dive straight into Day 5 in Central Taiwan.
---
DAY 5: CONQUER HEHUANSHAN & CINGJING
Did you remember how we were down on our luck the previous day and couldn't do much in Cingjing and Hehuanshan? Well, today would be strikingly different in a positive way. The weather was bright, sunny and simply perfect.
After the free B&B breakfast, we checked out of our Guanghu Siji Minsu, dumped our luggage into the car boot and headed to Hehuanshan once again. The road scenery was such an extreme contrast from what we saw yesterday. Today, it's clear and beautiful versus yesterday's misty and gloomy sight!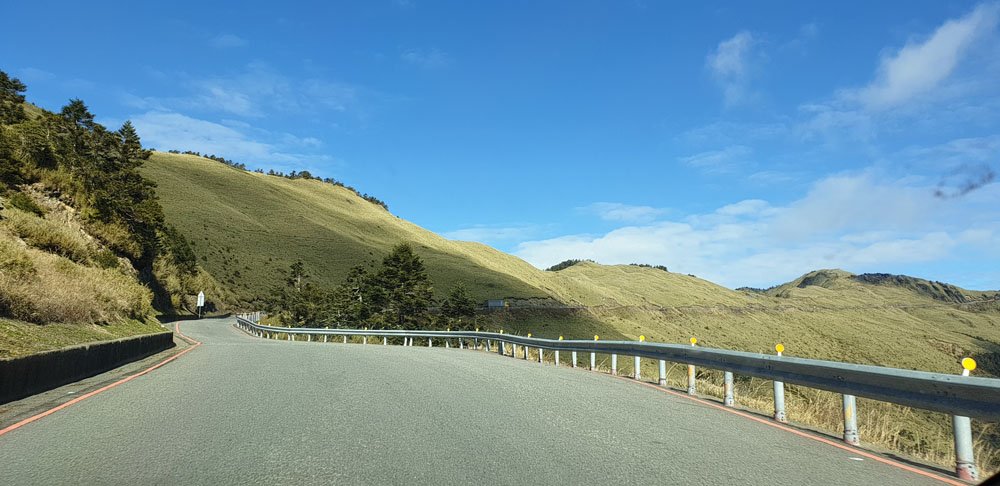 We made a quick stop at Yuanfeng Lookout and Hehuan Wuling (武嶺). The latter is the highest altitude road in Taiwan, standing at 3275m. If you are not hiking up any mountain, you would probably want to take some photos here. This is probably the most touristy place in Hehuanshan.
A short drive away is 3158 Cafe. We parked our car and walked towards the trail entrance of Hehuanshan East Peak. Let's try to conquer this second-highest peak in Hehuanshan.
All in all, it took us 50 minutes to reach the summit of Hehuanshan East Peak (3421m). Although the climb was steep and tiring, I wouldn't say it's difficult because the trails were nicely laid out as wooden staircases. If you can climb stairs for 50 minutes, you can conquer Hehuanshan East Peak.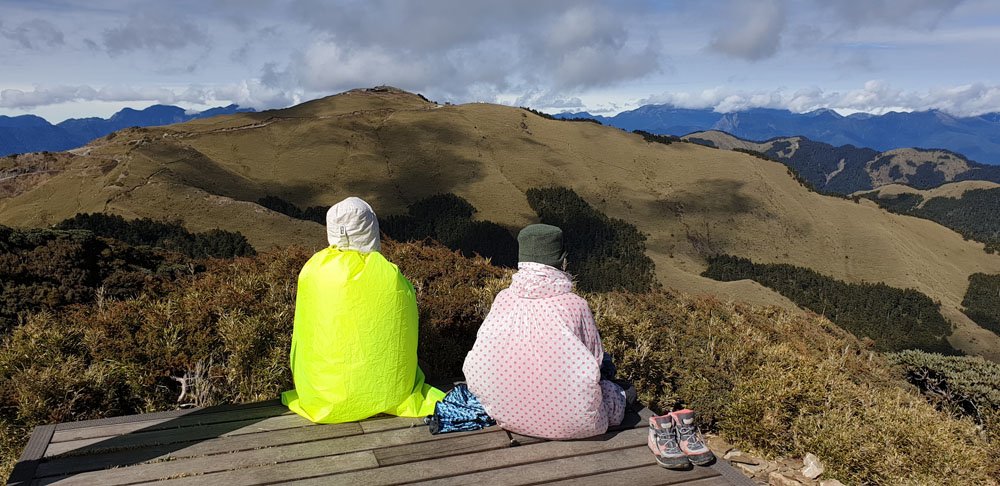 On our way back to Cingjing, we stopped by Kunyang View Point. This is a popular stop because it marks the western demarcation of Taroko Gorge National Park.
After another 50 minutes of drive, we were finally back at Cingjing. Seeing how highly-raved Chicken King restaurant was, we decided to have our lunch there. Hmm….our experience was different from what we've read online which mostly complimented this place as being value for money. A chicken cost TW$650 and a two-person's meal would exceed TW$1200. That's on the high side based on local pricing.
With our stomach filled, we moved on to Cingjing Green Green Grassland. Today would be a perfect day to enter this presumably, most popular attraction in Cingjing. Although it's touristy, I'll have to say that this place deserves a visit. The scenery is spectacular and you'll get to feed hungry sheep in the vast farmland.
Be prepared for lots of walking though as the place is huge.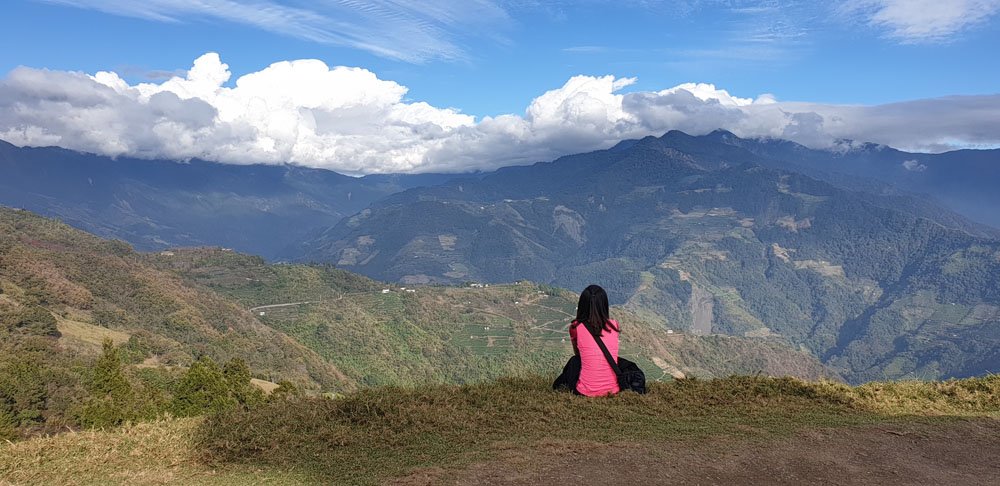 TIPS: Both Cingjing Green Green Grassland and the Skywalk run parallel to each other and offer similar views. If you are tight on time, just choose one of them. I would choose the Grassland as it offers more sights and activities.

For those without private transport, you can get on this Cingjing & Puli Day Tour. Alternatively, mountain lovers can opt for Cingjing Farm & Hehuan Mountain Tour. Both tours offer pick up and drop-off from Taichung.
And then, it was time to leave Cingjing for good. Due to an unfortunate traffic jam at Puli, we only arrived at Fushin Hotel Taichung at 7pm. This great hotel would serve as our base for the next few days. Check out my review of Fushin Hotel if you are looking for a great lodging experience in Taichung.
What shall we do at night? First, we made our way to Zhongxiao Night Market. This market in contrast to Feng Chia Night Market, is clearly meant for locals. You'll get more proper meal options (vs finger food).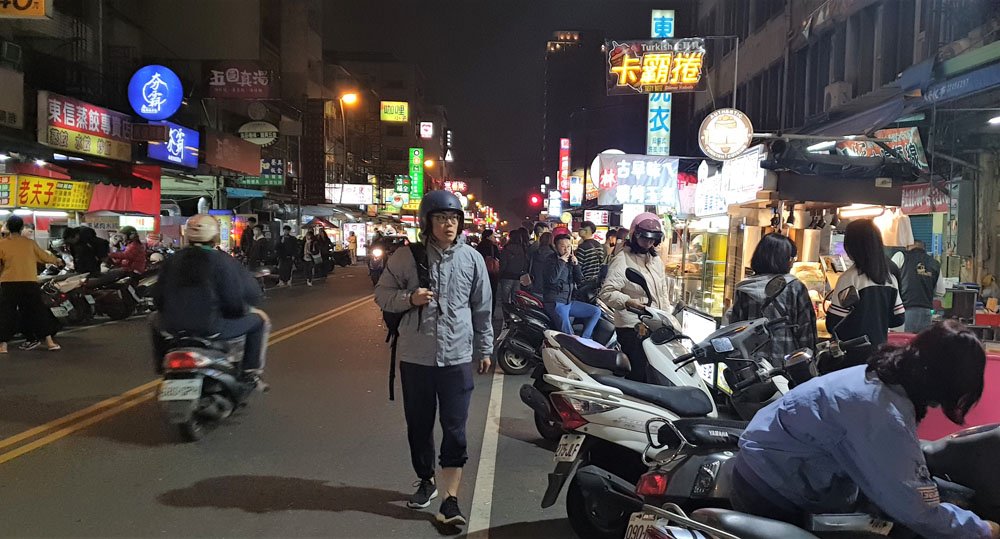 After dinner, we took a romantic stroll along Liuchuan Riverside Walk before making our way back to the hotel.
Map Location for Day 5 Central Taiwan Itinerary
Check out Guanghu Siji Minsu B&B >> Yuanfeng Lookout >> Hehuan Wuling >> 3158 Cafe >> Hehuanshan East Peak >> Kunyang View Point >> Lunch at Chicken King >> Cingjing Green Green Grassland >> Check in Fushin Hotel Taichung (read review) >> Zhongxiao Night Market >> Liuchuan Riverside Walk
---
DAY 6: EXPLORE OUTSKIRT OF TAICHUNG
Today would be our first full day in Taichung. Since the Taichung Second Market was within walking distance from Fushin Taichung Hotel, we decided to have our breakfast with the locals. The food there was decent, but do note that the selection is limited to Taiwanese food.
After breakfast, we then made our way to 921 Earthquake Musuem. This attraction is not easily accessible via public transport as it's located quite far from city centre. Since we have a rental car on disposal, it wasn't an issue.
INFO: Not everyone enjoys self-driving on foreign lands. In Taiwan, they have a strong culture of drivers-on-hire (just like how minsu or B&B is common in the country). Here's a private car charter that you can consider although I do find it significantly pricier than renting a car.
At the museum, we studied the indoor educational exhibits before moving outdoor to view the actual destruction caused by a 7.3 magnitude earthquake in 1999.
Next, we drove to a popular tourist attraction – the Rainbow Village. Both of us weren't initially keen on visiting this village, but thought we should go there and see why this place is on everyone's must-visit list. Perhaps, everyone thinks the same as the place was so crowded.
There were people standing/posing against every inch of the wall, and it was extremely hot during our visit in January. We didn't stay for long.
TIP: Taichung's weather in January should be a low 20 degree Celsius or below 20. During our visit, the weather was 29 degrees. If possible, bring flexible clothing so that you can adjust along the way, e.g. layering, or bringing shorts along.
By mid-afternoon, we arrived at the western coast of Taichung, intending to catch sunset at Gaomei Wetlands. Since it was still early, we dropped by Wuqi Fishing Port (梧棲魚市) to see if we could get some fresh seafood for lunch. This port was big and touristy as compared to our experience at Daxi Fishing Harbor.
At Wuqi Fishing Port, you'll find a range of items from raw seafood to street food and dried-seafood souvenirs. We overfilled our stomach with TW$1000 worth of sashimi and Taiwan street food. By the time our feasting ended, we found ourselves in a bit of a rush to catch sunset at Gaomei Wetlands.
Our experience with Gaomei Wetlands wasn't great. Since everyone was rushing to the place at the same time (sunset), traffic near the wetlands was slow. Parking was also chaotic and chargeable. If traffic was bad, the human jam was even worse. Look at the number of people on the boardwalk. The place was so god darn crowded I wondered if the platform would collapse. LOL!
TIP: Not driving in Taiwan? This Gaomei Wetlands Tour will bring you to Gaomei Wetlands, Rainbow Village and a few other popular places in Taichung.
If I've to list the second most touristy place in Taichung, Gaomei Wetlands would be the one (No. 1 is of course Feng Chia Night Market). What could be worse was how we didn't even manage to catch any sunset there. It was a cloudy day and there wasn't a tinge of orange or yellow. Just a hazy and polluted sky.
Were we done for the day? Of course not. With the convenience of our own rental car, we could get to many places, even after nightfall. Next up was Aofong Green Belt (鰲峰玉帶橋). We walked through the LED-lit bridge, before hiking up Ao Fong Hill Observatory. It's a nice place to catch a bird eye's view of Taichung city from the top.
The last itinerary for the night was at Miyahara (宮原眼科). The queue at the ice cream shop was crazily-long as many yearned to get Instagram-worthy ice cream that cost above TW$350. Unfortunately, you don't get to sit and enjoy the ice cream despite the pricey investment.
If you want to dine comfortably, pop by the high-ceiling store next door which would remind you of Hogwarts in the Harry Porter movie. The first floor of the building sells expensive and pretty food souvenirs while the second floor has a restaurant that serves guests who agree to spend a minimum sum (think around TW$325).
We, being value-conscious travelers, left after admiring the interior decors. On the way back to our hotel, we passed by Zhongshan Green Bridge (中山綠橋) and admired the river that was flowing in the middle of a busy street junction.
Map Location for Day 6 Central Taiwan Itinerary
Taichung Second Market >> 921 Earthquake Museum >> Rainbow Village >> Wuqi Fishing Port >> Gaomei Wetlands >> Aofong Green Belt >> Ao Fong Hill Observatory >> Miyahara >> Zhongshan Green Bridge
---
DAY 7: FUN TIME IN TAICHUNG CITY CENTRE
Today would be a fun and relaxing day in Taichung City. If you love taking photos, today's itinerary will fit you like a glove.
We started the day eating true-blue local Taiwanese breakfast from OT Egg Biscuit. This is a popular makeshift store located near Yizhong Night Market and operated by some young Taiwan entrepreneurs. We ordered egg biscuits and freshly-brewed tea for takeaways.
TIP: Egg Biscuit is actually more like a crepe than biscuit.
The next stop is one of my favorite attractions in Taichung. At this local cultural market (審計368新創聚落), you'll see young locals peddling handicrafts and pretty pastries to mostly locals. Yes, it'd appeared to me that most customers weren't tourists. See, this place doesn't even have an English name on Google Map yet (as at time of writing).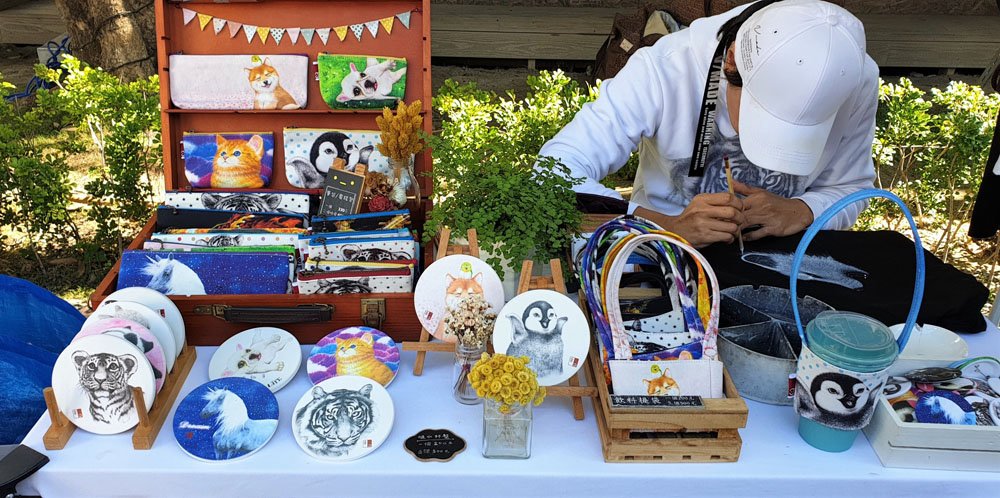 Other than art wares and photo-friendly props, you'll also see quaint cafes and pastry shops. My best purchase in Taichung must be these puffs and cute breads from LUHO Home of Puff. Everything that I bought from that bakery was so darn good! And they were unbelievably affordable!
Next, we moved on to an attraction that would make us more "cultured". :) We found ourselves admiring art pieces at the National Museum of Fine Arts. If you have been following us for long, you'll know we are more into nature and outdoors than cultural attractions. But this place was surprisingly entertaining.
Maybe, it's not overly-abstract for commoners like us. The strong air-con and clean toilet were great bonuses too! :)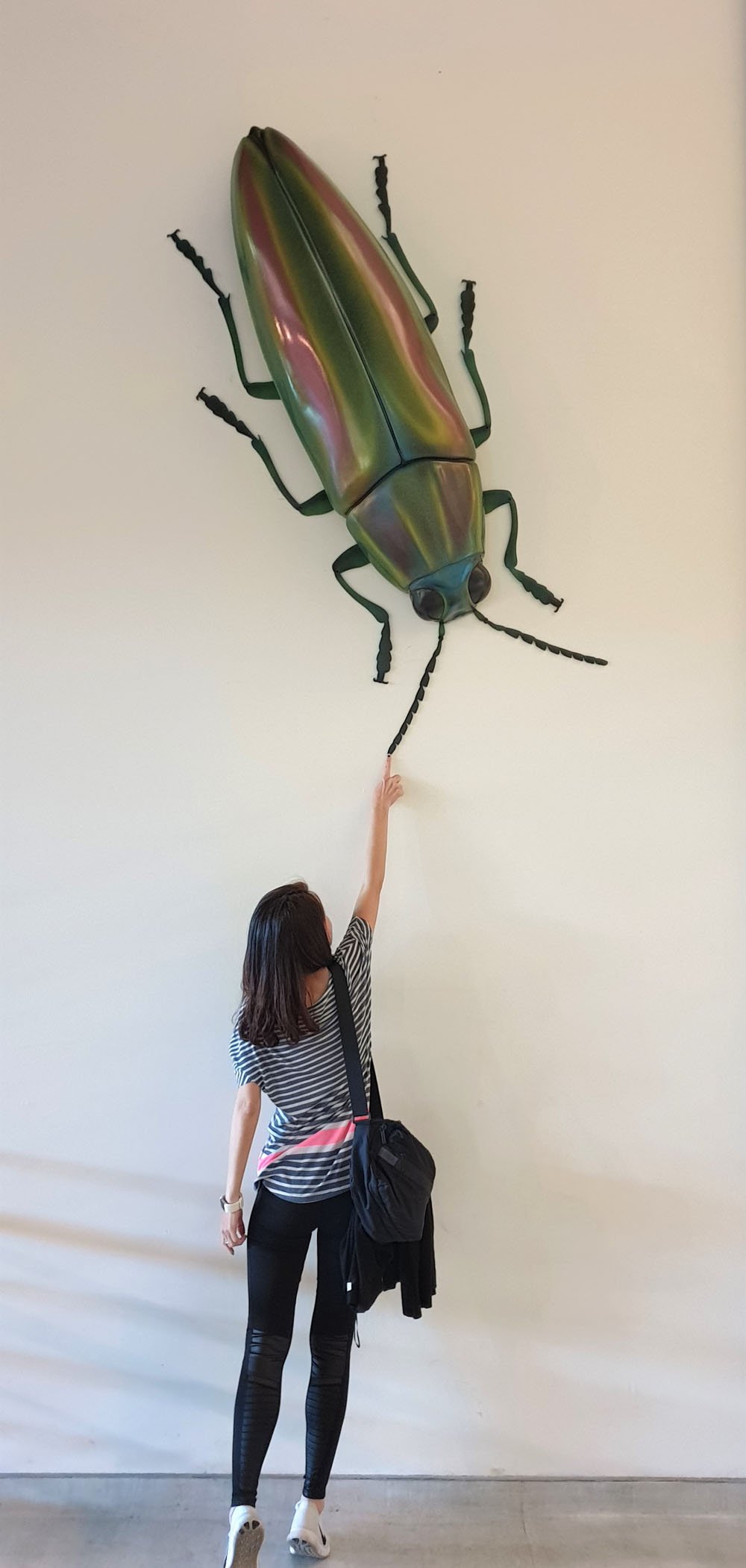 A little more cultured by now, the next thing we did was to get to the most popular streets in Taichung city. We strolled past Taichung Civic Square – a family-friendly park – before moving on to CMP Museum of Arts. We also spent a brief moment at Caowu Square and Calligraphy Greenway.
Done with the city attractions, the remaining daylight was dedicated to some cute stuff. First, we visited the Totoro Bus Stop before driving off to an even more interesting street – the Animation Lane. I thoroughly enjoyed my walk through the lane as the walls were filled with probably more than 20 lovable cartoon artworks.
What's for dinner? Since the trip was coming to an end, we decided to splurge on dinner. At this Wagyu Steamboat restaurant (鍠樂極上和牛海鮮鍋物), we spent over TW$5000 on our last dinner in Taichung. Service was top-notch and we were even gifted with free professionally-taken photos.
The dining experience was truly memorable! However, the beef was just okay, to be honest! :)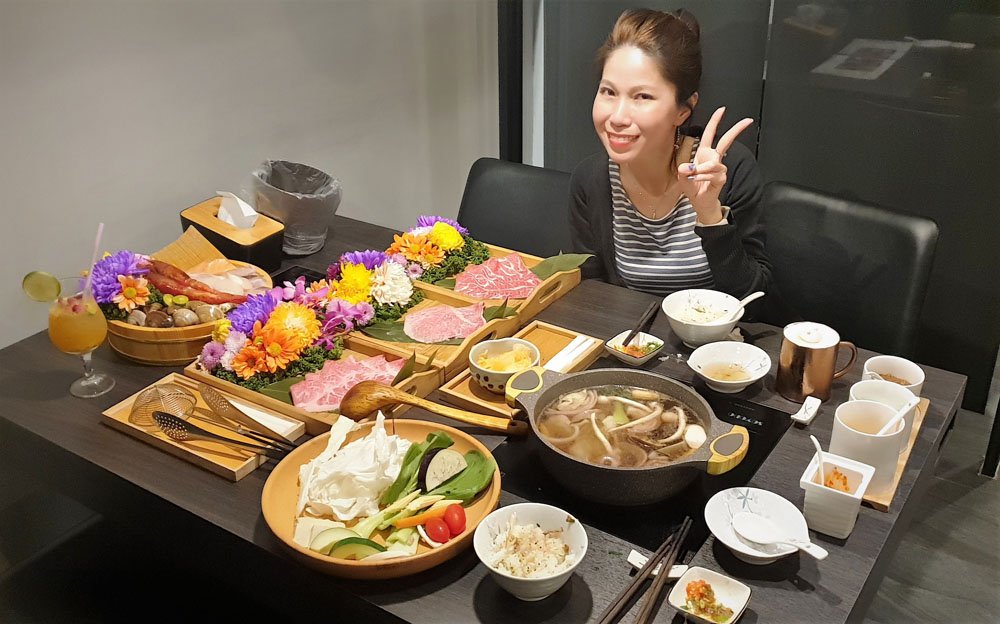 After dinner, we shopped at Parklane by CMP and Kuang San Sogo and ended the night revisiting Feng Chia Night Market.
Well, the man is always hungry!
Map Location for Day 7 Central Taiwan Itinerary
OT Egg Biscuit >> Cultural Market (審計368新創聚落) >> National Museum of Fine Arts >> Taichung Civic Square >> CMP Museum of Arts >> Caowu Square >> Calligraphy Greenway >> Totoro Bus Stop >> Animation Lane >> Wagyu Steamboat >> Parklane by CMP >> Kuang San Sogo >> Feng Chia Night Market
---
DAY 8: EXPLORE TAOYUAN CITY
We would be leaving Taichung today. Before that, let's get some authentic Taiwanese breakfast. To allow my partner to sleep more (he had to drive), I woke up early and made my way to a local breakfast store (三佳早點) located near my hotel in Taichung. This breakfast place closes at 10am.
By the time I was there (9.20am), many items were sold out. So I could only order egg crepes of different variations – Char Siew or spring onion fillings. I topped up my order with fried eggs and soya milk. Both of us enjoyed this simple Taiwan "homemade" breakfast.
We then checked out of Fushin Hotel and made our way to Taoyuan city. The reason why we decided to spend a full day in Taoyuan was because we wanted to know what this city offers other than a popular international airport.
After a 2 hours' drive, we reached Majesty Hotel. I'm not sure how other hotels in Taoyuan are like, but I would not recommend Majesty hotel. In case I don't have time to write a proper review, this hotel is way too old and dated for our liking. It also seemed to be near seedy areas as we saw middle-aged women scantily dressed along the quiet streets. They looked quite out of place.
However, it'd appeared to me that Majesty Hotel was doing some construction and hopefully refurbishment work. Just look at my window view, it's facing a metal barrier.
Since our hotel wasn't one we would love to be in, we left almost immediately and made our way to Taoyuan Train Station for lunch. We then mall-hopped from Shinkong Mitsukoshi to FE21′ Far Eastern Store and independent stores along the street.
By the way, the best bubble tea I've had in Taiwan was at TP Tea located at F21 mall (basement). I ordered a yam tea and was pleasantly surprised to find a generous serving of yam bits.
Where to have dinner in Taoyuan? We drove to RT Mart Zhongli Store, shopped there for a bit and decided to walk to Chung Yuan Night Market. I really LOVE this night market which is once again an authentic local street market. You'll see many young folks there, be it the stall vendors or customers. It's near to an University and that probably explains the young crowd, youthful vibes and creative food offerings.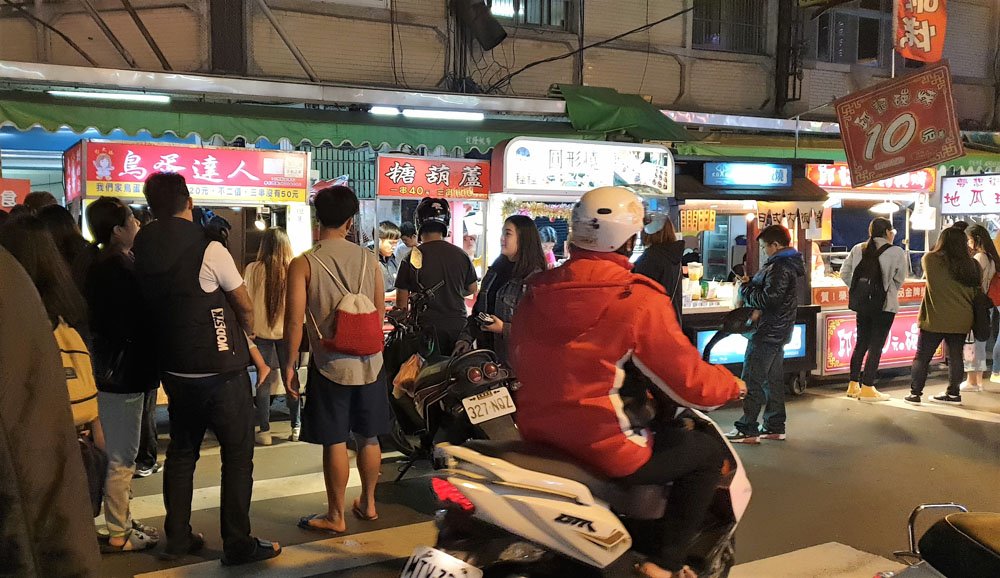 Our Heart-Pumping & Frightful Night in Taoyuan City
When we were done with our amazing street food sampling, we walked back to RT Mart Zhongli Store at 11.40pm to retrieve our car. To our horror, the entry to the car park was shut off by a huge metal gate. It wasn't even obvious to us that the place could even be sealed off completely.
Furthermore, we'd double-checked the parking instruction, which stated that if parking is to be made beyond normal operating hours, we would have to drive to the second floor parking area. That was exactly what we did! We'd even read aloud the instructions to each other before parking our car. And we are very confident with our command of Chinese because both of us scored "A+" in this subject.
By then, there wasn't a single soul there and we thought we were doomed. Not being able to retrieve the car would mean we had to miss our flight tomorrow morning.
Luckily, we spotted a few staff exiting the building a while later.
"No, the gate cannot be opened already. You'll have to come back tomorrow," one of the staff said.
Someone must have alerted the security because we found a not-too-friendly chap in uniform standing before us. Although we had followed parking instructions written on the wall, there's no point arguing who's right and who's wrong in such an instance. What we did was to apologize profusely.
"I'm so sorry! We are weak in our Chinese and must have misread the instruction. Can you please kindly help us?"
However, the security guard refused to bulge. Imagine how frightful we were as his refusal meant we would miss our flight for sure, and also incur extra cost due to late return of our rental car and 4G Pocket WiFi.
Oh No! We're Gonna Miss Our Flight!
The security guard kept repeating "How?" (怎么办?) and that made us wonder if we needed to do something that's considered illegal in Singapore. Every time he said "How", we just responded with non-stop apologies and refused to leave.
"We are really really sorry. Can you please help us? We have an early morning flight to catch tomorrow," I placed my palm over my heart expressing how scared I was and trying to evoke some sympathy from this chap.
It probably worked as the guard eventually called out some senior staff whom after a lengthy plea, agreed to reopen the metal gate if we could prove that we were tourists. We normally don't carry our passports with us. This must be our lucky day as for some unknown reasons, I decided to carry it with me to a night market. LOL!
I showed the senior staff my passport and won their approval to reopen the gate. Phew! That was seriously scary man.
After the ordeal, we drove to Carrefour JingGuo Store to calm our nerve and shop for some last-minute grocery. I was a zombie by then as it was already 1.30am and the ordeal was energy-draining. LOL!
In that blur state, I forced myself to randomly load up on some Taiwanese produce. I'll come up with a post on The Things to buy in Taiwan Part 3. In the meantime, you can browse through the following lists from my earlier Taiwan trips:
Map Location for Day 8 Central Taiwan Itinerary
Local Breakfast Store (三佳早點) >> Check out Fushin Hotel Taichung (read review) >> Drive to Taoyuan >> Check in Majesty Hotel >> Taoyuan Train Station >> Shinkong Mitsukoshi >> FE21 Far Eastern Store >> RT Mart Zhongli Store >> Chung Yuan Night Market >> Carrefour JingGuo Store
---
DAY 9: GOODBYE, TAIWAN
Today was the last day in Taiwan for this Central Taiwan trip. We had our free breakfast at Majesty Hotel and checked out early morning.
As per my other trips, I had to gulp down leftover beer on the last day to prevent wastage and was a little tipsy by the time we arrived at Taoyuan International Airport.
My partner returned the rental car while I guarded the luggage in a semi-alert state. Once he was done, it was my turn to return the 4G Pocket WiFi, which by the way proved to be extremely useful in our free-and-easy self-drive trip. You can check out my review of the Pocket Wifi.
Since I was still really happy from the effect of the alcohol, I couldn't stop smiling and appearing happy and approachable. The handsome immigration officer looked at my passport and said I looked like I was in my 30s.
It took the tipsy-me a while to register because 30 didn't sound young. But after realizing that this is at least 10 years off my actual age, I started looking even happier for the rest of the day. Ha Ha!
I did some fruitless DFS shopping before boarding a Cathay Pacific flight back to Singapore.
Map Location for Day 9 Central Taiwan Itinerary
Check out Majesty Hotel >> Taoyuan Airport >> Return Rental car >> Return 4G Pocket WiFi
And this concluded my 9 Days Central Taiwan Itinerary. Hope you find this useful in figuring out the things to do in Taichung, Central Taiwan and Taoyuan. Stay tuned for more Taiwan day by day posts.
If you like to get notified of newly-published beauty reviews and travel stories, just click the button below to subscribe. You'll also get access to all my exclusive stuff. See you there!
SUBSCRIBE
---
Related Post:
Pin This!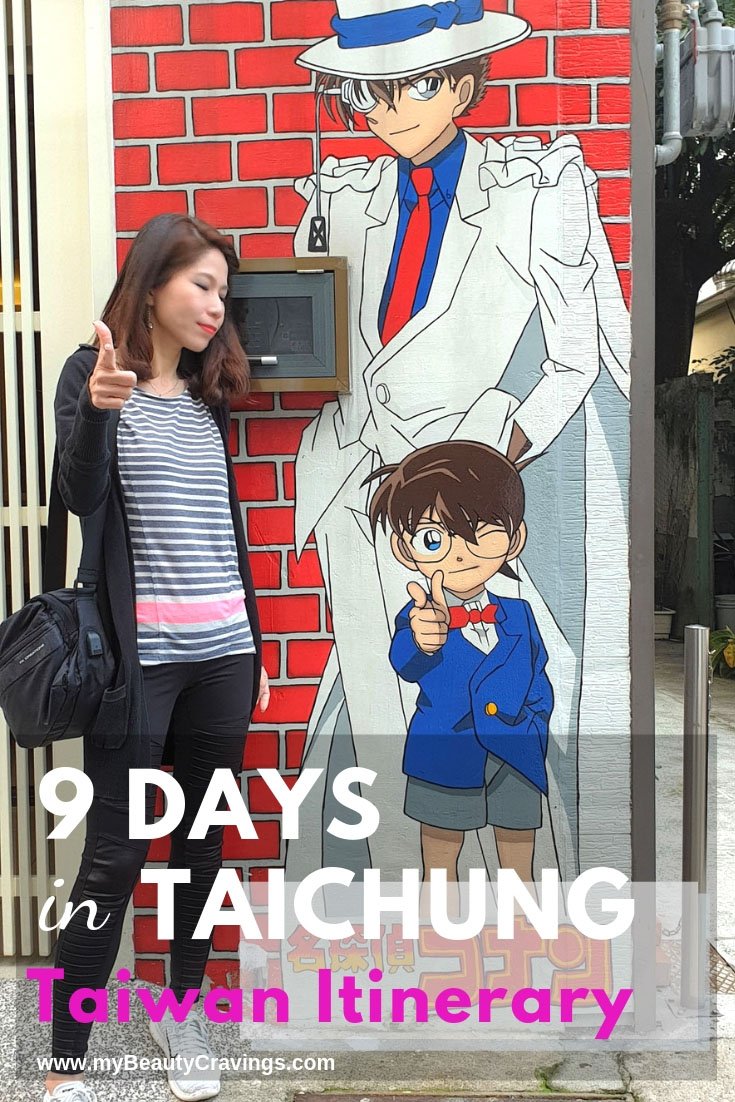 This post may contain affiliate links, meaning I earn a commission if you make a purchase, at no cost to you. Read my full disclosure for more info.
(Visited 2,117 time, 1 visit today)