Hey all, need travel ideas? We spent 8 days in Phu Quoc and Ho Chi Minh and I thoroughly enjoyed my South Vietnam trip. I highly recommend Phu Quoc island especially to those who love water activities, theme parks and great views.
The sea view in Phu Quoc island was beautiful – you'll get multi-tones of blue set against the sandy beach and swaying coconut trees! The mesmerizing sea view reminded me of my trip to the equally amazing El Nido and Okinawa.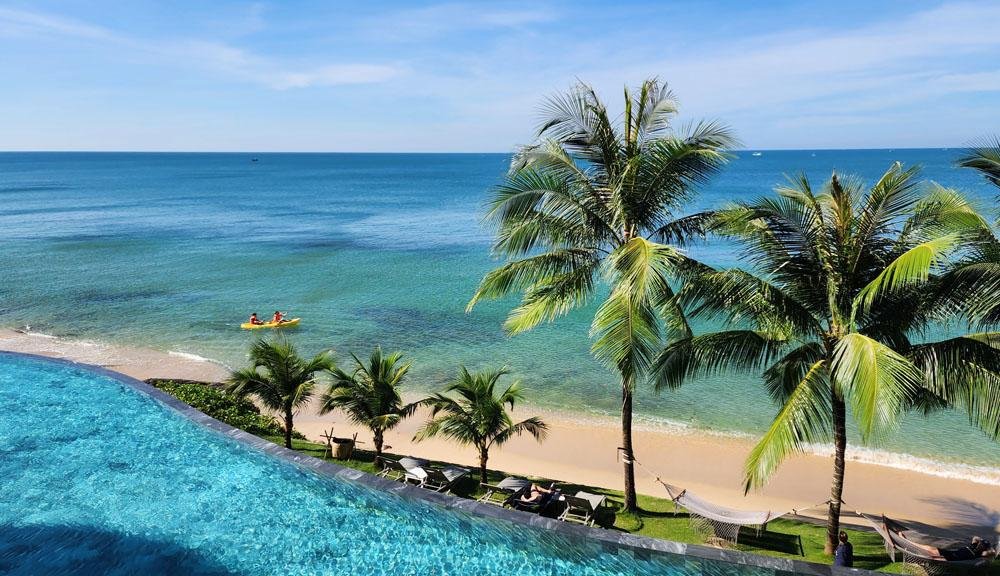 And the weather in Phu Quoc was excellent with comfortable temperature and not a single day of rain in December. For those who love a good tan, you'll definitely get it in Phu Quoc island. And for those who don't, you'll get it too. =)
MUST-READ:
---
4 Days in Phu Quoc: Is it too short?
In hindsight, we should have allocated at least 6 nights in Phu Quoc instead of 4 because there are quite a lot of things to do on the island. Furthermore, the attractions are located on extreme parts of the island – North, South, East, West – and time is required for commuting.
That's ok, this gives us a reason to visit the beautiful island again, and to cover the attractions we missed in this trip. I'll mention these "missed attractions" in the itinerary so that you can factor them in when planning your trip to Phu Quoc island.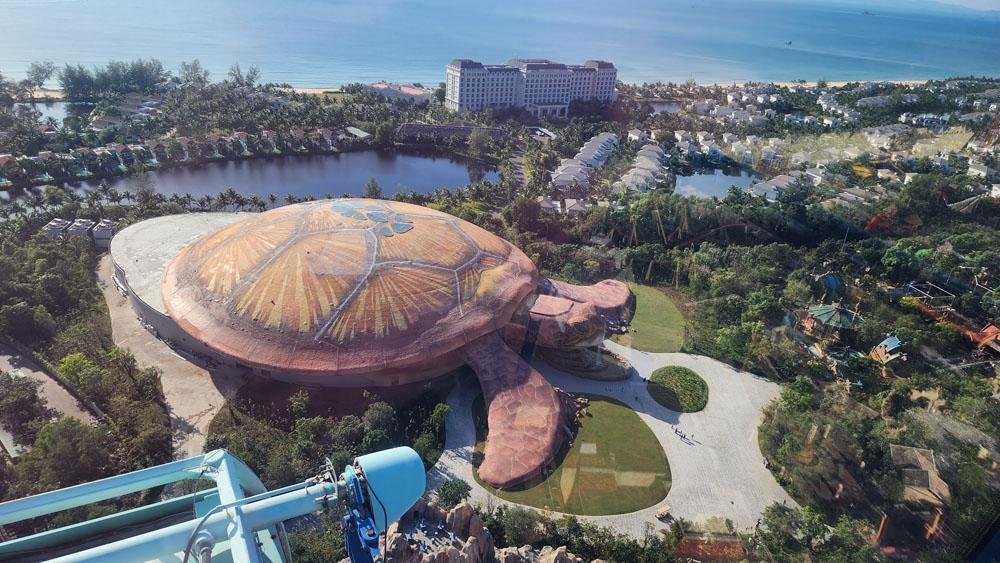 How about Ho Chi Minh City – how many days are enough?
We spent 4 days in Ho Chi Minh (HCM) and found the stay fulfilling or should I say educational. That's especially so if you are interested in history or Vietnam War specifically.
>> MUST-READ: What we did from Day 4 to 6 in Phu Quoc & HCM Itinerary
I also like it that HCM city is compact and walkable – definitely comfortable for solo travellers. I could walk to everywhere I wanted to visit within 20 minutes from my hotel. So the 4D3N I have there was just right for me to cover the places I wanted to visit.
All in all, if I can redo the trip, I would allocate 6 nights in Phu Quoc and 3 nights in HCM. Now, without any further ado, let me share our 8 days itinerary to Phu Quoc island and Ho Chi Minh city.
---
Location & Climate of Phu Quoc & Ho Chi Minh
Both Phu Quoc and Ho Chi Minh are located on the southern part of Vietnam. As such, weather was great in December and we didn't need to pack coldwear as compared to say Hanoi in Northern Vietnam.
Did you know? The capital of Vietnam is Hanoi, not Ho Chi Minh. Also, Ho Chi Minh used to be known as Saigon until 1945 when it was renamed after a communist revolutionary and statesman post-Vietnam war.
Throughout our 8-day stay, the temperature hovered between 25°C to 27°C on most days. That's a very comfortable air-con climate! Definitely a great contrast to our July trip in Da Nang that saw us melting in the freaking hot 36°C climate.
>> RELATED: 10 days Da Nang itinerary – A relaxing and rejuvenating trip!
How to get to Phu Quoc Island?
Unfortunately, it seems that there were no direct flight from Singapore to Phu Quoc island, as at time of writing. I envy the Koreans! :~) Because they have direct flights even though they are located further away from Phu Quoc. Why? :~(
To get to Phu Quoc, we flew from Singapore to HCM and then took a domestic flight to Phu Quoc via Vietjet. And I'll be honest with you, the journey wasn't easy because we experienced a 7 hours delay at HCM airport, out of which 4 hours were stuck in the cramp seat within the stationary plane.
I was so physically drained by the time we reached our hotel in Phu Quoc at close to 10pm, when we should have been there around 1pm. The 13 hours we took to get to Phu Quoc island from Singapore could have jolly well brought us to US or Europe.
Plus we lost a day too which caused our itinerary to be super packed! For info, actual flight time was supposed to be a total of 3 hours (SIN-HCM: 2 hrs) + (HCM-PQC: 1 hr).
Major Flight Delay due to Bad Weather
Now, it is common for domestic flights in some SEA countries (e.g. Philippines and Vietnam) to encounter delays. However (and to be fair), this major delay was due to bad weather in Phu Quoc rather than operational planning (or perhaps both?).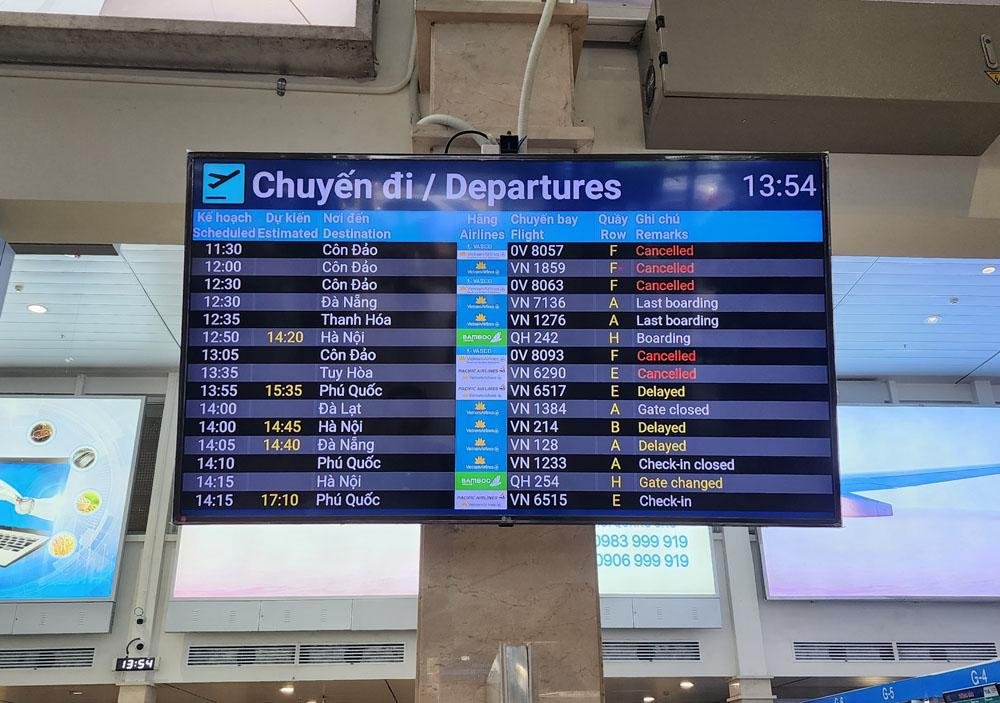 When we arrived in Phu Quoc island, it was unusually cold and windy – almost felt like pre-typhoon day in Okinawa. The next few days were alright.
Despite the flight hiccups, we thought the fun we had on Phu Quoc island more than compensated us for the misery we went though on Day 1. You'll see why when you check out our day-by-day travel accounts.
---
Day 1: Singapore to HCM, then Domestic Flight to Phu Quoc!
We took an early morning flight via Scoot and landed at HCM city before 9am. One thing we needed to do before taking the domestic flight was to collect our pre-purchased 4G SIM Card at HCM International airport (aka Tan Son Nhat International Airport).
TIP: Flight-time from Singapore to HCM is only 2 hours, and GMT in HCM & Phu Quoc is +7, meaning it gave us an additional hour when we landed in Vietnam.
After exiting immigration gate, we turned left and walk to one of the last counters. There, the ladies at the Viettel counter helped us install the 4G SIM Card which provided great coverage and generous data during our entire stay in HCM and Phu Quoc island. I highly recommend this SIM Card from Viettel!
Dining Options near Ho Chi Minh Airport
Next, we killed time (remember the severe flight delay?) by walking to a Carpark / Transport Hub just opposite the domestic airport. There were a handful of eateries and we settled for McDonalds!
With more time to kill (*sad*), we moved to another eatery at B Delicieux. The man ordered a Pho (beef vermicelli noodle) and Oolong tea (yah, eating again) while I got myself a nice cup of Vietnam Milk Coffee. It was a lovely cup of coffee that tasted like Hazelnut (45k VND).
However, coffee in Vietnam comes in very low quantity, like less than 100ml (prepared using a phin filter). I finished the coffee within minutes and had to order another one.
See the photo above? What you see on the left was my 2nd cup of coffee – untouched. That's all I got, and it was full of ice.
TIP: Coffee is Vietnam is paired with condensed milk rather than with milk or creamer. Hence, do expect it to be sweet. I asked for less sweet all the time!
Getting from Phu Quoc Airport to Town Centre (Duong Dong)
Fast forward all the misery we went through including the hours stuck within the non-moving plane, and da da….here's us arriving at Phu Quoc island late at night, instead of 1pm.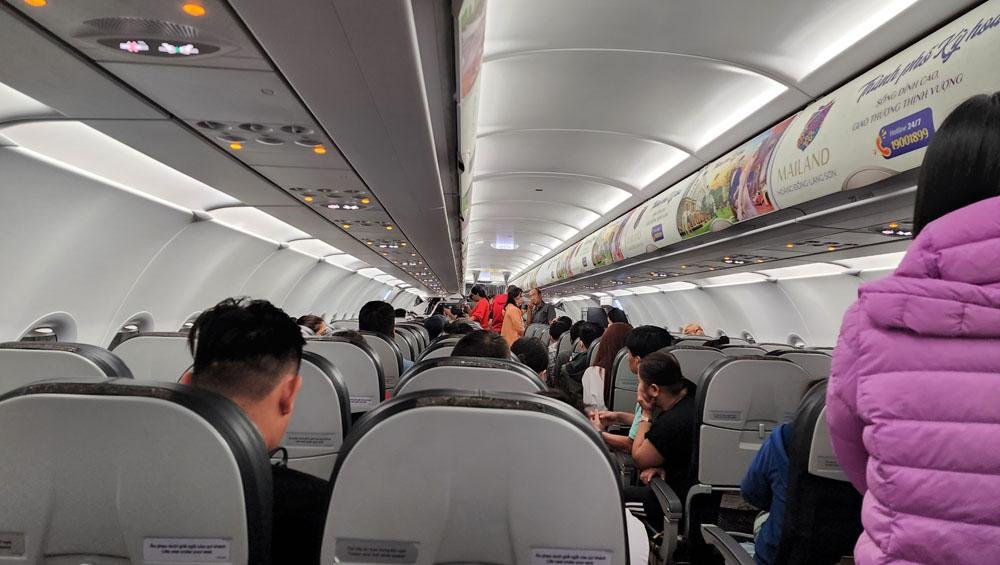 We took a metered taxi (190k VND) to Seashells Hotel & Spa Phu Quoc and checked in around 10pm. Thank god the hotel was amazing! Fabulous! Super cool!
Airport Transfer: If you like certainty in price, there's an airport private transfer that you can book online. But do factor in possibility of flight delay.
I highly recommend Seashells Hotel – it's one of the best I've stayed in – new, near to beach, so pretty and the best thing is you can hear the soothing ocean waves, right from your room! What a beautiful experience!
Night Market in Phu Quoc
Are there anything we could do so late at night? Yes, we visited Bach Dang Night Market at 10.20pm for our dinner. But there was hardly anyone there and the vibe was incomparable with other night markets we've been to, such as in Taiwan or even Da Nang.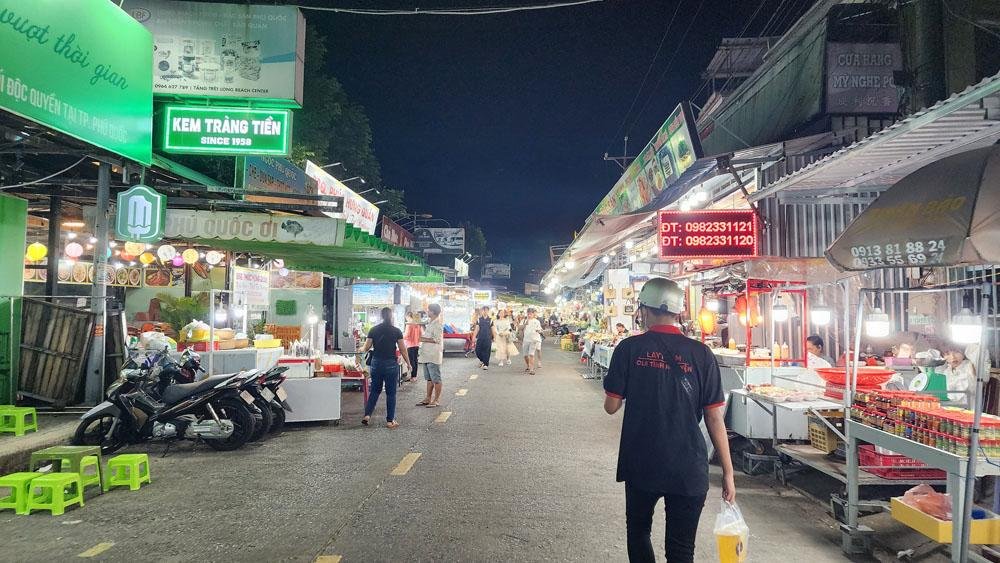 Food selection and stalls were also quite limited, with touters pestering you to buy things such as flavored coated peanuts.
We settled for some BBQ seafood, and ordered squid, escargot, clams, octopus and beer. Cost about 460k VND and sadly, we didn't enjoy the meal.
The clams were too chewy, seasoning was not great and some stuff tasted weird (like sewage?). We moved on to other stalls and had avocado juice and corn – the juice was alright but the corn…ah…not great.
Calling it a day for now! What a tiring day! Luckily, the hotel was great! Phew!
Map Locations For Day 1 HCM-Phu Quoc Itinerary
Arrived at Tan Son Nhat International Airport (in HCM) >> Breakfast near Domestic Airport >> Arrived at Phu Quoc International Airport >> Seashells Hotel >> Bach Dang Night Market
---
Day 2: A Fun day at VinWonders Amusement Park
How's it like to wake up to a cool ocean view? We did it in Da Nang (see post and photos here), and we are doing it again in Phu Quoc. What a lovely start to a day!
Breakfast at Seashells Hotel & Spa Phu Quoc was not bad. The outdoor dining area came with great sea view!
Rent a scooter in Phu Quoc
One important thing to do after breakfast was to get our transport in Phu Quoc, and we rented a scooter from the hotel at 200k VND per day. It took about 30 mins from asking for it to getting the scooter, which was cool and convenient.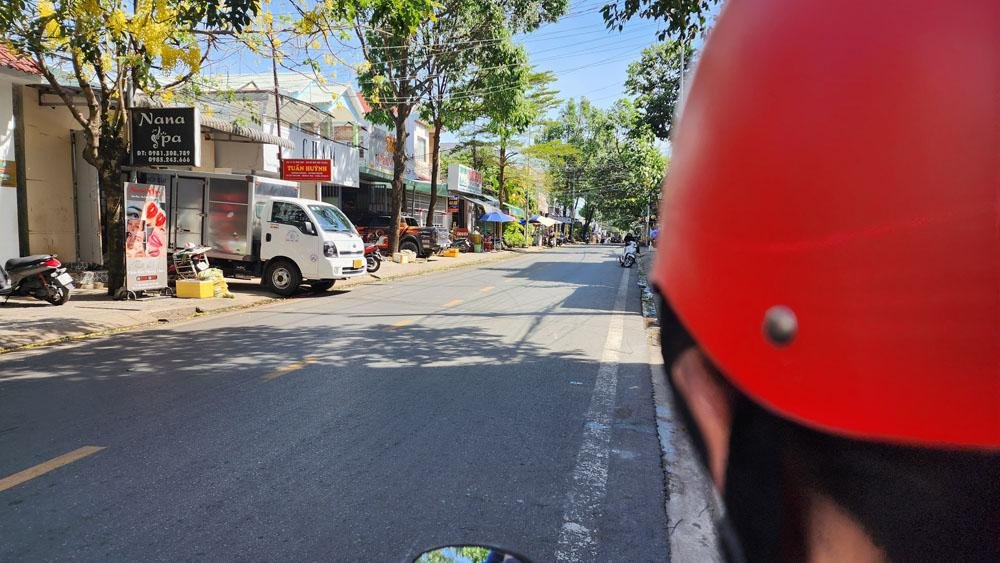 TRANSPORT TIP: Riding a scooter in Vietnam is not for everyone. You have to get used to transport culture in which many do not abide by traffic rules. :) Plus be prepared for a good tan (especially on the thigh and arms).

For peace of mind, consider getting private driver for the day. It's good value especially for those travelling in group (3 pax or more). You'll also likely reach your destinations faster than via a scooter.
A day of fun at VinWonders Themepark
Our first attraction was VinWonders, which is an amazing themepark that is totally worth the 880k VDN ticket price – you can pre-book your tickets online. If Ba Na Hills in Da Nang was amazing, this was a few notches higher because of the diverse experience it offered.
>> RELATED: Is Ba Na Hills in Da Nang worth a visit? Here's what I think!
TIP: VinWonders is located in the northern part of Phu Quoc, about 27km from where we stayed. It would have taken only 40 minutes to get there, but we took 1.5 hours because we were still unfamiliar with the scooter and riding condition in Phu Quoc/Vietnam.
I will dedicate a separate post to share all the great things we did at VinWonders. But prior to this post, do note that you can enjoy theme-park rides, waterpark, games, plenty of photo opportunities in fairy land settings, obstacle race, aquarium, as well as a super wonderful laser show that brought me to tears (even though I didn't understand what they were saying). LOL!
I had a great time at VinWonders and spent 8 hours there. Could have stayed there longer if not for the late arrival.
TIPS: Most people who visit VinWonders also visit nearby attractions such as Grand World Phu Quoc and VinPearl Safari. If we had more time in Phu Quoc, we would have planned to visit some of these attractions too. Do check out this Phu Quoc pass that can help you save lots of money – sadly this wasn't available during my trip.

Given that there are so many fun attractions in north of Phu Quoc island, you may want to stay a day or two there. Some popular hotels include Vinpearl Resort & Spa and Vinpearl Wonderworld.
Back at Bach Dang Night Market Again
After we got back to our lovely hotel, we walked to Bach Dang Night Market once again to see if it would fare better in our 2nd visit. Tried a durian bubble tea (30k VND) and a local bread dish that came with fanciful toppings such as quail eggs (25K VND).
Nothing truly memorable from the night market…to be honest, and the durian didn't taste real. That's it for Day 2, which was a fulfilling and fun-filled day!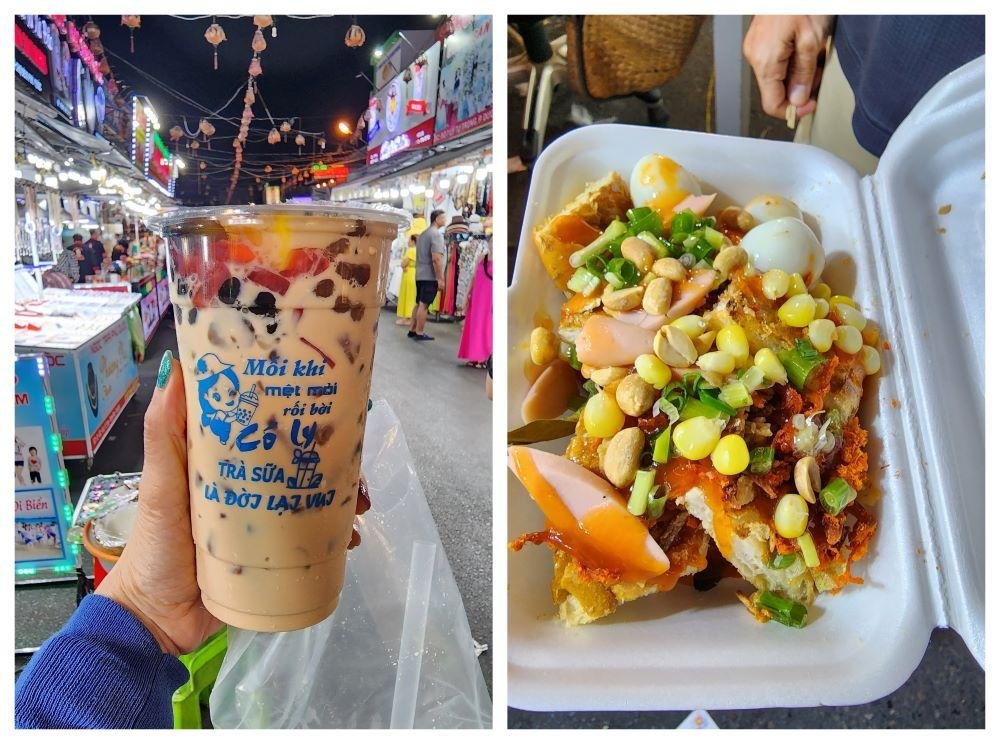 Map Locations For Day 2 Phu Quoc Itinerary
Rent Scooter >> VinWonders >> Bach Dang Night Market
---
Day 3: Exploring Nature in Central Phu Quoc
After the decent hotel breakfast, I returned to the room and couldn't help admiring the seaview from the balcony! Gosh – it was beautiful! Definitely a better view as compared to Da Nang – so blue and so close to the beach!
The sound of crashing waves was so soothing and I recommend Seashells Hotel wholeheartedly. It's one of the best hotels I've stayed in and I have absolutely zero complaints about it – only praises!
Climb a Mountain in Phu Quoc
We then set off for a day of nature in the central part of Phu Quoc island, and reached a rustic road-side cafe that would serve as the trail entrance to Tien Son Dinh mountain.
It takes 40 minutes to climb up to the summit (i.e. 80 minutes return trip). The climb was quite slippery even on a dry day, and we were on all four a huge portion of the time.
You have to conquer 2 vertical ladders that felt wobbly. Not a walk in the park for beginners, but we never at any point felt that our lives were in danger unlike the following climbs in Japan:
Do ensure you remain hands-free though (since you may need to be on all four). Lots of mozzies too, so please bring a full bottle of insect repellent for this hike.
Exploring Ham Ning Fishing Town in Phu Quoc
After the climb, we rode to Ham Ning fishing town to enjoy fresh seafood by the kelong (floating fish farm). Ordered seafood noodle (105k VND), crayfish (350k VND) and clams (90k VND).
Nothing really stood out once again and the price seemed to be meant for tourists (which we were, LOL!). I wouldn't recommend that you make your way here for the food, but you could do so if you like to dine at a kelong and have strong home currency.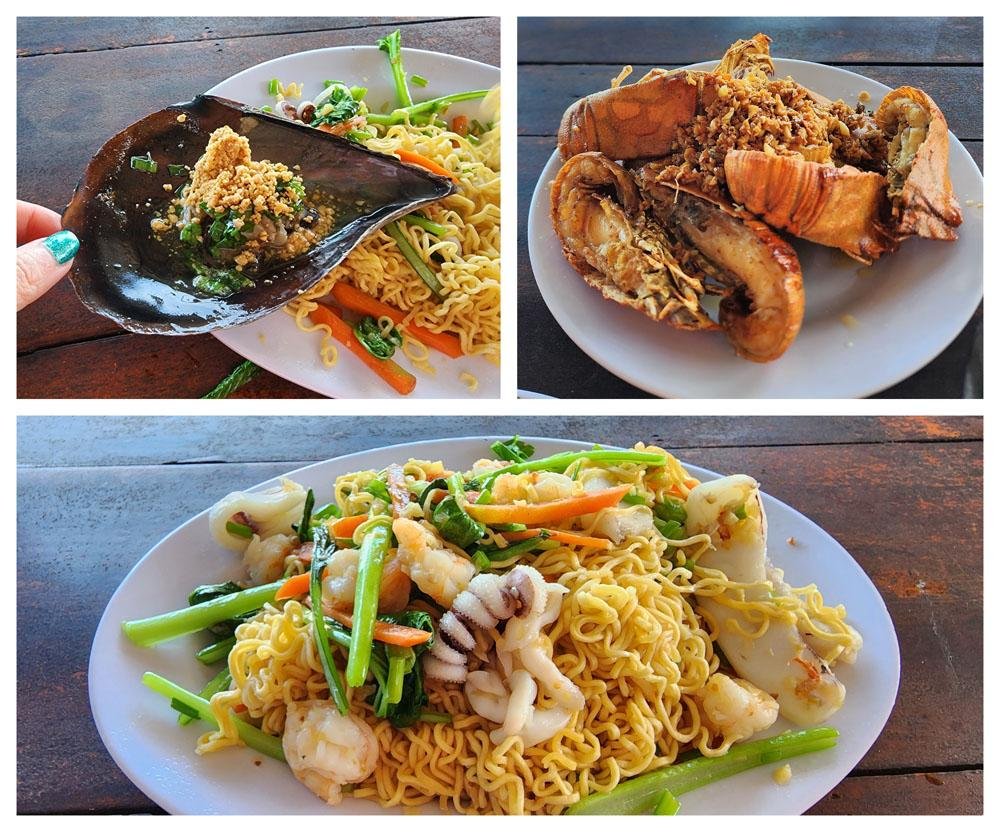 Hiking to a Waterfall in Phu Quoc
Next stop is to backtrack our journey to Suoi Tranh Waterfall. We didn't know it would take a 20-minute hike up a rocky path to get to the waterfall and were in cheap $2 slippers. Earned a couple of superficial cuts along the way – sob! Please be in proper hiking or walking shoes, k?
The waterfall was small by our standard, and didn't look clean or inviting. There were too many mosquitoes too!
>> MUST-READ: Check out other waterfalls we've explored!
Beautiful Sunset at Seashells Hotel
When back at the hotel, I couldn't help rushing out again to catch the beautiful sunset.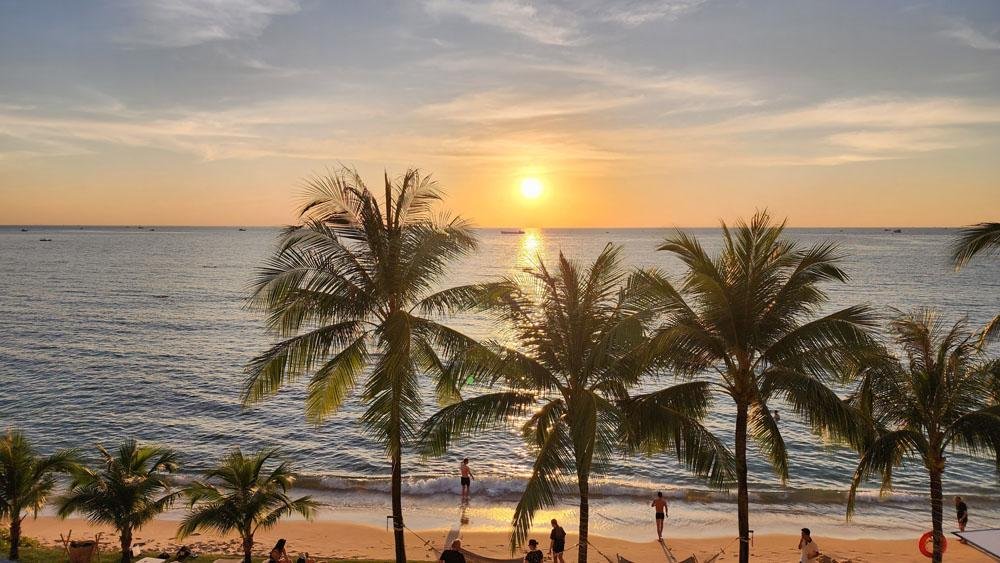 Dinh Cau Temple
I walked along the beach parallel to our hotel, and reached Dinh Cau temple within minutes. It's a small seaside shrine and lighthouse. I don't think you need to make an intentional trip here unless you stay very close to it, or are religious.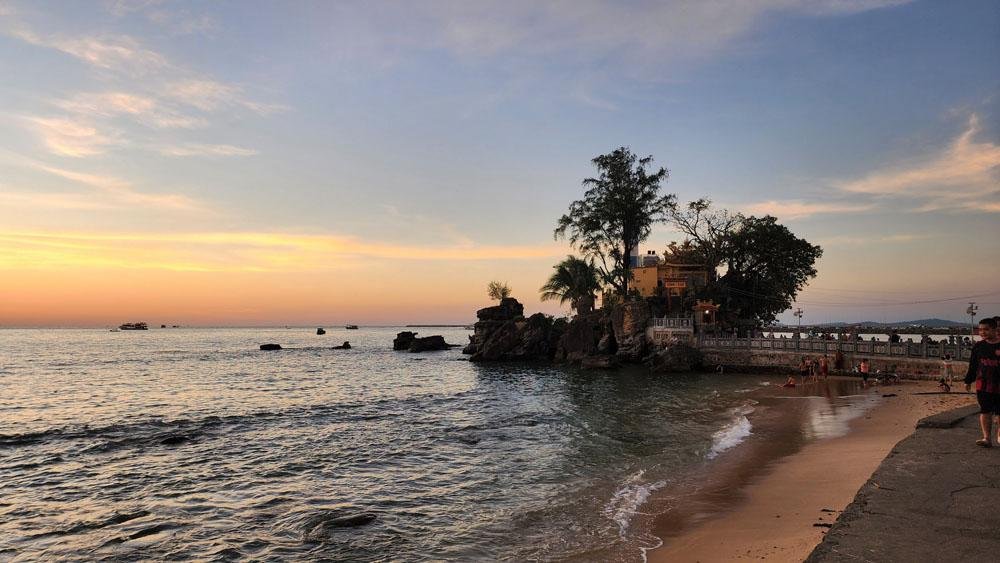 Recommended Restaurant in Phu Quoc!
What's for dinner in Phu Quoc? Finally, we had one eatery that I can recommend – i.e. a hot and yummy seafood bee hoon (vermicilli). Dishes at Bun KIEN – XAY restaurant cost about 60k to 85K depending on how many types of seafood you like in the bowl.
What's fun was how you need to chop, crush and make your own chilli sauce with a mix of condiments. The soup was tasty and the sotong was so tender! Highly recommended dining place if you stay in Duong Dong town.
Biggest Supermarket in Phu Quoc
After dinner, we rode our little scooter (getting used to riding condition by now) to the biggest supermarket on Phu Quoc island – at King Kong mart. To manage your expectation, it's not that big, okay? But sufficient!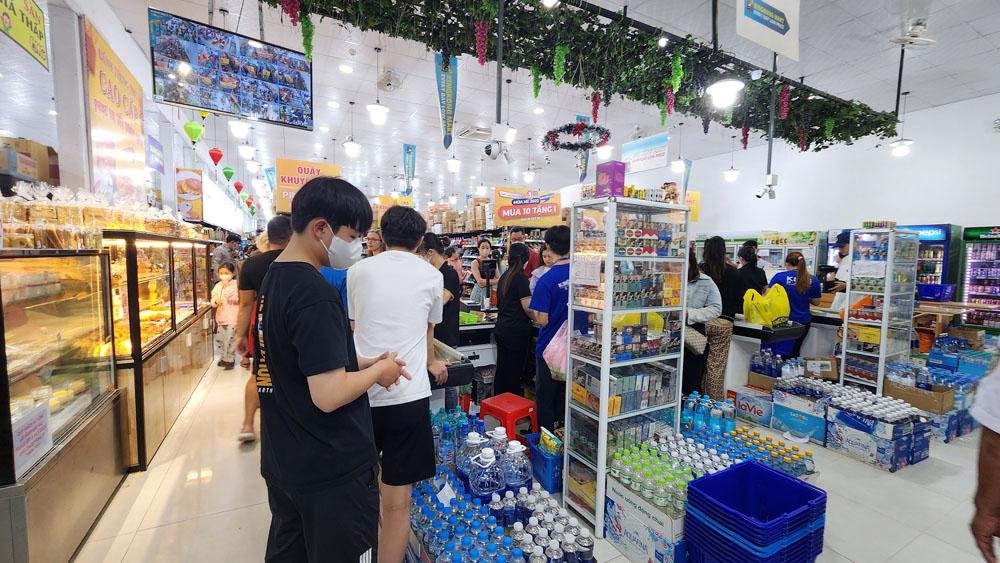 You can find local produce, typical grocery stuff, snacks, wine and ready-to-eat food. There's even a toiletry and apparel segment.
TIP: Get locally-produced pepper from Phu Quoc. If you are not going to other cities in HCM, you can also load up on Vietnam Coffee and spice condiments at King Kong Mart.
The man eats all the time. We had a second round dinner at a restaurant located a few shops away from King Kong Mart. We ordered Thai Seafood hot pot and it was okay. One memorable thing was how the waitress kept telling us that the pile of veggie was "Ba Na Na".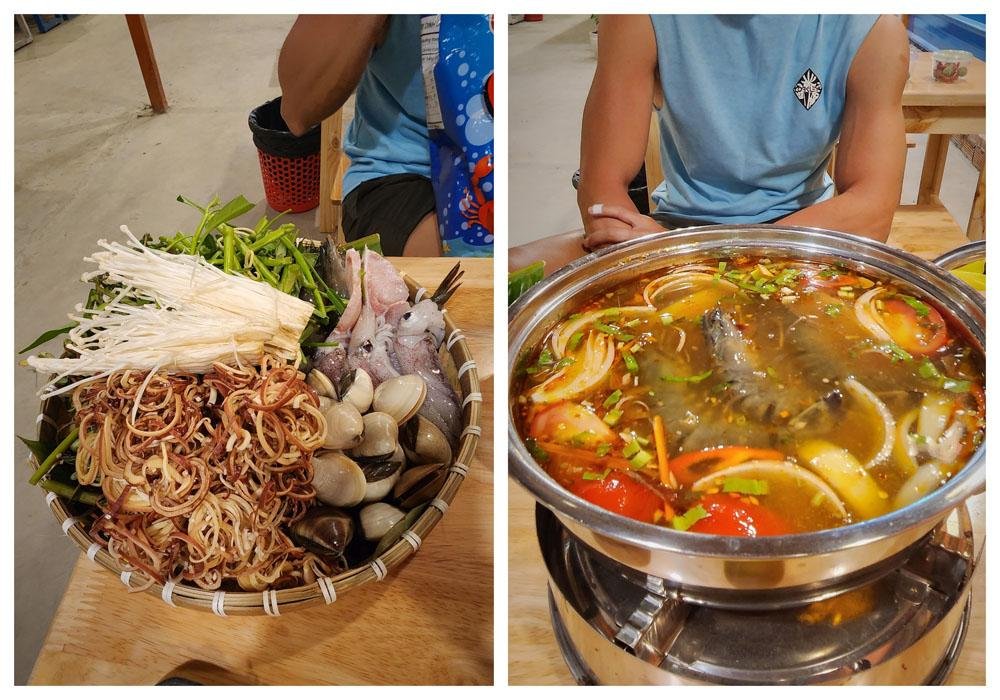 Yeah, after several round of communications with Google translate, we confirmed that we were indeed cooking banana (perhaps the skin) in the hot pot. :)
We called it a night with sheet masks and soothing ocean waves. Another enjoyable day in Phu Quoc!
Map Locations For Day 3 Phu Quoc Itinerary
Trail Entrance (Quan Cafe) >> Tien Son Dinh Mountain >> Ham Ning Fishing Town >> Lunch at Kelong >> Suoi Tranh Waterfall >> Sunset Viewing at Seashells Hotel >> Dinh Cau Temple >> Bach Dang Park Harbor >> Bun Kien – Xay Restaurant >> King Kong Mart >> Thai Seafood Hot Pot (near King Kong…unmarked on Google)
---
That's all to first part of HCM-Phu Quoc itinerary. Check out Part 2 to see what we did from Day 4 to 6 in South Vietnam!
Connect with me if you like to get notified of my latest and 100% honest reviews!
SUBSCRIBE
This post may contain affiliate links, meaning I earn a commission if you make a purchase, at no cost to you. Read my full disclosure for more info.
(Visited 159 time, 1 visit today)