Summer is a great time to travel to Okinawa. Have you booked your tickets already? Let me show you 18 Important Things to know before visiting Okinawa. These are points I'd diligently jotted down when traveling in Okinawa and I hope they will be useful in your travel planning.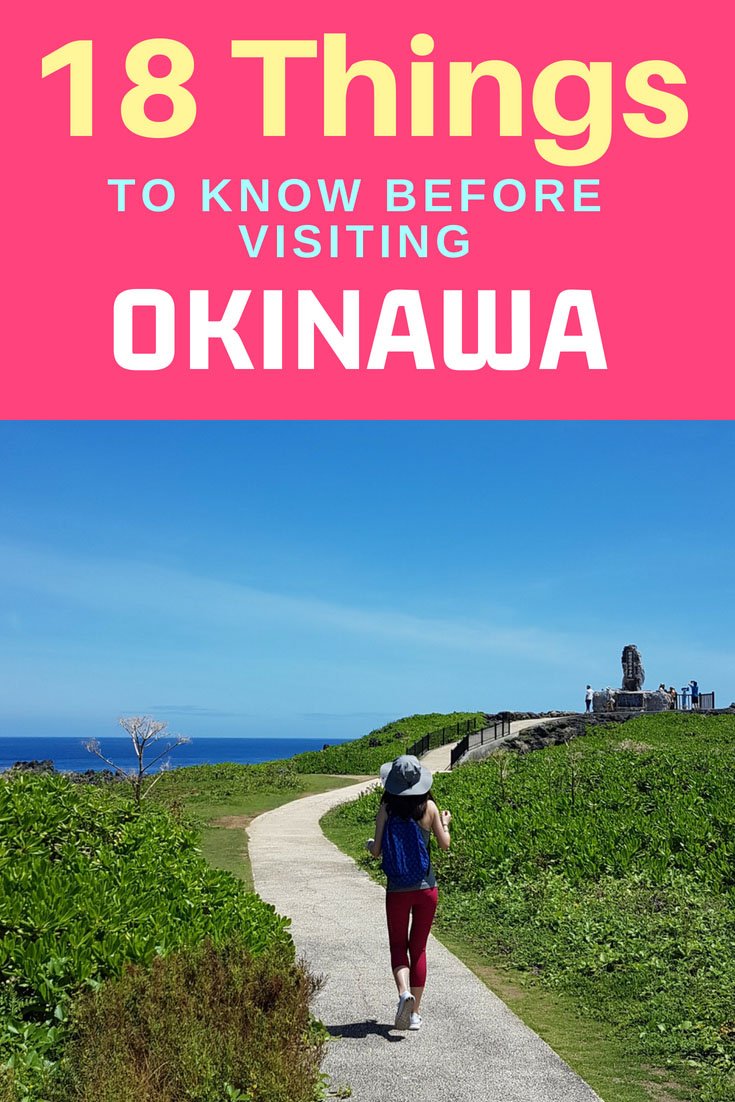 I'll address points like:
"Which month is best to travel to Okinawa?"
"What's the best mode of transport to get around Okinawa?"
"How to save money when traveling in Okinawa?" 
…and more. Now, let's get started!
---
18 Important Things to Know Before Visiting Okinawa
1. You don't have to join a tour to snorkel in Okinawa
Unlike other islands where you have to travel out to some middle part of the sea to snorkel, fishes are in abundance in Okinawa. You can see a large number and great variety of fishes just off the shore or cape. We snorkeled in three places in mainland Okinawa without joining a tour. The best site we've snorkeled in was at Kouri Island. Here's the exact spot – see map location.
If you intend to snorkel on your own, please remember to pack your own snorkeling gear. Aqua shoes are a must because seabed is rocky.
I managed to add snorkeling and hiking gear to all the stuff required for a 9-day trip and they came under 6.3kg (yes, I only brought along a carry-on backpack for this trip). It wasn't as heavy as I'd initially thought. So don't be put off by the thought of bringing additional stuff. The cost of acquiring these is probably cheaper than renting them overseas. I'll share more on my snorkeling experience in subsequent posts.
2. Typhoon months coincide with peak traveling period
One of the main reasons people visit Okinawa is to dive or snorkel. Hence, it's better to travel there when it's hot (July to October) which makes entering water easier. However, this period happens to coincide with typhoon season (June to Nov).
While other countries such as Taiwan and Hong Kong offer lower prices (hotel/flight/attractions) during typhoon months, be prepared to pay more when you travel to Okinawa during this period.
Typhoon typically doesn't last many days. So just plan some indoor alternatives should typhoon really come during your visit.
> MUST-READ: How typhoon in Okinawa affected my travel plans
3. Enjoy long daylight hours if you travel during June or July
We had a great time enjoying long daylight hours in Okinawa when we traveled between June to July. The day started at 5.30am and lasted till 7.30pm. We could cover so many daylight-dependent places and activities within a day, e.g. snorkeling, hiking.
4. Free WiFi is widely available in Okinawa
You can get free wifi access in many places in Okinawa, from malls (e.g. Aeon and Don Quijote) to restaurants. We were able to access Be.Okinawa network even in northern Okinawa. 
However, Be.Okinawa network connection can be spotty requiring repeated manual re-connection. There were also occasions when the internet doesn't work even when connected. So don't depend your life on it.
If you like WIFI reliability, you can book a pocket WIFI device and collect it at your country before departure. Such a 4G device can connect up to five devices and make it cost-efficient especially if it is shared among a group. 
5. Get discount coupons from Naha Airport
You can get discount coupons from the airport that entitles you to 10% off a list of attractions in Okinawa. Don't forget to get Aeon and Don Quijote brochures too – I had some really great cashback and discount when I made purchases from these popular stores.
TIP: The Main Island Okinawa Enjoy Pass gives you access to 12 popular attractions, including Churaumi Aquarium. You can use it at a relaxing pace over 5 days. I find this pass to be of exceptional value and wish I'd seen it prior to making my trip. Highly-recommended!
6. Public transportation is limited in Okinawa
Okinawa's monorail (Yuirail) is expensive and only travel from Airport to Shuri station, which is less than 20% of the length of the island. There are very limited tourist attractions along this line. Buses are available but I read that it's expensive and infrequent especially when traveling further out of Naha.
Taxi is expensive and if you intend to travel far – the cost may surpass that of renting a car. 
7. It's best to rent a car when traveling in Okinawa
Renting a car in Okinawa isn't expensive and can cut down traveling time and bring you to numerous attractions scattered around the main island of Okinawa. We rented a car from OTS at about ¥3000 a day (approx. S$38) during low season. You can view live car rental rates here. 
TIP: Don't forget to apply for international driving licence before arriving at Okinawa. Singaporeans can apply it at AA for a fee of S$20 (link).
However, if renting a car is not within your option, you can consider taking up a Okinawa Bus Pass or sign up for a Hip Hop One Day Tour.
8. Avoid driving along expressway unless necessary
While a car is cheap to rent, please be mindful that tolls can be expensive when traveling along the expressway. We avoided traveling on expressways most of the time, using the car built-in GPS system to "avoid tolls". Google map also has this function.
> ALSO-SEE: 9 Days Okinawa Itinerary – Things to do in Okinawa
One of the two occasions, when we opted to pay the toll, was when shifting our base from south to north Okinawa. The toll fee from Naha to Nago was ¥980 (approx. S$12). This cut down traveling time from two hours to one hour.
9. How much should I budget for food in Okinawa?
On average, a meal in a restaurant would cost between ¥1200 to ¥1800. We'd also paid about ¥2200 to ¥3000 for meals ranging from steak to Yakiniku (bbq buffet) and sea urchin bowl.
Noodles such as Ramen and Soba dishes tend to be cheaper at about ¥500 to ¥800. You can also enjoy delicious sushi at ¥100-150 per plate at conveyor belt restaurants.
Fast food isn't cheap as compared to Singapore. A set meal can cost ¥700-¥1000.
The cheapest option is probably to buy readily-cooked meals from Supermarkets or convenience stores. It may cost ¥300 to ¥450 for a bento set. An even cheaper option is to bring back instant bowl noodles or microwavable food such as rice burger, taro balls, dim sum, gyoza and onigiri. They should cost less than ¥200.
10. Takeaway food can be heated up at most Supermarkets
Most supermarkets or convenience stores have microwave located near the exit/entrance. You will likely see them after making payment. Don't forget to heat up your bento set or other delicious ready-to-eat meals such as Yakitori, fried fish cutlet and shishamo.
11. Don't get splashed when using toilets in Japan
Most toilets in Japan come with auto-washer. There will be buttons on the panel beside the toilet bowl and most of them are labeled (only) in Japanese. Please make sure you know what you are doing before pressing any of the buttons or risk getting splashed in your face. 
We absolutely love their clean toilets and auto-washer. It meant keeping our body clean, cool and refreshed. LOL.
How do you use the system? Just sit down, do your normal business and press the Lady Button if you are a lady. Or press the Y-shape (butt-crevice?) button if you clinched a big business (poo). Once you are done, press the stop button indicated by the character "止". Please do not attempt to stand up until you have pressed the stop button. 
If you are shy, press the Music Symbol button and a flushing sound will play, concealing your actual shh shh or poop poop sound.
RELATED (TRAVELOGUES):
12. How to enjoy tax-free in Japan
You can get 8% tax refund when you spend ¥5000 or more at stores that display the tax-free logo. This applies to consumables too such as food and beauty products. They will be sealed in a bag by the store. Please do not unseal the bag and use these consumable products in Japan as that would void the tax-free claims. For things you like to consume in the country, please pay for them separately.
> MUST-READ: 25 Things to buy in Japan that are Inexpensive & Loved by Locals
To claim for tax exemption, present your passport when making payment, sign a form and be directed to a tax-free counter within the same store to get your tax refund. A proof of payment would be stapled onto your passport. This will be collected by customs at the airport.
For more information, refer to this page.
13. Bring a full tube of sunscreen
Okinawa is the first destination where I used up an entire 90ml tube of sunscreen within 8 days. It was that hot! Please keep reapplying after every few hours.
I use Innisfree Perfect UV Protection Cream for my face and Banana Boat Ultra Protect SPF80 for my body.
14. Be prepared to wash your clothes daily 
While we often travel light and don't bring many sets of clothes, we typically just need to wash our clothes once every 3 days. In Okinawa, it's different. We found ourselves having to wash our clothes every day.
It was just too hot in Okinawa. Once we stepped out, we would be soaked in perspiration. Another reason for frequent washing was the hiking and sea activities that meant wet and soiled clothes. So, it's best to get an apartment with a washing machine. Most Airbnb units come with washer/dryer and kitchenette at a very reasonable price.
TRAVEL & SAVE: Get S$62 off your first Airbnb stay & experience
15. Travel light by reducing these items in your baggage
It's a norm for hotels and apartments to offer good quality toiletries, such as shampoo, conditioner and body wash. Many offer them in full large bottles. So you may skip these items or bring less of these when you visit Japan. You can verify by checking out hotel photos when making a booking.
As Japan provides auto-washer and is fully equipped with toilet rolls (even in very remote toilets), I find myself using only one pack of tissue in my entire 9-day trip. You can bring fewer tissues too if you love traveling light like us.
16. Avoid expensive parking
Parking can be expensive especially within Naha city. Don't assume hotels provide parking for free. Check explicitly with the hotels or read the full hotel descriptions. Many would charge about ¥1000 per day for parking.
When traveling to tourists attractions, look out for parking areas that indicate "無料". It means free parking. Sometimes, a free parking area may be just a short walk away from paid ones. So it's worth it to do some research before visiting the attractions. We love using Google Map (and her street view function) for this research.
17. Pay less to enter Okinawa Churaumi Aquarium 
Enter Okinawa Churaumi Aquarium after 4pm and you get to avoid the horde of tourists and enjoy a great discount on your admission charges. Reduced from ¥1850 to ¥1290, that's a pretty decent 30% savings. The Aquarium closed at 8pm at the time we visited (June-July).
If you prefer a longer stay to enjoy the scheduled performances (e.g. Dolphin Show, Diver Show) and outdoor activities, then enter early and book your admission online at a rate that's cheaper than official ticket. You can also skip the queue.
> RELATED: A day at Okinawa Churaumi Aquarium & Ocean Expo Park
18. Cater more time when departing from Okinawa
On the day of departure from Okinawa, we took the monorail and was surprised to learn that the place we entered was the domestic airport. The international airport was quite a walk away. So cater more time!
In addition, we only managed to get through to transit area about 5 minutes before boarding time. But that could be a one-off incident as we had left on the day following a typhoon and many flights were delayed, hence creating a chaos at the airport.
---
Bonus Okinawa Tips
How about some extra tips on Okinawa? These bonus tips were added after this post was published. I will continue to add on as and when I think of more tips – so do check back often. 
19.  Book Orion Beer Brewery Tour in advance
If you happen to be around Nago or Churaumi Aquarium, why not sign up for a free tour to Orion Beer Brewery? Each person can enjoy two mugs of beer and a packet of snacks for free after the tour. I think it's an offer not to be missed, especially when Orion Beer is the 5th largest beer brewery in Japan and is headquartered in Okinawa.
Don't forget to make your booking in advance to guarantee yourself a slot.
20. Where are Cheap Lockers in Okinawa?
Since most hotels allow check-in only after 3pm, you may need a place to deposit your perishable stuff (e.g. food souvenir or beauty products) that you acquired along the way. Leaving those stuff in the rental car when you go exploring may not be a great idea as most parking sites are not sheltered and Okinawa is known to have a fierce and ultra-hot climate.
Lockers are available in most monorail stations, Aeon outlets, Naha City Tourist Information Center and popular attractions such as Churaumi Aquarium. Most lockers cost about ¥500 to ¥600 per use.
We found the cheapest publicly-accessible lockers to be at Aeon Rycom and Outlet Mall Ashibinaa (¥100). Ironically, we ended up not needing these cheap lockers because parking at Aeon Rycom, Outlet Mall is sheltered. So we just left our stuff in the car. :) You can consider shopping at these malls in between hotel check-ins.
ALSO READ: 
21. How to choose the Right Hotel in Okinawa?
I've prepared 11 Tips to help you decide on where to stay in Okinawa. Read these tips to avoid incurring excessive charges and unnecessary inconveniences. 
22. Things to do in Okinawa in 9 Days
Here's a sample 9 Days Okinawa Itinerary to help you kick-start your travel planning. Let me know what you think of it. :)
---
Alright, that's it. Hope this list of 22 Things to Know Before Visiting Okinawa is useful in your travel planning. Don't forget to share this with your friends or family by clicking the share button on left or after this post. 
Let's chat again soon. I'll be sharing my travel itineraries, tips and budget next. If you like to get notified of newly-published travel stories, just click the button below to subscribe. I'll even give you some free and exclusive stuff. See you there!
SUBSCRIBE
(This post was first published on 5 Jul 2018)
This post may contain affiliate links, meaning I earn a commission if you make a purchase, at no cost to you. Read my full disclosure for more info.
(Visited 7,300 time, 1 visit today)