Are you on a lookout for an affordable Vitamin C Serum that works? Well, I was and have always been ultra-keen in exploring Vitamin C Serums because I think they are one of the few beauty items that actually made a difference. I'll share more on that later, but today, I will share with you a newly-tried serum – Timeless 20% Vitamin C Serum.
With almost the same formula as another popular and expensive brand (Skinceuticals), would Timeless 20% Vitamin C Serum be worth your time and money? I'll also be making a comparison with my Super Holy Grail Vitamin C Serum. Read on.
Vitamin C Serum and its Benefits
I've shared in an earlier post about why I thought Vitamin C Serum should form an integral part of one's skincare regimen. In a nutshell, Vitamin C Serum is great in brightening skin tone and regenerating the collagen in our skin. Those with pigmentation or aging skin would benefit the most from Vitamin C serum.
---
How I Search for a Great Vitamin C Serum?
Unfortunately, most Vitamin C Serums available in retail stores are expensive, especially if they contain Ascorbic Acid instead of Vitamin C derivatives. I was doing quite a bit of research and found that many cheaper Vitamin C Serum – especially those available on Amazon – contain Sodium Ascorbyl Phosphate, which is a less preferred (by me) but more stable form of Vitamin C. 
And many also contain alcohol or witch hazel, which really isn't all that great when added to the potentially-drying Vitamin C. It took me some time to find one that comes with Ascorbic Acid, contains no alcohol/witch hazel and is affordably priced. Not an easy feat, okay? Let's find out more about Timeless 20% Vitamin C Serum and see if it does its job well.
---
Marketing Claims by Timeless 20% Vitamin C Serum
Timeless 20% Vitamin C Serum as its name suggests contains 20% of Vitamin C form, which in this case is L-Ascorbic Acid. It also contains Vitamin E and Ferulic Acid which is said to help extend the life and effectiveness of Vitamin C. I was surprised and happy to see that Timeless 20% Vitamin C Serum also contains hyaluronic acid in its formulation.
Available from Amazon and her official website, Timeless mentions in her website that the serum can:
Even skin tone and help build collagen (fair enough)
Allow you to have a flawless and ageless look (fair enough)
Help your skin to "feel nourished and loved" (Ummm)
Suit most skin types (Ummm)
The first two claims seemed fair enough though I was a little skeptical over the next two claims. L-Ascorbic Acid is very acidic. In order for the formula to be effective, the solution must be of a low PH which can be irritating especially to those with sensitive skin.
Let's see if Timeless 20% Vitamin C Serum is really able to meet all four of her claims including helping my skin to feel loved. Hee!
---
What's Good about Timeless 20% Vitamin C Serum? 
1. Easy to Apply
Applying Timeless 20% Vitamin C Serum was a breeze! The solution while watery was easy to apply because it has a slight slip to it. This not only makes it easy to 'pick up' the liquid, it was able able to spread easily over the skin. I'm comparing this against watery serums like my SUPER Holy Grail Vitamin C Serum. That one was watery too but not as easy to apply.
If you are new here and like to find out what my Super Holy Grails are, you can get a free pdf copy of my TOP 11 SUPER Beauty Holy Grails.

What's so SUPER about these holy grails is that my love for them didn't fade at all after so many years.
2. Comfortable and Weightless After-feel
As expected, Timeless 20% Vitamin C Serum with its rather watery solution feels lightweight and comfortable on the skin. Immediately upon application, there was only a slight stickiness. Wait a brief moment and the skin absorbs the serum beautifully leaving no grease and stickiness. In fact, the skin feels like bare skin, but without the tightness. Vitamin E in this formula could have helped provide skin with the initial hydration witnessed during application.
3. Brighter Skin Tone
I started using Timeless 20% Vitamin C Serum in January 2018. After one month, I noticed that my skin was fairer, more translucent and glowing with radiance. My age spots that appeared after turning 30 have lightened – some spots faded more than the others. Let's go through one by one on the blown-up before-after photos. The AFTER photos were taken on the 3-month mark.
This spot on my chin has lightened albeit not very significantly.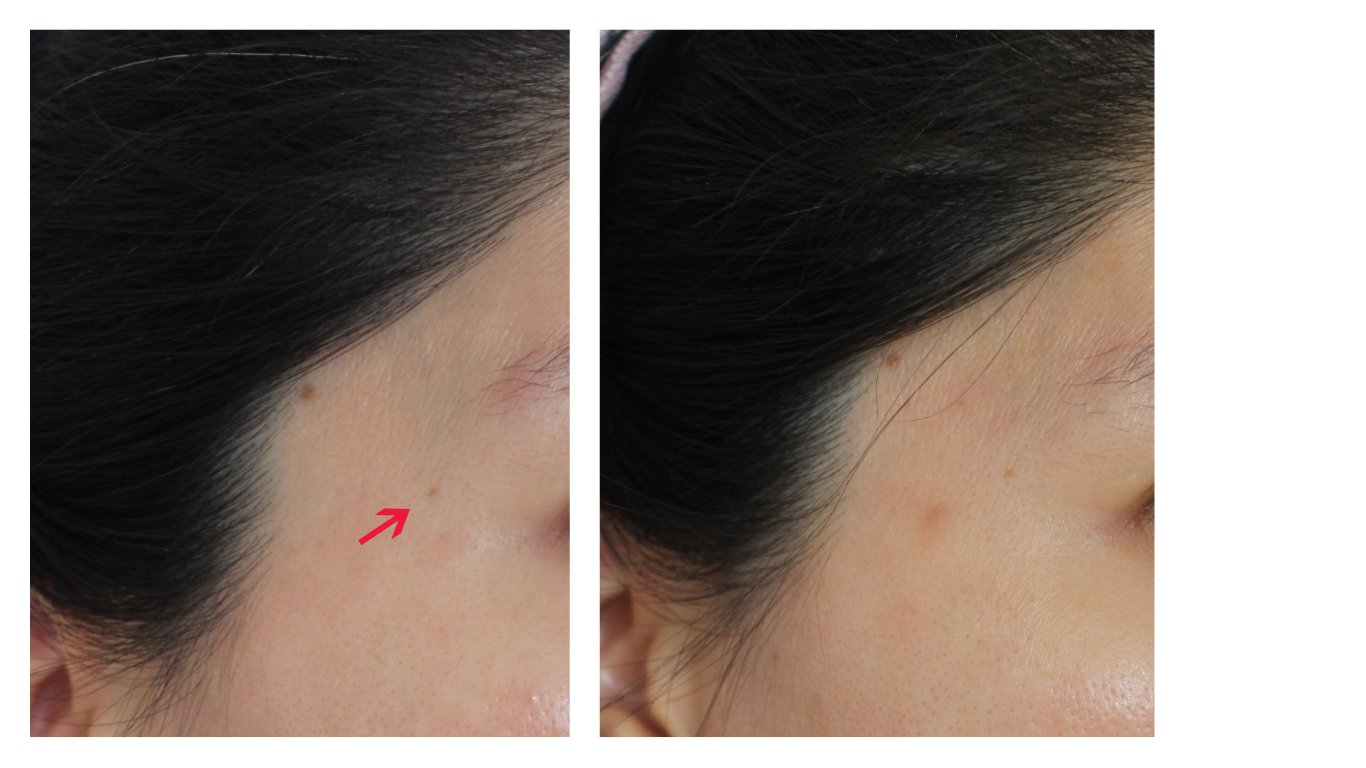 I am happy with the lightening of this spot near my eye.  It should be gone in no time, I hope.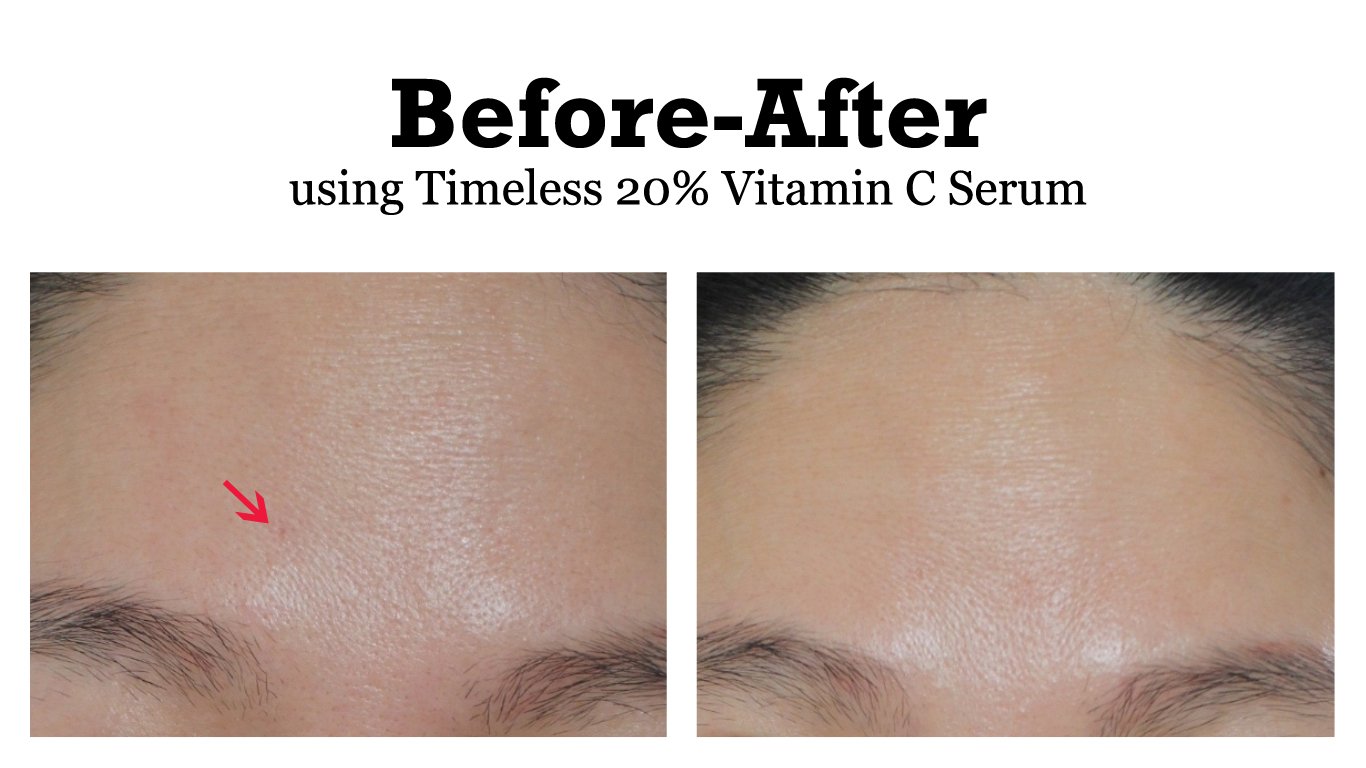 This very faint spot near my brow has also faded so much I can hardly see it on the AFTER photo.
4. Didn't Trigger Pimples
It is common for some Vitamin C Serum to trigger pimples. In fact, 60% of Vitamin C Serum I've tried caused me to breakout. Timeless 20% Vitamin C Serum surprisingly didn't which came as a surprise because I've read that products containing vitamin E may trigger pimple breakouts. 
I'm glad that Timeless 20% Vitamin C Serum can now join Glo-therapeutics Cyto-Luxe Vitamin C+ as the only two pimple-safe vitamin C serums I've tried. Coincidentally, these two serums have watery texture. Is that the pre-requisite for pimple-safe Vitamin C Serum, I wonder?
> RELATED: The only serum I dare use before a jog – PURITO Centella Green Level Buffet Serum
5. Affordably Priced
Timeless 20% Vitamin C Serum has very similar formulation as compared to a very established and reputable brand – Skinceuticals. Here's a comparison of their ingredients.
Timeless: Water, Ethoxydiglycol, L-Ascorbic Acid, Propylene Glycol, Alpha Tocopherol, Polysorbate 80, Panthenol, Ferulic Acid, Sodium Hyaluronate, Benzylalcohol, Dehydroacetic Acid.
Skinceuticals: Aqua / Water / Eau, Ethoxydiglycol, Ascorbic Acid, Glycerin, Propylene Glycol, Laureth-23, Phenoxyethanol, Tocopherol, Triethanolamine, Ferulic Acid, Panthenol, Sodium hyaluronate
Skinceuticals CE Ferulic Vitamin C Serum is priced at US$165, nearly seven times pricier than Timeless 20% Vitamin C Serum (RRP: US$25). In fact, you can normally get Timeless 20% Vitamin C Serum at an even cheaper price on Amazon – the last time I checked, it was $17.25.
This prompted me to give Timeless 20% Vitamin C Serum a try before potentially venturing to the more popular Skinceuticals CE Ferulic Vitamin C Serum. I mean, if a significantly lower-priced product can do the job well, then why waste the money, right? 
6. Quite Stable for an Unstable Ingredient 
Timeless website indicated the serum as having a shelf life of just 3 months. I'm almost crossing the 3-month mark and the serum is still white and clear. One thing I did was keeping it in the fridge right from the beginning and I believe it helped in slowing the oxidation process of Vitamin C Serum.
By the way, I've only depleted 20% of the serum after 3 months of usage. I guess this will last me for more than a year, provided it doesn't turn yellow first.
---
What's not so Hot? 
1. Dehydrated Skin
While I didn't get dry patches from using Timeless 20% Vitamin C Serum, I don't think it is a gentle product because my skin felt dry after using it for one month. So I guess Timeless probably overstated her claims that this serum could nourish skin and that it is suitable for all skin types.
But I'll be honest that I'd often skipped daytime moisturizer because I was afraid any product layered on top of the serum would affect its PH and hence its effectiveness. Furthermore, the vitamin E in the product produced a hydrated after-feel and I took it for granted that I could skip moisturizer just like how I did when using Obagi Vitamin C Serum.
2. No Visible Firming
Perhaps due to the current state of my dehydrated skin, I didn't notice any plumping or firming effect from using Timeless Vitamin C serum. I'm guessing that this serum isn't suitable for dry and sensitive skin. I'll continue to use it, but perhaps I will have to alternate it between days and layer generously with a thick moisturizer.
---
How to Apply Timeless 20% Vitamin C Serum? 
Although Timeless website advised application twice daily – morning and night – on cleansed skin, I only applied it once in the morning. In fact, most vitamin C serum shouldn't need multiple application as Vitamin C can last at least a day on the skin.
I also couldn't imagine how my dehydrated skin could take it if I'd doubled the dose. You may want to start slow with Vitamin C serum to minimize chances of skin irritation.
Timeless website advised 2-3 drops of serum per application which didn't work for me. I needed 8 drops for my face and neck. But don't worry, the dropper dispenses very tiny drops.
---
Recommendation
After 3 months of usage, I still look forward to opening my fridge and taking out the glass bottle of Timeless 20% Vitamin C Serum to apply. I love almost everything about this serum – the comfortable after-feel, proven ingredient (Ascorbic Acid), great price and spots-fading effect. 
But the one thing I didn't like about it could make me think twice before re-ordering this. 
While I can see myself emptying this bottle, I would most likely be on a lookout for other Vitamin C serums – one that suits my dehydrated and aging skin better. 
If you have pimple-prone skin and don't want to splurge on Vitamin C serum (yet), Timeless 20% Vitamin C Serum may be worth a try. Those with dry or sensitive skin should be aware that this product may be a potential irritant. If you still like to give it a try, please balance this with hydrating cream and masks. I don't recommend using this serum together with other harsh products, e.g. retinol, home peels and acid serum. Rating: 4/5 (First published in Mar 2018)
Updated in June 2018
I've used Timeless 20% Vitamin C Serum for 6 months by now and am impressed that the serum color remains clear, and hence effective. This – for vitamin C serum using Ascorbic Acid as its ingredient – is a big deal and means it remains an effective product for long (do note I place all my vitamin C serum in the fridge as a habit).
A second update is how the serum seems to become less drying over time (maybe after a few months). My skin is no longer that dry after applying Timeless 20% Vitamin C Serum (although I'm keeping my usage frequency to once every other day to prevent possible irritation). Hence, I'm upgrading Timeless 20% Vitamin C Serum from 4.0 to 4.5 and would likely repurchase it. Rating: 4.5/5
To find out the latest price on Amazon, click HERE. 
Disclosure: This product was provided as a press sample in return for my honest review.
Love honest beauty reviews? If you like to get notified of my new posts, you can click the button below to subscribe. I'll even give you some free and exclusive stuff. See you there!
This post may contain affiliate links, meaning I earn a commission if you make a purchase, at no cost to you. Read my full disclosure for more info.
SUBSCRIBE
(Visited 14,223 time, 20 visit today)