Finally, it's time to travel! I've recently stayed in Trove Hotel JB (Malaysia) for two nights and will share my thoughts on whether I think this affordable hotel is worth a stay.
If you want a quick answer, then yes, I would recommend Trove Hotel for budget traveler. It has no major flaws and you can have a decent stay (unlike this hotel). But it's not perfect, so this is not for the fussy ones. :)
Read on to check out the pros and cons of this Johor Bahru hotel, which I will dish out in chronological order of stay.
---
Why I chose Trove Hotel?
To avoid getting stuck in expected traffic jam along the Singapore-JB causeway, we decided at the very last minute to travel into JB on the eve of a long weekend.
How last minute was that decision? Well, it was super spontaneous – I only started packing my stuff 15 minutes prior to setting off at 10pm. Yes, you read this correctly, we set off at close to midnight. Ha Ha!
As the hotel was booked close to wee hours, we didn't have much options. :) Trove Hotel Johor Bahru was one of the few that popped out in Agoda.com and was reasonably-priced. The prices of other hotels had surged significantly due to the holiday season.
>> RELATED: Agoda Pay Later: How I ended up paying more?
So, yes, the main reasons why we chose Trove Hotel was because:
It was reasonably priced during holiday season
Parking was free
Building looks established enough (tall skyscraper)
Location was central (walking distance to Plaza Pelangi)
We booked too late and didn't have many options :)
Now, let's fast forward and bring you straight to the point when we checked in at Trove Hotel.
---
Checking into Trove Hotel, Johor Bahru (Malaysia)
The check-in was quick, and not exactly memorable (in a good way). We'd booked a twin room (the only room left), but was possibly given an upgrade without being informed.
Let's take a look at our "Twin Room" on the 21st floor.
TRAVEL SAVINGS: Get cheaper Legoland Ticket when you book online through this link.
---
First Impression of Room: Trove Hotel JB
The room did indeed come with two separate beds – a queen and a super single. However, given the spaciousness of the room, we think this could be a family room of sort (looks closest to an Executive Deluxe on Agoda.com).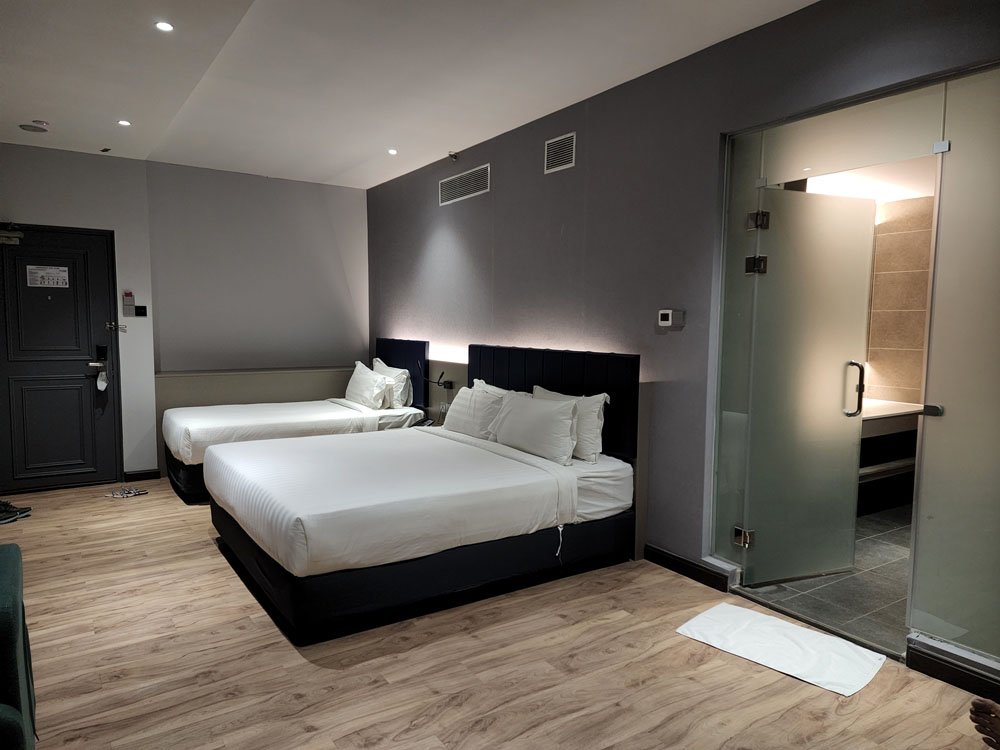 I appreciated the wooden floor which felt clean and comfortable to walk about bare-footed. However, the space didn't seem well-designed and layout was not aesthetically pleasing. For instance, the beds were placed next to the door.
Some spots also appeared under-lit and gloomy, e.g. desk and coach areas.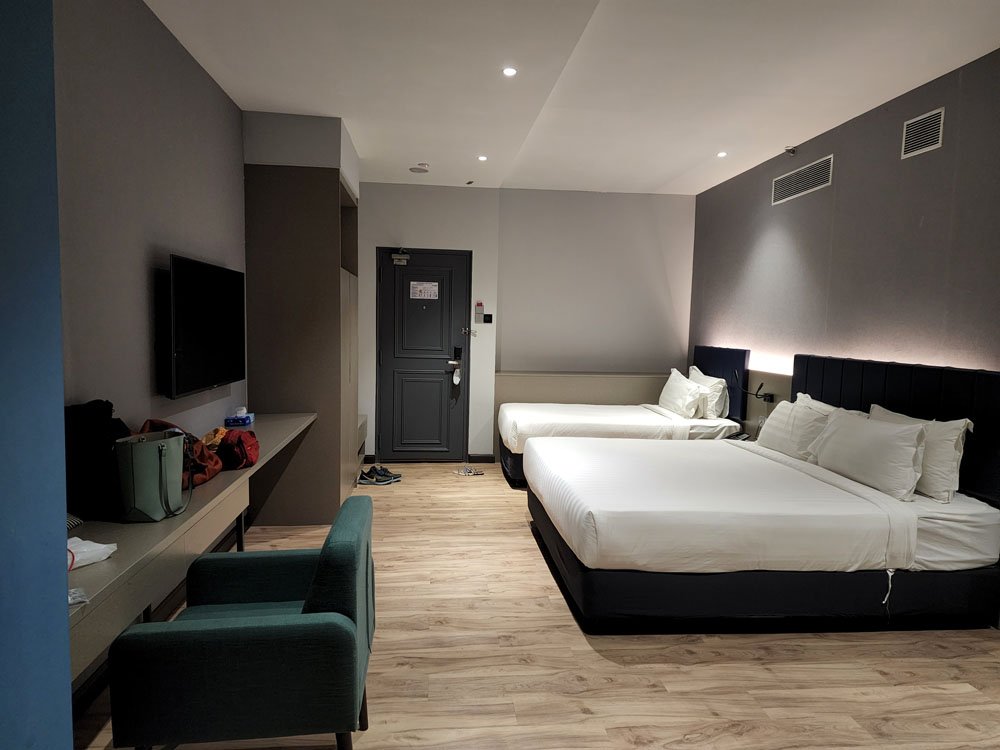 The consolation was that we would realise the next morning that the room would look much better in the day – less weird, more airy. :)
Another consolation – the view was great! Totally unblocked!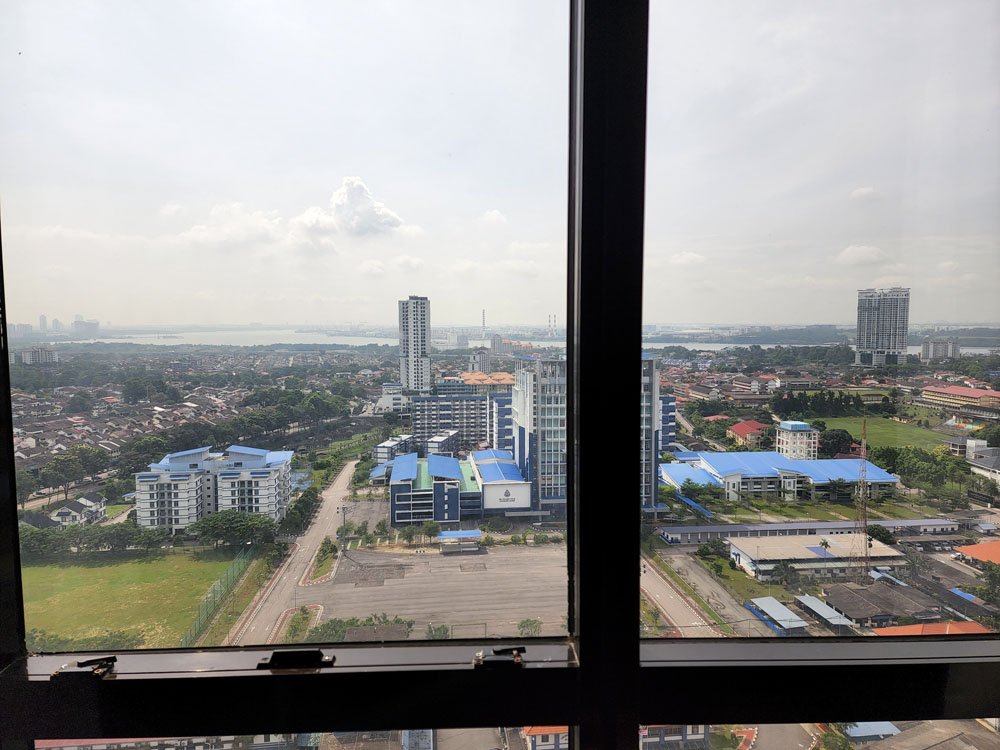 Design & Layout – Room at Trove Hotel
One thing that bothered me was the lack of a chair for the workspace. If you have been following me for a while, you would know that my favourite hangout place within a hotel room is the desk area.
I use that space to surf net, blog or work. As a workaround solution, I pulled the coffee chair over. But the height wasn't optimal.
The next morning, the reception acceded to my request and brought over a banquet chair. So, yes, problem was solved! But I ended up not using the space at all.
Maybe because the ambiance didn't feel right with a banquet chair. :)
>> MUST-READ: Now I know why Grand Paragon Hotel JB has such mixed online reviews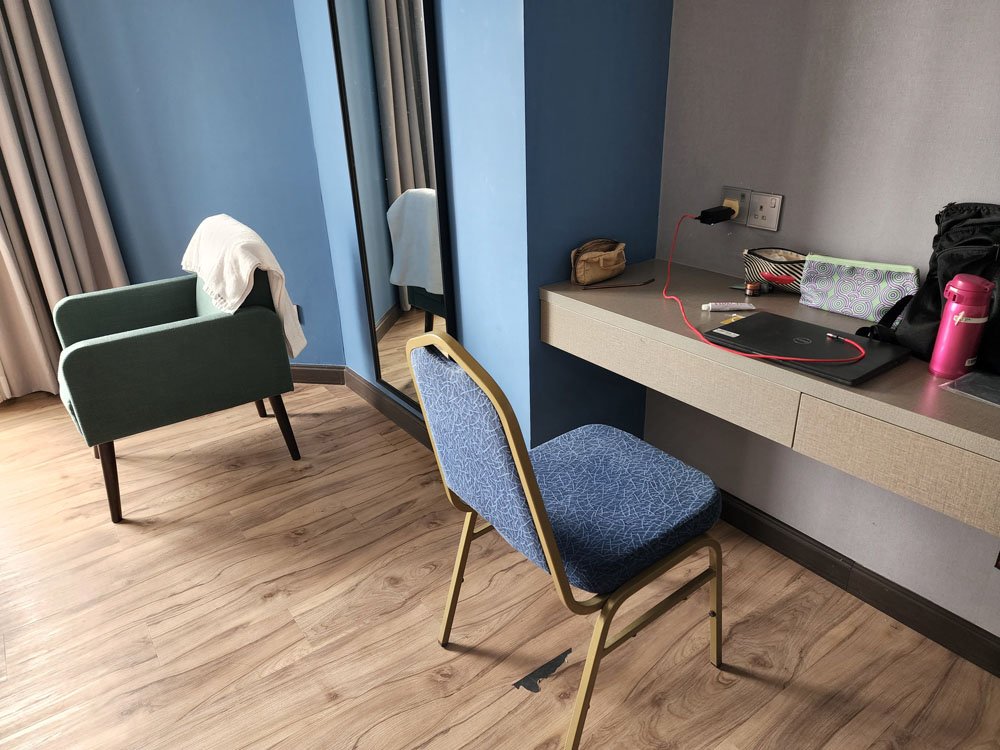 Another area that could be improved was to have a bedside table on both sides of the bed. As I slept nearer to the toilet door, there wasn't any flat surface for me to place my stuff, such as a phone or a drink.
In the end, the banquet chair came to the rescue – it was pulled over to serve as a bedside table. :)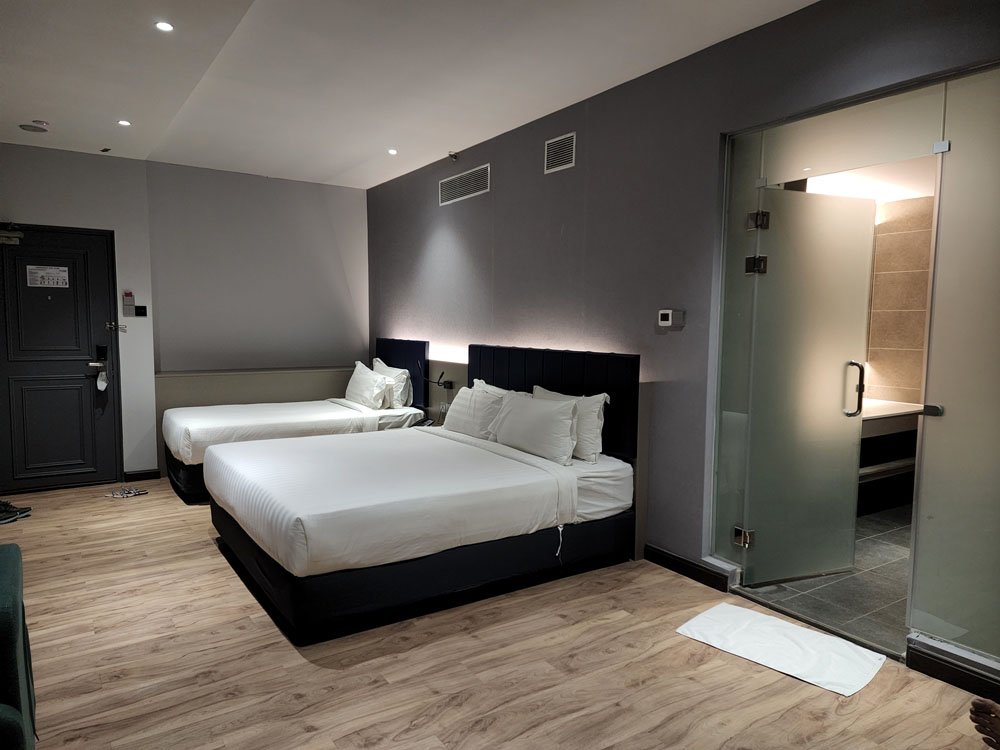 Toilet was Spacious & Functional
The toilet of Trove Hotel was really spacious (for the room I was given). Due to the long shower area, water would not splash or leak out even though the bath area wasn't enclosed.
My partner kept singing praises of how great it was for the toilet floor to remain dry and clean effortlessly.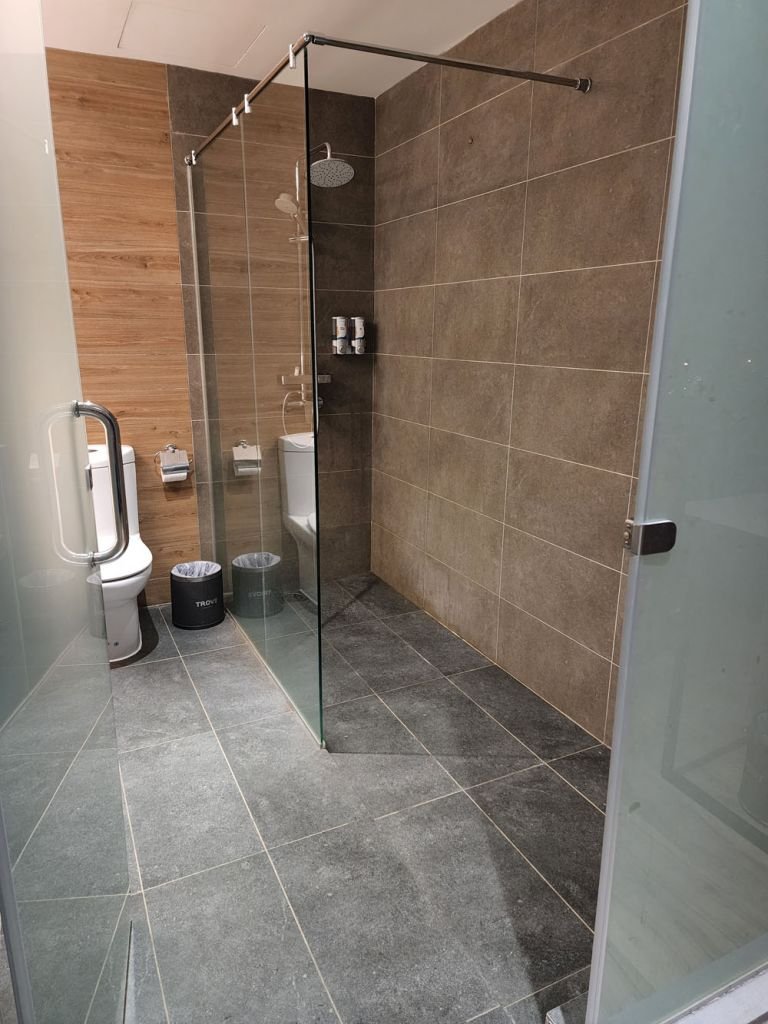 Water pressure was good too and the rain shower worked well. Hot and cold water was also easy to adjust.
However, I wouldn't compliment Trove Hotel for its toilet design or even its provision of toiletries. But it was functional.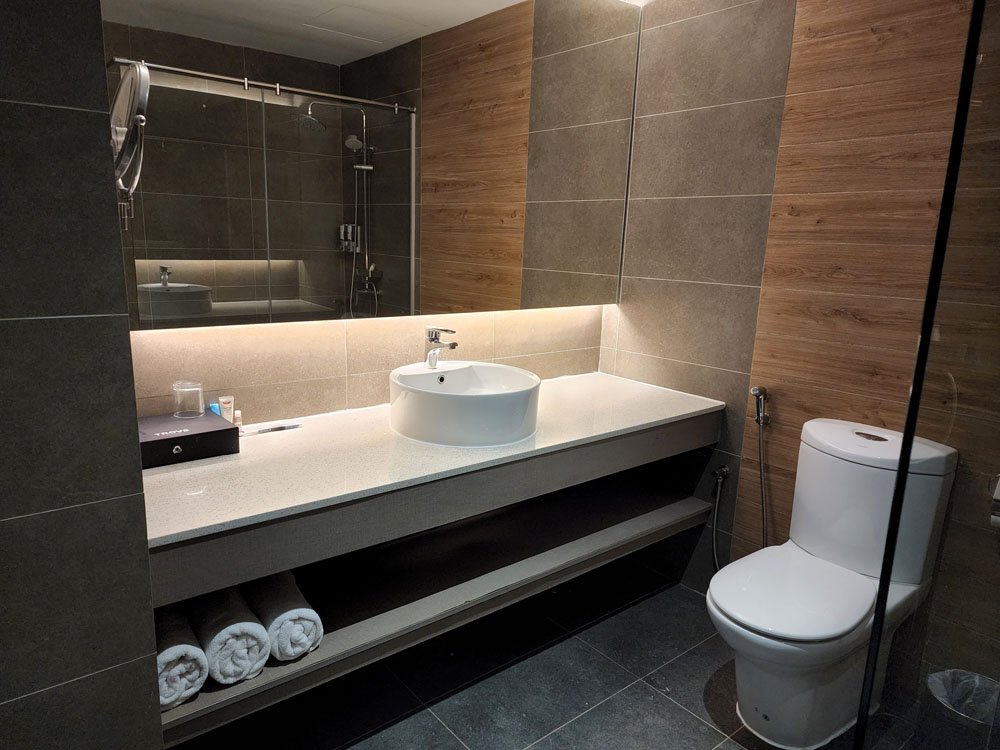 Bathroom Amenities of Trove Hotel
For those who depend a lot on hotel's bathroom toiletries, do note that Trove Hotel only offers toothbrush/toothpaste and a bar of soap. Also, the shampoo and shower gel comes via a wall dispenser rather than mini bottles.
And only one type of towels was given – bath towels.
If we think positively, this is actually very earth-friendly. But I'd packed in a hurry for this trip and wish they'd provided facial cotton pad (for me to remove my eye makeup).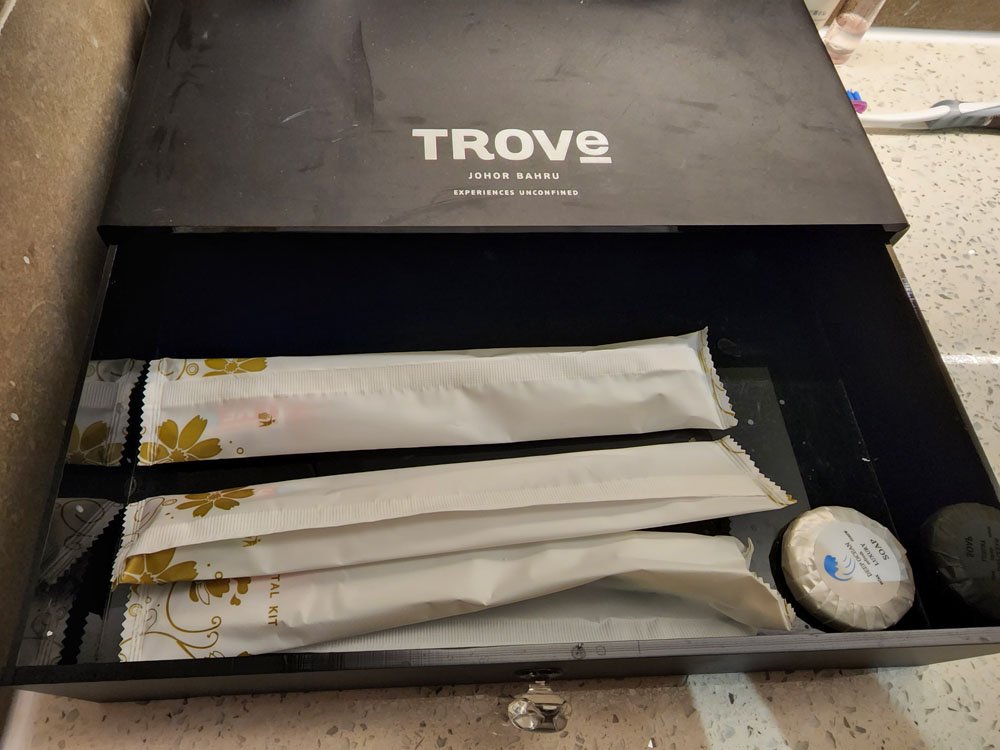 ---
Room Amenities of Trovel Hotel JB
I've just shared the bathroom amenities. Let's return to room amenities.
TV was big enough and WiFi speed was good. You'll also get a decent-sized wardrobe that contains an iron, ironing board, hair dryer and a safe. But the safe was light and portable.
How did we know?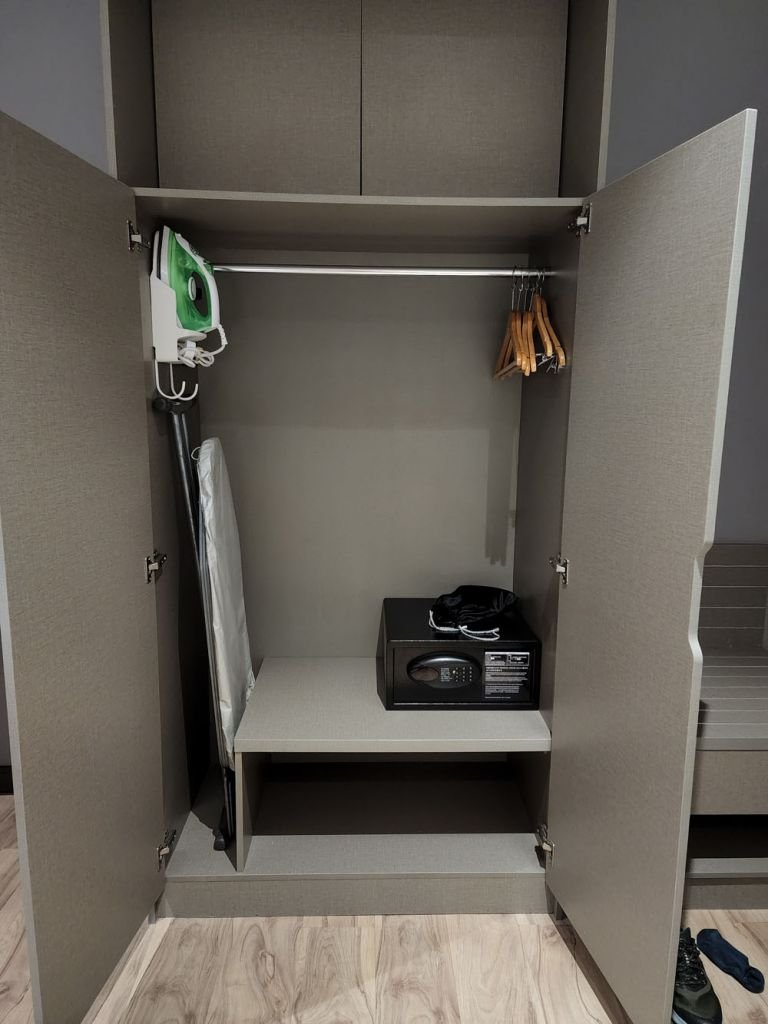 As you see, our safe wasn't working. The lady receptionist came up and carried it away (in her heels), swapping our safe with one from another room. :)
Not exactly comforting to know that a safe can be easily carried away, with all its valuable contents. But I guess the consolation is that if someone was to carry a safe out of the room, it would be captured by the surveillance cameras (assuming those are working).
Economical Coffee & Tea
In terms of coffee and tea, the offering was below-average. :) Don't expect much especially if you are into good coffee and tea. I suggest that you bring your own or buy some in Malaysia. :)
>> RELATED: 25 Things to buy in Malaysia
See, I didn't even bother taking any photos. LOL! Well, it was Lipton tea (non-sealed) and Nescafe. No creamer was given.
Water Dispenser instead of Kettle
In place of a kettle jug was a water dispenser. It looked kind of strange to see this in a hotel room. But after two days of usage, we appreciated the convenience of having hot and cold water by the clock.
Just need to switch it off at night if you like total quietness (and to save electricity).
---
Food within walking distance of Trove Hotel JB
Supper on Day 1
Let's talk about food within hotel's vicinity because we got hungry and needed supper. Thankfully, there were eating places that opened till late night and were within walking distance.
Banafee Village was one such eating place and it opened till 5am (see location). We "tabao" Fried Bee Hoon and Rice with Fish, and both tasted great.
Forgot to take any photos because it was very late. :) But if you click on the location link above, you can see the types of food they sell.
Near (opposite) the hotel was also a small and stuffy provision shop. I wouldn't recommend patronage unless you have an urgent need for grocery. The items were pricey and the ice cream cones we bought weren't "icy" enough.
Hotel Rate: We paid S$40 to stay in Trove Hotel JB in April 2022. Check out its latest room price.
Brunch around Plaza Pelangi
The next morning, we walked to F&B outlets located around Plaza Pelangi.
We had traditional dim sum at Restoran Kak Kak (click for location). By the time we arrived at 11am, most items were sold out. For the few that we managed to order, the bill came up to a very affordable rm30.
Taste-wise, we thought the dim sum was very average. Don't think we would revisit, though we did notice many regulars patronizing Kak Kak restaurant.
After dim sum, we went to Plaza Pelangi for a quick visit. For info, this is a place to shop for IT stuff. There's also a Cold Storage supermarket there, and some F&B outlets that have been there for ages, such as McDonald's and The Coffeebean & Tea Leaf.
Since we couldn't find a happening place for a drink, we decided to reverse back to a coffeeshop located opposite Kak Kak (not listed in Google Map yet). Ordered Teh C and milo (rm6), and a Signature Four Treasures desert (rm7) that looked really good on photos.
On our way back to the hotel, we tabao Rojak (rm8) from a roadside mobile cart (see location). By the time we consumed it a few hours later (after gym session), we were surprised that it was actually quite good.
Done with the nearby food. It's time to return to hotel and use some of its recreational facilities.
---
Recreational Facilities at Trove Hotel (Johor Bahru)
Small Semi-Circular Pool
Here's a view of the swimming pool, which is probably just great for dipping. The man stayed there to get a tan, but failed to achieve success. LOL!
As for me, I gave the swimming pool a miss and proceeded straight to the gym, located next to the pool (left side of photo below).
FUN in SG: Prefer to stay in Singapore for a fun-filled and hassle-free excursion? Don't miss out the Singapore Multi-Attractions Pass that can give you great savings!
The Gym
The gym was decent in size. It wasn't big or too mini. There were enough things to occupy me for a short while, such as free weights and cardio machines.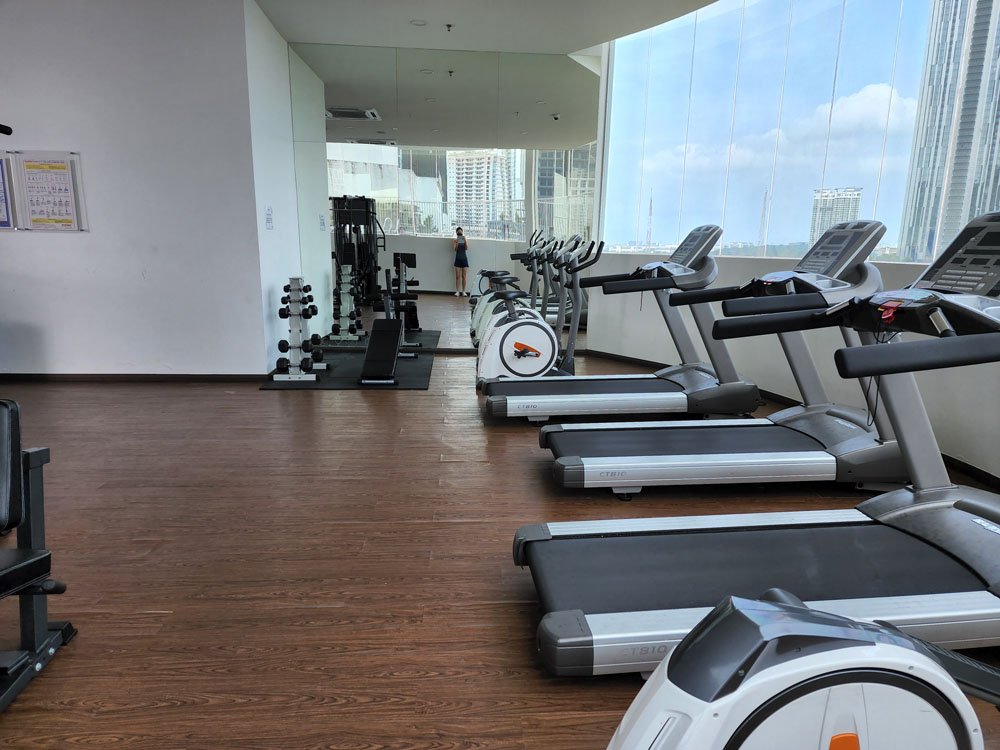 However, the gym fell short in a few areas, such as not providing sanitizers, towels or water. It felt rather unhygienic not being able to sanitize the hands in between workout stations (or when swapping dumb bells ).
I thought my hands were full of germs by the end of the session.
---
Trove Hotel Room Stay – General Experience
Sleep Quality
If you wonder about the sleep quality, I'm happy to share that the sleep was great and the bed felt comfortable.
However, on one morning, I was woken up by neighbours who were chatting loudly at the corridor. But once they entered their respective rooms, I could no longer hear anything. So this could be a one-off unlucky experience.
The Busy Lift
It's difficult to get into the lift even though we stayed on 21st floor. When we did manage to get in after missing three, the lift would stop at many floors on its way down. Every time the door opened, we would see disappointing faces because most of them couldn't get in.
So, I think the programming of the lift wasn't done optimally.
This happened throughout the entire 2-night stay, i.e. we often needed to spend more time than expected to get to the ground floor. And according to the reviews, we weren't the only one to experience this "busy lift" symptoms.
Checkout Process
Trove Hotel's check-out experience was swift and easy. Just need to pass the card keys to the reception staff – they didn't do any verification.
Free Parking – The Process could be better explained
As shared earlier, Trove Hotel offered free parking. We passed the carpark coupon to the staff who swiped it at the counter and told us we were good to go.
However, when we drove our car to the gantry, the card didn't work. We had to reverse out by inconveniencing cars that had already built up behind us – so Pai Sei!
Wish the staff had told us that the "verified/discounted/swiped" card would need to be inserted into the payment kiosk machine. That piece of info would be very useful.
---
Price of Room at Trove Hotel JB, Malaysia
We paid about S$40 for a twin room (though I think we got a different/higher-value room).
Check out the latest rate here!
---
In Summary: Pros vs Cons
This kind of sums up our stay at Trove Hotel JB, Malaysia. We did venture out to Toppen, Midvalley Southkey JB and Mount Austin (Little Taiwan) during our 2N stay, for meals and shopping. But since these were covered by car, I think they aren't exactly very relevant to be included in this hotel review. :)
Before we go, let me help you recap the goods and bads of Trove Hotel at Johor Bahru.
What's Good?
Spacious & Clean
Unblocked view
Close to food and amenities (even during ungodly hours)
Central – short drive to KSL, City Square and Singapore
Good pricing – cheap!
What's Bad?
Design & layout not great
Non-conducive workspace
Below-average provision of in-room amenities
Small pool; gym with no towel/sanitizer
Not within walking distance to happening malls
---
Recommendation: Should you stay at Trove Hotel JB?
Yes, if you are looking for a no-frill place to stay in JB and you can get it at a good price. The room at Trove Hotel was functional and clean, and the location is central. You get amenities within walking distance (and round the clock).
The area is also quite vibrant at night (with a few hotels and condos located along the same strip).
However, if you are in search of a hotel that can offer you more, say better recreational facilities and in-room amenities, and within short walking distance to a shoppable mall, then this other hotel could be a better option. Rating: 3.5/5.
Do you find this post useful? If you like to get notified of newly-published travel stories, just click the button below to subscribe. See you!
This post may contain affiliate links, meaning I earn a commission if you make a purchase, at no cost to you. Read my full disclosure for more info.
SUBSCRIBE
(Visited 30,402 time, 1 visit today)