"Warning. Typhoon will hit Okinawa, Japan on 1 July!". That was the message my Airbnb host sent me a day before I was to check out of his residence and make a two hours drive from north to south of Okinawa.
My checkout date happened to be on 1 July, the day Typhoon Prapiroon was forecasted to hit Japan. How 'lucky'!
Growing up in Singapore where typhoon has never been able to reach our shore (thank god!), I was a complete novice to typhoon. Thanks to Okinawa, we would be experiencing our first face-to-face encounter with typhoon.
Would it be dangerous to drive during a typhoon? Can we still visit outdoor attractions a day or a few hours before the arrival of typhoon? Will our flight be delayed? We were completely clueless.
Let's countdown to the arrival of Typhoon in Japan and watch the chain of events unfold!
---
Japan Typhoon: Chain of Events
Two Days before Japan Typhoon
It was the first time I'd to put on a cardigan in Okinawa, Japan. That's strange because Okinawa had been extremely hot since the day we touched down. In fact, it is the hottest city I've ever been to!
"It is chilly!", my travel partner who wore just a thin sports singlet and shorts lamented before he wrapped his arms around himself. He is a beefy man who has biceps the size of my face. If this man was feeling cold too, we must be falling sick, I'd thought.
After checking his watch, we realized that temperature had fallen from the norm of above 30 degrees to just 26 degrees at night. It was mildly windy which made it quite comfortable (after putting on our layers).
---
One Day before Japan Typhoon
That was the day we received a message from our Airbnb host informing us of the impending typhoon. "Ah. no wonder Okinawa is so cold," we came to a sudden realization.
Our Airbnb host further advised that Typhoon Prapiroon was forecasted to reach Okinawa in the afternoon of 1 July.
"It's safer to leave in the morning. Please drive safely," our Airbnb host added.
We also found out that Typhoon Prapiroon would likely be a relatively weak Category 1 typhoon. But we have no idea how weak a category 1 typhoon would be. But we would soon find out.
> TRAVEL & SAVE: Get S$62 off your first Airbnb stay and experience
We went about with our normal tourist activities visiting Okinawa Churaumi Aquarium and Bise Fukugi Tree Street. Nothing appeared out of the norm, except that the weather was really pleasant and comfortable, a far cry from previous days when we were painfully roasted under the scorching sun.
When we returned to our Airbnb unit, I found some of our clothes that were hanging at the balcony, lying on the floor, some a few meters away from where it was hung. I also accidentally stood on a crispy corpse of a big bug the size of a golf ball when I collected my laundry.
That dead bug wasn't there in the morning – it was resting on the opposite end of the balcony.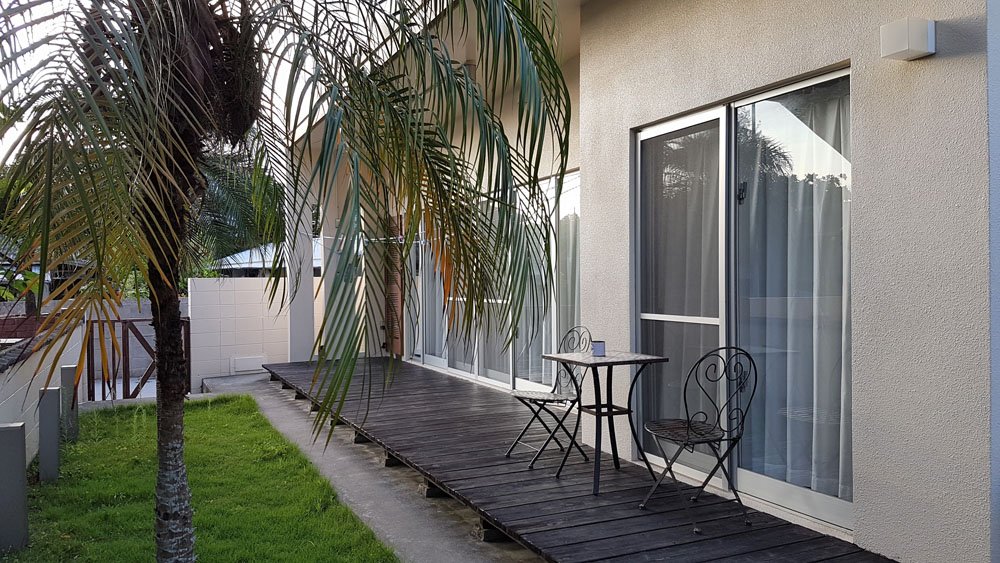 I didn't expect the dead bug to be blown from one end to the other end of the big balcony. Darn it! I hate stepping on crispy insects. LOL!
It drizzled a bit too, but nothing long or heavy enough to stop us from getting out into the outdoor areas of our rental house.
> MUST-READ: 11 Tips You Need To Know When Choosing A Hotel In Okinawa
---
The Day when Typhoon hit Japan
Typhoon Prapiroon was predicted to hit Okinawa in the afternoon. So we woke up early and departed our apartment before 8am to make the drive to Naha. That, we thought would give us sufficient time to explore a castle that was high on my to-go list.
Katsuren Castle was set in an open and unblocked area and definitely a place to be wary of with a looming typhoon.
We monitored the situation and deemed it okay to proceed. But we avoided standing too near to the edge when taking photos because it was more than just windy on the top level of the castle. That gust of wind was so strong it caused our hands to shift slightly when filming videos. Turn down the volume to watch the video below, as strong wind made this a rather noisy video.
Many Shops Closed on Typhoon Days
We then proceeded to Aeon Rycom for lunch and was a little disappointed to see that all the outlets were not opened, including the food court which we had wanted to revisit to savour the delicious beef bowl set we've had a few days ago. Only Aeon Departmental store and its supermarket were opened!
We were perplexed to see long queues developing at the cashier so early at 10.30am, because the supermarket just opened half an hour ago. "The locals must be stocking up supplies to tide them over till the end of the typhoon," we thought.
> RELATED: 18 Things to know before visiting Okinawa
On our way to Naha, we saw Urasoe Castle Ruins in a distance. That castle, featured in the movie "Hacksaw Ridge" by Desmond Doss, was another attraction high on my to-go list. We contemplated whether to make the stop. It was 3pm them, but the weather seemed okay. And so, we parked our car at a nearby petrol kiosk to get our map orientation.
As soon as stopped our car, we felt it shaking. Yes, we felt the car shaking mildly! We turned to look at each other at the same time. "Okay, time to stop touring!", we agreed unanimously. And so we drove straight to our hotel in Naha, bypassing Castle Urasoe which was just a few hundred metres away. It's still painful thinking about it now. LOL! So near yet so far.
TIP: If you want to assess how strong the wind is in a typhoon situation, stop your car and let the wind do its job.
Another place we'd crossed out from today's itinerary was Cape Manzamo. I'm still a little upset because I have visited so many capes in Okinawa. Adding Cape Manzamo would round up the cape theme quite nicely.
> MUST-READ: 9 Days Okinawa Itinerary – Things to do in Okinawa
---
Where's the Typhoon?
I felt cheated. Where's the typhoon that was supposed to arrive by noon? It was 6.30pm and all I saw was momentary strong-wind situations.
There were people we saw who struggled with their umbrella, but it wasn't down-pouring. They would be fine if they were in raincoat instead of having an umbrella.
TIP: Don't use umbrella in a strong-wind situation. It'll either blow your umbrella out of shape or cause a lot of resistance and distraction when you walk. Go for raincoat instead.
Each session of the rain was short-lived, lasting no more than a couple of minutes. We remained dry without having any raincoat or umbrella.
At this moment, there was a deep sense of regrets – for missing Castle Urasoe and Cape Manzamo – both of which were high on my to-go list. I wished I could turn back the clock and revisit them. But it's always better to play it safe. This is a website that we depended on a lot for typhoon updates. Look at what it reported at 6pm:
6 p.m. Sunday, July 1, Japan/Korea time: Guess we might as well toss any previous wind timelines. Tropical Storm Prapiroon has moved very slowly, its track has wobbled and it's still not certain when we might see Tropical Cyclone Conditon of Readiness 1-C or higher.
We walked to First Makishi Public Market and found it to be closed. Was it because we came too late or the market not opened due to typhoon?
---
Coming Face to Face with Japan Typhoon
Finally, Typhoon Prapiroon came, at around 7.30pm! It started raining heavily. Fortunately, we were at Don Quijote and could buy ourselves a raincoat, which by the way, could be the best-selling item on that day.
With added waterproof layer, we thought we could make a short walk to Kokusai Dori Food Street. It was just 300m away. The walk that was supposed to take 3 minutes took us probably 20 minutes. It was difficult to walk through heavy raincoupled with strong wind and the streets aren't connected with shelters, unlike those in Singapore.
The wind would blow my hood out of position, and lift the flaps of my raincoat to expose me to the rain. So I had to walk with one hand clasping the hood tightly around my chin and another pinching the base of the raincoat together – while still carrying my 7 tubes of newly-acquired facial wash. LOL! Those tubes were basically slapping my legs with every step that I took, and gifted me with some bruises at the end of the trip.
Alas, Kokusai Dori was also closed. Ah…we should have known. LOL!
Walking through a Typhoon was Tiring
We reversed and walked a 1.7km journey back to our hotel. This is a distance we were used to walking, being keen hikers. Strong gusts of wind would push and cause me to sway to one side of the road. But nothing serious enough to lift my feet off the ground. Phew! 
We took a few breaks at random buildings to reorganize ourselves (or more like rearranging our raincoats to put them back in shape). Walking in a weak typhoon situation turned out to be surprisingly tiring, even for avid hikers like us!
Back at the hotel, we learned from the website that Yui Monorail may not operate as per normal hours tomorrow, which meant we might be forced to take a cab to the airport. This defeated our purpose of staying at a hotel super near the monorail.
---
One Day after Japan Typhoon: Flight Delays & Airport Chaos
I guess we were lucky. For the past few nights, I was looking out for Jetstar to send me a message or email on possible flight delays. But there was none. Just before turning in for the night a day before the flight, I decided to log in to Jetstar's mobile application.
To my astonishment, the flight had indeed been postponed – from 9am to 12pm. But since Jetstar didn't explicitly inform us, I couldn't be 100% sure. We checked Naha Airport's website and it was still showing the original schedule. In the end, Changi Airport's website gave us the confirmation that we needed – it indicated a later arrival time of this flight to Singapore.
TIP: If you didn't receive any flight delay notification, don't assume it is status quo. Find other means to get the flight confirmation. Naha Airport's website may not be a good source of information as it was still showing original flight schedule, right to the minute we boarded the aircraft – showing 8.30am boarding when it was already 12pm. 
TIP: To watch out for cancelled flights in Okinawa, you can tune in to local TV channels and watch out for banner strips running on bottom of TV shows. They may list down flight numbers of cancelled flights (Thank you for the extra tip, @Kurt I of Okinawa Forum, Tripadvisor) 
It was the first time that I grinned from ear to ear knowing that my flight was delayed. As you see, that meant we could sleep longer. Secondly, it meant we wouldn't miss the free hotel breakfast. Heh Heh!
This flight delay was a great development for us. The rain that was still pounding in the early morning came to a complete stop just before we were about to leave the hotel. We took an easy stroll to a nearby monorail station and reached the airport within 10 minutes.
> ALSO SEE: How I ended up paying more at Agoda when I 'pay later'
---
Chaos at Okinawa Naha Airport: Japan Typhoon Aftermath
When we stepped into Naha Airport, it was chaotic. Huge crowds flooded the tiny airport.
Our guess? Many people had arrived at the airport not knowing that their flights were delayed.
Airline staff held up placards and called out loudly to their passengers (in Japanese and Korean), possibly getting them to check in at the right place or time. In such a situation, it wasn't clear where passengers should proceed for check-in. Queue lines or signage if any were blocked from easy views by the massive crowds.
We did manage to find the check-in queue after some efforts and it was slow-moving. There was no time to shop, eat or relax because we only managed to get into the transit area about 5 minutes before boarding time.
In any case, we sat on the non-moving plane for another 1.5 hours due to air traffic congestion and managed to depart Okinawa only at 1.30pm.
It probably wasn't as bad for us as compared to other passengers who'd arrived at Naha Airport as early as at 7am since it seems like Jetstar didn't send out any flight-delay notification. I gladly enjoyed my complimentary drink, courtesy from Jetstar to compensate us for the inconvenience we were put through.
Overall, it was a great trip and the Japan typhoon itself was another great learning experience.
---
What I've learned from My Typhoon Experiences
Although this was the first time I came face to face with a typhoon, I'd been impacted by typhoons indirectly in previous trips.
In 2015, a typhoon hit Taiwan a day before my first solo trip and caused me to urgently alter my entire itinerary given 24 hours notice. In 2016, a super typhoon that hit the Philippines caused rippling effects in Hualien, Taiwan and gave us a hard time at the wild and rugged Taroko Gorge.
Here are what I've learned from these typhoon experiences:
1. Don't try to predict when Typhoon will arrive
Typhoon season can last many months, up to half a year. It would be a futile effort trying to guess when it would arrive unless you skip traveling to those countries for that half-year period.
2. Work around Typhoon
Typhoon typically doesn't last many days. Plan some alternative indoor activities as backups. Sometimes, resting in hotels can be therapeutic too. Of course, if your schedule allows, try to avoid traveling during typhoon months.
3. Longer Stays increase chance of being Impacted by Typhoon
This is based on probability. The longer you stay, the higher the likelihood of bumping into a looming typhoon. We often have very 'good luck' with regards to typhoon because our trips often span close to two weeks. 
4. Don't rely on Airlines to keep you informed on Flight Delays
Take charge and look for updated information using multiple sources.
5. Be Flexible in your Itinerary
Whether you are at a country before, during or immediately after a typhoon, a typhoon can affect your itinerary. For instance, we thought it would be okay to visit Taiwan after a typhoon. It turned out that many attractions or roads leading to them were closed due to rockfalls or damage. It's good to have a list of backup activities.
6. Don't use an Umbrella during Typhoon
The wind will make you very busy. Wear a raincoat instead. 
7. Shops and restaurants may be closed (or close early)
I'd planned to do a lot of shopping on my last day in Okinawa. I mean, that's the best time to load up on stuff, right? If I'd loaded too early, I would have to incur the burden of shifting these loots from place to place. Furthermore, it's always best to bundle up your purchase instead of doing small ad hoc buys to enjoy tax-free rates (minimum expenditure per store of JPY5000).
Alas! Many shops were closed during typhoon day and I couldn't get all that I'd wanted to bring back from Japan. Lesson learned – don't leave purchases to the last day. :) Also, if you see something unique that you like, just grab it.
8. Wear Slippers with a Good Grip
If you need to be out on a day when the typhoon is predicted to make a landfall, please wear a pair of slippers or hiking sandals (or waterproof shoes). Make sure it's one with a good grip. This is not the day to look fashionable. You don't want to have your feet stuck in wet and clammy sneakers or boots for hours.
Hope this little tale can prepare you on what to expect during a typhoon situation. All the best for your next trip! If you like to get notified of newly-published travel stories,  just click the button below to subscribe. I'll even give you some free and exclusive stuff. See you there!
SUBSCRIBE
(This post was first published in July 2018)
This post may contain affiliate links, meaning I earn a commission if you make a purchase, at no cost to you. Read my full disclosure for more info.
---
Related Posts:
(Visited 1,007 time, 1 visit today)