Today, I want to share with you my Ultherapy Recovery Process and Results. To recap, I went for an Ultherapy Lower Face treatment at Cutis Medical Laser Clinics over two months ago in Singapore.
This no-cut, no-downtime "facelift" is said to help the skin rebuild its collagen to achieve firmer-looking skin. You can read more about how it was like going through an Ultherapy treatment. 
As the effect of Ultherapy takes 2 to 3 months to peak, I've been tracking my progress diligently. Today, I'm ready to share the recovery and results with you.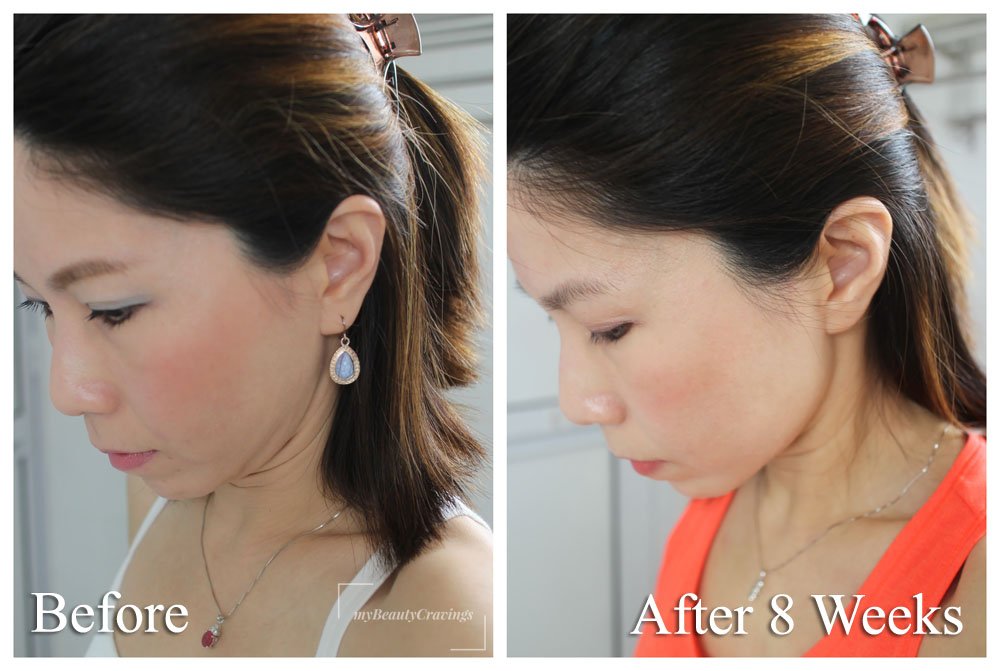 ---
Ultherapy Recovery: The First 24 Hours
Since Ultherapy involves no downtime, you don't have to take leave from work or hide from the public.
However, this doesn't mean you won't feel a thing after the treatment. Here's my recovery account starting right from the moment I stepped out of Cutis Medical Laser Clinics, an aesthetics clinic in Singapore.
The Sensation: 30 minutes Post-Ultherapy Treatment
Just before leaving the clinic, I applied a light veil of powder and proceeded to a nearby cafe to work on my laptop. I looked perfectly normal with no visible redness or swelling and didn't feel self-conscious sitting in the crowded cafe. 
Sensation-wise, I only felt mild tenderness at two spots under the chin, which were the parts that experienced the most discomfort during the treatment (refer Part 1 of our Ultherapy Series).
The sensation was felt three times with each lasting a split second. Hence, it wasn't uncomfortable. 
3 Hours Later: No Pain, Just Tingling Sensation
I thought I would feel more pain after the numbing cream had worn off. To my pleasant surprise, I no longer felt any aching sensation after 3 hours.
In place of that was a tingling sensation similar to how the skin would feel like when exposed to cold.
Here are some photos I took when I reached home (low light). The right-most photo was taken after a bath without makeup. You can see that the skin doesn't look red or swollen. Everything appeared and felt normal.
10 Hours Later – Saggy & Squarish Jawline
Now this is the part you need to take note of when scheduling an Ultherapy treatment. You may not want to plan any major events for the first few days after the treatment. I'm only referring to events that require you to look your very best, e.g. wedding or first date.
In my Ultherapy experience, my jaw appeared squarish, starting from 10 hours post-treatment (see before-after photos below). I was a little worried, but you don't have to if you are reading this. Because, I'm going to tell you that the effect was temporary and my skin regained its firmness and shape after 3 days.  
In terms of pain, there was none even when I exert pressure on my face. I could wash my face as per normal and slept like a baby that night. This was totally unexpected and a very easy recovery experience.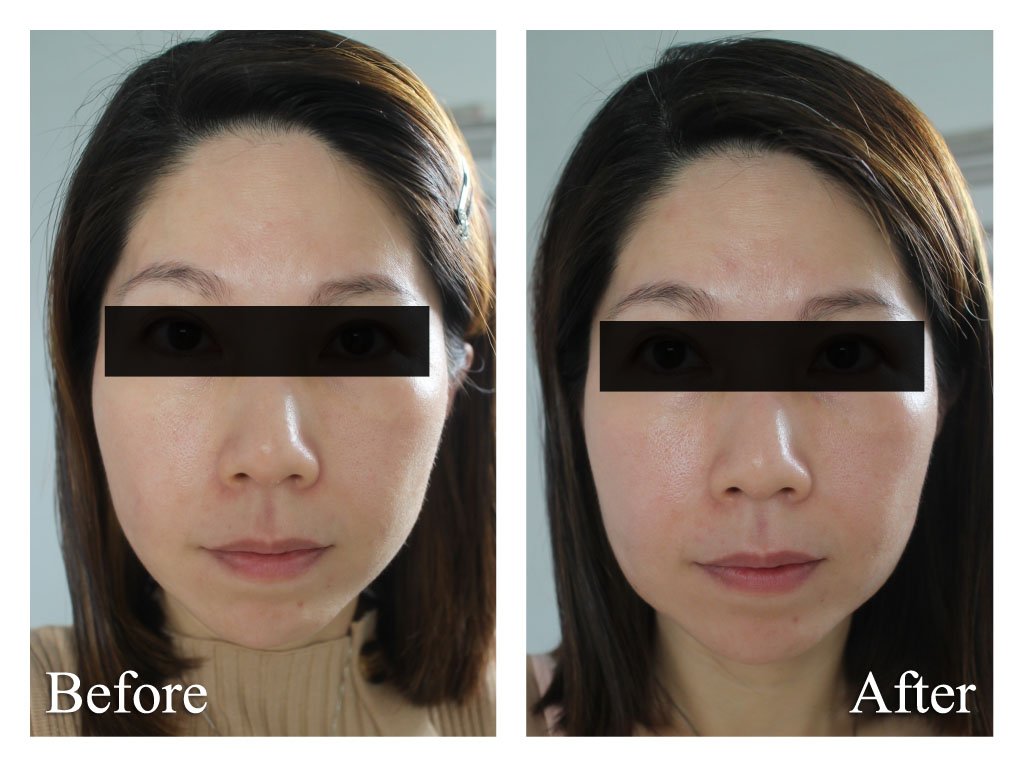 ---
Ultherapy Recovery: The First Two Weeks
Although I didn't experience any downtime from Ultherapy treatment, there were some invisible swelling and mild tenderness to recover from in the first two weeks.  
Day 2 & 3 After Ultherapy Treatment
On Day 2, everything seemed normal except that the squarish/saggy jawline was still present.
It was mostly painless unless I touch my face. Even then, the sensation was too faint to be categorized as 'pain'. For instance, I felt mild tenderness only around the jaw area when I washed my face. The pain level was a mere 1/10. As such, I didn't need to reduce the pressure exerted on my face when washing or applying makeup.
In addition, bruises or red marks typically associated with other aesthetics treatments did not happen in the case of Ultherapy (in my experience). So, there was no ugly skin discoloration to cover up which was great!
I also noticed at this point that the skin around my jaw was firmer and the pores smaller. But I would attribute the 'improvements' at this point to internal swelling.
On Day 2 evening, I started cardio exercise and didn't experience any side effects, such as bruising. Day 3's experience was similar to Day 2, except that the skin around the jawline felt even firmer (internal swelling).
Day 4 & 5 After Ultherapy Treatment
Finally, the saggy and squarish jawline disappeared by Day 4. By Day 5, I noticed a sharper and firmer jawline (back to original state?).
Any tenderness was almost gone because I hardly felt anything even when I pressed a finger firmly against my face.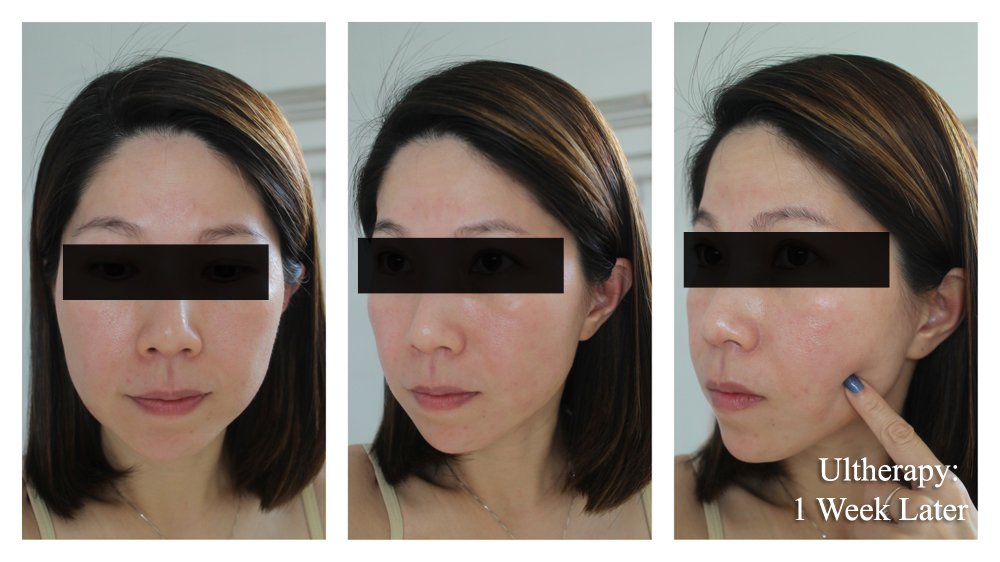 "What a breeze! Looking very good!" was what I've written in my beauty diary. I was referring to the comfortable and easy recovery from Ultherapy treatment. 
Day 6 to Day 10 Post-Ultherapy
The face started softening considerably by Day 6. By Day 10, the skin had full recovered as I could no longer feel any tenderness no matter how hard I pressed my fingers against my face. 
Something that I've noticed during this period was skin flaking. However, I couldn't fully attribute this to Ultherapy as I'd started using The Ordinary Granactive Retionoid Serum a few weeks before receiving the ultrasound treatment.
This concludes Ultherapy's recovery process. Let's move on to the more interesting part – the results accompanied by more Ultherapy Before-After Photos! 
---
Ultherapy Results (Up to Week 4)
We've earlier said that the full effect of Ultherapy would take 2 to 3 months to show. Let's track the week by week results in this section.
To recap, here's the progress photos from Day 1 to Week 2 which we've shared thus far. 
3 Weeks after Ultherapy
On the third week, I noticed a more defined and V-shaped jawline. It was subtle, but noticeable. My lower face felt firmer and bouncier (more elastic). Flaking has also stopped as I had not used retinoid since Day 10. 
4 Weeks after Ultherapy 
The skin firmness continued to improve and I thought my face looked visibly slimmer and firmer after one month. It's still a very subtle and natural improvement, and admittedly, I did wonder if what I felt was a placebo effect. 
Here's what I wrote in my beauty diary:
"Harder, bouncier skin….elasticity returning. Undereye wrinkle seems reduced even though my last botox effect had worn off for at least a month. Pores on cheeks are very fine."
In summary, the positive effects of Ultherapy started making its presence and accelerating from the third week onwards. However, the firming effects that I saw in real life weren't as obvious on photos, as I later found out.
I figured that the improvement was more apparent in real life because I could see how the skin was more youthful-looking, bouncier and elastic, all of which may be hard to show on photos (or at least at this point in time). Well, anyhow, let's see if the final results would present a more obvious difference (scroll down). 
---
Ultherapy Before and After Results: Up to Week 6
6 Weeks after Ultherapy 
By the fifth week, the improvement was becoming quite obvious and yet natural-looking. Although the effects were similar to what we've mentioned earlier, they were more pronounced. Here's a summary of Ultherapy improvements at this point in time:
Firmer and younger-looking skin
V-shape and more defined jawline
Slimmer face
Pores appear smaller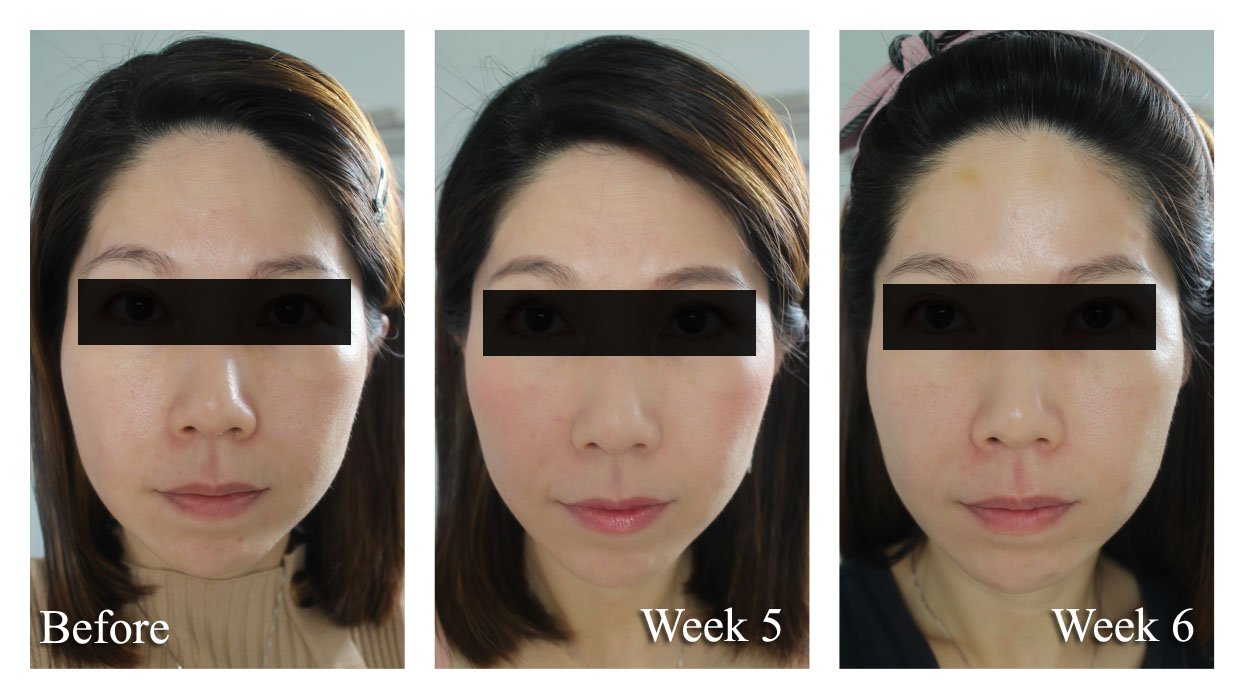 Note: I had forehead botox on Week 6. That's why you see some bruising. 
In spite of the above improvements, you may want to know that the nasolabial folds (laugh lines) did not improve by much. As described in Part 1 of this review, Ultherapy is not the treatment for laugh lines as it is not suitable for use on the central vertical column of the face.
It's also not the tool of choice to treat hollowness, according to Dr Sylvia Ramirez from Cutis Medical Laser Clinics. Filler can achieve better results.
Obvious Reduction in Double Chin
The most notable improvement in the first month after Ultherapy must be the visibly firmer under-chin. Even if I tilt my head all the way down, I no longer feel any saggy or extra skin threatening to bulge out. 
To recap, here's an earlier photo collage captured in Week 2 to show you how the extra skin was like. They were very much reduced by Week 5 as confirmed by the photos.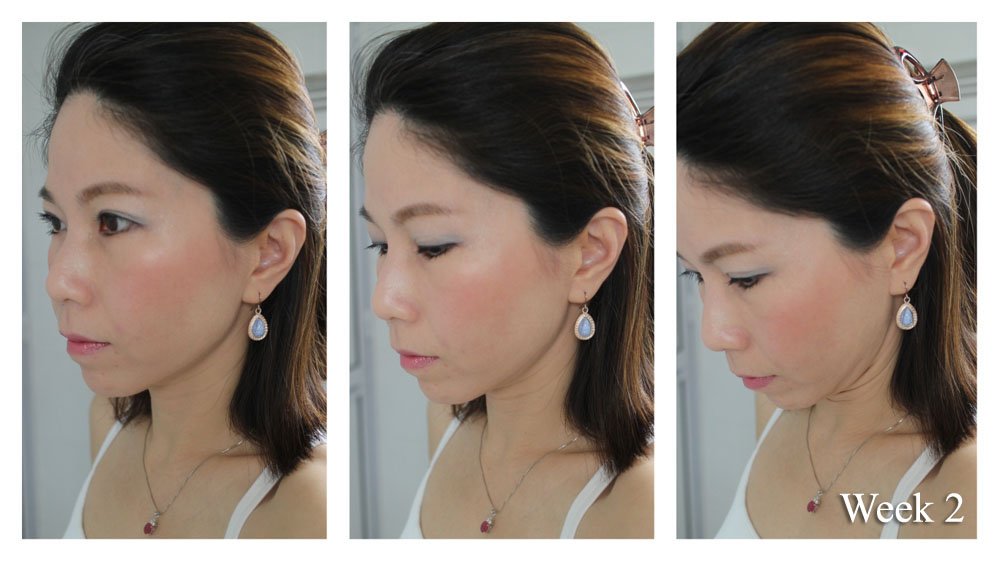 Elasticity Demarcation Effect
Though I love the obvious reduction in the double chin, I noted a demarcation effect between the chin (treated area) and the neck (untreated). This effect is only visible when I look up, and under specific lighting angle. My friends can't see it, but I can because I see myself all the time. :) 
I was told that that this could be due to the elasticity difference between the under-chin and the neck. Personally, I like to think that those with more prominent double chin may not experience such an effect. But that's just based on conjecture (rough observation) and not medical knowledge. 
Perhaps, I should wait for Ultherapy's full collagen-building process to finalize (which can take up to 6 months) before making any conclusion. I'll assess the development and provide an update later. 
---
Final Results: Ultherapy After 8 Weeks (2 Months+)
My face has lost the sagginess that I earned ever since I reached my 40s. And it's looking slimmer and more defined. Here's what I wrote in my beauty diary:
"I look so much fresher and younger."
Did you know that all the photo collages that you see in this post were prepared after 2 months. So, all the notes that I'd made in my diary were based on naked eyes observations. I'm as eager as you to see the Before-After Photos. Let's take a look at the improvement after 2+ months.
Before & After Ultherapy: Photo Comparison
UNDER THE CHIN
It's obvious the excess skin under the chin has been reduced. I no longer felt any threat when I lower my head and have stopped supporting my chin with a bolster when I sleep.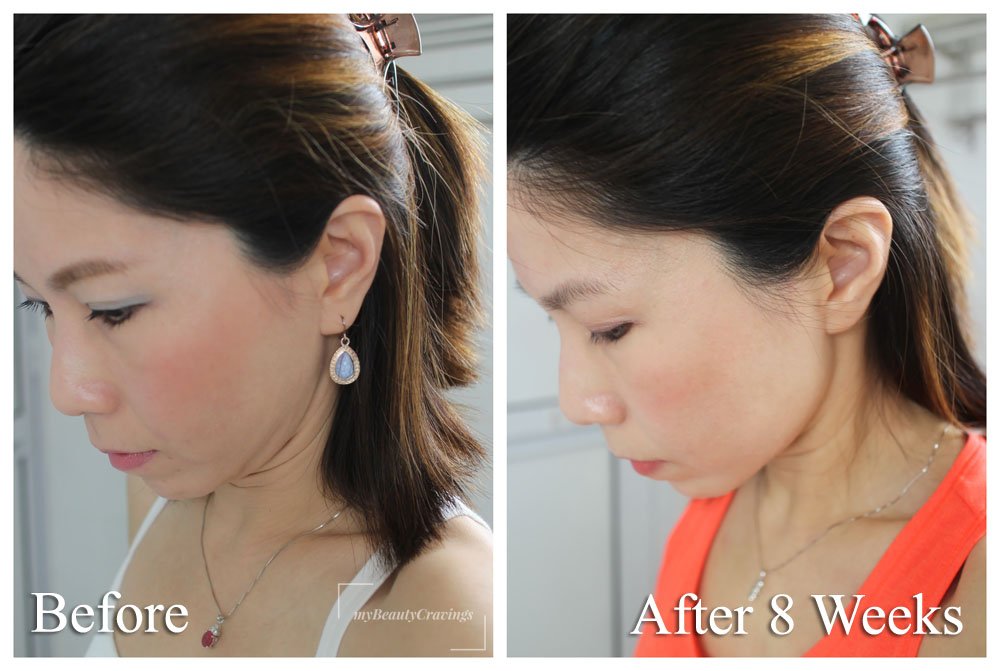 FRONT VIEW (STATIC)
The lower face is slimmer and more defined. It may be more obvious if I do a smile (scroll down).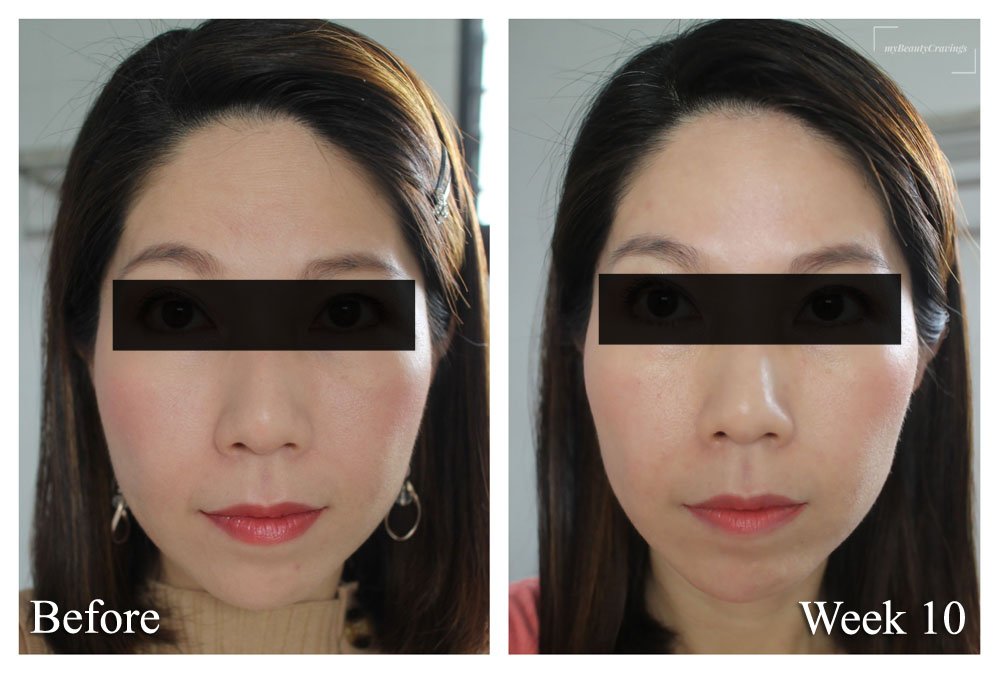 FRONT VIEW (DYNAMIC)
Can you see my slimmer face now? It's also looking more V-shape than before.
One thing I noted from the photos are the deeper nasolabial folds in the AFTER photo. By the time the photo was taken, the filler that was injected in my smile lines was 6 months old. That could partly explain the diminishing volume. 
SIDE VIEW (STATIC)
Let's take a look at the side profile comparison. I see a slimmer face 10 weeks after Ultherapy.
SIDE VIEW (DYNAMIC)
Same observation – slimmer face. Wish I could show you how elastic the skin was in the AFTER photos. Let me try…scroll down.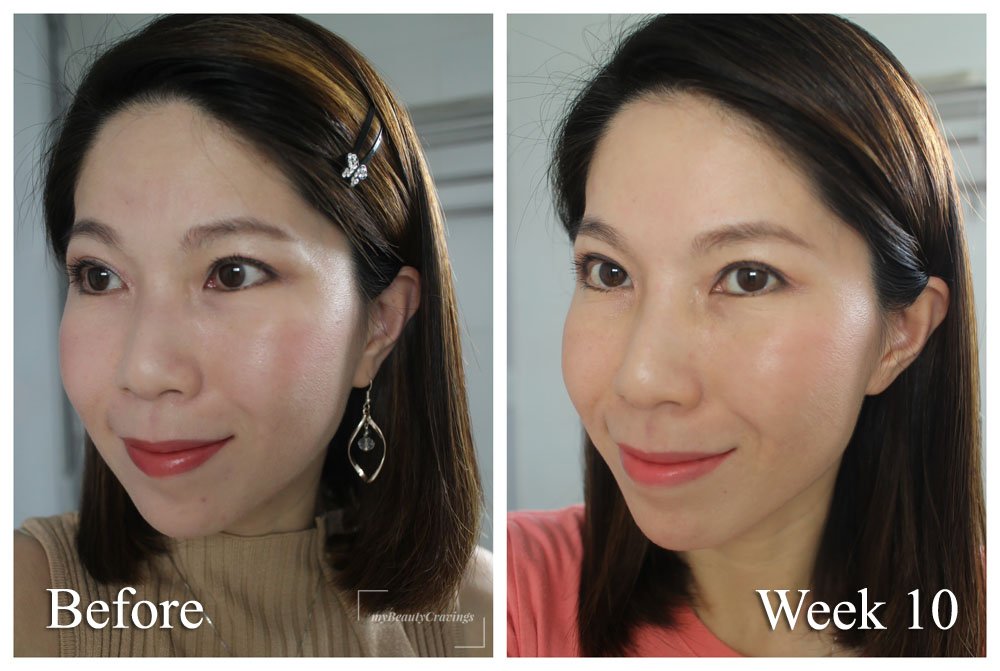 Bare Face Comparison: Before & After Ultherapy
I dread showing my bare face because this lighting happened to highlight every single pore on my face (caused by a botched CO2 Fractional Laser a decade ago). Well, for the sake of science and research, I'll show you just two. :) Do note that I wore a lipstick in the AFTER photo, and nothing else.
What difference do you see in the before-after photos? I see a visibly sharper face, and more rounded curvature of my skin (lifted and firm).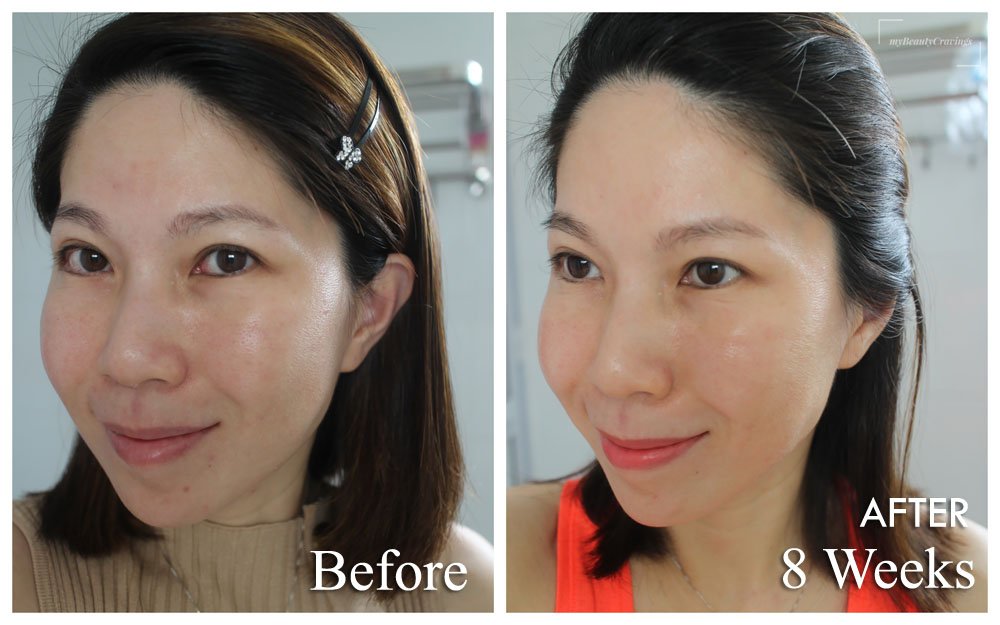 Ultherapy is said to improve the skin up to 6 months after treatment. As such, I will continue to track my results and post them at the right milestone. Stay tuned!
---
Price of Ultherapy in Singapore 
The price of Ultherapy depends on a few things such as the number of areas being treated and the pulses/lines received. 
In Singapore, such a treatment can vary from S$2000 to S$6000 for a full face Ultherapy treatment.
To recap what I've mentioned in Part 1 of review, Ultherapy is categorized as a HIFU treatment (High Intensity, Focused Ultrasound). However, not all HIFU treatments in the market is Ultherapy. Other HIFU treatments may be priced differently.
INFO: Ultherapy is by Merz Aesthetics, a company headquartered in Frankfurt, Germany. It is a treatment cleared by the FDA for lifting the skin on the neck, chin, and brow, and improving lines and wrinkles on the décolletage.
How much does Ultherapy Cost at Cutis Medical Laser Clinics? 
The Lower Face Premium Ultherapy that I've received at Cutis Medical Laser Clinics treatment is priced at S$3,500 (as at time of writing).
This involves treatment of the lower face at both the 3.5mm and 4.5mm skin depth. A total of 660 lines were administered.
You can read through the treatment details in Part 1 of the Ultherapy review. 
---
Wrapping it up
I love the natural-lifting effect of Ultherapy, especially on my cheeks and jawline. The face is visibly slimmer, the skin has regained its elasticity and I no longer feel the threat of bulging skin when I lower my head.
It's wonderful that all these improvements came with no downtime and almost zero pain (during the recovery). Ultherapy didn't disrupt my lifestyle and I could resume my exercise routine almost immediately.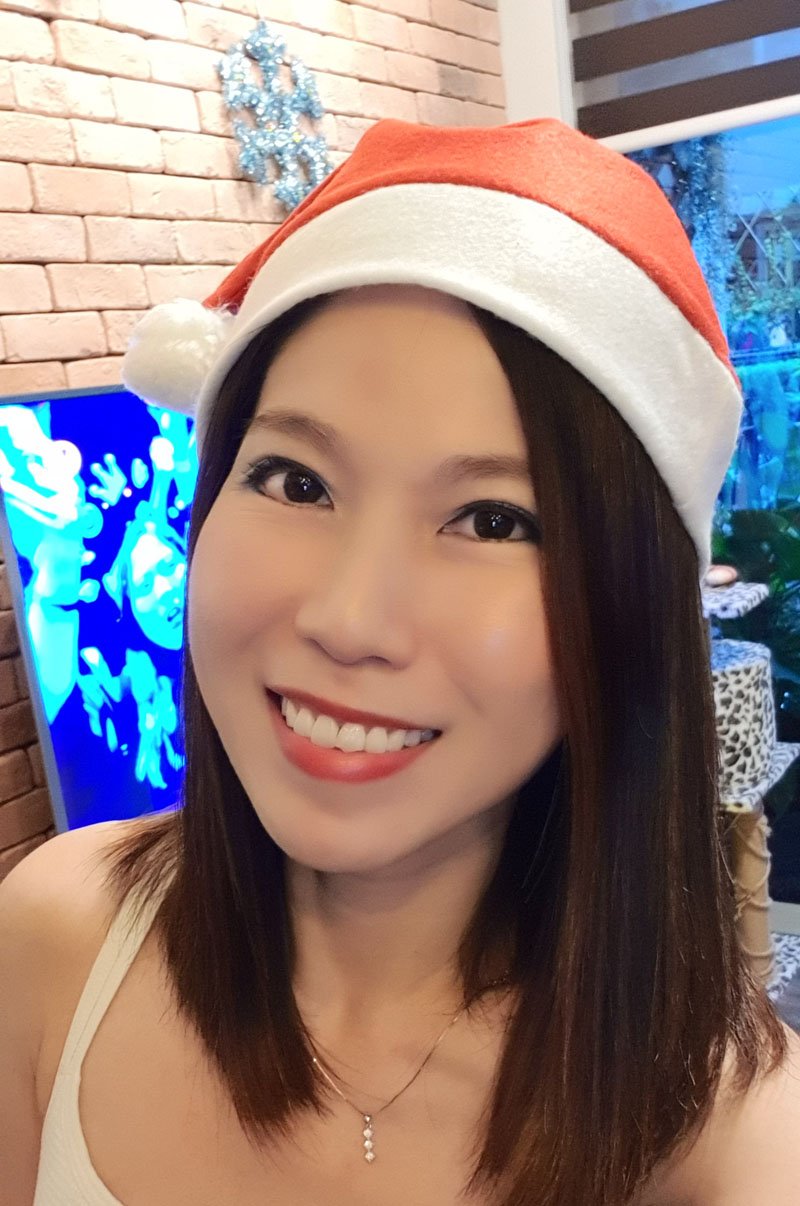 While Ultherapy is good in treating the elasticity of the skin, hollowness caused by aging is better treated by filler. Hence, both treatments may go hand in hand. One should be patient to appreciate Ultherapy as it is not a quick fix procedure. Some may also find the cost prohibitive, though the effect is quite lasting in the context of aesthetics treatments. 
All thanks to Dr. Sylvia and the team from Cutis Medical Laser Clinics, I was able to get a first-hand experience of Ultherapy and to share this info with you. 
So, is Ultherapy something that you would try? Or do you prefer injections such as filler and botox? Or nothing at all except cream and serum? :)
---
Hope you've learnt more about how it's like undergoing a HIFU treatment such as Ultherapy. I'll be posting more updates, probably at 3-month and 6-month mark. Stay tuned and connect with me if you like to receive more of such reviews – just click the button below. See ya!
SUBSCRIBE
Service was complimentary in exchange for a review that was published earlier. It is not a requirement for us to publish this or other follow-up posts on Ultherapy and/or Cutis Medical Laser Clinics.
Pin This!
This post may contain affiliate links, meaning I earn a commission if you make a purchase, at no cost to you. Read my full disclosure for more info.
(Visited 5,376 time, 11 visit today)