Trapped in tiny Singapore for close to 2 years, I found myself exploring places I would never have known if not for Covid-19. Last weekend, we took a drive to Upper Peirce Reservoir Park, and were so amazed with the scenic experience, that started right from the single-lane drive into the park. 
As you can see, this lane has minimal road markings, which is pretty rare in Singapore? For a moment, I thought I was overseas. Like, were we driving along some rural areas in Thailand or Philippines?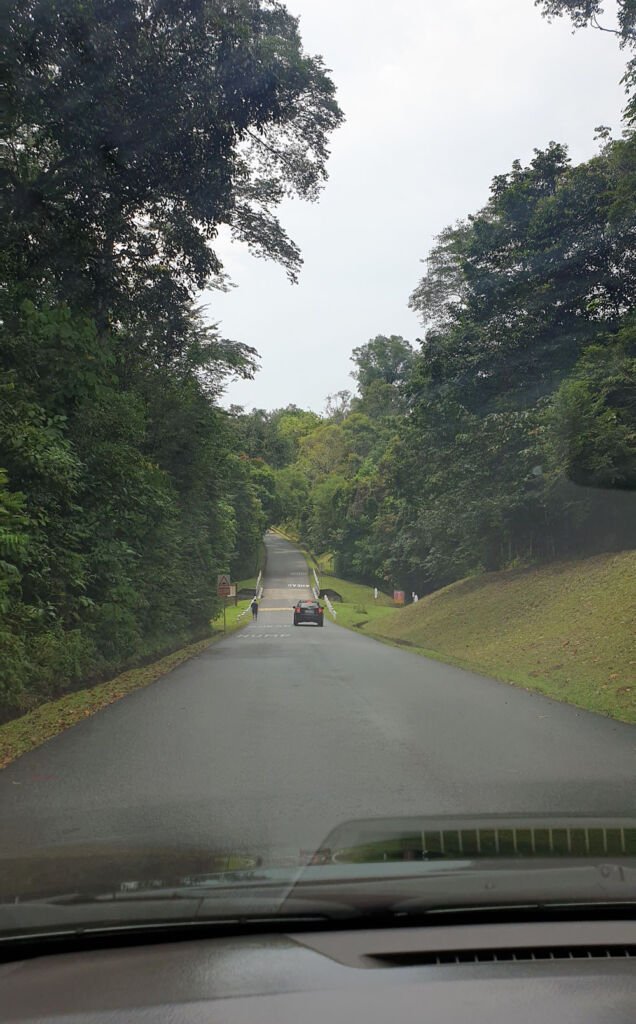 The drive along Old Upper Thomson Road was short though, but enough. What we would see at the end of the drive turned out to be even more charming. Read on and check it out!
Can I get to Upper Peirce Reservoir by walking? If you are not driving, it may be a bit of a hassle to get to the park. But it's not undoable. We saw people, including children hiking into the park.

According to Google, it would take around 40 minutes to walk in from the nearest bus stop (see map).
---
Standing between Upper and Lower Peirce Reservoirs 
When we reached the park (see carpark), we immediately made our way to the strip of land separating the Upper and Lower Peirce reservoirs. There, we could take in the sight of both reservoirs at the same time.
> RELATED: A romantic stroll at Stadium Riverside Walk, Singapore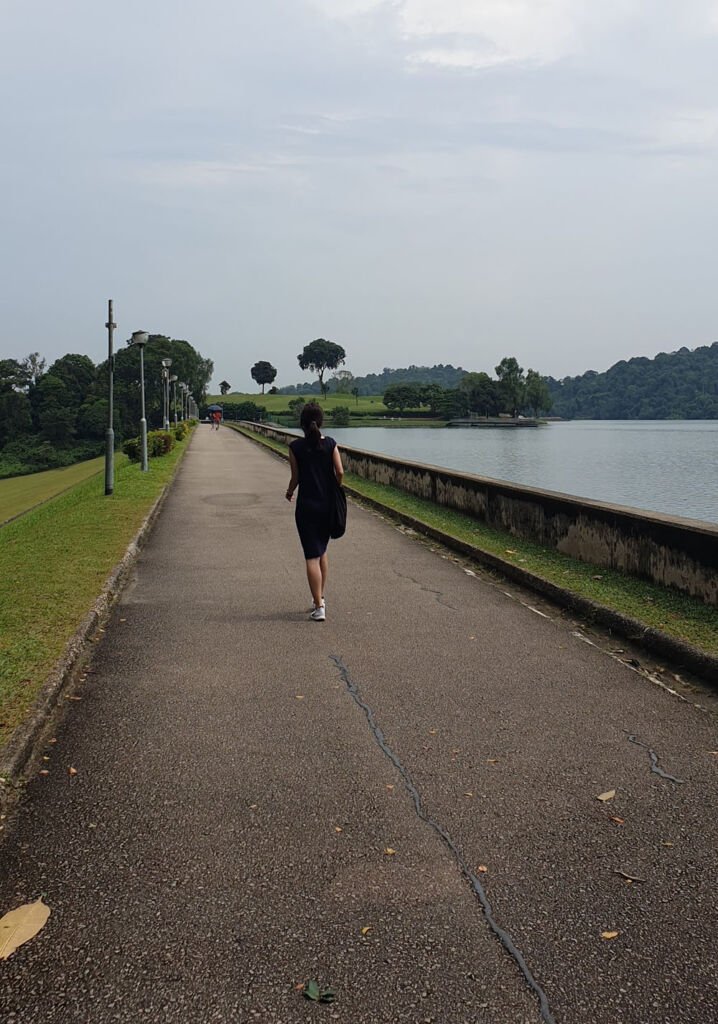 On my Left: Lower Peirce Reservoir
Lower Peirce Reservoir was flanked by a vast piece of green land with agile monkeys jumping from trees to trees. It was such a captivating sight to city dwellers like me. If you want to get close to nature, this is definitely one of the best places to be in Singapore.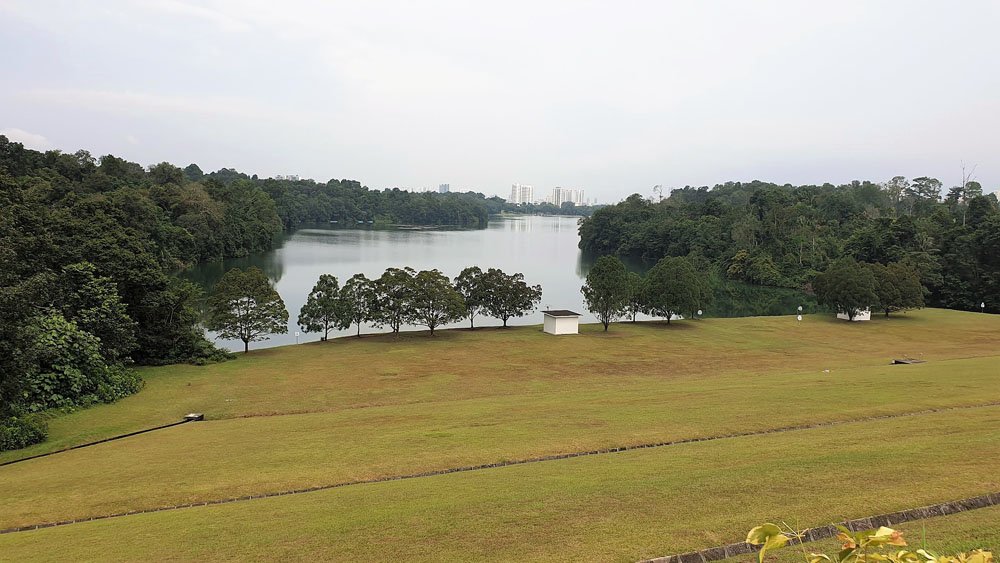 Dragonflies and colourful flowers were aplenty. Birds were chirping loudly – some even dove from left to right towards the water surface.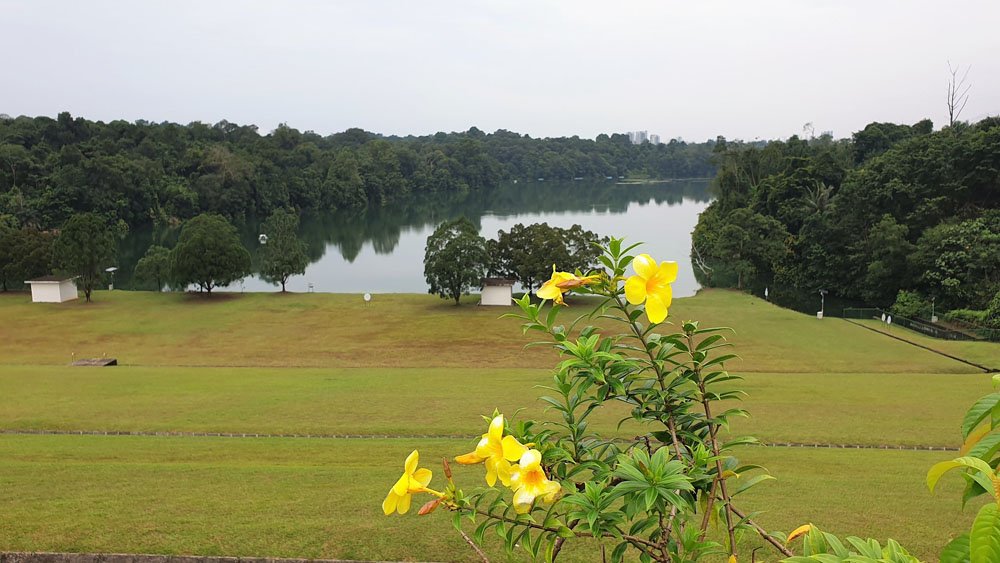 And as I walked deeper into the strip of land, the sound of nature got louder. I stood at the southern end for a while, embracing raw nature that is so scarce in Singapore.
> RELATED: A hike to Alexandra Arch in Singapore
On my Right: Upper Peirce Reservoir
Even though Upper Peirce Reservoir has a larger pool of water than Lower Peirce, it was less scenic. But not to worry as the view would get better when we retreat back into the "park area" – a place where most people hung out.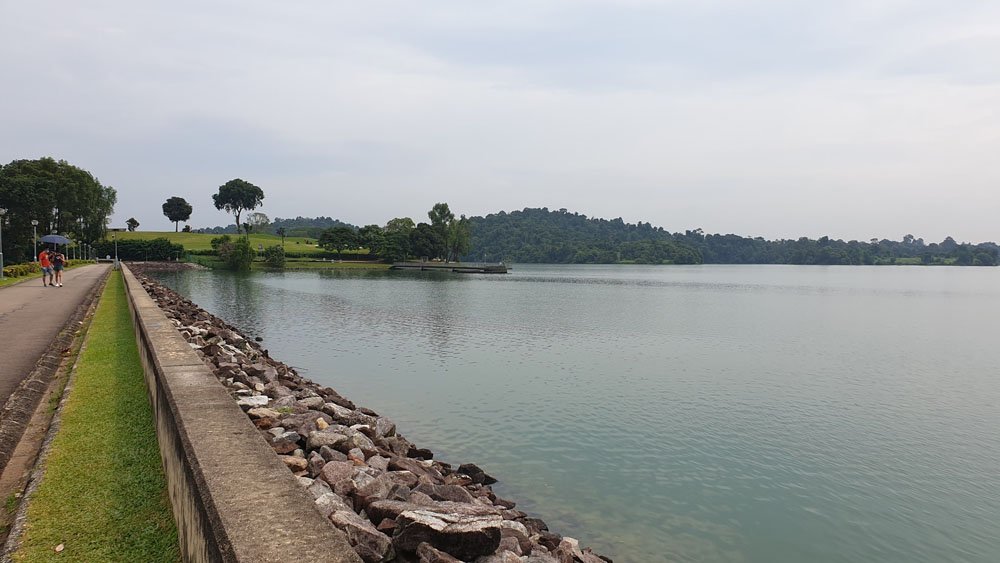 Here's me reversing my track towards the park area. Upper Peirce Reservoir that was on my right just now is now on my left.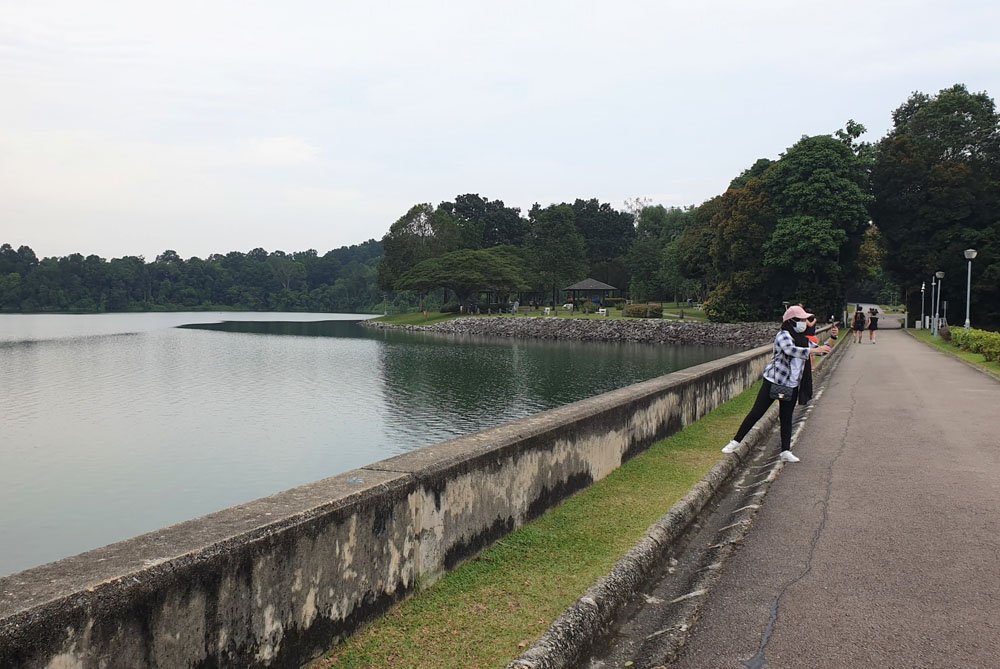 In the photo below, you'll see the strip of land I was at a while ago. I was now on my way to the park area.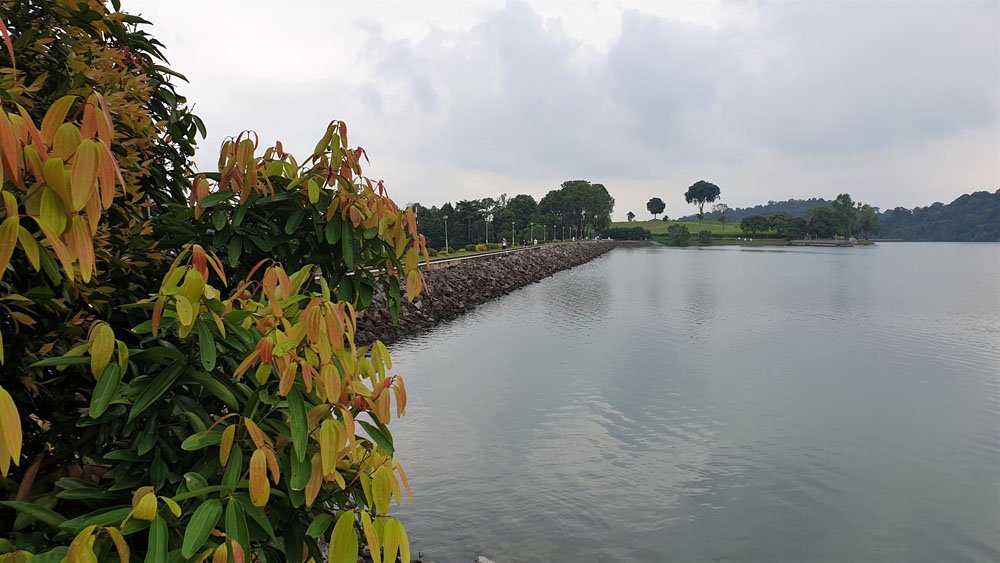 ---
So Picturesque: Upper Peirce Reservoir Park
I really love the sight of the numerous stone benches at the park, most of which were facing the water. How could I resist having a photo taken with me as the subject? :)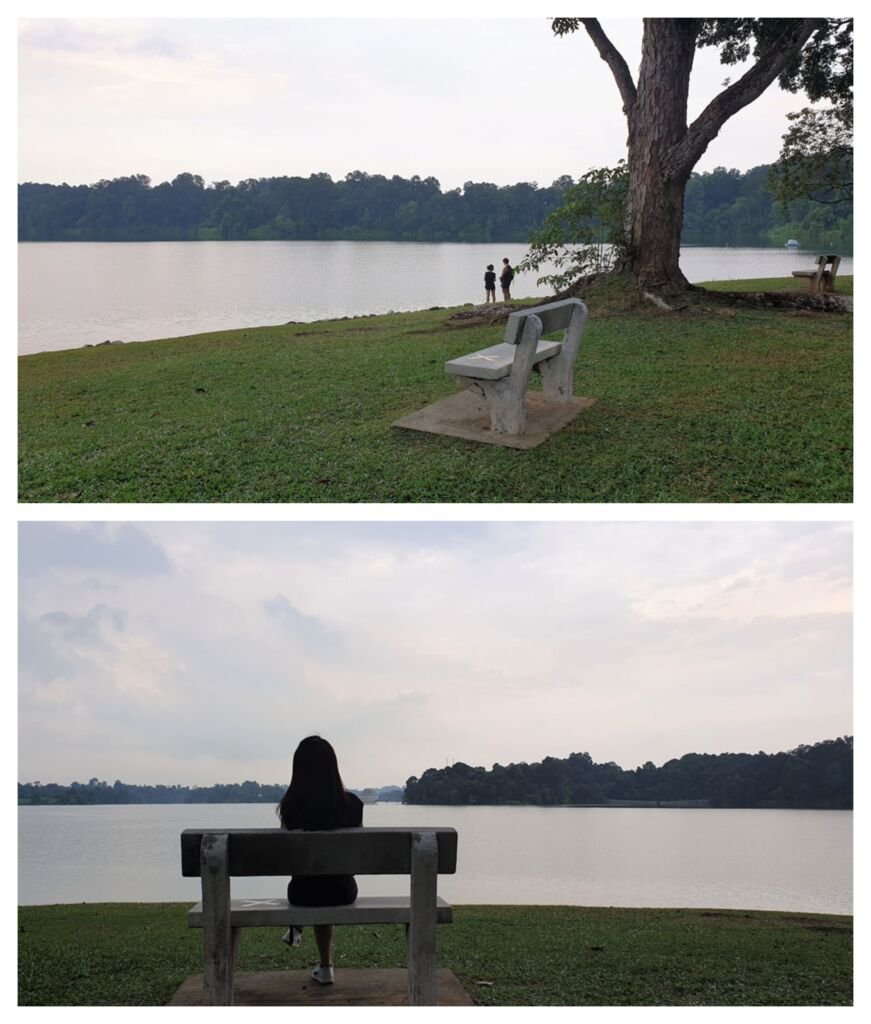 Over here, we could get really close to the water, or even touch it. But we didn't. Photo-taking was good enough for us. 
> RELATED: What a fantastic sleep at Goodwood Park Hotel, Singapore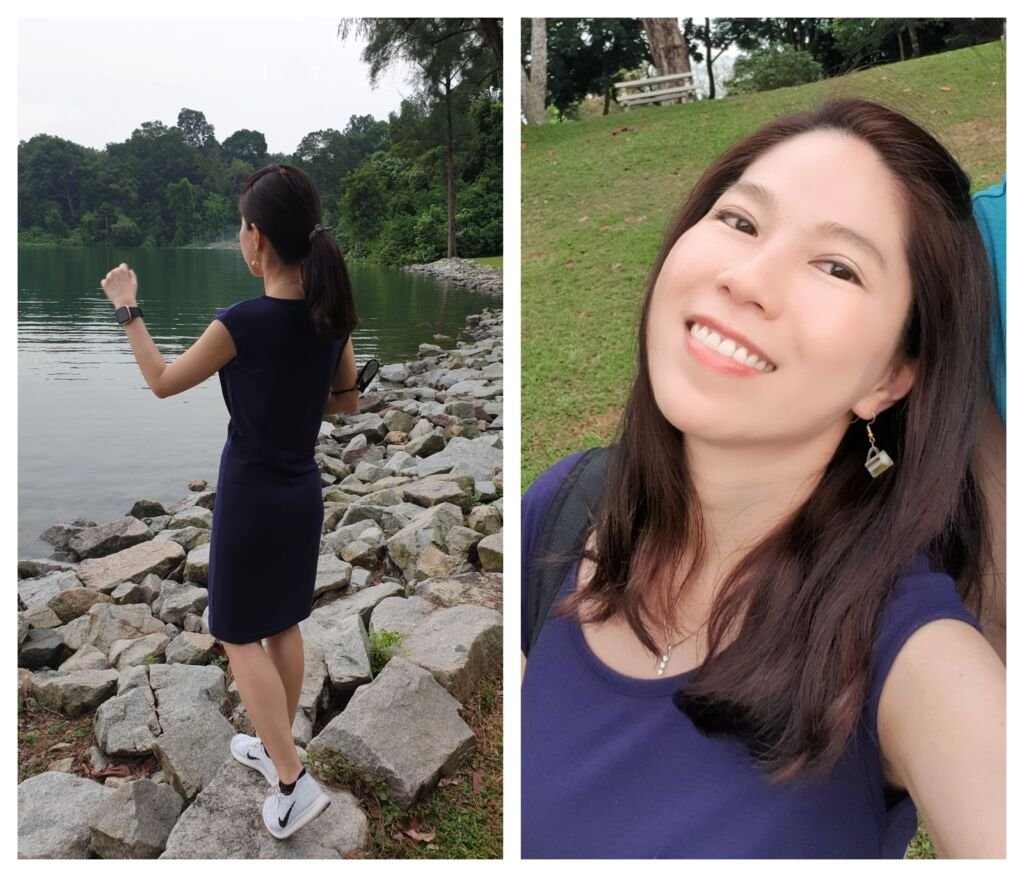 The trees and landscaping were lovely too. Almost every photo turned out well.
It was so charming how everything came together, such that I wondered if the composition was intentionally planned for the benefit of photographers. 
Origin of Upper Peirce Reservoir
Within the park, you can also see a very nostalgic logo of PUB. Brought back some childhood memories already? Ok, maybe you weren't born yet. :)
Now, for those who are into history, this reservoir was named after Mr Robert Peirce, a municipal engineer of Singapore between 1901 to 1916. It was later officially opened by then Prime Minister, Mr Lee Kuan Yew in 1977. 
Did you know? The reservoir name is spelt as "Peirce" and not "Pierce". I'd to correct the entire article before publishing. :)
---
Basic Facilities at Upper Peirce Reservoir
To keep things as natural as possible, there aren't much facilities here. Not even vending machines. But you can find the essentials – a well-maintained toilet and a water cooler.
There's a carpark here of course and parking is free!
> RELATED: Sembawang Hot Spring Park: The only onsen in Singapore
Time to leave the park. Here's a photo taken on our way out of Upper Peirce Reservoir via left fork of Old Upper Thomson Road.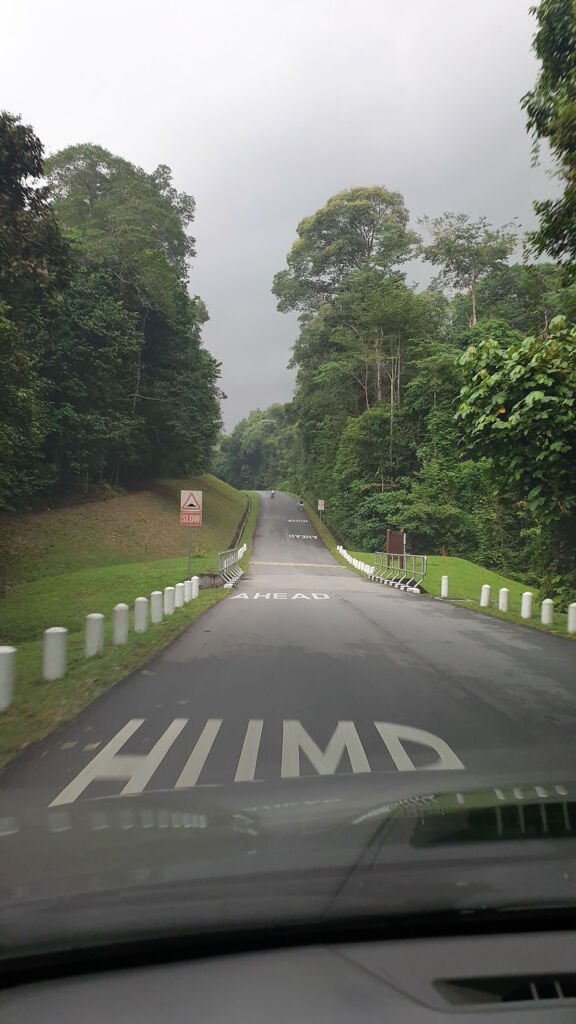 We'd wanted to explore Lower Peirce Reservoir Park (see map) which was accessible via another nearby road, but it started drizzling. That's ok. We can always visit another day. 
---
Chilled at Nearby Cafe – The iced latte was good! 
Near the reservoirs was a small hawker – Serangoon Hills Food Centre (see map). You can also find some shophouse kind-of F&B outlets here. Based on Google review, we decided to try out the coffee at Thus Coffee (see map).
I ordered an Iced Latte, The Sunset Juice and a Lava Cake. Among these, the coffee was the best order! Really fragrant!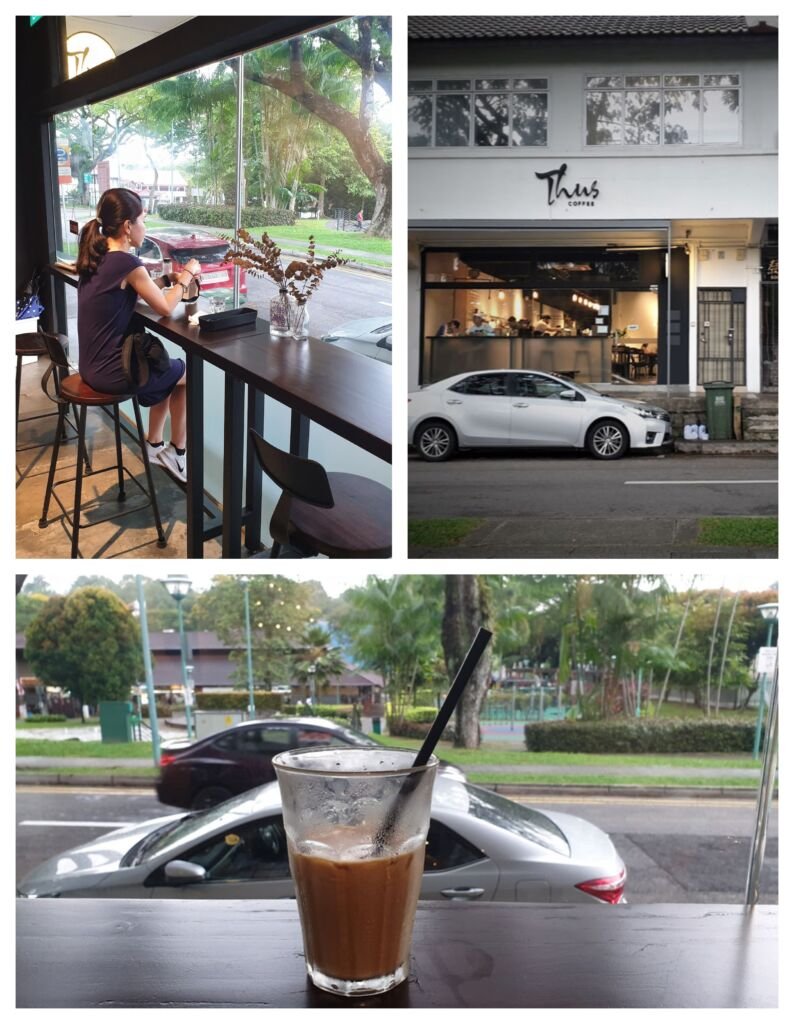 The Lava Cake was not bad too, but it was not extraordinary. At a price point of S$13, I thought the portion was quite small (like the size of a scoop of ice cream).
As for the juice that came with a $7 price tag, we'd expected it to be freshly blended and juiced. But sadly, it came in a pre-packed bottle. 
All in all, do try out the coffee if you are nearby. We saw a lot of people – probably nearby residents – ordering it as takeaway.
---
And that's all for the exploration of Singapore for now! Do you have any more places to recommend in Singapore before I die of boredom? LOL!
Ok, if you want to read more of such posts, click the button below to subscribe. See ya!
This post may contain affiliate links, meaning I earn a commission if you make a purchase, at no cost to you. Read my full disclosure for more info.
SUBSCRIBE
(Visited 849 time, 4 visit today)