What an amazingly-relaxing time I've had at Village Hotel Katong! It's the best staycation I've enjoyed thus far and I'm going to tell you why this place is worth a consideration. This is especially so if you are into great amenities, good food and a relaxing vibe.
The room layout was almost flawless too! We stayed there for two nights and didn't feel the need to drive out.
Let's begin our hotel experience in chronological order of stay, including things we did and food we had.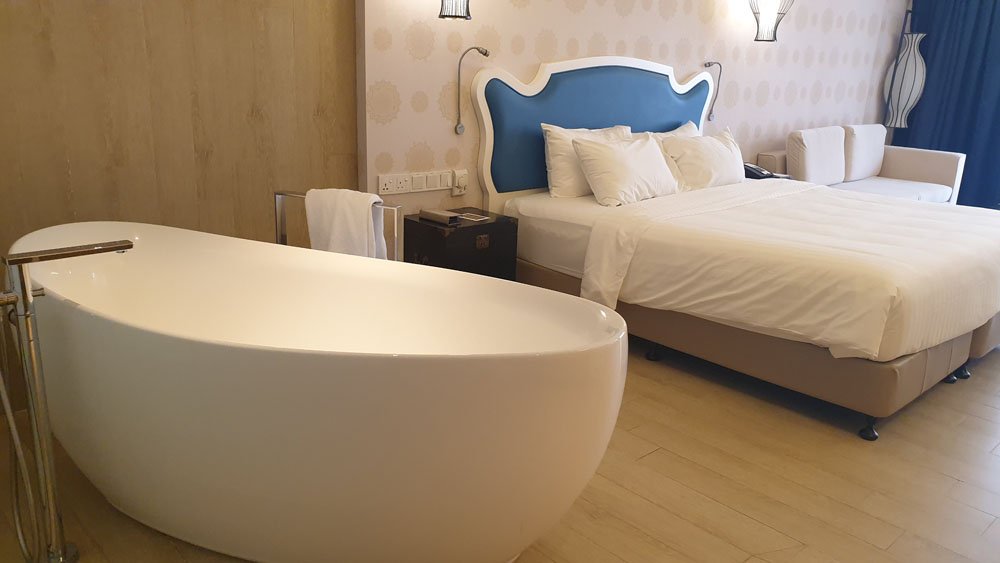 ---
Checking into Village Hotel Katong 
Finding the hotel lobby took us some time from the open-air parking lot. During normal times, the hotel lobby would likely be accessible from within Katong V mall. But due to Covid-19, the only path to get to the hotel lobby was to walk up a ramp meant for vehicles. 
Initially ignoring the hotel signage, we walked into Katong V mall with heavy baggage and went up and down the escalators in search of the hotel lobby. We only reversed track when a cleaner directed us back to where we came from, i.e. to exit the mall. LOL! 
So, if you are going to be staying at Village Hotel Katong during endemic, just follow the signage and walk up the road ramp, k? 
> RELATED: What we did on Day 2 at Village Katong Hotel 
Spacious Lobby and Quick Check-in
Stepping into the lobby, I was impressed with its spaciousness. Definitely one of the biggest among hotels I've stayed in Singapore.
Arriving at 1.30pm, half an hour earlier than the official check-in time, I didn't need to queue. The front desk staff, Mr Jayakumar was friendly and professional and the whole check-in process was quick.
He advised me that the Superior room I'd booked was not ready yet, but was quick to offer us a free upgrade to Peranankan Club room. The drawback, as he explained, was that this room would be on a lower floor – 5th floor. 
Let's check out the Peranankan Club room.
---
First Impression of Peranankan Club Room
The Peranankan Club room was bright and airy, and super spacious. Measuring over 40 square metre, that's almost the size of a one-bedroom condo in Singapore.
> MUST READ: Things to do in Singapore – An Insider's Guide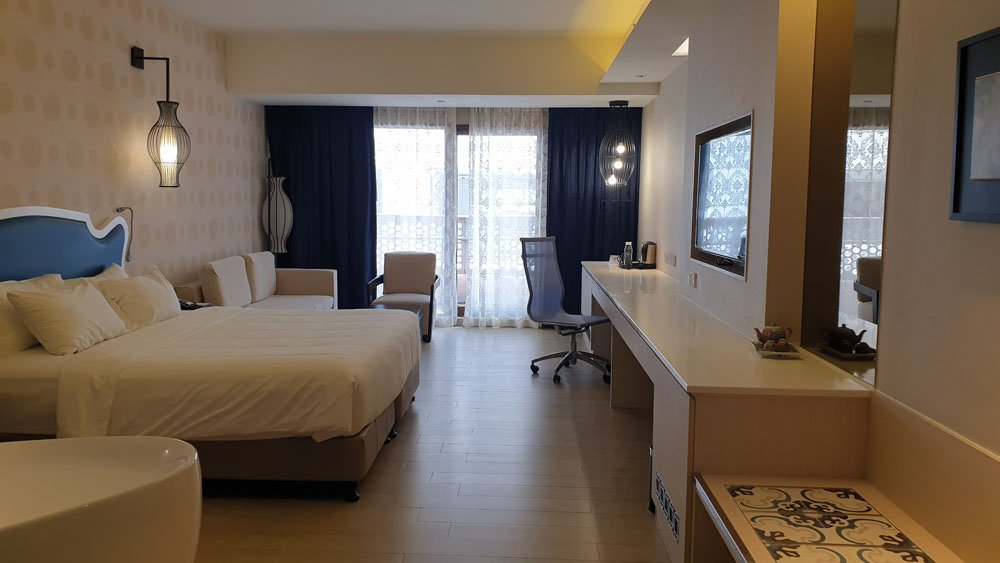 The first thing that caught my eyes was the big and modern bath tub sitting within the main room (not toilet).
Other than that, you'll also get a sofa big enough to sit four pax, and with an antique-looking coffee table to boot.
The Price: Check out latest room price of Village Hotel Katong here.  
What was not pleasing to the eyes was the room view. Well, it faced the carpark, which explains why we didn't use the balcony at all. 
If we had insisted on our superior room, which I understood could be as high as at level 8, we would probably have a more unblocked view. But we took it in our stride as we felt it was a good trade-off in exchange for a bigger room. 
The room proved big enough to satisfy us as we didn't feel the urge to venture out to the balcony. In any case, non of the balconies in the hotel come with chairs and table. Hence, there's probably nothing much to do out there anyway. 
Design & Layout – Room at Village Hotel Katong
There is really nothing much to fault about the interior of the Peranakan Room. The colour combination of blue and orange was great, and the luggage holding area was big.
Furthermore, the plugs were abundant and well-placed within the room. For instance, I could sit down to blow dry my hair as compared to standing at Goodwood Park Hotel.
> RELATED: Review of Goodwood Park Hotel, Singapore
The bathroom was aesthetically-pleasing too. Check out the lovely motif and quality bathroom fixtures.
I especially love the bathroom floor which looked like it's covered with oak planks, but is actually made of tiles. The water pressure was great and hot & cold water easy and quick to control.  
For those who love a rain shower, this one has enough pressure to offer a "heavy rain" experience. :)
It's also a clever design to incorporate a sliding glass door between the bath tub (main room) and standing shower (toilet). It makes accessing the bathroom easy when you are taking a soak in the tub. How thoughtful of the interior designer!
The solid table top was also lengthy enough for us to place all our stuff on it, such as grocery, coffee & tea, laptop, bags etc. 
Only one inconvenience 
The only thing I found inconvenient about the room design was the tinted mirror in the main room. I couldn't apply makeup while sitting there as the mirror was too dark. I had to bring my cosmetic pouch to the bathroom instead.
---
Room Amenities of Peranakan Room
You get the usual coffee and tea (mass market range) and toiletries. You'll also find an iron, full-sized ironing board, hair dryer, kettle, good-sized safe etc.
One thing that was an unusual extra was an oriental teapot that proved useful, as I've bought quite a few exquisite Chinese teabags (some from Pryce). Oh, we also get a weighing scale to see if we had overeaten during our stay. 
Some Improvements to consider
We didn't find any bottled water in our room. But there were prominent labels stating that Singapore's water is drinkable. Err, yes I know that, but I don't normally drink tap water lah…unless I'm desperate. 
Another con was the lack of new movies on its cable channels. But you can still keep yourself entertained with some lifestyle and old-movie channels. I was also told that the large TV could not connect to internet. 
The room was also very cold, at about 21 to 22 degree Celsius. Unfortunately, the room thermostat which I'd adjusted to 30 degree Celsius didn't work. I had to warp a dry towel over the body to serve as a jacket. 
In fact, my sleep on the second night was affected because it got too cold for me to bear. I was shivering under the thick blanket and struggled with cold hands and feet till late night. 
TIP: If you find the room too cold, it's better to notify hotel staff in the day. Temperature would likely drop further at night and it would be a major inconvenience then to get the technician up, say at 1 or 2am. 
How about its service? 
I can only say – don't expect too much. The only good service I've received was at the front desk. 
When I dialed zero to book the pool and gym, the line was not picked up at three different timing. In the end, I just walked to the pool and gym without booking. 
What was even more appalling was how a housekeeper that I passed by didn't respond to me even though I called her twice "Excuse me", standing about 1 metre away from her. I wanted to ask her where the swimming pool was located. But, she just walked away hastily.
I was a little amused. :)
---
Lunch on Day 1 at Village Hotel Katong
As it was the first day of Chinese New Year, most eateries and shops were closed. We ended up at a nearby mall – Parkway Parade – and made do with fast food at MOS Burger. 
TIP: Parkway Parade is the most shoppable mall within hotel vicinity. Other malls such as I12 Katong and Katong Square focus more on F&B.  
On our way back, we shopped at NTUC supermarket located in the same building as our hotel, i.e. Katong V (see location). Very convenient indeed to have a quick grab of groceries and snacks!
TIP: The hotel is within walking distance to many supermarkets, the largest one being NTUC Extra at Parkway Parade, Level 3. I'll show you the photo in the next post (on Day 2 experience). 
---
Recreational Facilities at Village Hotel Katong
Small Circular Pool
After lunch and grocery shopping, we went to the hotel's swimming pool at Level 4. There was no one manning the pool area. We took the only two towels on a table and proceeded to the sun loungers. 
It was extremely windy up there! So breezy my slippers flew a few metres away. There, we just relaxed – swiping phone (he slept) and munching CNY goodies.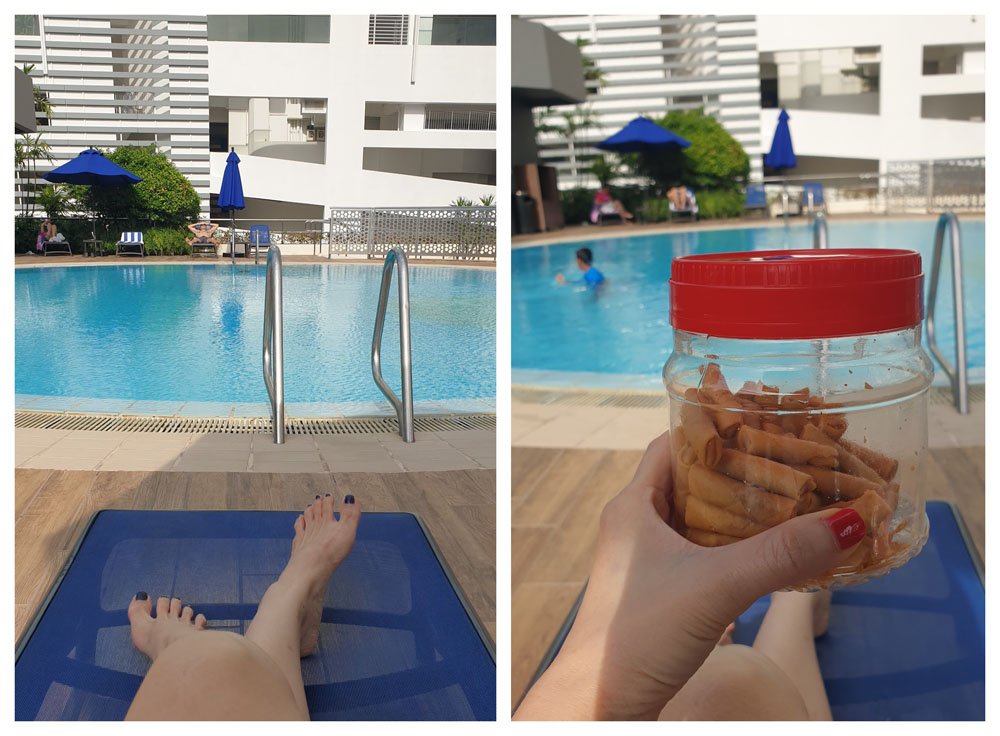 After a while, I entered the pool only to be surprised by the rather cold temperature. With the sun shining on the pool, I had thought the water would be warm.
But it's ok – not the coldest pool I've entered. :)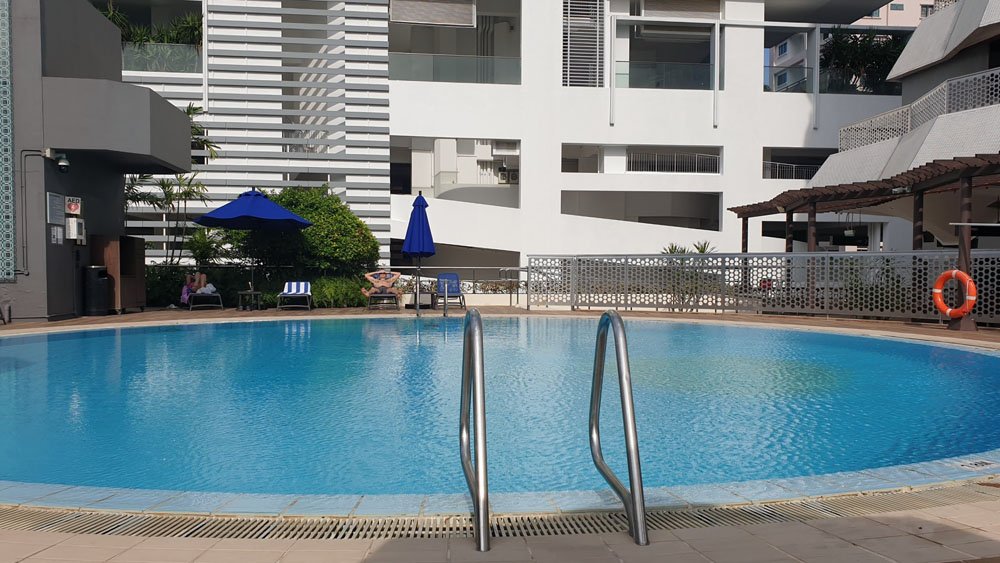 The pool was slanted at the bottom, forming a depth between 1.2 to 1.8 metre. This meant that I mostly kept to one-half of the circle.
If there are kids in the pool, you'll most likely clashed with the kids if you attempt a swim. But even without anyone, the pool was too small to complete a good workout. So, just take it easy and use the pool for dipping or diving. 
The Gym
The gym was of acceptable size for a hotel, having enough cardio machines and weights. However, the strength machines were rather limited. 
I did some squats and upper body exercises using the free weights. By the time we ended, it was time for dinner! Yesh…hungry enough to enjoy a great meal.
---
Dinner on Day 1 at Village Hotel Katong
Where's a good place to have dinner? Well, I can only say that the perfect location of Village Hotel Katong meant you'll be spoilt for choice when it comes to food.
At the back of the hotel – along East Coast Road, you can find restaurants & bars dotted on both sides of the road. Alcohol is a common pairing to food at many of these F&B outlets.
We had our dinner at a Mexican restaurant – Platypus Cartina (see location) – and was impressed with its extensive menu. Here are the food we've ordered – it costs about S$80 for two pax.
Other popular restaurants along this stretch of shop houses include the following: 
If these aren't enough, you can also find F&B at some of the boutique malls, such as Katong Square and I12 Katong mall. The former houses a Starbucks (see location) that boosts an attractive façade. 
That's all I have for you for now. I'll leave Day 2 of what we did at this hotel to the next post. You'll also get a summary of the goods and bads of this Village Hotel Katong, plus a final recommendation.
Stay tuned!
Do you find this post useful? If you like to get notified of newly-published travel stories, just click the button below to subscribe. See you!
This post may contain affiliate links, meaning I earn a commission if you make a purchase, at no cost to you. Read my full disclosure for more info.
SUBSCRIBE
(Visited 1,343 time, 3 visit today)