What do we buy in Japan? Today, I'm going to share 25 things to buy in Japan that appeal to both locals and tourists alike. Yes, we are going to skip the touristy souvenirs – those that are so steeply marked-up that locals would shun.
So, come take a look and check out the practical and functional stuff that I bought from Japan. I've grouped them into product categories so that you can browse through easily and decide what to add to your Japan Must-Buy list. 
Let's start with Japan beauty products, shall we? :)
Updated (Apr 2023): I am planning a solo trip to Tokyo soon and quickly referred to this post I'd written in Aug 2019, so that I know what to buy from the land of the rising sun. I'm reposting it for your reference too, and will update it again when I'm back. :)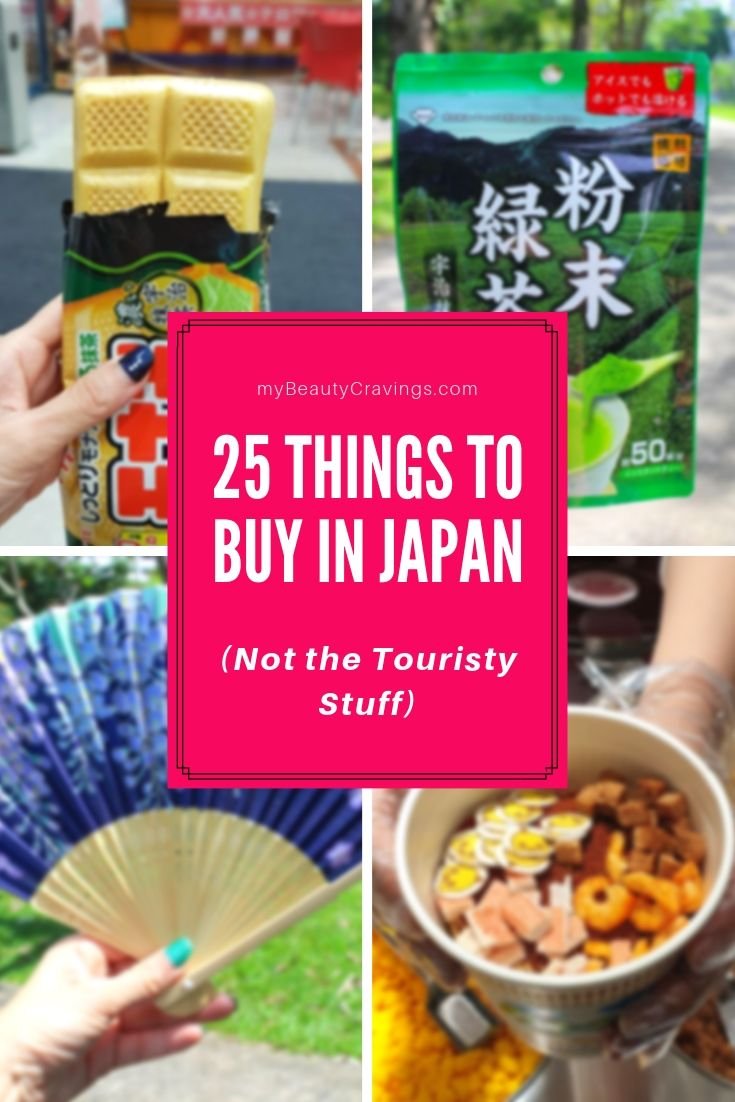 ---
Japan Cosmetics & Skincare
1. Double Eyelid Tape
I've bought a few packs of double eyelid tape from Daiso and found them to adhere well and last the entire day. Each pack is only 100 yen, which is 40% cheaper than if you get it in Singapore. 
Over in Japan, you'll get a good variants of eyelid tapes to choose from, from length and width difference to the method of application. 
TIP: When shopping for double eyelid tapes, I made sure I purchased only those that are made in Japan. 
2. Collagen Supplement
Japan is a good place to load up on collagen supplements. You'll be spoilt for choice with the large number of brands offering this beauty supplement, including Meiji, DHC and Shiseido.
As for me, I grabbed a Meiji Amino Collagen refill pack at about ¥1550 (tax-free). This is half the price as compared to those retailing in Singapore.
> RELATED: Meiji Amino Collagen Review – does collagen powder really work? 
3. Japan-made Sunscreen
I'll always get at least half a dozen bottles of sunscreen whenever I visit Japan. These Japan-made sunscreen are of great quality and reasonably-priced. You'll likely pay just half the price in Japan than in Singapore.
Some brands that I've used include Suncut, Biore and Skin Aqua.
> RELATED: Is Suncut Super Waterproof UV Protect Gel really waterproof?
4. Top 30+ Japan Beauty Products
Many of you who have followed me for long would know my love for Japanese beauty products. Since 2014, I have reviewed over 50 of them on this blog, out of which, about 30 turned out great!
If I list these 30+ products here, you won't get to the next section. So here's a downloadable list of the Top 30+ Japan Beauty Must-Haves.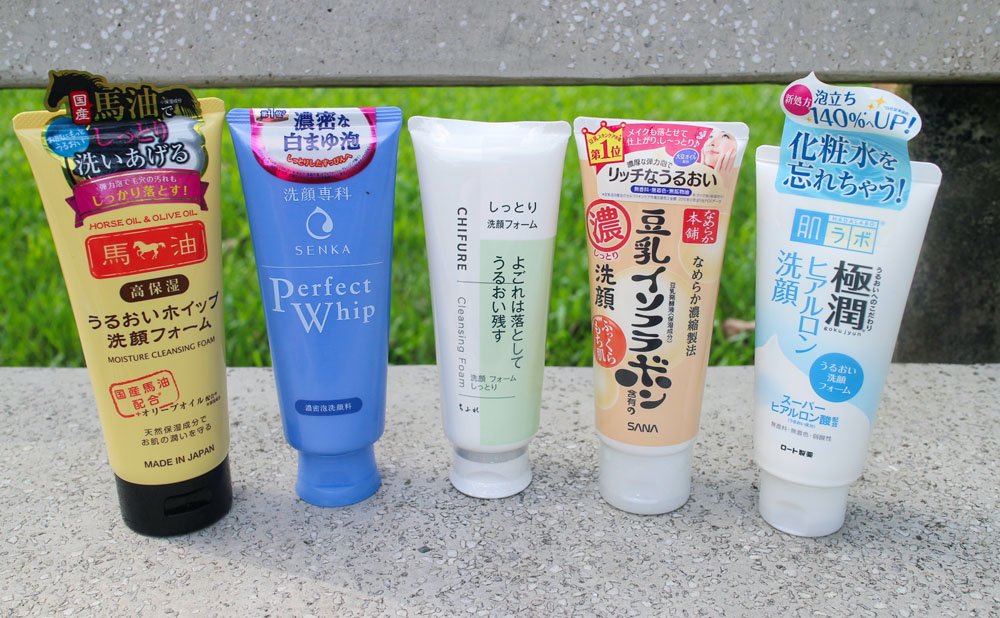 ---
What Grocery Items to buy in Japan?
5. Japan Snacks
Japan snacks are of good quality, both in taste and packaging. Some favorites of mine include:
a) Rice crackers with mixed nuts
Each pack (see bottom image) cost between ¥200 to ¥300 and contains around 6 mini packs. You can choose from different mix of flavors and nuts.
b) Almond Flakes with Ikan Bilis (Anchovy) 
This is another favorite Japanese snack of mine – Almond Flakes with Anchovy. I bought the smaller container when I was touring Okinawa and Osaka.
Must-Read:
When my trip came to an end, I grabbed hold of this huge packet when I saw it selling at Don Quijote for around ¥1000.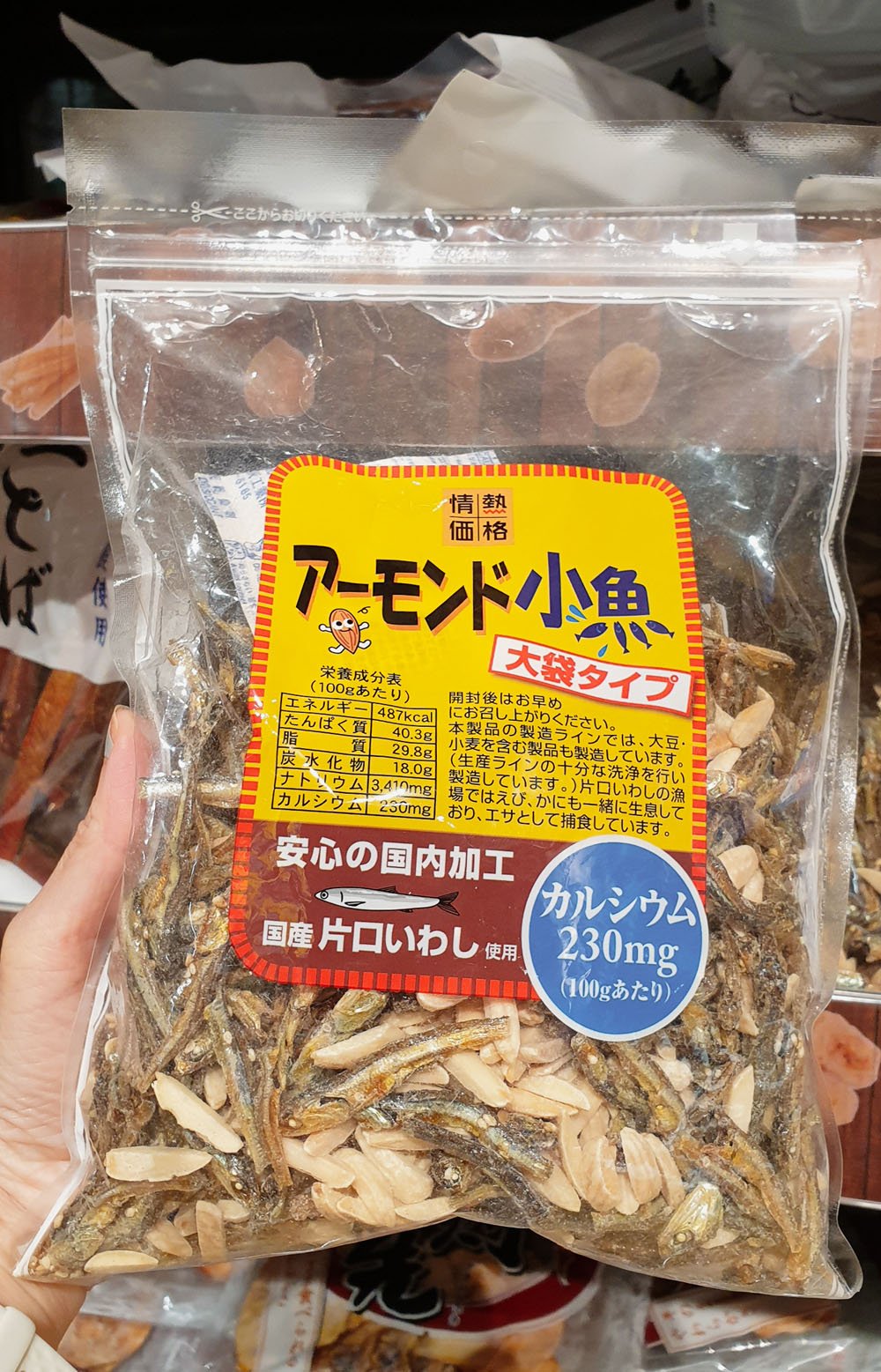 Others that I've tried include shrimp and anchovy snacks, vinegar octopus and soy nuts. 
You can also bring home dried cuttlefish in the form of MONEY! One million yen, okay? LOL!
Mochi is another popular snack in Japan. This is a soft and chewy rice cake typically filled with sweet fillings such as red bean, green tea, plum and black sesame paste.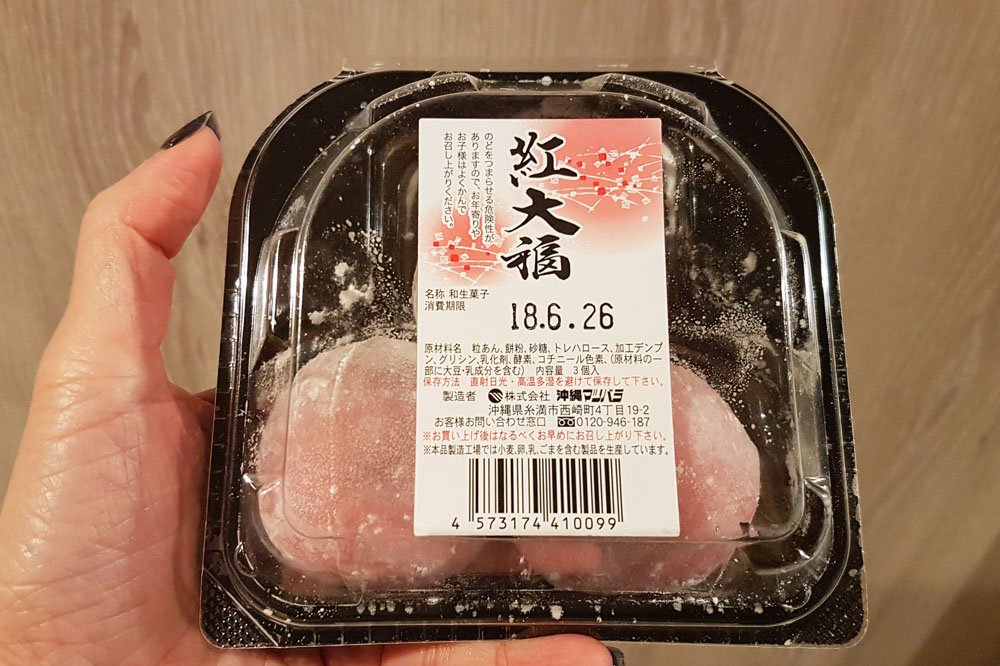 The best places to load up on all these delicious snacks are at local supermarkets such as Aeon malls, or discount stores such as Don Quijote.
6. Instant Soup
Which soup comes to mind when we talk about Japan? Of course, it's miso soup. You can either get miso paste or instant miso soup sachets in Japan.
I prefer the latter as I'm not really into cooking. The miso sachet is convenient to use as it comes with added "ingredients" such as dried shrimp, tofu pieces and scallion. You just need to add hot water.  
Other than miso soup, you can also get Japan soup stock (Dashi) that comes either in instant sachet, cube-form or as a seasoning bag. I use these often whenever I need to make single-portion noodle soup. 
Based on what I've tried, the seasoning bag has the richest flavor. Just put one into boiling water and you'll get a good soup base within minutes.
7. Food Seasoning & Condiments
I love Japan's seasoning products, one of which is seasoning flakes that you can sprinkle on your rice or just about anything. I love sprinkling these on my salad.
There're so many flavors to choose from such as beef, chicken, cod roe, anchovy, sour plum and salted kelp (seaweed).
Another seasoning product you can get in Japan is Bonito Flake, which is basically flakes of dried fish. It gives your food the taste of ocean. :) 
They come in lightly-salted or unsalted form. You can also get them in multiple single-serving packets. The one below is slightly salted and tastes really good! I love sprinkling them on top of tofu, fried eggs and salad.
If you are into cooking, you can even buy packets of dried fishes, dried kelps and bottles of cod roe from supermarkets. These items require cooking.
And last but not least, don't forget to top up your Japanese condiments such as salad dressing (e.g. Wafu Dressing), wasabi, sushi vinegar and somen noodle sauce (Tsuyu).
8. Japanese Noodles
What else to buy in Japan? If luggage capacity and weight is not a concern, you can also load up Japan noodles such as udon, somen and soba. And don't forget the super delicious instant noodles, which if you didn't know, were invented by the Japanese.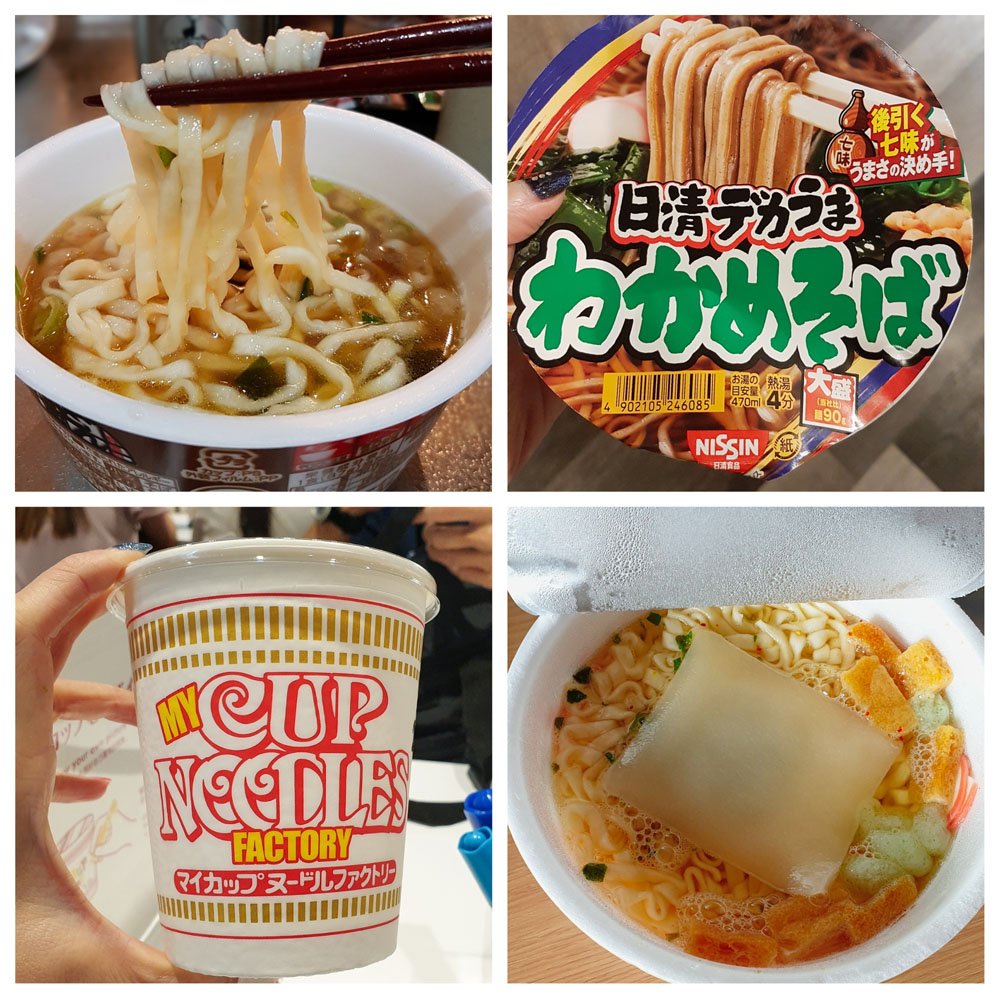 The most delicious instant noodle I've had was purchased straight from the Cup Noodles Museum in Osaka (see location). You'll get to draw and design the cup, as well as customize the ingredients.
> RELATED: How we spent 5 days in Kobe, Osaka and Kyoto
> READ: 7 Budget-Friendly Hotels in Osaka & Around
9. Coffee & Tea
I can tell by just shopping around that Japanese are crazy over coffee as much as they love their matcha (green) tea. Other than the numerous vending machines selling cans of coffee, you'll also see coffee sold in large one-litre cartons, just like how milk is sold. 
For tourists, weight may be an issue. Worry not. You can get coffee powder instead which are sold in instant sachets, bottled powder or refill pack.
One popular brand is UCC. I bought a refill pack of ground coffee powder at around ¥400 (300g). Mom said it's fragrant and pure, i.e. not thickened with other ingredients. 
TIP:  When buying coffee in Japan, do not assume the powder is instant coffee. It could be ground coffee which requires brewing. Use Google translate (camera function) to confirm product type. 
Other than coffee, another must-buy beverage is Japanese green tea or matcha, which normally comes in fine powder form. One popular brand is Ito En.
You can also find "salty tea" such as Kelp Tea or Plum Tea. They actually taste more like soup to me. :) I got one pack of Plum Tea at about ¥100 from Don Quijote.
10. Japan-made Ice Cream
We had an ice cream almost every other day when touring in Japan. They taste great and are inexpensive. Just visit the supermarket and you'll be spoilt for choice.
If you can't decide on which flavor to try, start off with matcha ice cream.
> MUST-READ: 11 things I love about Japan and I know you would too!
11. Japan Confectionery
Japan confectionery is delectable, presentable and available at different price points. For a simple breakfast, you can head to supermarket's bread section for affordable bun that cost as low as ¥100.
Though cheap, you'll be impressed with the fillings available, such as tuna, ham and cheese, beef steak and apple strudel.
If you want freshly-baked buns, most bakeries sold them at about ¥200 a piece after tax.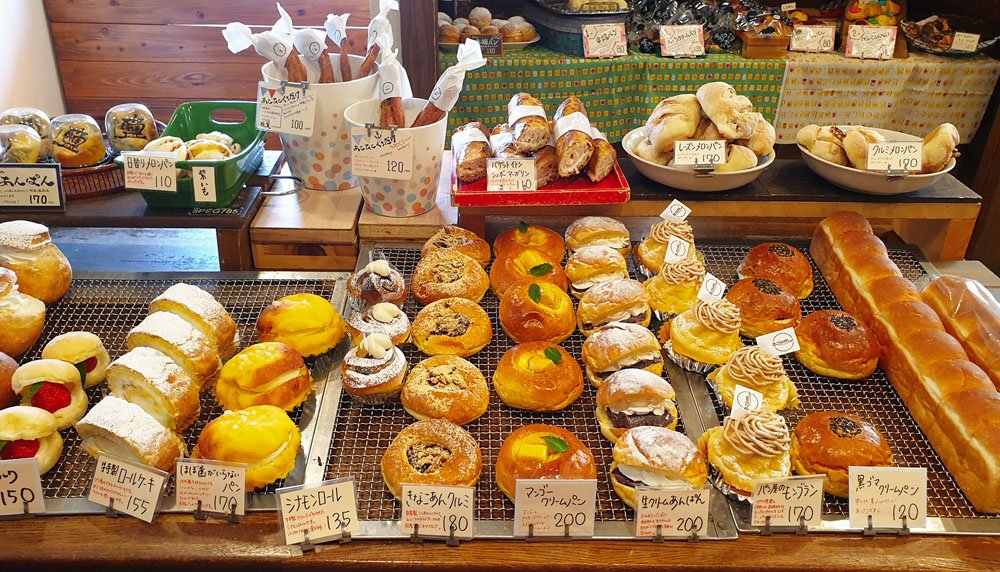 Exquisite confectionery are even more pricey, and they work great as souvenir gifts. Be ready to fork out a few thousand yen though.
12. Alcohol from Japan
Love to get tipsy? Some of the popular alcoholic drinks in Japan include beer, sake and plum wine. I've listed them in ascending order of sweetness.
For Japan-made beer, look out for brands such as Asahi, Sapporo, Kirin and Orion. If you are in Okinawa, don't forget to go for the free Orion factory tour. 
> RELATED: 11 Tips you need to know when choosing a hotel in Japan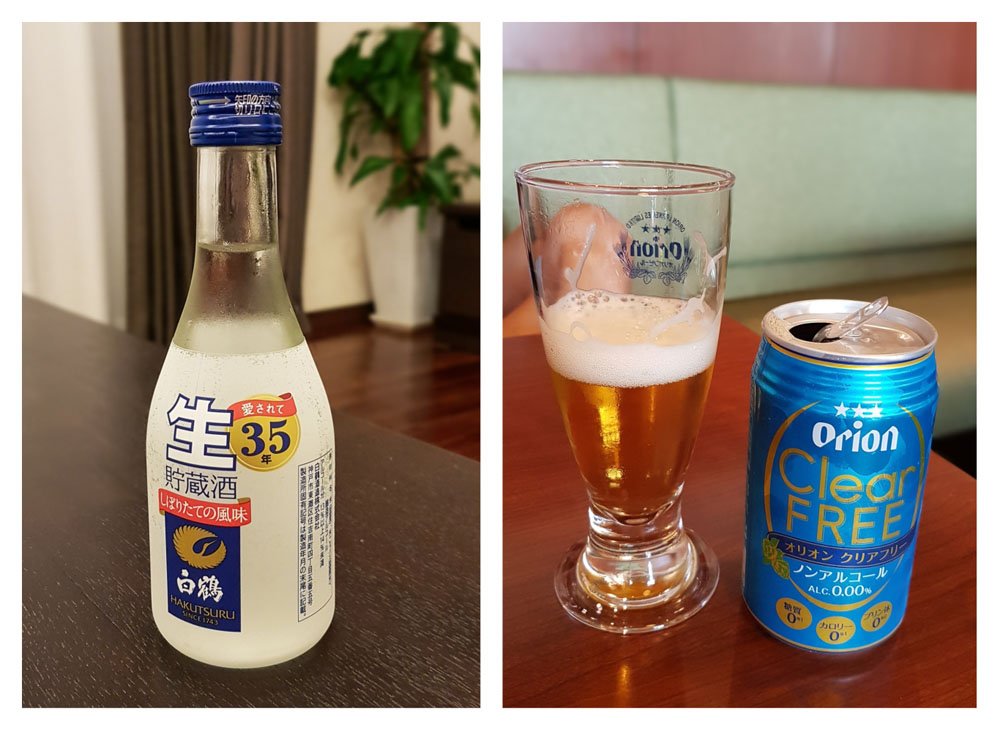 ---
Apparels, Footwear & Bags
13. Casual Apparels
Do you like affordable and comfortable casual apparels? If yes, head to stores like Uniqlo and GU.
The tank top, socks and cardigan that I bought from Uniqlo in Japan were about 15 to 40 percent cheaper than those selling in Singapore.
TIP: The sneaker socks that I bought from Uniqlo were good as they stayed in place when I walk. Cheaper ones that I got from Daiso didn't work for me – they kept slipping off my heels. 
Other than the favorable pricing, I also enjoyed a wider range of apparels when shopping in Japan's Uniqlo stores. For instance, the white and translucent cardigan that I got in Japan was not available in Singapore.
14. Loose & Airy Women Apparels
Japan is one of the best place to buy loose and airy clothing. Since these roomy apparels are favored by Japanese women, you'll get good options at great prices.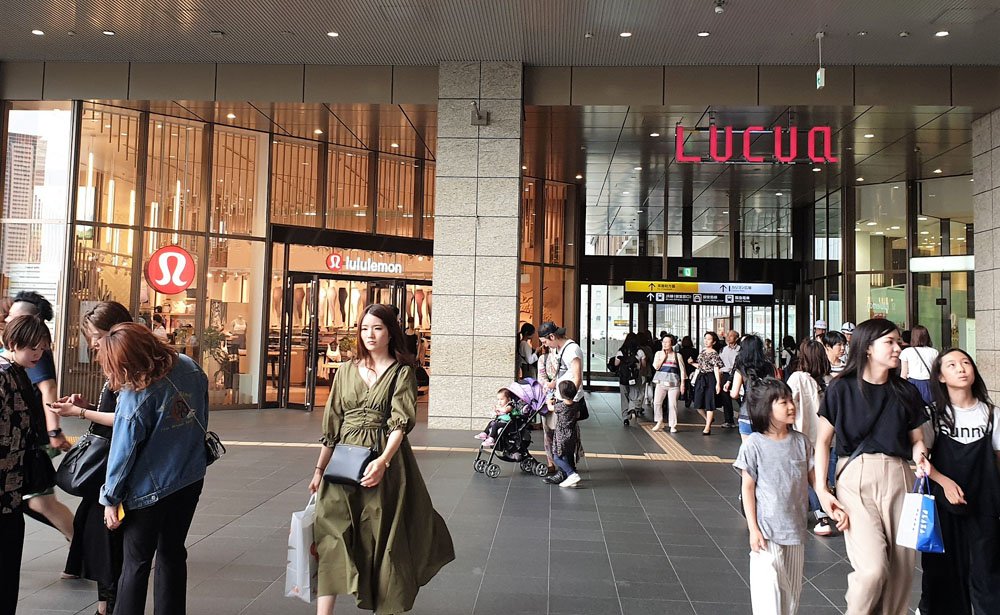 15. Minimalist Fashion Pieces from Muji
Muji is known for its minimalist concept which extends from its household items to fashion pieces such as apparels, socks, bags and travel accessories.
Prior to my Osaka trip, I was tempted to buy a sleek backpack from Muji in Singapore (S$50). Luckily, I put my impulse on hold as the same backpack was 30% cheaper in Japan.
Well, in the end I still didn't get it as the same backpack was found in the kids' department in Japan. LOL! In Singapore, it's placed within the adults' section.
Err, I don't want to be seen carrying a kids' backpack lah, even though it fits my petite frame. :) 
CHECK OUT: 
16. Get a Backpack from Japan!
Need more ideas on what to buy in Japan? How about a backpack? 
In Japan's major cities, it's common to see people – ladies, men and kids – carrying backpacks. I reckon that's because people walk a lot in Japan since public transportation is a major way of life.
Therefore, Japan is a great place to get well-designed and quality backpacks. You'll be pampered with an amazing range of options – from lightweight to sturdy, feminine to musculine and budget to premium backpacks.
One good place to shop for backpack in Osaka is at Yodobashi Camera Multimedia Umeda (see location). You can also look for them in departmental stores and independent fashion outlets.
After two weeks of shopping, I finally made up my mind to get one from Porter (see point below).
17. Understated Bags from Porter
Porter is a brand that originated in Japan and known for its understated, quality and functional bags. Although the design may appeal to men better, I find myself loving one specific backpack from the brand.
It's the one on the right. This soft-fabric backpack is lightweight, sleek and understated. Most importantly, it's large enough to contain my laptop without drowning out my petite frame. It's also really versatile and can be used on different occasions – from casual to smart casual and even a corporate look.
I paid about ¥25,000 for it, which is not cheap considering it's just a soft and shapeless fabric. But I couldn't find another one that met my criteria, other than the Muji backpack (see point above).
18. Walking Shoes
We mentioned earlier about how much walking is required in Japan. In fact, we saw locals mostly wearing comfortable walking shoes even when their footwear may, at times appear a tad too casual as compared to their dressing. 
What does high demand of walking shoes in Japan mean? It means you'll get good options when shopping for one in Japan. So go on, load up that sneakers!
Related Readings:
---
Household Items to buy in Japan
19. Japan Household Accessories
Daiso and Can Do are two great places to shop for affordable household accessories in Japan. Some items you can buy in Japan include chopsticks, sushi makers and Japanese utensils.
As Japan is big on bento meals, I found Daiso offering a good selection of lunch boxes and got one at ¥300. See, it even comes with a food divider and a top lid to separate the chopstick (chopstick sold separately). 
Other household items you can buy include garden tools, vacuum bags, laundry bags, pet supplies, snacks and honestly, too many to list in this post.
Daiso is really a great place to shop at especially when you have nothing specific in mind to get. :) Most items are priced at ¥100 which makes shopping an easy and affordable affair.
If you have a bigger budget, Muji is another popular chain store to load up on Japan household products.
My most memorable Muji store has to be the one at Grand Front Osaka (see location). You'll be blown away by its huge collections, including furniture and electronics. 
Ya, can you imagine seeing a Muji washing machine, fridge, microwave oven and food blender?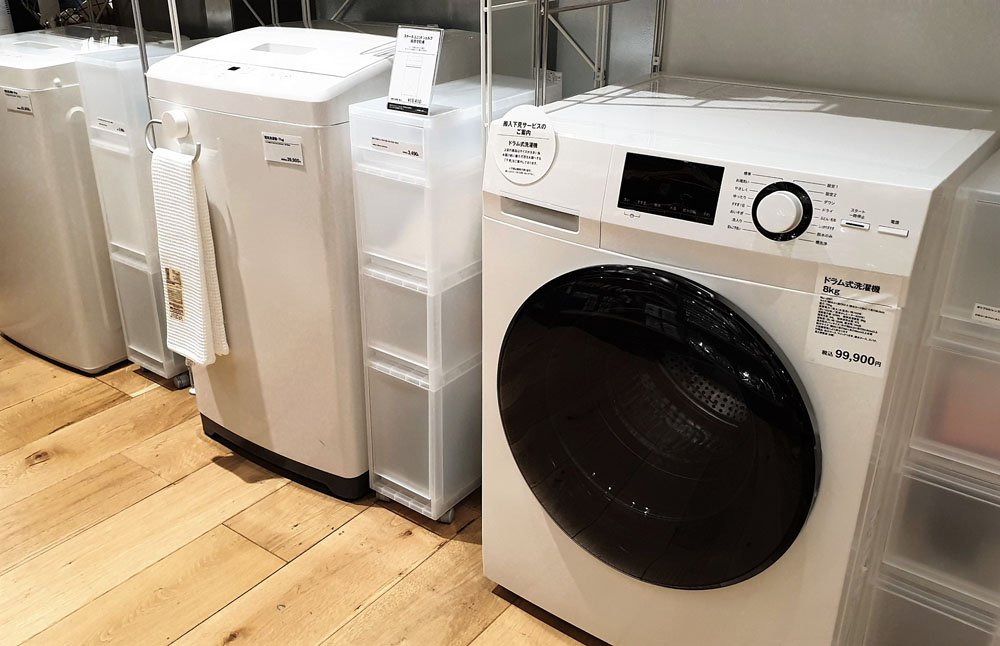 20. Buy Thermal Flask in Japan
Thermal Flask is one of the top 3 items I would buy in Japan, other than beauty items and seasoning stuff.
Are you looking for a heat/cold retaining mug or flask? Okay, never mind even if you are not, just grab one from Zojirushi or Tiger. You'll be impressed at how good their thermal quality is. My ice cubes can remain in that state for more than a day inside my Zojirushi flask. 
The reason why I recommend that you get it in Japan is because it can cost a lot more elsewhere. For instance, I got my 360ml flask for about ¥2200 from Aeon Okayama. When I got back to Singapore, I was shocked to see Takashimaya selling it at more than twice the price, at S$75.
TIP: Do note that although these brands originate in Japan, they may not be made in Japan. My Zojirushi Flask was made in Thailand (and if I remember correctly, Tiger was made in China).

Don't worry as Japan is renowned for its quality control management.  
TIP: Here's another thing to note when buying thermal flask. If you want a leak-proof flask, avoid those with flip-up lid (like mine). Get those twist-and-turn lid instead. 

When mine leaked, I thought it was defective until I read from the warranty booklet that it is not supposed to be leak-proof. I have to keep it upright, like on a desk or vertically in my bag. 
---
Electronics & Stationery
21. Camera & Accessories
When shopping at Yodobashi Camera Multimedia Umeda (see location), I was amazed at how much space they allocated to camera and accessories. If you are a photography-fanatic, Japan would be your shopping haven!
In case you do not know, most top camera brands – Canon, Sony, Nikon and Olympus – originated in Japan.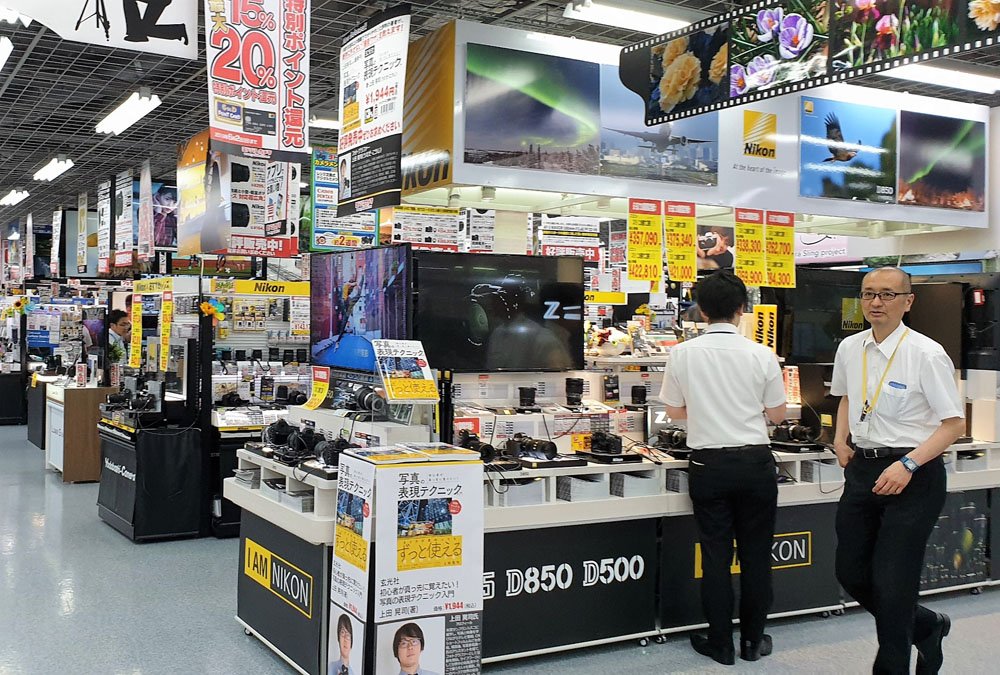 22. Stationery & Office Supplies
Japan is a great place to load up on quality and aesthetically-pleasing stationary such as pen, notebook, envelopes, origami paper and calculators (e.g. casio). 
You'll also find cute Japanese-theme items such as stickers, erasers and manga-coloring books. Check out my Japanese food-theme stickers! Cute, isn't it? 
---
Toys & Collectible Items
23. Capsule Toys
You'll see capsule toy vending machines everywhere you go. One good place to be overwhelmed with these machines, also known as Gashapon, is at Osaka Den Den Town. 
Check out my bowing Corgi. Very Japanese indeed, huh? :)
24. Game Collector Cards
What do you buy for kids in Japan? Prior to my Osaka trip, I didn't know people would pay so much for paper cards, until my partner started shopping for them at Osaka Den Den Town.
That was one of the things his nephew requested for. And yes, he's a doting uncle! LOL!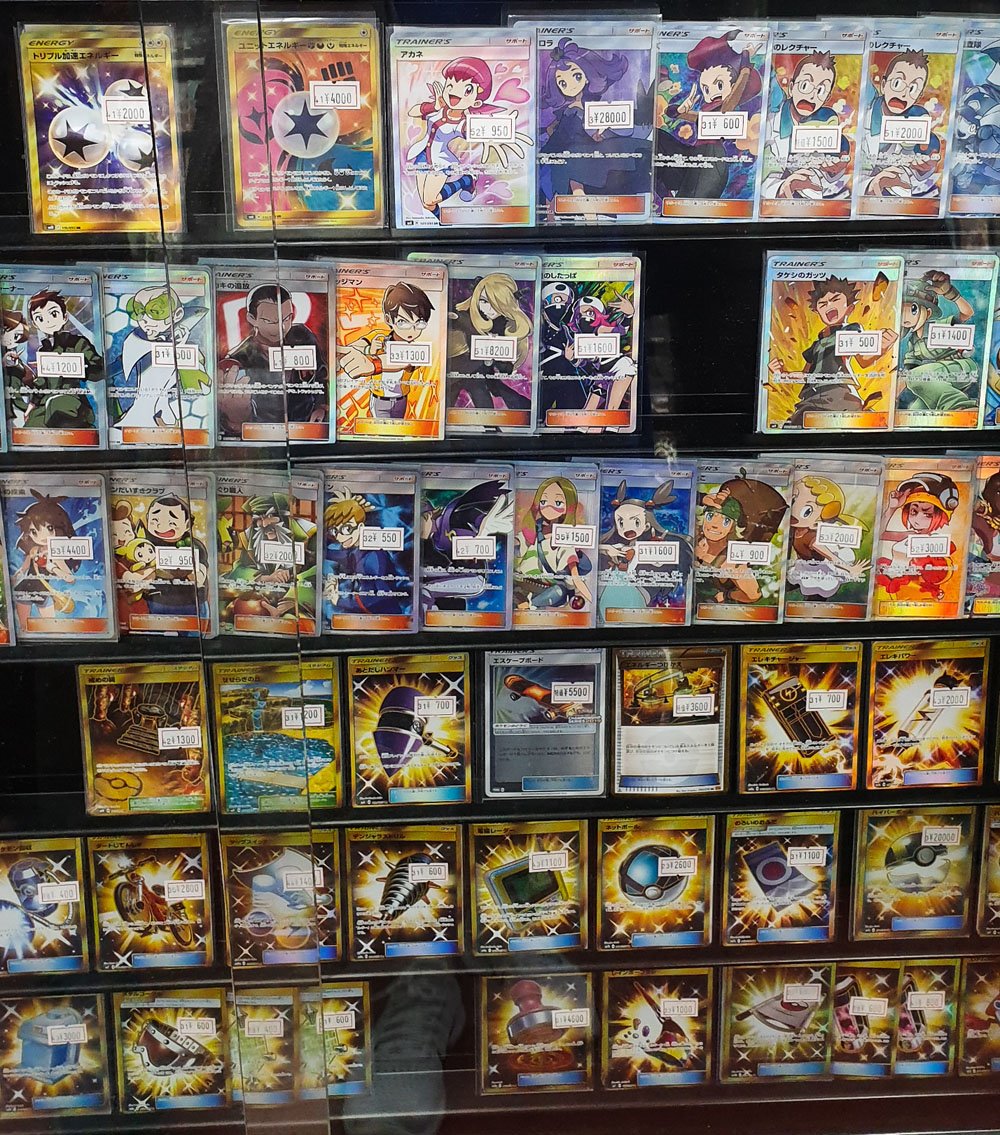 He even spent quite a bit of time and money playing Pokemon arcade games (in different Japan towns), hoping to win some collector cards.
I joined him in one and let me tell you a secret – we just hit the button vigorously with both hands, not knowing what we were doing because everything was in Japanese. That was definitely a good upper arm workout session! :)
25. Manga & Anime Figures & Accessories
You can also get manga and anime figurines in Japan. I didn't spend much time checking them out because this is not my interest. But I can tell you that it's a shopping haven for anime and manga lovers.
---
That's all I have for you. It's quite a long list of authentic things to buy in Japan, isn't it? Not the expensive stuff meant for tourists. :) Do share them with your friends and family if you find it useful. Thanks, ya?
Next, I'll be working on my Japan Travelogue. Want to stay connected so that you'll get notified whenever a new post is published? Just click the button below. Thank you for reading, guys! See you soon.
SUBSCRIBE
Pin This!
This post may contain affiliate links, meaning I earn a commission if you make a purchase, at no cost to you. Read my full disclosure for more info.
(Visited 36,712 time, 74 visit today)