Hey there, ready for Part 2 of my 2-Week Osaka Itinerary where I share unique ideas on what to do around Osaka? This post will bring you to fascinating places such as Tottori Sand Dunes, Uradome Coast and even "spooky" and cute manga-theme towns.
I'm confident that by the time you finish reading this post, you'll be thinking about venturing beyond popular cities such as Osaka, Kyoto and Kobe. Before you continue, have you checked out what we did on Day 1 to Day 5 of our Osaka Itinerary? Take a look for a better story flow.
Done that? Let's continue with where we left off. On Day 6, we would leave Okayama and continue our journey up north towards Yonago.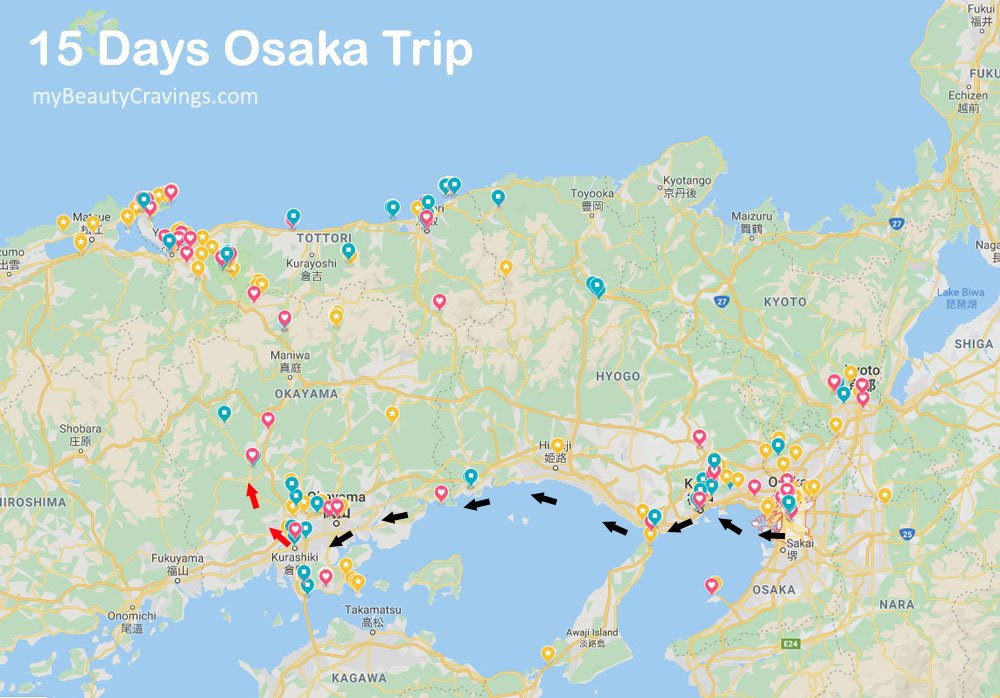 To recap, let's look at the map above to see the places visited in our 2-Week Trip in and around Osaka. The black arrows show our path made thus far while the red ones are where we would begin our trip today.
TIP: A rental car would be useful and cost-effective when exploring this part of the journey. We got ours at only S$60 per day. You can view latest car rental rates here.
---
DAY 6: INLAND DRIVE FROM OKAYAMA TO YONAGO
Today, we checked out of Hotel Maira, bade farewell to Okayama and made a scenic north-bound drive towards Yonago. The inland road trip brought us through quaint villages and presented us with rolling mountains, padi fields and pine tree forests.
What we didn't expect was how the temperature took a major plunge, from yesterday's 30°C to below 20°C today. It was also a lot windier. 
Our first stop was a place that's off the tourist map, at Ukantsuneyama Park. There wasn't a single soul there and the stone windmills were all ours to explore. You'll be as amazed as us when you see those gigantic windmills made of stone spinning non-stop.
How windy was it at this part of the country? Well, you can only imagine! :)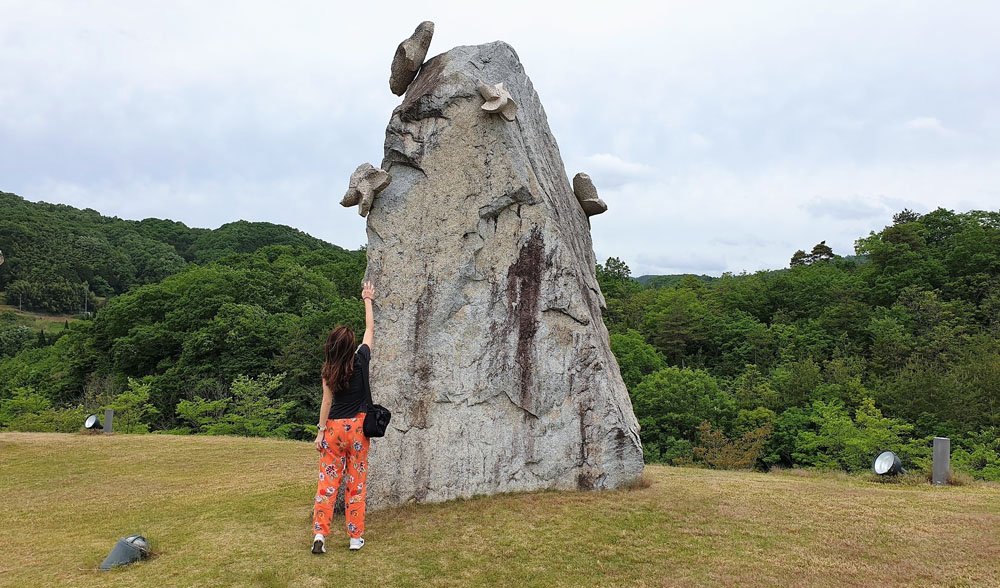 Next, we visited Yubara Onsen (Hot Spring Town) and intended to dip in the Sanayu Outdoor Onsen. But I was too shy as there were many naked men there. We retreated to the hand and foot bath and warmed our cold limbs in the hot spring water. That water was hot, but soothing.
INFO: If you are looking for hot spring facility that's located within Osaka city, take a look at this popular hot spring theme park.
The Hiruzen Highlands
After that, we continued our journey further up north. By then, my clothing was a total mismatch of colors as I hastily layered on whatever jackets I could lay my hands on due to the quick drop in temperature.
By the time we reached Hiruzen Diary Factory, the temperature was 16°C and the strong wind made it feel colder than that. We bought some ice cream and fresh milk before heading outdoor to the vast green pasture. There, we took in the majestic view of the Hiruzensanzan range.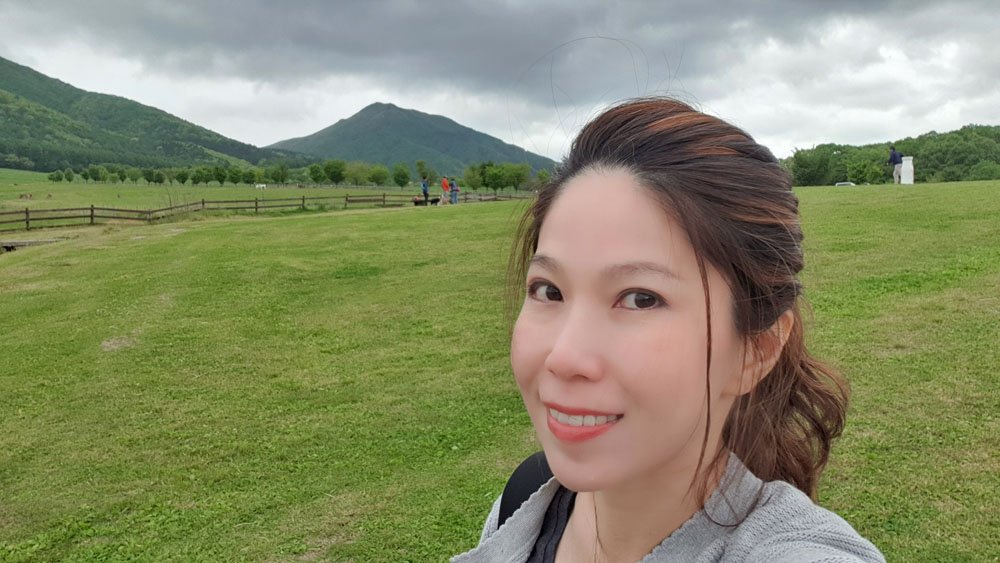 Located nearby was the Hiruzen Winery where we popped by to take a look at the local wine on sale. You can try the wine too at a small fee.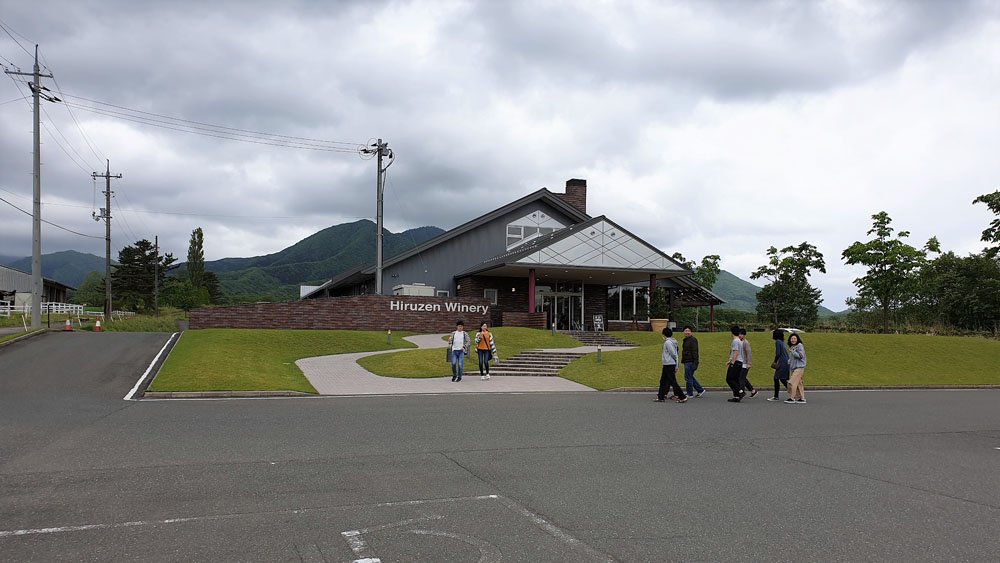 And finally, our last stop within Hiruzen Highlands was at a Farmers Market. The small market sells local produce such as the milk that I bought earlier, plus locally-produced cheese, wine and more.
Final Stop: Yonago & Sakaiminato Cities
By evening, we reached Yonago and made a brief stop at Aeon Yonago Ekimae for a quick dinner. This is probably the most dated-looking Aeon Mall I've been to in this trip and reminded me of the 90s.
Luckily we had a rental car which meant we could travel elsewhere such as a stand-alone 100-yen shop – Daiso Yonago Hatagasaki. We also loaded groceries at Lamu Supermarket that was located next door.
And finally, we were willing to make our way to Sakaiminato, a place we would base ourselves for the next three nights. The hotel we stayed in – Sakaiminato Onyado Nono Natural Hot Spring – turned out to be our favorite hotel of the trip.
> MUST-READ: 7 Budget-Friendly Hotels in Osaka
Map Location for Day 6
Check out Hotel Maira (see location) >> Ukantsuneyama Park (Stone Windmill) >> Sunayu Outdoor Onsen >> Yubara Hand & Foot Bath >> Hiruzen Diary Factory >> Hiruzen Winery >> Hiruzen Farmer's Market >> Aeon Yonago Ekimae >> Daiso Yonago Hatagasaki >> Lamu Supermarket >> Check in Sakaiminato Onyado Nono Natural Hot Spring (see location)
---
DAY 7: A HAPPY DAY AT SPOOKY MIZUKI STREET
Staying in Sakaiminato made us feel totally relaxed – ya know, the small town vibe with a very loose itinerary.
First thing in the morning, we dropped by Nakaura Fish Market which is a small seafood market. Prices didn't seem like they were priced for the locals. Luckily, the Huge Boy Statue located outside the market made it a worthwhile trip.
Isn't this demon boy photogenic or what? He's called Gaina Kitaro by the way, the star of the town. The eye standing on his head is his "reborn" dad, okay?
Near to the market were a few sushi train restaurants, all with unimpressive online reviews. Well, the reviews seem to be accurate as our lunch at Tairyomaru Sushi Shop was forgettable.
Not really having a plan today, we decided to drive across Sakaisuidoo Bridge to reach another city – Matsue. On our way to the eastern tip of Matsue, we drove past Man-Lady Rocks (男女岩), Miho Shrine and finally stopped at Mihonoseki Lighthouse.
TIP: To get to Sakaiminato city, you can either rent a car from Osaka/Kobe (check latest car rental rates) like we did and drive northwest all the way, or take a flight to Yonago Airport and get your rental car at Yonago Airport.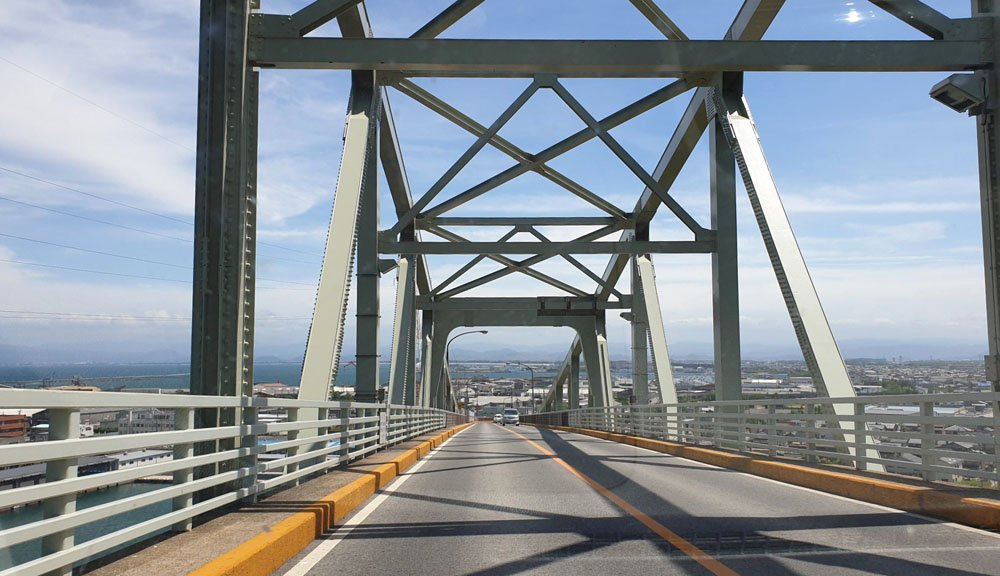 There, we were presented with a panoramic view of the Sea of Japan. The white and stout lighthouse next to it was given a fresh layer of paint as compared to what we saw on Google Map.
Soon, we were back at Sakaiminato City and decided we would do some shopping. I loaded my first pile of beauty stuff from Direx Discount Supermarket while the man piled up his trolley with Japanese snacks and drinks.
Things here were value for money (probably the cheapest we've seen thus far). At the cashier, I tried my luck and asked if tax refund worked in this off-central local mart and was surprised that they do. Great, 8% saved! :)
Thereafter, we dropped off our loot and took a short rest at our lovely hotel before venturing out to do what we came here for – to admire cute demons along The Mizuki Shigeru Road.
Even though I'm not a manga-lover, strolling along this 800m-long street really brightened up my day and made me as happy as a lark. There were more than a hundred cute and spooky statues of various sizes to delight both kids and adults alike.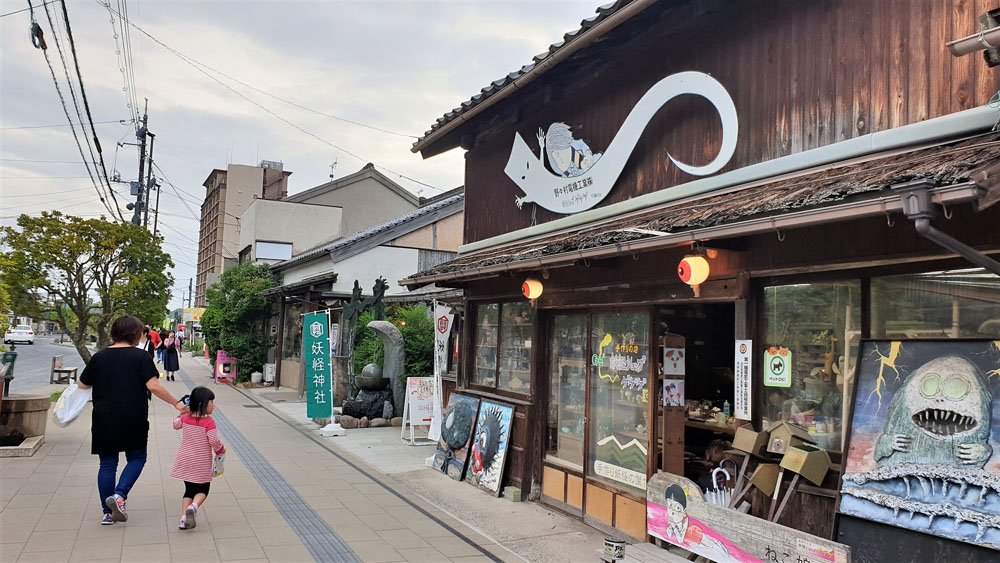 We also visited the Mizuki Shigeru Museum, located at the end of the street. Admission is cheap if you show your passport, though most descriptions were in Japanese. :)
When night fell, we made great use of our private transport and drove to Aeon Mall Hiezu. This is a huge mall and was more modern-looking than Aeon Yonago Ekimae. And the best thing was the free parking which allowed us to shop till we drop.
On our way back, we made a brief stop at DIO Discount Supermarket to load up on tomorrow's breakfast and hiking ration.
Map Location for Day 7
Nakauru Fish Market >> Huge Boy Statue >> Tairyomaru Sushi Shop >> Sakaisuidoo Bridge >> "Man-Lady Rocks" (男女岩) >> Miho Shrine >> Mihonoseki Lighthouse >> Direx Discount Supermarket >> The Mizuki Shigeru Road >> Aeon Mall Hiezu >> DIO Discount Supermarket
---
DAY 8: AN ADRENALINE-PUMPING HIKE UP MOUNT DAISEN
Another reason why we traveled all the way to this lesser-visited region was to hike up Mount Daisen. This 1731m-tall mountain is one of Japan's 100 famous mountains.
Unfortunately, the weather report said that it would rain and wind speed would reach 85km/hour. We pondered till late morning and decided to go for it when the rain stopped and weather improved.
I'll share a detailed account of my adventure in a dedicated post. In short, the hike was steep all the way, with almost every step reaching my knee caps. But that was not the struggle.
It was windy as hell, and we battled constantly against the thought of retreating due to fear of falling branches and rocks. By the time we reached 1,400m, the sense of danger felt so real as the limited vegetation could no longer protect us from the strong gust of wind.
My sunglasses flew off my face and the man was momentarily lifted off the ground. Finally, at the 1,550m mark, the path reduced to a narrow ridge and we knew we had to stop. We couldn't risk being pushed by the wind as we would fall off the mountain.
Warnings from two local hikers who were on their way down helped us firmed up our decision to surrender at the 90% mark to summit.
TIP: All thanks to Japan's WiFi data plan, we could communicate and receive warning from two local hikers using Google live translation. On top of that, the WiFi plan also allowed me to check train arrival time, find good F&B and load up on the right beauty product. View latest rates of Japan WiFi SIM card and Japan Pocket WiFi (good if you travel in a group).
On my way down (and still not out of the danger zone), the wind pushed me down to a sitting position. By then, I was so scared and basically slid my way down the mountain in a sitting position. We were like fighting a war, and only got up to move when the wind took a temporary pause.
"Sit down, Wait! Wait for the wind to stop"
"Ok, move! Quick!"
"Get down! Now!"
"Move, Move!"
It was certainly a memorable hiking experience. LOL! Served us right for going against the element.
Idyllic Lunch at Daisen Milk Ranch
After a difficult 4 hours hike, we rewarded ourselves with a lovely lunch at Daisen Milk Ranch. We also bought some fresh milk and cheese before making our way down the mountain.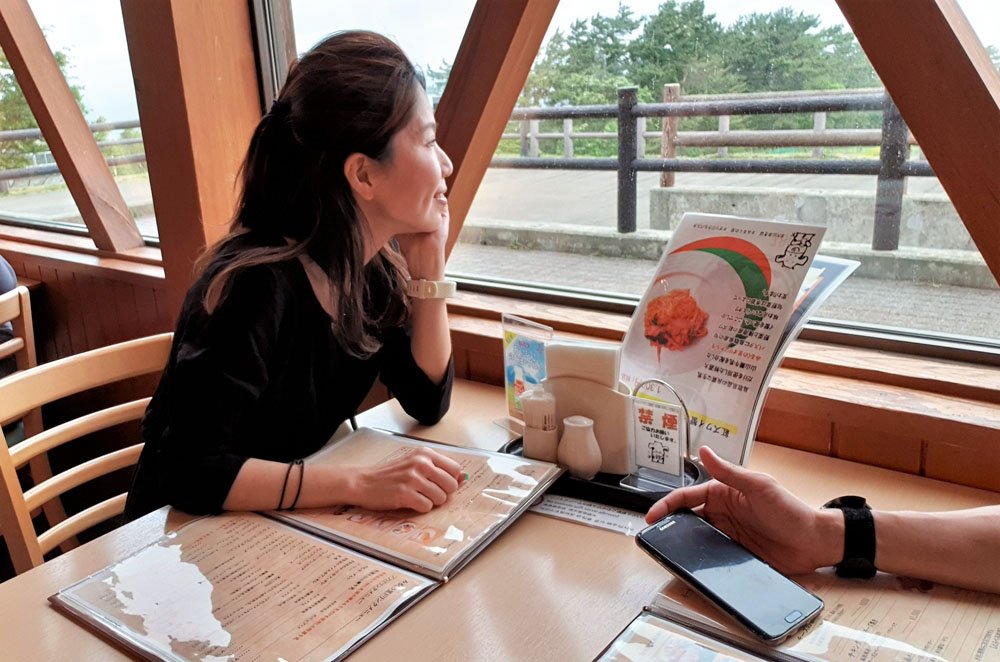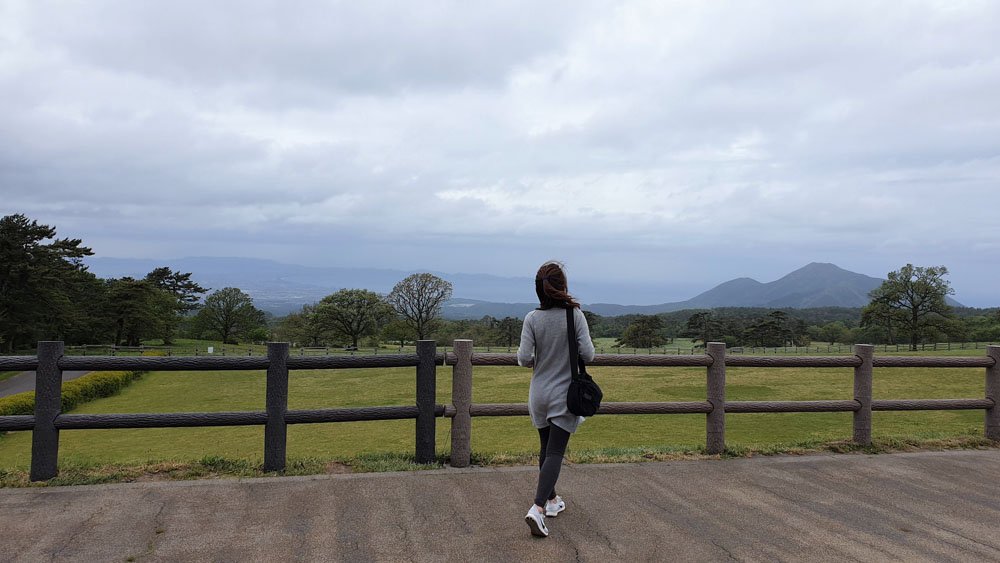 With nothing else on our itinerary today, we dropped by Marui Heart Market where the man loaded ready-to-eat seafood. This mart has a great assortment of premium stuff, such as uni (sea urchin) and tuna belly. There's also a Daiso building next to it where I loaded up on plasters – had some minor cuts. 
Back at our Sakaiminato hotel, I got ready for one of my favorite activities in Japan, i.e. to dip in the hotel onsen that comprised both indoor and outdoor hot springs. We also did our laundry and ended the day early.
> MUST-READ: 11 Things I Love about Japan and I know you would too! 
Map Location for Day 8
Mount Daisen >> Daisen Milk Ranch >> Marui Heart Market & Daiso >> Onsen at Hotel (see location)
---
DAY 9: A DAY WITH DETECTIVE CONAN 
Today, we would check out of our lovely resort hotel in Sakaiminato and drive eastwards to Tottori city. Our lunch was a hit at Hokkaido Kaike, a sushi belt restaurant that was so popular with the locals that we needed to take a queue number.
The sushi quality was excellent and it's the top two sushi we've had in our 2-week Osaka trip.
> RELATED: Best Sushi of the trip on Day 2 of our Osaka Trip
Next, we headed to Tottori Flower Park, which was high on my to-go list. It was a quaint park with stunning architectures and mountain views. We could have been there at the wrong season though, as the flowers had yet to make a full blossom.
TIP: Remember to show your passport to get discounted price off your admission to Tottori Flower Park.
After the botanical trip, we made our way to a "secret place" to take a good photo of Mount Daisen? Here's a photo taken at the carpark of Shoji Ueda Museum. :) Yes, just park, take a few photos and go. :)
Detective Conan Town
Midway to our final destination, we passed by a manga-theme town which is all about Detective Conan, a manga character that originated in the 90s. We started our tour at Gosho Aoyama Manga Factory, then crossed the Great Conan Bridge and walked towards Yura Station, otherwise known as Conan Station.
TIP: Prefer not to drive when travelling? This Tottori tour will pick you up from Yonago station and bring you to Tottori Flower Park and Conan Town.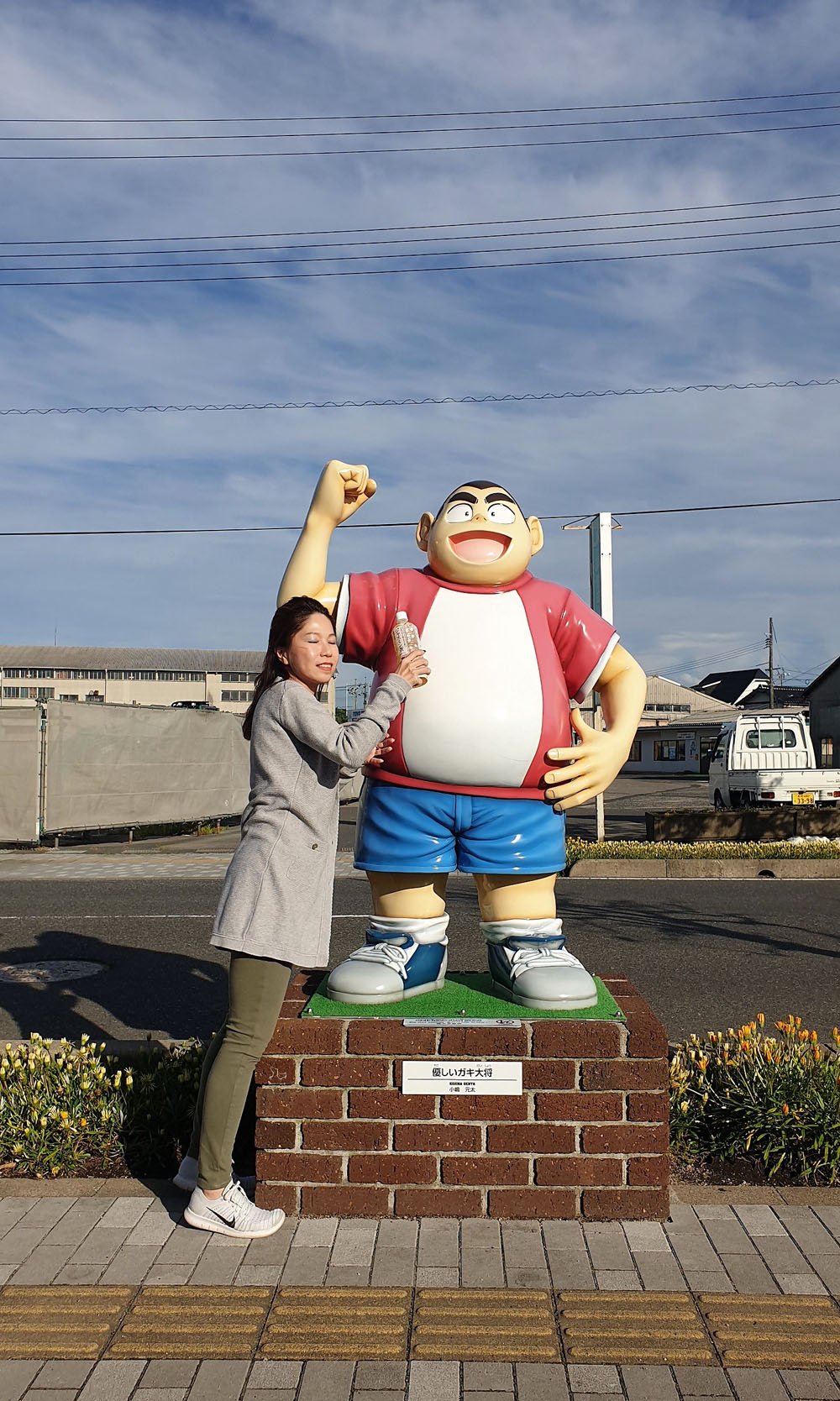 Along the way, we saw many life-sized cartoon characters. As compared to Mizuki Shigeru Road, Conan town seemed more deserted and less developed for tourists. In fact, we hardly saw anyone in the quiet district. The various attractions are also more sparsely spaced as compared to Mizuki Shigeru Road.
By evening, we arrived at Aeon Mall Tottorikita and had our dinner at the modern but quiet mall. Thereafter, we drove to our final stop of the day – Tottori City Hotel, our base for the next two days.
Map Location for Day 9 
Check out Sakaiminato Onyado Nono Natural Hot Spring (see location) >> Lunch at Hokkaido Kaike >> Tottori Flower Park >> Shoji Ueda Museum >> Gosho Aoyama Manga Factory >> Great Conan Bridge >> Conan Station >> Aeon Mall Tottorikita  >> Check in Tottori City Hotel (see location)
---
DAY 10: HIGHLIGHTS OF TOTTORI CITY
Today, we were rewarded with the most scenic coastal view of our 2-week Osaka trip. I didn't expect Uradome Coast to be this spectacular.
Uradome Coast
There were a few places along the coastal road to take in the view of Uradome Coast, but the best must be at this place. There isn't even an English name as at time of writing.
You'll park at 浦富海岸降口駐車場 (see map) and take the steps down. At an intersection, you can either take a left or right turn. Both directions will offer you stunning views – 水尻洞門 ("sea door") on the left, and 鴨ヶ磯 on the right. I highly recommend that you explore both. Just look at the photos below – it's a paradise!
After the morning hike, we were famished and enjoyed a traditional Japanese lunch at Tastumi Fish of the Season. The sashimi was fresh and delicious and my partner thanked me for recommending this place (thank you, Google!).
Then, we continued exploring Uradome Coast by taking in the views from different places, such as at Tajiri Shrine and a nearby Observatory Platform.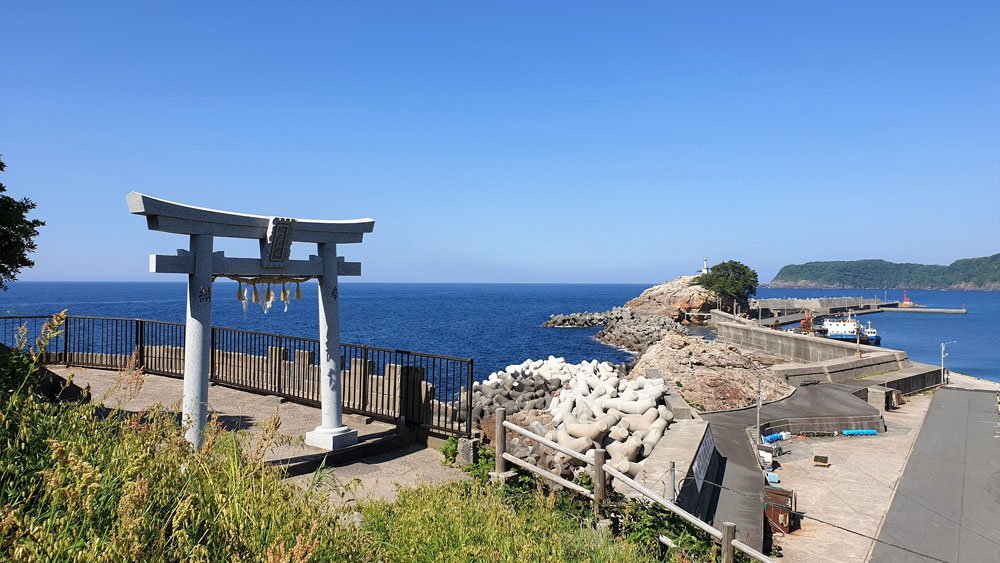 Tottori Sand Dunes
Another popular must-go place in Tottori city is Tottori Sand Dunes. Although this may be the most touristy attraction in the prefecture, it was still not to the extent of being overcrowded (think Arashiyama).
Following the crowd like a sheep in a herd, we walked towards the top of the sand dunes with aching legs. Yes, our muscles were aching badly from yesterday's strenuous mountain hike. Once we reached the top, the deep blue ocean said hello!
And that concluded our hot day at the Tottori "desert".
TIP: Based in Osaka City? You can also visit Uradome Coast and Tottori Sand Dunes with this full-day Uradome Coast Cruise Tour It includes an eat-all-you-can seafood lunch.
Tottori Castle Ruin
With nothing else on our itinerary, we scanned through Google Map and decided to pay Tottori Castle Ruin a visit. This ruin offered a great view of the city and required minimal hiking.
Then, we had our dinner at Aeon Totorri and spent the rest of the night at Don Quijote Tottori. That was a great place for me to load up on more beauty purchases as I didn't have to fight with any crowds in this sleepy town (unlike those that I saw in Osaka).
We then returned to our hotel in Tottori, packed our luggage and got ready for tomorrow's road trip back to Kobe. 
Map Location for Day 10
Uradome Coast >> Lunch at Tastumi Fish of the Season >> Tajiri Shrine >> Observatory Platform >> Tottori Sand Dunes >> Tottori Castle Ruin >> Aeon Totorri >> Don Quijote Tottori
---
Conclusion of Part 2 Osaka Itinerary
And that's it for Part 2. I did a count, and yes, there're over 20 unique things you can do outside of Osaka city and this excludes food and shopping. For more travel inspirations, check out other posts in this Osaka Travel Series:
What's next? I'll be coming up with more detailed posts of key attractions and activities in and around Osaka. Such posts would provide more tips, price and logistics info. Stay tuned and revisit this post often as I'll link the day-by-day posts here when they are ready!
And last but not least, don't forget to click the button below If you like to get notified of my new posts. Thank you for reading. :)
Pin This!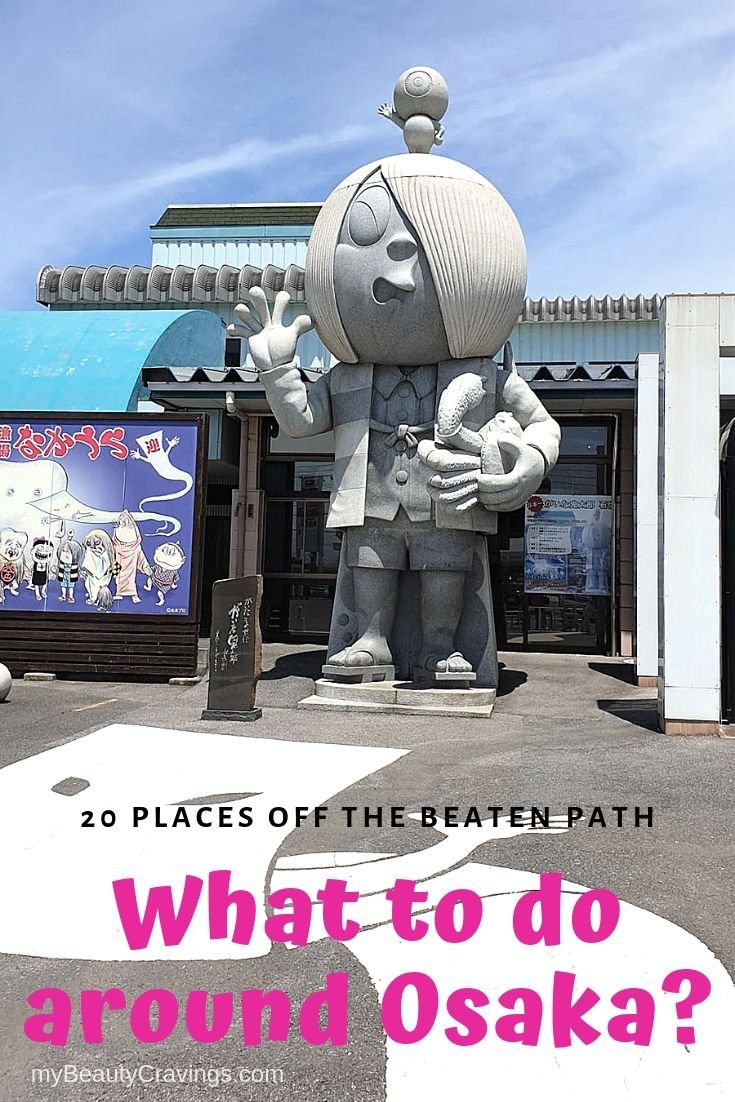 This post may contain affiliate links, meaning I earn a commission if you make a purchase, at no cost to you. Read my full disclosure for more info.
(Visited 841 time, 1 visit today)