Day 3 in Okinawa is all about exploring the Western Coast of Okinawa. Today, I'll show you what I feel is the best castle in Okinawa and also explore a few rugged capes.
Feeling adventurous? Join me as we DIY snorkel at one of the capes before ending our West Okinawa exploration with a great dinner at Aeon Rycom.
---
How a Real Local Market is like: Tomari Fish Market
(2pm)
Guys, remember that we had so much fun on Day 2 that we hit the sack only at 4am? Well, hope this explains why we missed the alarm (again?). We had a mega shock when we woke up and saw how late it was.
1pm!? Oh no…half a day gone just like that! LOL!
We rushed to Tomari Fish Market to get our "breakfast".
Wow! It's a big fish market. Definitely bigger than those we had visited thus far, such as Itoman Fish Centre and Oujimaimaiyu Market.
Big Fish Market, but is it Good for Tourists? 
Tomari Fish Market actually seemed like a non-touristy wet market visited by the locals. We saw many shopping for their seafood groceries. What's great about an authentic local market is how you get more value. Yes, things were cheaper and you would likely get more of whatever you are buying, e.g. Sashimi slices.
Sounds good? Unfortunately, we didn't enjoy this market as much as we thought we would.
Firstly, there wasn't as much ready-to-eat cooked (and hot) seafood at Tomari Fish Market. Well, of course! Locals would buy these fresh seafood and cook them at home. 
Secondly, there were limited seats. Other than two small dined-in outlets, you can hardly find any seats around, despite the size of the market.
We got ourselves a generous pack of assorted sashimi (¥1200) and a Chirsashi Bowl (¥680) and stood at one corner, attempting to consume the food without a table.
It was tricky eating Sashimi while standing because this is not finger food that we are talking about. Even the opening of condiments took some efforts. We only had one free hand (the other hand was holding on to food and chopstick), but needed two to open the sachet of condiments.
Couldn't even find a random flat surface to place the stuff. Ha Ha! So I wouldn't say that the dining experience was comfortable.
Is Tomari Fish Market worth a Visit?
Yes, definitely so because Tomari Fish Market is an authentic local wet market (as at time of writing). You get to "shop" with the locals and enjoy overly-generous serving of seafood. Although our dining experience was less than perfect, you may enjoy the market more if you come with the expectation of not being able to sit and dine. :)
Furthermore, our experience could have been tainted that day because we were in a rush and also…who eat so much raw fish when they just woke up? Ha Ha. 
Attraction Info: Tomari Fish Market
---
Zakimi Castle Ruin: Best Castle in Okinawa
(3.40pm)
An hour's drive brought us to Zakimi Castle Ruin. We parked at an open-air carpark which is located here. Parking is free by the way. :)
On your way to Zakimi Castle Ruin, you'll walk past the Yomitan Historical Museum. This non-touristy musuem shares about Okinawa culture and displays artifacts found at the Zakimi Castle and arts from the Yomitan Village area.
We didn't explore the museum because we were running late (also, we're less "cultured" people. LOL!). However, we did enter the modern and well air-conditioned premises to use the toilet. It was a good reprieve from the biting heat and a nice place to release the bladder after a long drive! Heh Heh.
Saw this list of Okinawa World Heritage Sites at the entrance of Zakimi Park. Nice list! Now I know I've been to three UNESCO sites in Okinawa (#2, #3 and #9).
The path towards Zakimi Castle Ruin was a flat and well-sheltered one, densely-lined with calming pine trees. It was quite a serene and peaceful walk. Too bad, we were running late and couldn't spend too much time enjoying the greens.
TIP: If you are a nature lover, I suggest that you dedicate more time (than us) and hike through the various trails at Zakimi Park. You can even pack your meal and have a picnic by the benches or enjoy sights at the various viewpoints.
A Magnificent View from Zakimi Castle Ruin
We reached Zakimi Castle Ruin after a short 6-minute stroll from the carpark. It was a well-preserved castle ruin and was large as compared to another castle we saw yesterday.
No wonder, Zakimi Castle Ruin is listed as an UNESCO site. You could climb up to the "3rd floor" of the 15th century castle and enjoy a spectacular 360-degree view of the woods and ocean. Among the three castles we've visited in Okinawa, we thought Zakimi Castle Ruin offered the best experience. Do note that we didn't visit the popular Shuri Castle as we read that the place was reconstructed in 1992, after being destroyed several times over the centuries.
> MUST-READ: Why Katsuren castle Ruins is worth a visit, even on a cloudy day
After a brief 30-minute stay, it was time to move further north along the Western Coast of Okinawa.
Attraction Info: Zakimi Castle Ruin
---
Cape Zanpa – A Rugged Cape in Okinawa
(4.30pm)
The thing that sets Cape Zanpa distinct from other capes in Okinawa was how rugged it was (see location). You have to walk over rocky and sometimes sharp surface to reach the tip of the cape. Yes, proper footwear is definitely needed here. And if you are bringing kids along, please watch over them.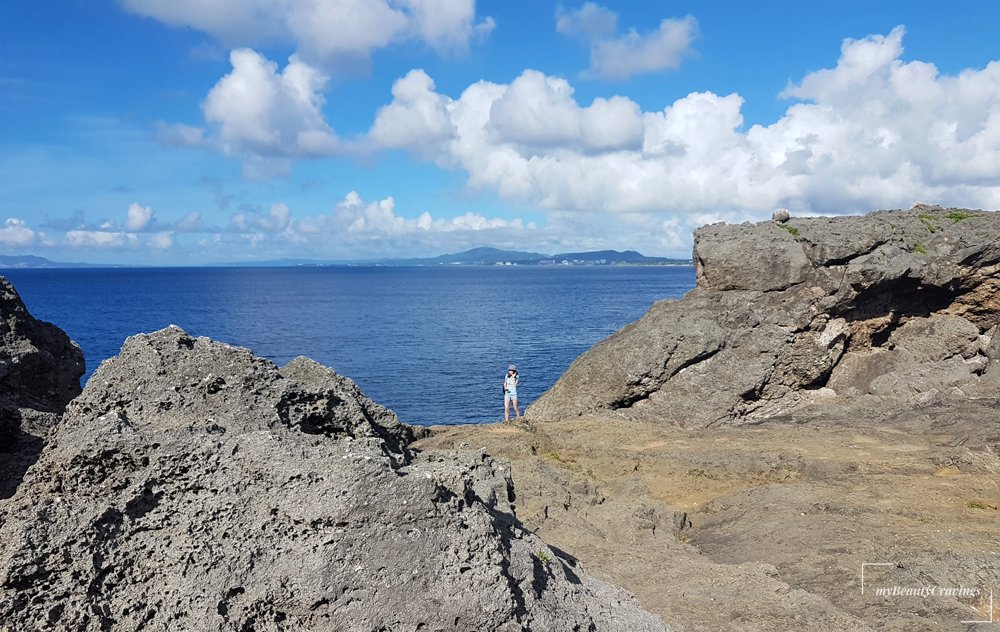 The view at Cape Zanpa was not bad, although it did pale in comparison when compared to other capes in Okinawa. Still, I think Cape Zanpa deserves a visit if you are in the area. Anyway, it should be along the way if you are venturing further to say Cape Maeda or Cape Manzamo.
There's also a Cape Zanpa Lighthouse nearby (see location). It was closed for maintenance when we were there, but I've read that it's now ready. You can even climb up the lighthouse at an admission fee of ¥200.
And don't forget to view the Biggest Shisa in Okinawa here (see location). Shisa is a mystical creature, commonly seen in Okinawa. It resembles a cross between a lion and a dog and are is often treated as a protector or guardian.
Traveling with kids? There's a nice Cape Zanpa Playground and a Petting Zoo nearby. Just remember to bring along a high-strength sunblock especially if you are visiting during the hot season like us. 
TIP: Today's itinerary requires a rental car. In fact, most days require a rental car – it's the best way to explore Okinawa. You can view live rate of this highly-raved car rental option.
---
DIY Snorkeling at Cape Maeda and The Blue Cave
(5.05pm)
Cape Maeda was just a 15 minutes' drive away from our previous stop. We had wanted to stop by to snorkel at Maeda flats first. However, due to the limited daylight hours remaining, we proceeded straight to Cape Maeda.
I've written a post on our experience DIY snorkeling at Cape Maeda. Jump over if you like to experience snorkeling by the cape.
If you are travelling with family and young kids, it would be safer to join a professionally-guided Blue Cave Snorkeling Tour (or check out this one that offers hotel transfer from your hotel in Naha).
After snorkeling at Cape Maeda, we drove straight to Aeon Rycom, with my salty hair conveniently tied-up. Read more about why we chose not to bathe at Cape Maeda.
TIP: Try venturing further north to Cape Manzamo if you have the time. We couldn't because well… we overslept as you know. :) One way to visit Cape Manzamo if you don't drive is to get on the Hip Hop Bus (refer to "Route A").
---
Evening Shopping at Aeon Rycom Mall
(8pm)
Aeon Rycom should be the most "happening" Mall in Okinawa. Located in the middle of the main island, many tourists would definitely make it a point to visit this mall. One thing that everyone talks about is the giant aquarium at the first floor atrium.
If you are looking for a place to store your stuff, this place offers plenty. The lockers are located near the toilets or carpark entry points and cost just ¥100 per use. Some lockers even come with cold storage feature, which I presumed are for people who want to store their perishables purchased from the Aeon Supermarket.
Operating hours are from 10am to 9.30pm. If you see "冷藏" printed on the locker, it means cold storage. "非冷藏" on the other hand means "Not a Cold Storage". :)
TIP: If you are shifting base and changing hotels in Okinawa, you would likely have a few hours of time gap between check out (10am) and check in (3pm). One way to store your perishables (e.g. chocolates) is to store it at the lockers at Aeon Mall Okinawa Rycom.

You could even drive off to visit nearby attractions such as Katsuren Castle and Nakagusuku Castle if you like to.
My most memorable bit of Aeon Mall Okinawa Rycom is the food that we ate that day. Not that the shopping experience here wasn't great, it's just that we'd arrived too late to be able to indulge in extensive shopping. 
TIP: There's a Daiso store (100-yen shop) in a separate building nearby. Don't forget to check it out. See location.
What A Great Dinner at Aeon Mall Okinawa Rycom 
Having expended so much energy in snorkeling and hiking, our first business at Aeon Rycom mall was to search for food. We found a spacious food court on the third floor (3F).
The best item we ordered that day was this Homemade Roast Beef Rice Bowl topped with a raw egg yolk (¥850). The beef was tender and juicy and my partner couldn't stop raving about it even after so many months.
We also ordered a Margarita Pizza (¥630) which was soft, fluffy and came perfect with the wood-fired aroma. Although the ingredient was simple, it was yummy.
The Gyoza Dumplings Ramen Set (¥950) that I ordered was delectable too, although I found it a tad too salty and somewhat expensive when compared to the typical price of Ramen in Okinawa.
INFO: The price listed on the menu is before GST, as with most other items sold at retail stores. Please add 10% tax to gauge the final price. 
Shopping in Aeon Department Store, Rycom
It was 9pm by the time we finished our meal. For better shopping efficiency, we split up.
I popped in to Uniqlo and bought myself a swimwear – so cheap lor! There were many international brands to shop in, such as H&M, but I couldn't pull myself out once I stepped into the beauty section of Aeon Department Store.
Yes, I stayed there till the place closed for the night. Although I didn't buy anything, I made a note on the cosmetics to get, including what color to buy. :)
Why didn't I buy the cosmetics on the spot? 
To enjoy tax free purchases, you need to spend a minimum of 5000 yen (excluding tax) at the same store and on the same day. Some stores also have coupons that give you additional rebates the higher your purchase amount is. So if you want to trim 10% or more off your purchases, do some research and buy them in one go. Don't give in to your impulse! :)
Aeon Mall was a great place for me to familiarize myself with Japanese beauty because it offered a plethora of Japanese brands, from budget to premium range. Some brands available there include Chifure, Cezanne, Integrate, Shiseido, DHC, Anessa and more.
Attraction Info: Aeon Rycom Mall
---
"Die Die" Have to Wake Up Early Tomorrow
Once again, we slept at 3am enjoying supper, beer and all. The difference as compared to last night was how we needed to wake up early tomorrow. Die Die* cannot miss the alarm no matter what!
"Die Die" in Singlish means to go all out with no possibility of non-compliance.
We would be checking out of our base in Naha and venture to Northern Okinawa (in Nago), which by the way offered so much fun and physically-stimulating activities. See you in my next post where I'll share more tips on the places to visit in Nago.
Love what you've read? If you like to get notified of newly-published beauty reviews and travel stories, just click the button below to subscribe. I'll also give you some free and exclusive stuff. See you there!
SUBSCRIBE
This post may contain affiliate links, meaning I earn a commission if you make a purchase, at no cost to you. Read my full disclosure for more info.
---
Related Posts:
Pin This!
(Visited 1,349 time, 1 visit today)