Hey all, are you ready for some juicy hotel story? Gosh, you won't believe what I found in Grand Belllo Hotel JBCC when I made a spontaneous trip to Johor Bahru (JB) last weekend. I bet with you that your jaw will drop after reading this story cum hotel review.
It was 11pm on a Saturday night and we were driving on the road after roaming about aimlessly in Changi Airport.
"Hey, how about we make a trip to JB now," my partner asked in great enthusiasm. He'd just checked google map's traffic scan and saw how clear the traffic was at the Singapore-Malaysia border.
"Now? You mean stay overnight? But it's already 11pm and we don't have our passports with us!"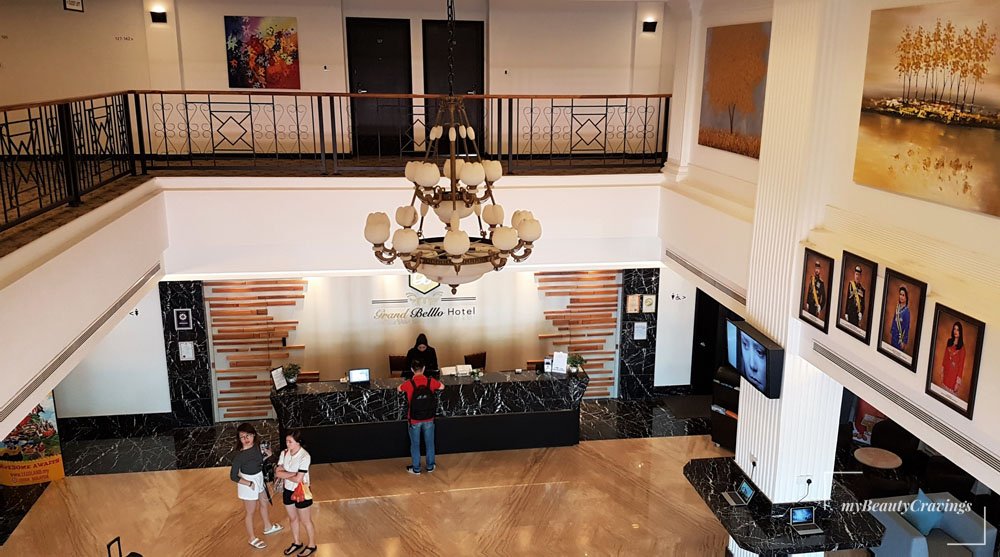 ---
An impromptu Decision for a Last-Minute Getaway
"Let's go home and get our passports!" Both of us beamed with excitement as we started executing our plan for a spontaneous short trip to Malaysia. Instead of doing a proper research on hotels, we'd only 20 minutes to shortlist and book a hotel before the clock struck midnight (after midnight, we won't be able to make an online booking for hotel check-in on Saturday).
I was in the car, swiping hurriedly through Agoda's mobile app. It was a bit of a challenge booking hotel through mobile phone due to small screen size, more steps required to view basic info and how little time we had. The clock was ticking. So I depended heavily on hotel review score as a quick guide and chose Grand Belllo Hotel JBCC.
> MUST-READ: Why I would choose Amari Johor Bahru Hotel as a solo female traveler
Grand Belllo Hotel JBCC is a hotel located near the Singapore-Malaysia border and has a classy colonial European facade (see location). With a high score of 7.9 on Agoda, this hotel should be fine. Furthermore, most reviewers seemed to be in love with Grand Belllo Hotel JBCC (I only had time to scan the first two pages of reviews). As a new hotel that's barely a year into operation, this hotel should be spanking clean too, we'd thought before clicking the "Confirmed Booking" button.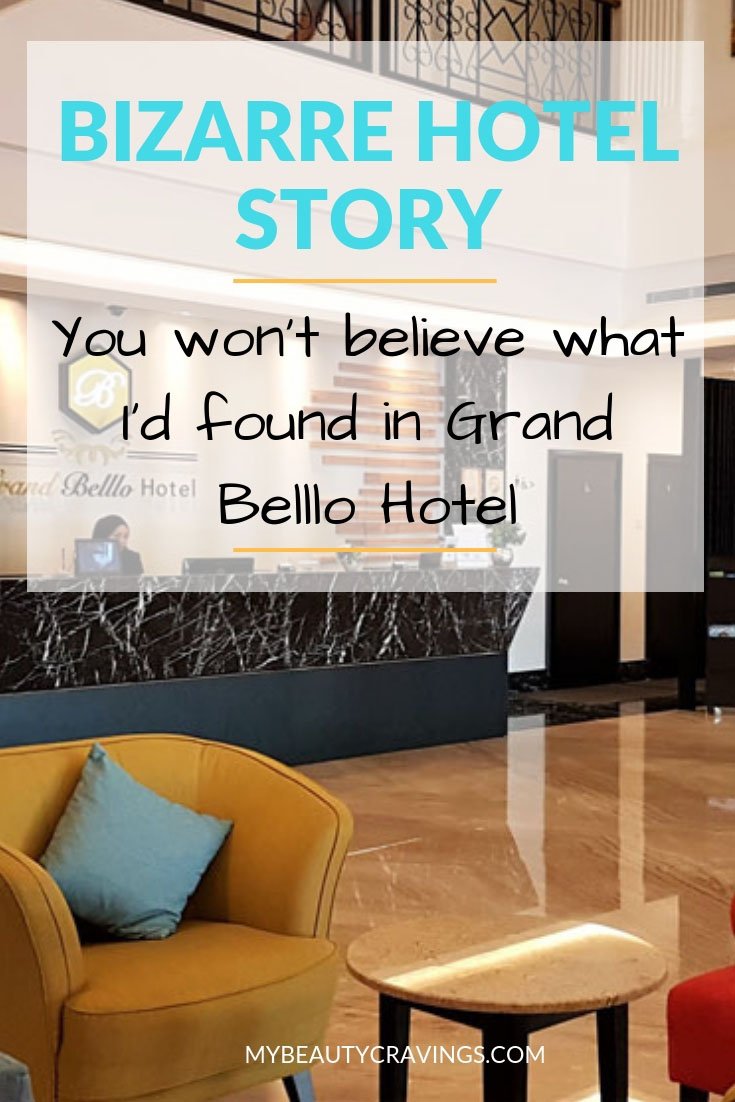 By the time we collected our passport from home, packed our day-pack, crossed the border and grabbed a quick supper at KFC, it was close to 2am. LOL! Imagine checking into a hotel at 2am just to sleep. Well, that's spontaneity – a great way to kill a mundane routine! :) In any case, our plan was to enjoy a great Sunday shopping and eating after checking out of this hotel. 
So far, our spontaneity always rewards us with a bizarre story. Read on to see how we were 'rewarded' this time around.
---
Review of Grand Belllo Hotel JBCC 
I've decided to write this hotel review in chronological format to allow you to indulge better in how the story unfolded for us at Grand Belllo Hotel JBCC. Here we go!
Driving into Hotel Premises: Secured and Ample Parking Space
One of our key requirements when booking a hotel in Johor Bahru (or Malaysia in general) is to get one with onsite and secured parking.
We were glad to confirm with our own eyes that Grand Belllo Hotel JBCC, being a small 3-star hotel has its own parking area set within a gantry. This means it's safer against car theft, which unfortunately is not an uncommon crime in JB. The parking area was available on both ground level and basement.
Welcomed by a Grand Lobby at Grand Belllo Hotel JBCC
For a 3-star hotel, we weren't expecting to be welcomed by the grandeur of Grand Belllo Hotel's elegant and spacious lobby. With a chandelier hung from its high ceiling and marble floor glistening against the cosy light, Grand Belllo Hotel's lobby doesn't come up short when compared to a 5-star hotel.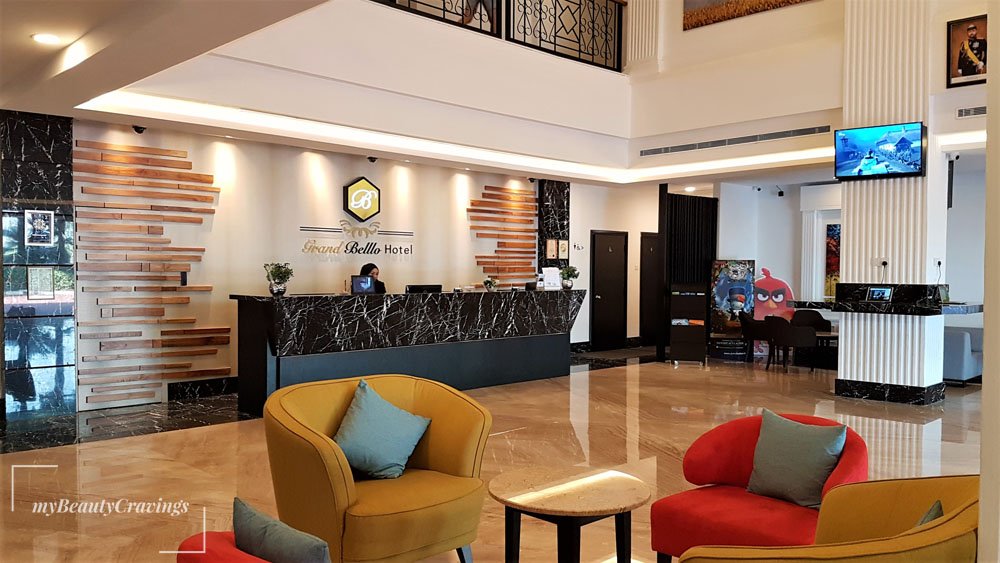 Check in at this odd hour was speedy. We paid rm170 inclusive of taxes (view current price)  and were allocated a room on level 1 (one level above the lobby).
Just before leaving the counter, I saw that this hotel provides free shuttle service to key shopping malls and night food places in Johor. You can also get a lift to and fro Johor's Custom (or City Square). This would be convenient to those who arrive in Johor via public transport.
Great, so far, we've had a very good first impression of Grand Belllo Hotel JBCC.
Entering the Room: Smaller than Expected
"Oh, so small!" We couldn't contain our mild disappointment when we stepped into the room. The listing indicated the Premier King Room as having a size of 22 m². We didn't have any measuring device with us but thought the room appeared smaller than that. It seemed more like a room closer to 18 m² or less.
For a one-night stay, we were fine with it as long as it could offer us a good night sleep.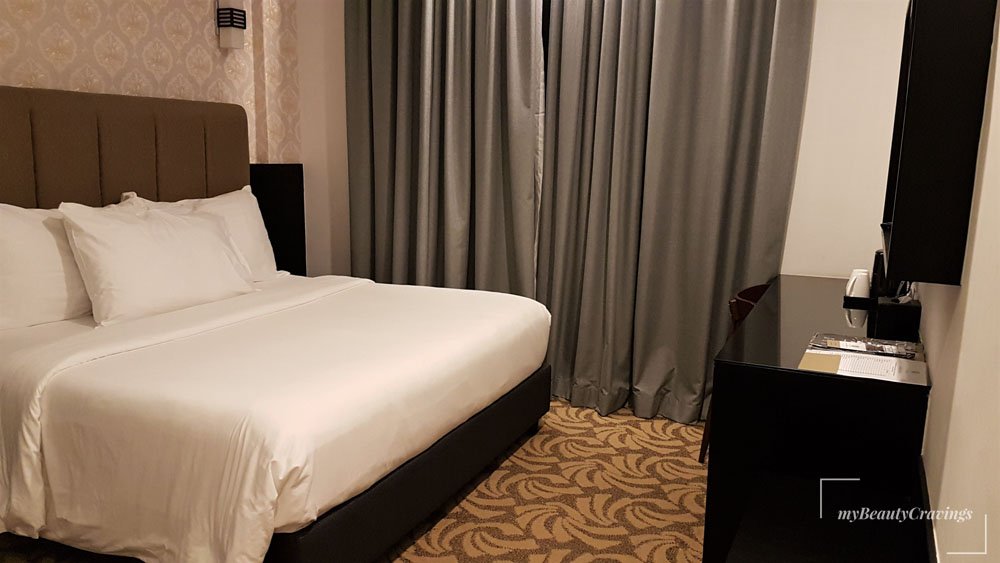 Room Amenities offered by Grand Belllo Hotel JBCC
Grand Belllo Hotel JBCC came equipped with basic amenities such as in-room safe, bottled water, toiletries and coffee/tea facilities.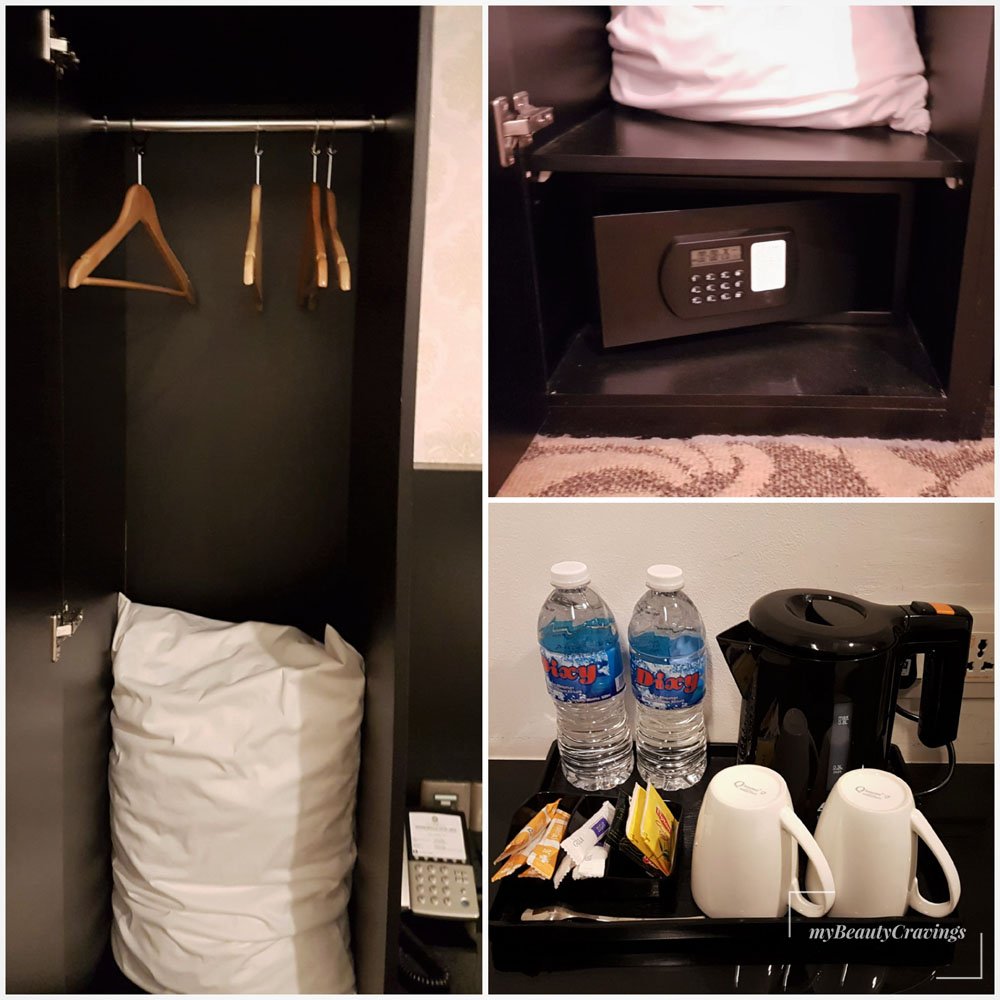 The first thing we did was to take a shower. Water pressure wasn't strong and it took some time for water to heat up. The water could only reach a moderately-high temperature, which should be acceptable to most except to those who love to shower in very hot water (err….me!).
We absolutely loved the thick and fluffy bath towels that screamed luxury.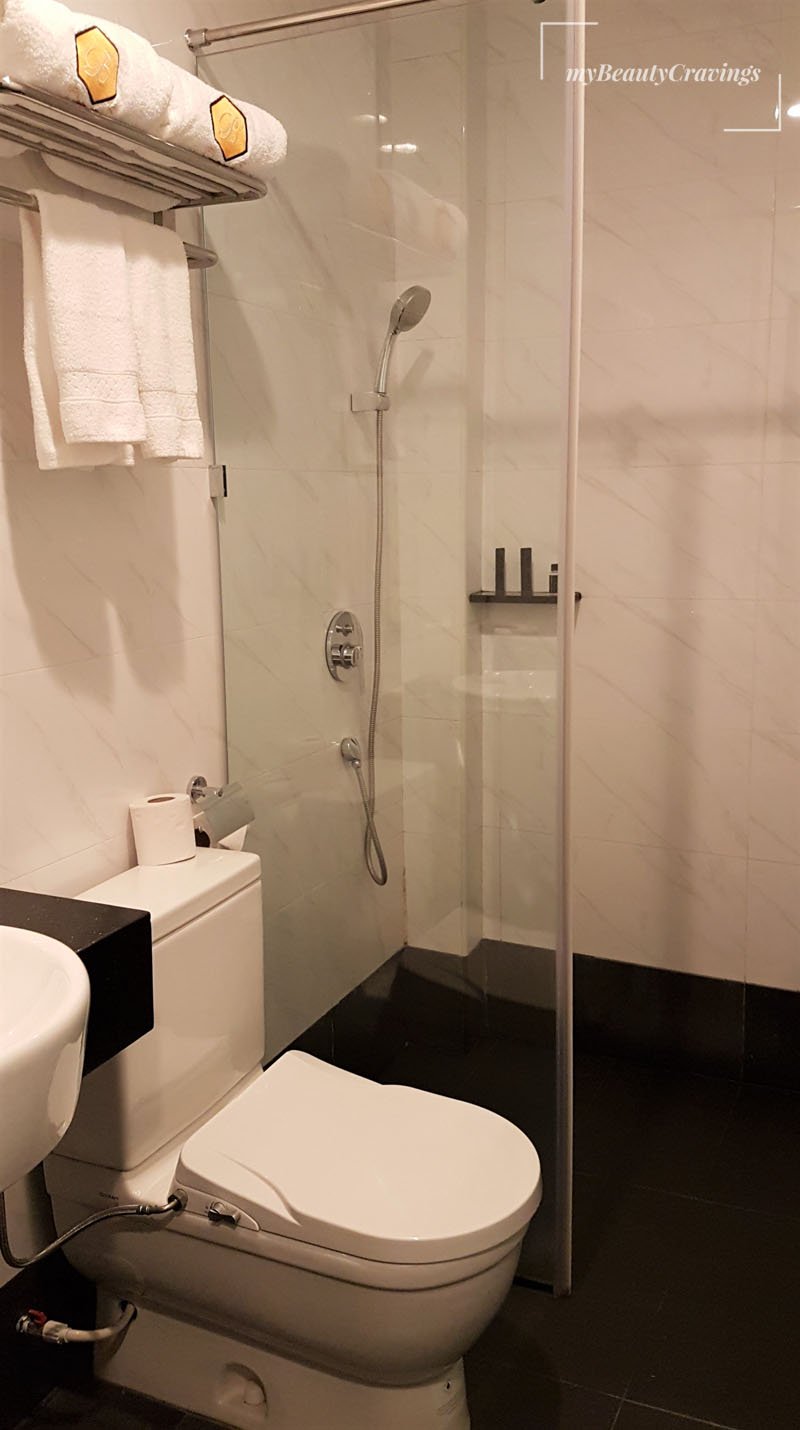 WIFI speed was good and the TV was large and clear in resolution. Sadly, things started to go downhill from this point forward.
Know how a Stingy Hairdryer is like?
Considering that we'd only checked in at 2am, it was very important that the hairdryer worked fine so that we could get to sleep as soon as possible.
Know what? I could only use the wall-mount hairdryer for about 25 seconds before it powered down on its own. I'd to wait for a couple of minutes before it resumed working – to offer an even shortened duration of 15 seconds. The duration kept reducing after every attempt to use it. I went through the cycle four times before giving up and my hair was not even 15% dry.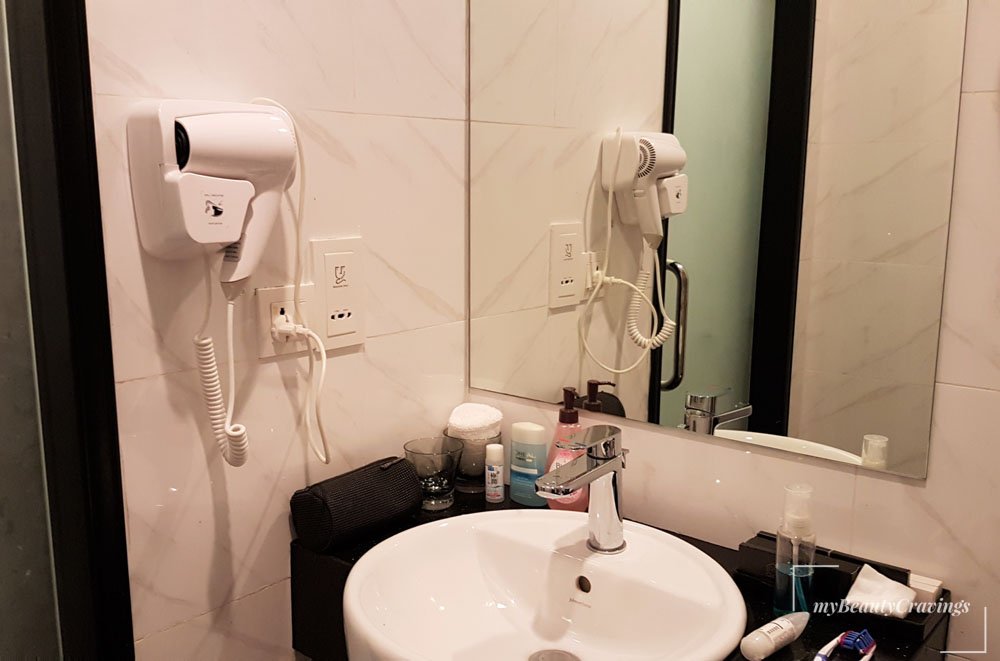 Can you imagine using the dryer for 15 seconds, then walk out to idle for 5 minutes before re-entering the shower room to use the hairdryer for another 10 seconds? To dry my hair totally, I probably have to repeat this cycle 30 times.
That's a really annoying hairdryer. Don't you think so?
OMG! This Bed is not great for Adults!
Grand Belllo Hotel JBCC must be kidding me by offering a king size bed that couldn't take in the length of a petite lady like me. My partner had an even more difficult time falling asleep as part of his lower legs were hanging off the bed.
We tried to sleep in different directions including diagonally across the bed. And to be honest, I only managed to fall asleep after 7am. I remember feeling itchy – in fact, I took the trouble to get up at 6am to put on more layers in case the bedsheet was not properly cleaned.
> MUST-READ: Capri by Fraser Johor Bahru offers most rejuvenating getaway in JB
Poor Sound-Proofing of Room
At 6.30am, I was still struggling to fall asleep. By then, there were lots of noise coming from the corridor.
"Hello! Hello!"
Someone was knocking on the door of her friend's room, getting them ready for breakfast or checkout. They spoke dialect and sounded like a large group of elderly folks. This noise continued for close to what I thought was an hour. I could hear them hanging around at the corridor (or probably they were in the room talking loudly), congregating at the lift area and even when they were one storey below our unit, at the reception.
It's only when they were gone (7.30am) that I managed to fall asleep. At 9am, my alarm clock rang and it was time for our buffet breakfast. I didn't want to get up, but neither do I want to miss the breakfast. LOL! :) You see, I take my job of reviewing the hotel very seriously. How can I miss out reporting on the quality of the breakfast?
Ha Ha. Yah, like real. I just wanted free food! LOL!
Surprisingly, my partner who was often too lazy to get up for hotel breakfast was quite "on" that day. He couldn't sleep well and that somehow made him hungry. 
Buffet Breakfast at Grand Belllo Hotel JBCC
After being disappointed by the hotel's below-average room amenities, we weren't expecting much from the free buffet. That helped reduce any further disappointment. Because even when the coffee and tea were served lukewarm, some food remained unreplenished and the spread was limited in options, they were way above our expectation.
The fried noodle while cold was quite delicious. And we love the mini strawberry croissants. Grand Belllo Hotel JBCC's posh restaurant also served nasi lemak and congee. As there's no egg station, I grabbed numerous slices of hard-boiled egg that was meant for nasi lemak.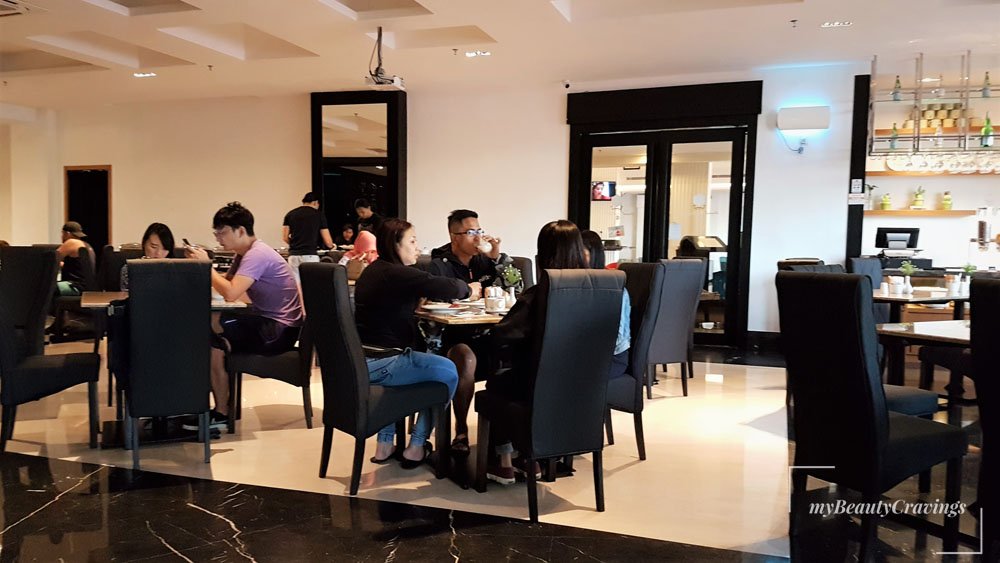 I love salad more than anything else but decided to give it a miss having suffered terrible food poisoning early this year after consuming a great amount of salad at a 4-star hotel in Asia. It could be a one-off case, but the memory and pain are still fresh. Yeah, I also skipped the fruits this time around and I'm glad to report that I was fine except for an itchy scalp and ear (cause of itch to be revealed in the following para).
Cleanliness: Showered with an Intimate Gift
After we were done with breakfast, we had two hours to spare because the hotel granted us a late checkout by 1pm. That was when I confirmed my suspicion of the cleanliness (or lack of) of the room. The sunlight beaming through allowed us to see things that weren't apparent last night.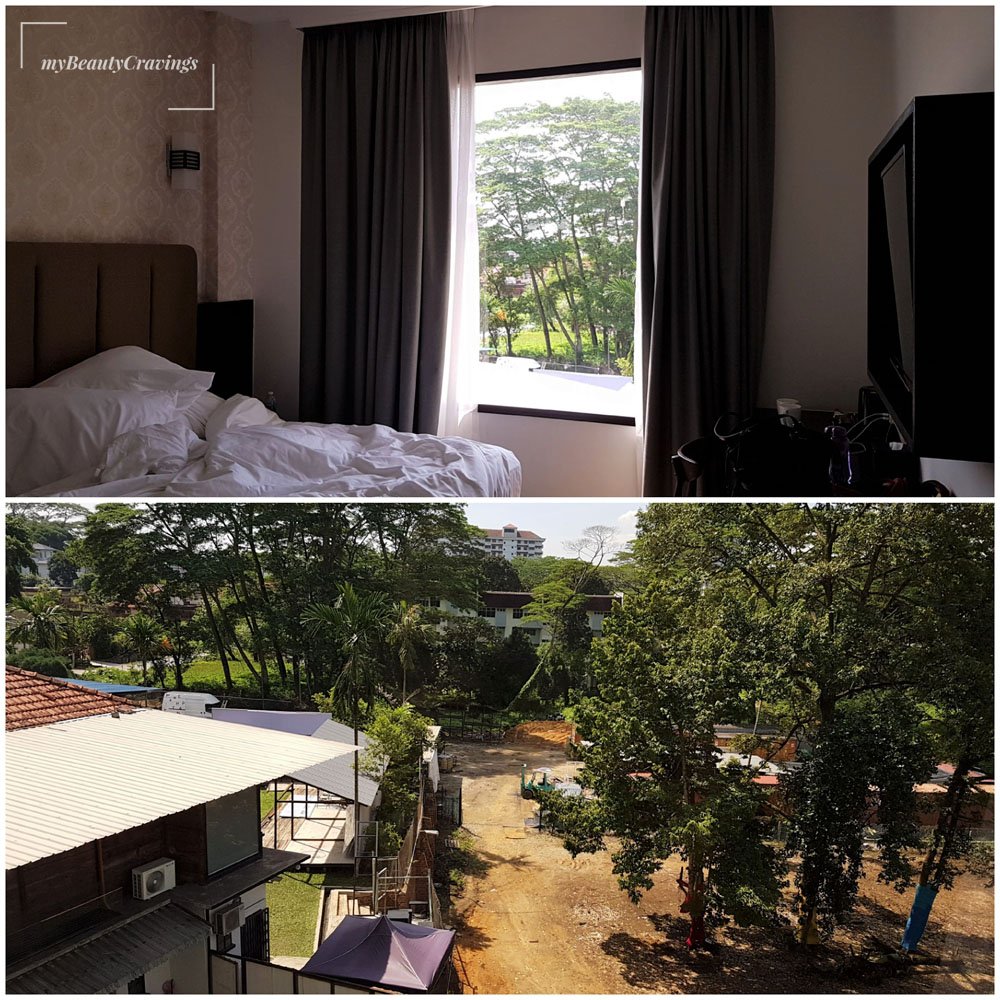 "Look at this red stain!" I pointed to my partner. The stain was at the foot of the bed, near the left corner and covered by the quilt. Seeing how fresh the stain was, I even began developing self-doubt even though none of us had touched that corner of the bed considering how little time we'd spent in the room. It's amazing how such things can start playing with our minds because why did I doubt myself when I wasn't even having menses, LOL!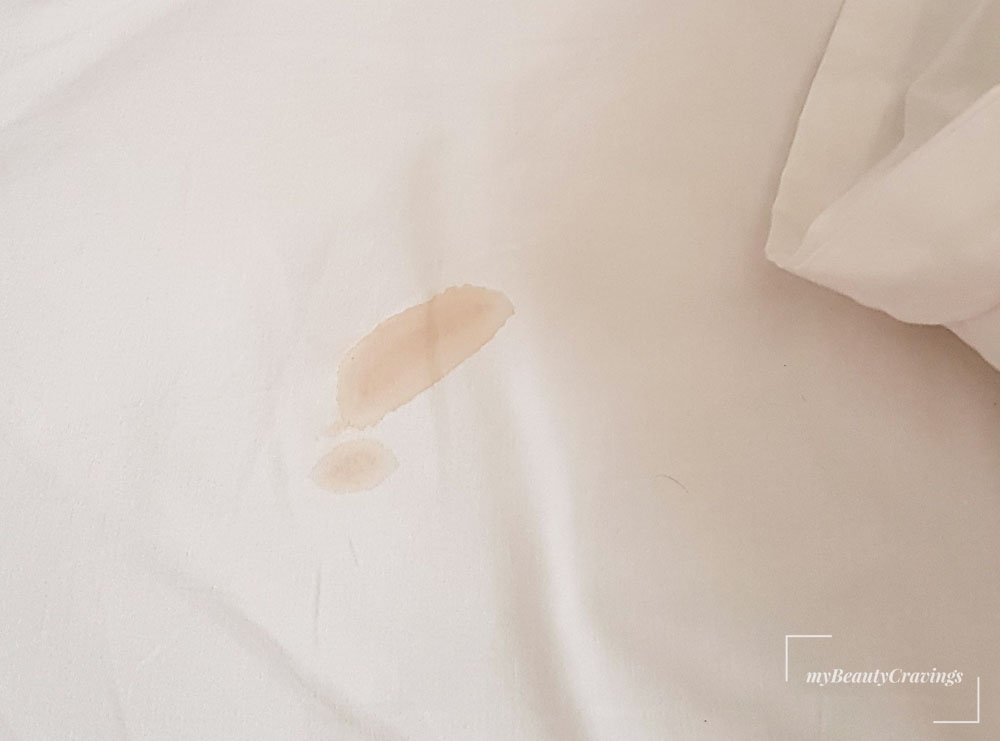 Then, I saw black specks near the edge of the quilt, the area that would touch my chin if I pull the quilt to cover myself from the cold. OMG! No wonder I felt the itch last night.
As if that wasn't enough to convince us of the cleanliness of the room, we discovered another gift.
"Dear, you forgot to pack your underwear!"
When packing up to prepare for checkout, I saw a men's brief on the floor, under the table and near the curtain. I thought it was my partner's and picked it up. I left it on the luggage table before entering the bathroom to pack my toiletries. From there, I heard a yell.
"This underwear is not mine!", my partner exclaimed in utter disgust.
Both of us started to freak out. Whether it's psychological or not, we started to feel itchy all over. This lasted through the entire day until I managed to get back to Singapore late at night. OMG! Gross or not?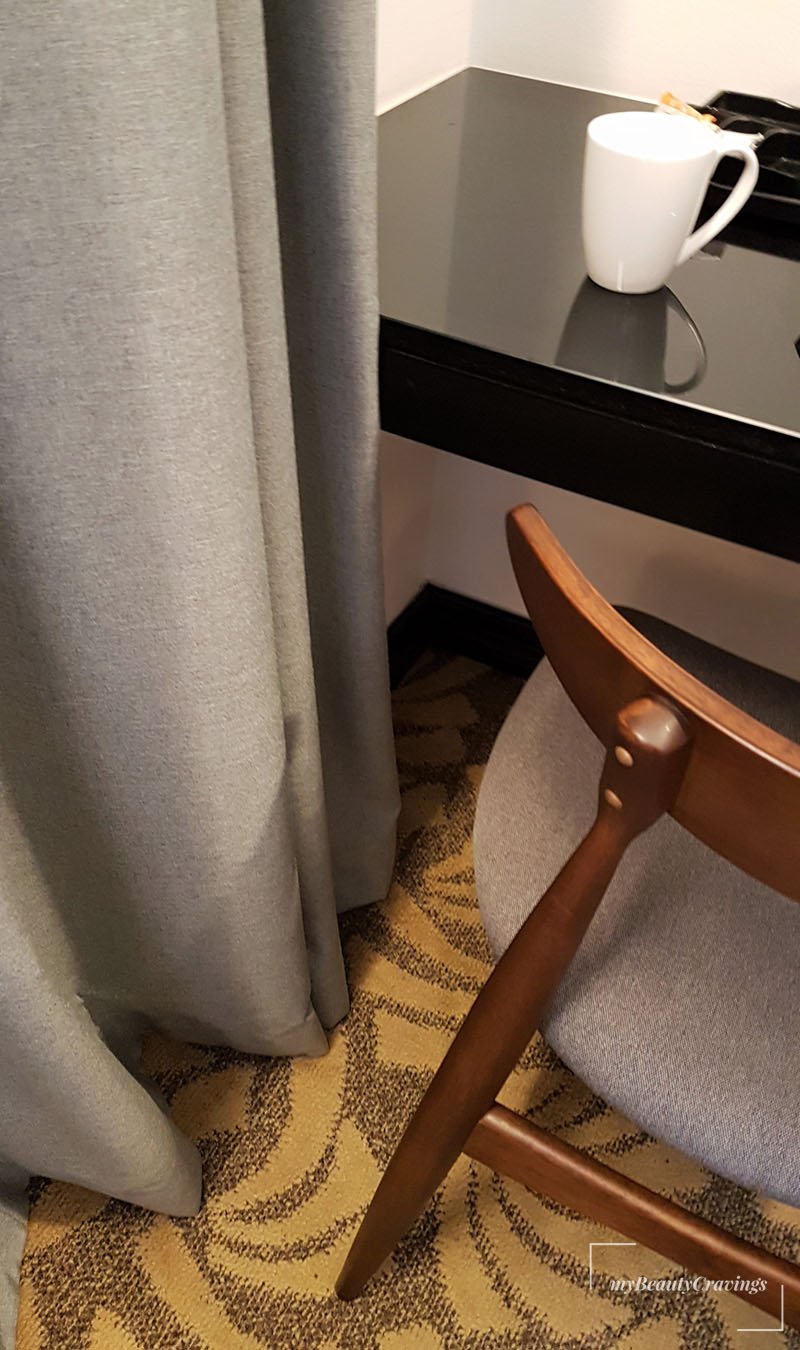 ---
The Aftermath of Staying at Grand Belllo Hotel JBCC
Our plan for a great Sunday shopping in Johor Bahru didn't materialize. Both of us who had only two hours of sleep were walking around like zombies. We had no mood to shop properly. Thankfully, the itch kept us from falling asleep when walking.
We did somehow pull through till nightfall and I enjoyed my favorite Big Bowl Ice dessert (see location). Of course, I'd to be punched to stay awake when having my Matcha Snow Ice and Mango Shaved Ice. In fact, I'm still recovering from fatigue when writing this review.*Sniff*
What a great spontaneous staycation. ;)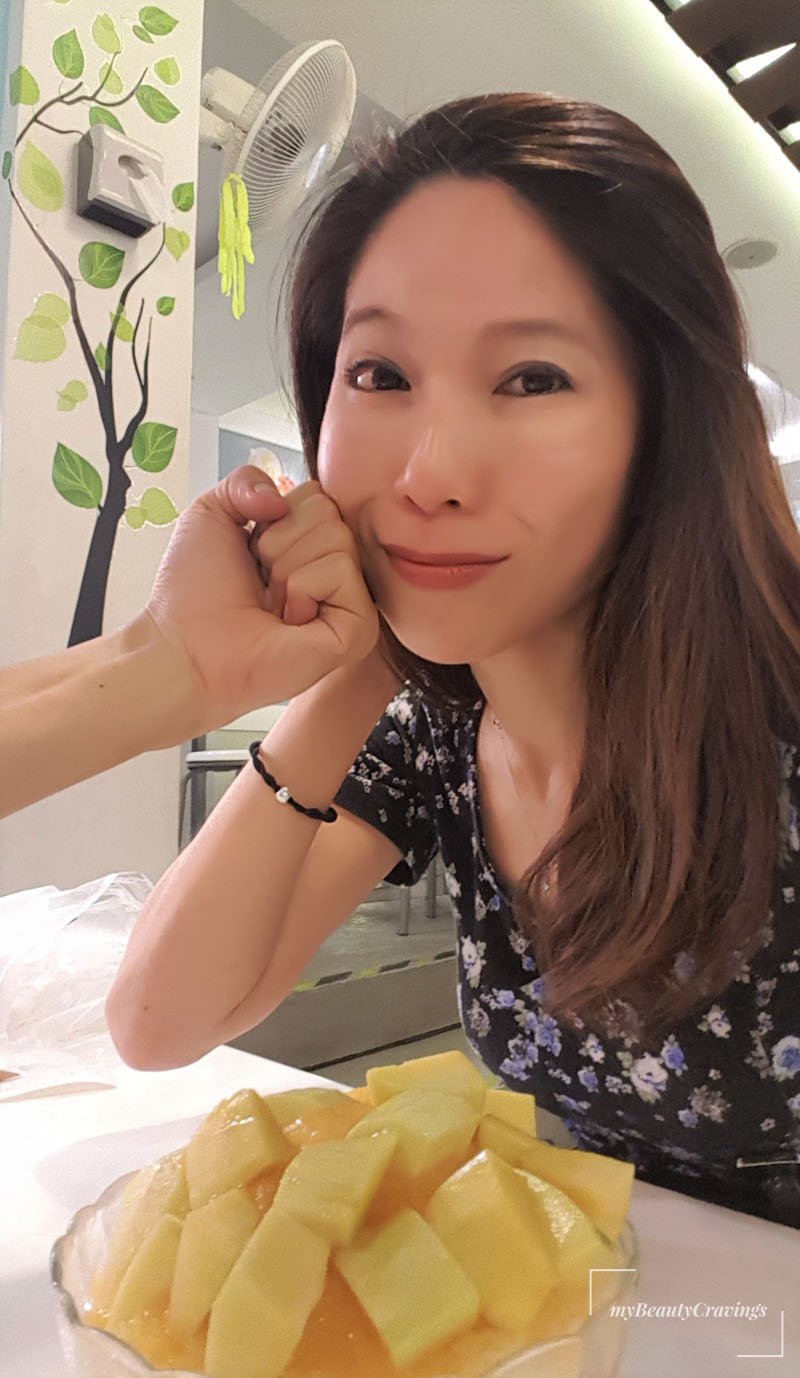 ---
Pros & Cons of Grand Belllo Hotel JBCC in Malaysia
Let me summarize the pros and cons of staying at Grand Belllo Hotel JBCC.
What's Great? 
Located near to Johor Custom; Free shuttle service
Affordable
Polite Staff
Good WIFI
Decent In-room Decor
Photo-worthy Hotel Architecture
What's Bad?
Small Room
Hairdryer hate to be used
Uncomfortable bed for anyone taller than 1.55m
Weak sound-proofing of room
Poor Cleanliness
Limited Facilities (no gym or pool)
---
Recommendations
I'm surprised that in spite of so many positive online reviews on Grand Belllo Hotel JBCC, I managed to emerge as the unlucky outlier to experience stained sheets, soiled underwear, noisy room and uncomfortably short king-sized bed – all within a 12-hour stay.
Based on my bizarre experience, it's hard for me to comprehend how reviews such as "It's the best hotel in JB", "the cleanliness is really awesome" and "Bed is big" came about. Unfortunately, I have to base my recommendation on my personal experience. Hence, I cannot recommend Grand Belllo Hotel JBCC to anyone unless you are shorter than 1.55cm and prefer free shuttle service in JB over hygiene. Rating: 1/5.
Disclaimer: This is my personal experience and opinion. Yours and others' experience may differ from mine. 
This post may contain affiliate links, meaning I earn a commission if you make a purchase, at no cost to you. Read my full disclosure for more info.
Hotel Info:
Being an honest blogger isn't easy. Show us some love to keep us going. You can support us by subscribing to honest reviews. I'll even give you some free and exclusive stuff. Thank you and I'll see you soon. :)
SUBSCRIBE
(Visited 1,489 time, 1 visit today)