All thanks to 8 Crabs, I've discovered a new and better way of feasting on crabs, and that is to have them professionally cooked and delivered right to my doorstep (or my aunt's doorstep in this instance). No more fear of messiness, gravy-drenched fingers or looking totally unglam.
The basin is just a few steps away and I can wash my hands as many times as I like to without being judged. Eh, I washed my hands over 10 times when savouring two yummy XL crabs during yesterday's lunch. 
Read on and I'll share with you about my first crab delivery experience with 8crabs.com, including how much it costs, whether it was good and delivery info.  
Update Jan 2021: This post was first published in Oct 2020. It has come to my attention of a recent backlash against 8 Crabs. Please read it before making your purchase.
---
What is 8 Crabs? 
To put it simply, 8 Crabs is a company that offers crab and seafood home delivery service in Singapore. You can think of it as a Chinese restaurant or Zi Char stall except that it does not have a physical storefront. Everything exists online through an attractive and well-designed website at 8crabs.com.
According to its website, 8 Crabs started as a premium seafood importer specialising in wild catch crabs, sea cucumber and other seafood from Sri Lanka. Having its own processing premises in Sri Lanka, it partnered with experienced chefs and aspires to become the best crab delivery service in Singapore.
"Being the only supplier of wild catch crabs, we are always being able to promise you crabs that are better than the rest." ~ 8 Crabs
What's special about 8 Crabs?
The crabs from 8 Crabs are said to be wild crabs instead of farmed ones, and hence are free from ammonia that is typically produced in stressed crabs that are kept in captivity. 
On top of that, 8 Crabs also mentioned that it is the only company in Singapore that uses grade AAA premium Sri Lankan sourced wild crabs. Such crabs are said to be meatier, tastier and bigger. Furthermore, the crabs are said to be caught, flown, prepared and delivered within 12 hours. 
As a crab novice, I am not able to offer much comments in what truly counts as quality crabs. But I can tell you whether the crabs were delicious. In fact, I've intentionally sought help from an experienced aunt who has been eating crabs for at least 6 decades. 
Before we come to the food review segment, take a look at what I've ordered from 8Crabs.com. 
---
What I ordered from 8crabs.com – XL Crabs!
Most people would order a feast from 8 Crabs, because this online Zi Char store offers an attractive Signature All-Day Set Menu. Comprising 7 dishes, this set that starts from $156 makes a presentable and hassle-free meal option for an intimate family gathering.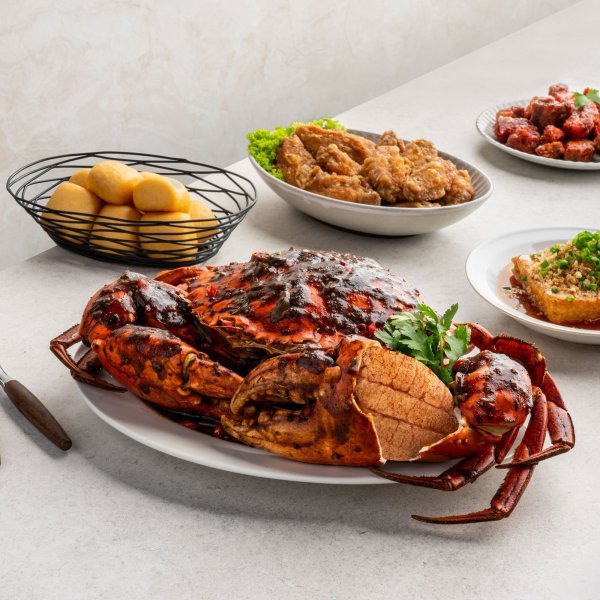 As for me, my focus is on crabs and solely crabs! I love protein more than carbo, and prioritise quality over quantity (on diet lah!). As such, I utilised the credit that was offered by 8 Crabs to order two XL crabs instead of having a table full of dishes.
For info, 8 Crabs offers crabs in six flavours as at time of writing including mala flavour, and you can choose among three sizes: 
Large (750g) – $68
XL (900g to 1kg) – $88
XXL (1.2kg) – $125
The one I ordered is the second-largest (XL). Actually, I wanted to order the largest – XXL crab – because I understood that "the bigger the crab, the better it is". Unfortunately, XXL was out of stock during the time of my order and I settled for two XL crabs instead.
All in all, these were my orders:
Award-Winning Salted Egg Crab (XL): $88
Award-Winning Black Pepper Crab (XL): $88
Drunken Herbal Prawns (Small): $24 
---
Prompt Delivery without reminder
My order was for the food to be delivered on a weekday between 1pm to 2pm. To test the reliability of its delivery system, I'd intentionally skipped reminding them even though my order was placed a few days in advance.
At 1.15pm, the friendly delivery guy arrived on time with food that felt like they were just out from the kitchen. That's great, because no one enjoys cold dishes, especially when we are talking about Chinese food. :)
Now, let's tuck in!
"We have a one driver to an order policy across our kitchens island-wide, so that we may uphold our promise of One Hour Crab Delivery." ~ 8 Crabs
---
8 Crabs Review: Taste Test
I had wanted to do plating to make the dishes look more presentable on photos. But after seeing the crabs in their original containers, I thought they looked presentable enough (Plus this is my aunt's place. Paisei to make her wait and drool lah!)
The crabs came nicely arranged in their original shape and structure, and I thought they looked hot and sexy within the circular tubs.
So, how large is an XL crab from 8crabs.com?
Check out the size of one of its pincers. HUGE, isn't it?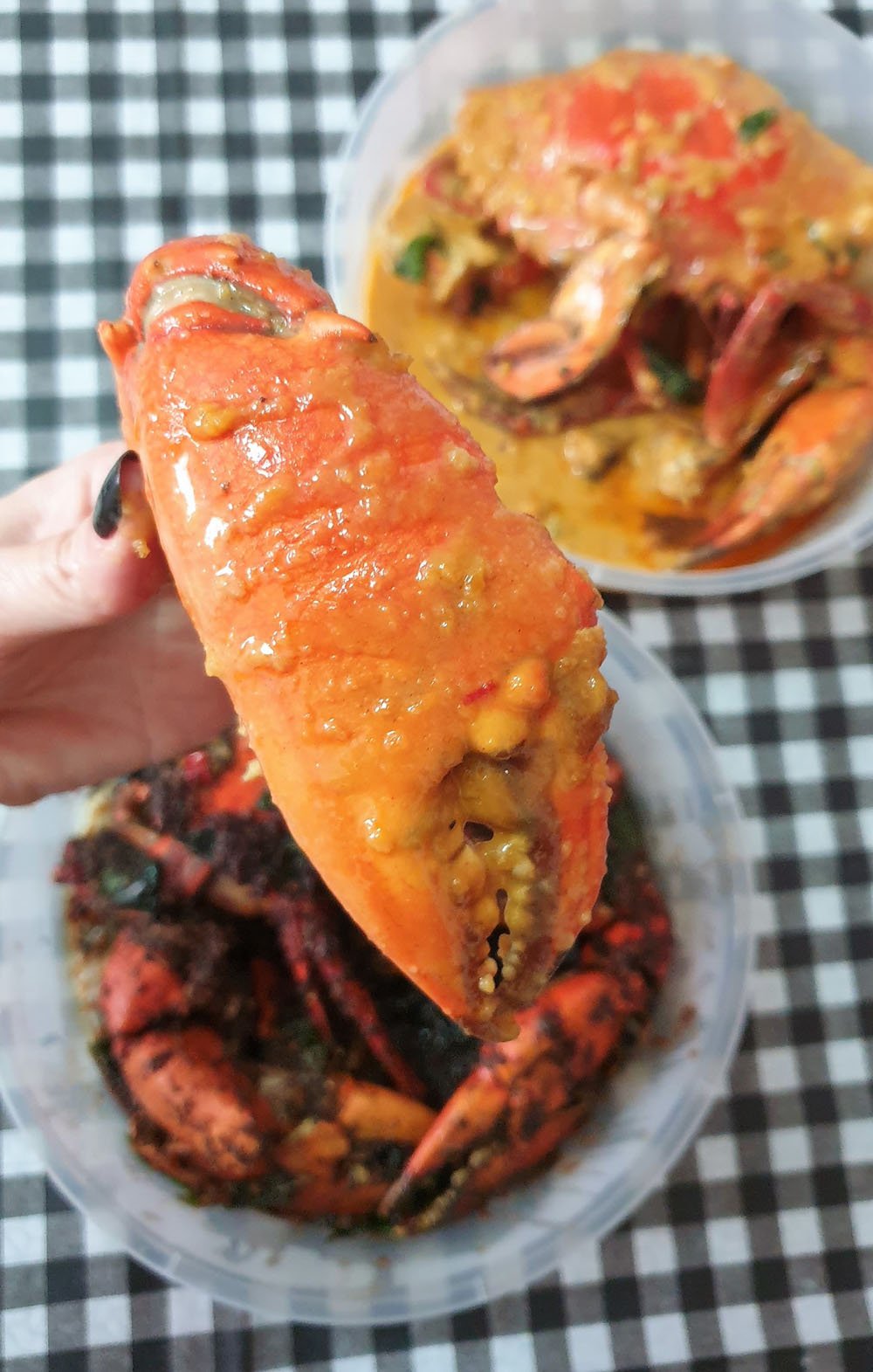 1. Food Review: Salted Egg XL Crab from 8 Crabs ($88)
The salted egg crab was my favourite and I highly recommend it! The saltiness, sandiness and creaminess is at the right level. Even my 80+ years old aunt who has been eating crabs for decades thought the gravy tasted absolutely divine! 
I couldn't help scooping the cholesterol-laden gravy because it made my otherwise bland rice taste heavenly. This is a meal worth its calories! Absolutely no regrets! :)
In terms of the meat, the pincer was very meaty as you can tell from the photos. And the flesh was firm and did not stick to the shell. However, I thought the meat from the body wasn't as generous as what I'd hoped from an XL crab. But do note that I'm a novice crab eater, and I have no benchmark to set my expectation against.
So, do take my opinion with a pinch of salt! :) Maybe I was just craving for more crabs as eating them at home was super convenient.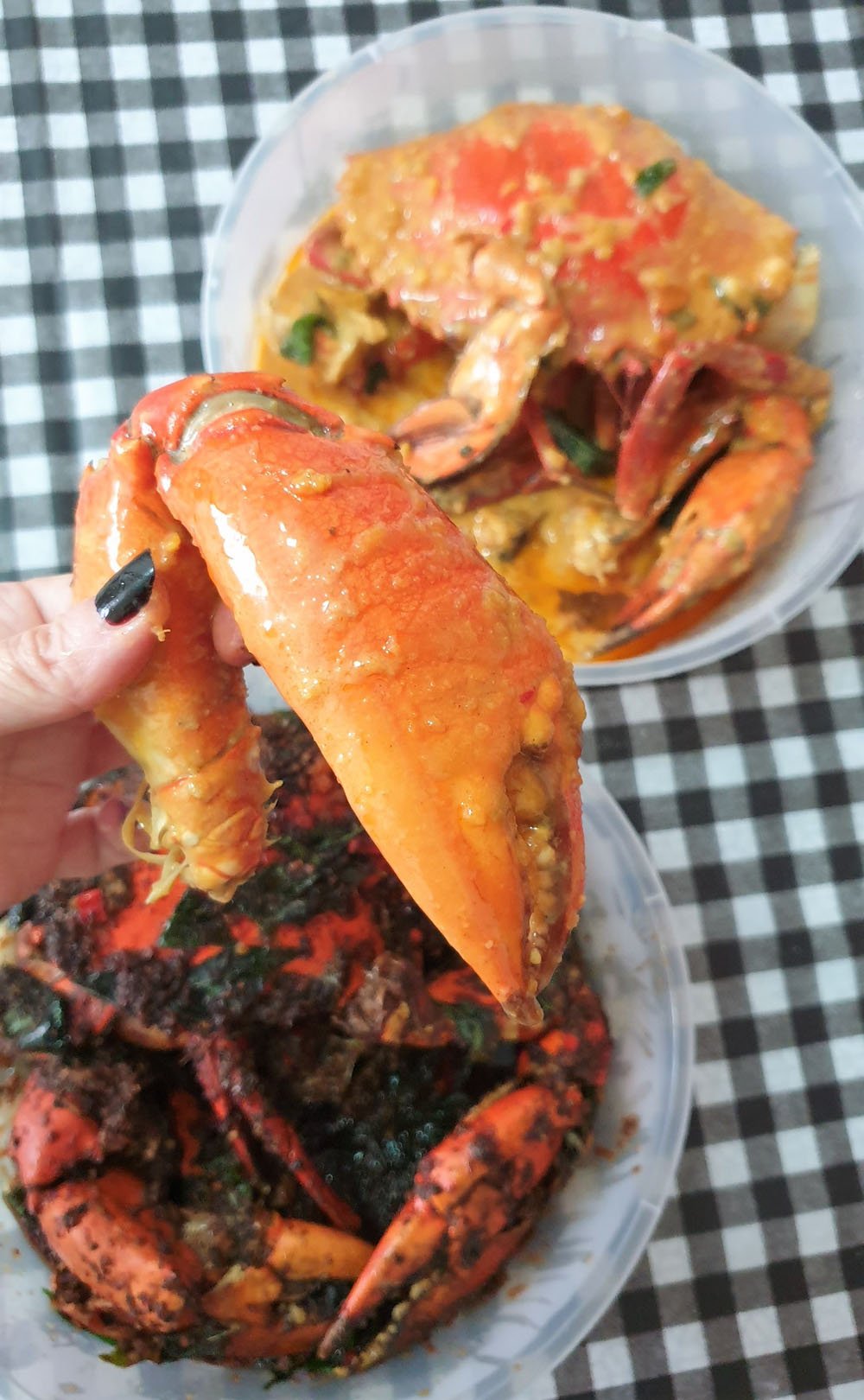 2. Food Review: Black Pepper XL Crab ($88)
The black pepper crab tasted great too! On top of pepper, there were extra spices added to the recipe, such as chilli, curry leaves and garlic.
If you are worried about the black pepper crab being too spicy, I personally thought it was quite a friendly dish. The added spices gave the crab multi-dimensional flavours without causing the tongue to burn.
I'm not sure if you can tell, but the size of the black pepper crab was a tad smaller than the salted egg crab. Nonetheless, I was assured by my experienced aunt that both crabs should be about 1kg when they were still alive.
My dear crab-loving aunt also said both crabs were fresh although she would have loved to see some crab roe. Another diner also commented that some meat were stuck to the pincer shell of the black pepper crab. I ate other parts of the same crab and didn't experienced stuck meat.
Fussy eaters? In case you wonder, the crabs were delicious. The comments from the diners came in because I constantly sought feedback to make up for my lack of knowledge in crabs. 
3. Food Review: Drunken Herbal Prawns ($24)
And last but not least, let's talk about the only non-crab dish ordered. When I opened the lid, a strong aroma of herbs and wine filled the room. It's without a doubt that 8 Crabs was very generous with its key ingredients.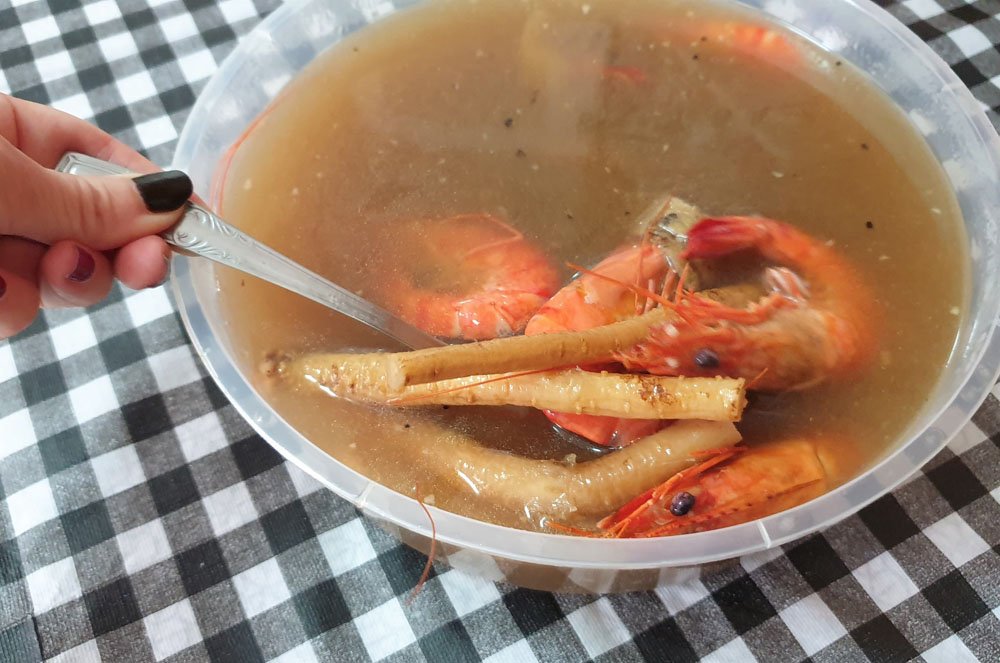 Not just that, 8 Crabs was also generous with the soup. Served in a large tub, the soup with a hint of sweetness was enough to feed more than 4 persons even though I've ordered a small one meant for two. The 8 prawns within would also be sufficient for 3 to 4 pax. 
To be honest, I would prefer the soup to be less sweet, but that's a personal preference as I've always liked my main dishes to be savoury. In addition, I was expecting the prawns to be larger because some online reviews mentioned that the prawns were HUGE.
Guess my expectation wasn't managed quite well, huh? As far as my order was concerned, the prawns were of normal size. The consolation – they were fresh! 
---
How to Order from 8crabs.com? 
Now that we are done with food tasting, let's cover the logistics. Ordering food from 8crabs.com is easy and intuitive. You don't even need to register an account to make an order.
I also love the assurance provided by an Order Confirmation Page that shows up after payment is done. You'll get double the assurance through an email that is sent instantaneously to summarise your order and delivery timing.
8 Crabs Delivery Fees
Delivery is free for order above $120. Below that amount, you'll pay $8 for normal delivery or $18 for express 1-hour delivery.
Peak Period Surcharges at 8crabs.com
Do take note that surcharges of $6 applies for weekends delivery (Fri to Sun) and $10 for public holidays. If a public holiday falls on a weekend, you'll pay an extra $16. 
---
Who would love 8 Crabs Home Delivery?
Well, I believe any crab lovers in Singapore would be interested in giving this crab delivery service a try. I appreciate the certainty of fixed crab prices offered by 8crabs.com, which isn't always the case when you dine out. 
In addition, the crabs ordered from 8 Crabs were delicious. Not only was the meal sumptuous, it made family gathering an easy and stress-free affair, especially one that involves elderlies. For instance, there wasn't a need for my aunt who is in her 80s to travel out and walk excessively, or to risk her health during the current pandemic. 
On top of that, I also realised how hugely convenient it is to makan crabs at home. With the basin within easy reach, I could wash my hands as and when I feel like it when switching between dishes. And when I don't, there's no one to judge me for having a hand coloured by thick gravy.
Not having to worry about image or messiness made the meal even tastier! That may explain why I ate more crabs than I normally do and still craved for more. If you like to enjoy a crab feast at home, check out 8 Crabs website here.  
Update Jan 2021: This post was first published in Oct 2020. It has come to my attention of a recent backlash against 8 Crabs. Please read it before making your purchase.
---
Food credit was provided to facilitate an honest review.
---
That's all to today's sharing. If you like to get notified to more of such honest reviews, click the button below to subscribe. You'll also get free and exclusive stuff as a subscriber. See you soon!
This post may contain affiliate links, meaning I earn a commission if you make a purchase, at no cost to you. Read my full disclosure for more info.
SUBSCRIBE
(Visited 2,273 time, 1 visit today)