It's that time of the year again, to recap the Beauty Holy Grail discovered in year 2016. This year, I've only discovered 3 items that are qualified to enter my holy grail list. Here we go!
Beauty Holy Grail 2016
#1. 

L'Herboflore Hyaluronic Acid Biocellulose Mask
Most of the masks I've tried don't do anything for me. But this one does. If you want an emergency hydration boost that can even soften your fine lines for a couple of days, try L'Herboflore Hyaluronic Acid Biocellulose Mask. Read review.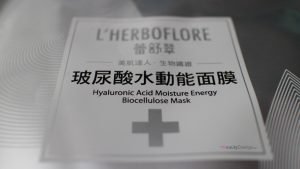 #2.

L'Oreal

 Eye Makeup Remover
I can't even recall how many bottles of this I have used. L'Oreal Eye Makeup Remover is definitely holy grail material because it's cheap and it works superbly. It may not beat those Korean brands in terms of aesthetics, but it sure works better than most. Read review.
#3. MUAC Gly-Luronic Acid Serum
For those yearning for younger-looking, radiant and moisturized skin, MUAC Gly-Luronic Acid Serum does wonders. The easy application makes me reach out for it whenever I'm too lazy to do an at-home chemical peel. Oh, and it works fast in killing my active pimples. So yes, I always have one on stand-by. Read review.
That's all, only three beauty holy grail discovered in 2016. The Holy Grail list seems to grow at a slower pace, as I have yet to find new products to displace my existing holy grail items discovered in previous years. 
Must-Read:
---
Beauty Top Review
Wait. Don't go just yet. 
There is another great item discovered in year 2016, rated 4.5 stars and is on my Top Review list. 
* Integrate Mineral Powder Foundation
Only available in Japan and Taiwan, this powder foundation works so well to give great and dewy coverage. Why it stands out is how it sat well even on dry or middle-aged skin and won't emphasize fine lines or wrinkles. Read review.
---
That's all from me for year 2016. Have a superb and joyous Merry Christmas. And overstuffed yourself during the festive season, ok? 
Do you enjoy such honest reviews? If you like to get notified of my new posts, just click the button below to subscribe. I'll even give you some free and exclusive stuff. See you there!
This post may contain affiliate links, meaning I earn a commission if you make a purchase, at no cost to you. Read my full disclosure for more info.
(Visited 2,458 time, 1 visit today)