Shu Uemura POREraser make-up base hits all the right notes and is officially my Holy Grail Makeup Base. This fabulous formula does exceptionally well in holding the makeup intact, while protecting the skin from harmful sun effect (SPF35+++). What appealed most to me is how light-weight and non-greasy it felt on the skin.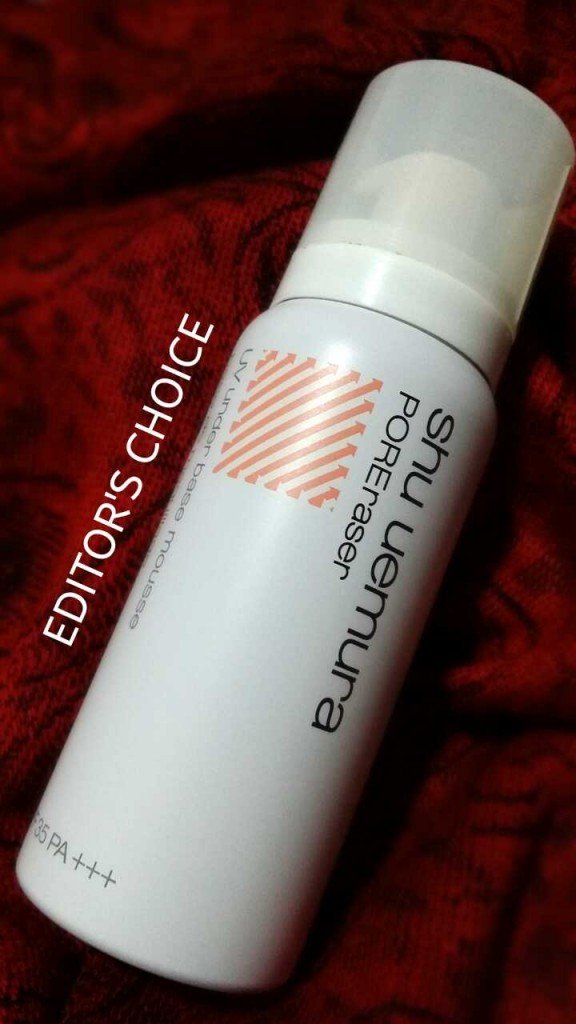 For a beauty fanatic who loves piling layers and layers of 'do-me-wonders' skincare products on the face, this additional layer doesn't seem overly-excessive. In fact, it allows you to skip the sunblock totally, which is good because they often come in greasy and heavy formula.
---
What else to love about Shu Uemura POREraser?
The mousse application seems to cool down and mattify the skin, and kind of 'seal' the face to get it ready for makeup application. Yes, 'sealing the skin' also means that the pores appear less visible.
Not convinced? Take a look at the before and after photos.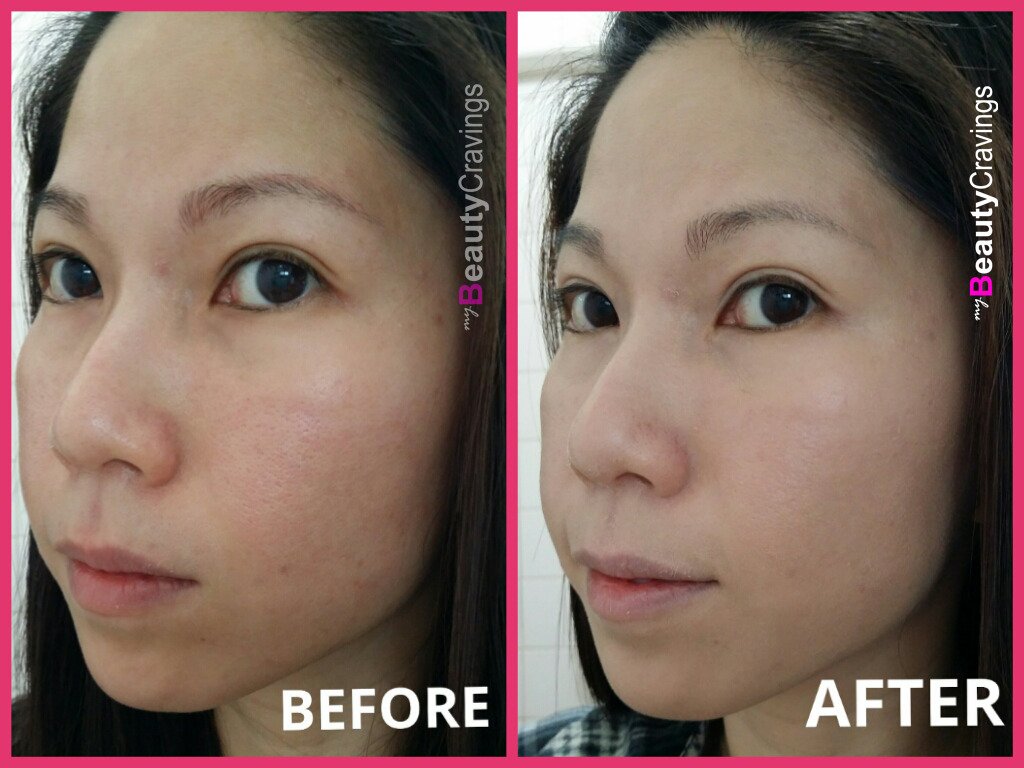 The BEFORE photo shows me in my bare skin, with zero makeup while the AFTER photo was taken after I've applied a cool (literally) layer of Shu Uemura POREraser makeup base. Still, no other makeup on – and no foundation yet which should be the next thing that goes onto my face. 
Can you see that the pores in the AFTER photo look smaller? Let me zoom it in for you! Focus on my left cheek.
Trust me. Your pores will look even more refined after you've had your foundation and powder on. 
Shu Uemura POREraser (in biege) also erases some of my redness making my skintone more even, and providing a good canvas for application of makeup.
In a nutshell, you should get Shu Uemura POREaser make-up base if:

 
You are looking for a light-textured and non-greasy makeup base

You want your pores to look smaller

You want a 2-in-1 product (makeup base + UV protection)
There is even more reasons to get it if: 
You reside in a hot-and-humid tropical climate

You have oily or combination skin and break out easily
I've been through countless bottles, and have used this product religiously for at least 5 years to award Shu Uemura POREraser a Holy Grail status.  No other make-up base products I've tried over these years have come close to stealing its status. Rating: 5/5
---
TIPS: How to get Shu Uemura POREraser Cheap?

 
How do you get Shu Uemura POREraser for under SGD65, which is its retail price in Singapore?
Go grab it at the airport whenever you travel. I normally get it at a lower price (about SGD47) in Changi Airport Departure Hall. But nothing beats getting them at Tokyo Narita International Airport. I recently visited the country and got myself a twin pack at 5040 yen, making each bottle only SGD30. This is added to my Japan Must-Buy List.
Beauty fanatics have to visit Japan! I'll blog more on that soon. If you like to get notified of my new posts, just click the button below to subscribe. I'll even give you some free and exclusive stuff. See you there!
(Visited 4,510 time, 1 visit today)