How common is it for different products to bear the same name? This is the first time I'm dedicating my introductory paragraph to explain general product details. Why? Because Biotherm Aquasource comes in three different forms:
1) Biotherm Aquasource (Normal/Combination)
2) Biotherm Aquasource (Dry)
3) Biotherm Aquasource (Night)
On these tubs, they are universally labelled as Biotherm Aquasource.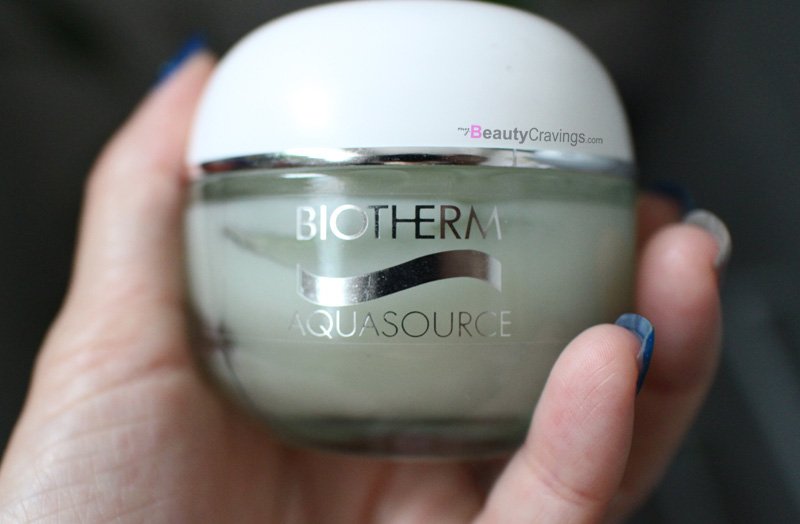 The skin type category is not printed on the front. Instead, you may accidentally discover them when you turn the bottle around. The skin category is printed in tiny font (size 6 maybe) at the back of the bottle, alongside the instructions. So do take note that this review is meant for Biotherm Aquasource (Normal/Combination).
To be honest with you, I didn't know about such sub-categorization until today. It's embarrassing as I've been using it for close to 3 months. I've always thought Biotherm Aquasource is the exclusive name for their gel-based moisturizer.
Alright, without any further ado, let's start the review. Treat the next para as the real introductory paragraph, ok?
---
The Review Begins
Biotherm Aquasource is my go-to moisturizer whenever my face starts breaking out or when I need to test a new product (and want to eliminate any other products that could potentially cause pimples). It is a product that I trust and knew for sure that would not irritate my pimple-prone combination skin. Here's a quick rundown on why Aquasource works so well for me.
---
What's Good?
1.   No Breakout
The number one reason why I love Biotherm Aquasource is that it doesn't break me out.  I use this when my hormone starts to wreck havoc and dot my face with tiny pimples. This soothing gel comes useful during this time of the month, as it hydrates my skin without aggravating or irritating it further.
2.  Hydrating
Given that gel-based products are generally not known to be as hydrating as cream-based moisturizers, I was genuinely surprised by how hydrating Biotherm Aquasource (Normal/Combination) was.  What amazes me further was the long-lasting effect of this water-based moisturizer. My skin feels soft and supple even hours after application.
Taking a look at the product description, I think their claim stands true:
"Hydration 5 layers deep for intense and long-lasting hydration. Skin is hydrated for up to 48 hours, has a healthy radiance, feels plump and bouncy"
Biotherm's Aquasource (Normal/Combination) also contains zinc which helps to balance and keep the skin's moisture level at its optimum. 
3.  Lightweight, Absorbs Quickly
Similar to most gel-based moisturizer, Biotherm Aquasource (Normal/Combination) melts into the skin.
Its' light-weight texture leaves no grease and is a great cooling treat to the skin.
4.  Smells Great. Looks Great
Biotherm Aquasource has a lovely, refreshing scent that reminds you of ocean. I absolutely adore the fragrance and feel great whenever I'm using this product. It's kind of like a mini-indulgence in aromatherapy. 
The product description says that the invigorating fragrance is made of a combination of refreshing mint, citrus fruits, jasmine and musk. You've got to try it. I bet you'll love the fragrance as much as I do.
Other than smelling good, Biotherm Aquasource (Normal/Combination) also has a lovely packaging. The pastel-green gel comes in an elegant glass tub, with white lid and silver labels.
---
What's Bad?
1.  Hygiene Issue
As much as I love the glass-bottle packaging, any tub-formed packaging raises the issue of hygiene. When you dip your finger into the gel, it inadvertently introduces bacteria into the tub. It is also less user-friendly for those with long finger nails as the product may get under the nails.
A spatula can be used, but that's an additional step. And it's another problem ensuring that your spatula stays contamination-free.
2. The Price
This 50ml tub retails in Singapore for $69. It's not the cheapest gel-based moisturizer around. But for a premium counter-brand that sits alongside Lancome, Dior and Chanel, this price is not overly-exorbitant.
I got it at a steal during a bazaar sale and paid less than $50 for a set comprising the gel, toner and cleanser. That's probably one of the best buys of the year.
Now, would I replenish Biotherm Aquasource if I've to pay the recommended retail price? I may, but I would probably do so after exploring other products. Beauty Junkie like me loves to try new products. 
---
Final Recommendation
For those with combination skin and who wants a gel-based moisturizer that provides long-lasting hydration, you may like to give this it a try if price is not an issue. By the way, Amazon is selling it at a steep discount. Rating: 4/5.
---
Love what you've read? If you like to get notified of my new posts, you can click the button below to subscribe, or connect with me through facebook or instagram. See you there.
This post may contain affiliate links, meaning I earn a commission if you make a purchase, at no cost to you. Read my full disclosure for more info.
(Visited 5,382 time, 1 visit today)