One of the best eyebrow pencils I've ever used! And I'm gonna share this review of Clio Kill Brow Tattoo-Lasting Gel Pencil with you. In fact, it's the second-best brow pencil in my 20 years of history of using makeup. You can imagine how happy I was with the purchase. Let's read on to find out the Good and Bad of this brow pencil.
I'll also be making a quick comparison of Clio Kill Brow Gel Pencil against my No. 1 Brow Pencil towards the end of this review. 
About Clio Kill Brow Tattoo-Lasting Gel Pencil
Clio offers a good variations of makeup for brows, ranging from powder-form and pencil to tint liner. As a matter of preference, I would always go for pencil-type because I find it the easiest and most straight forward to use. Unlike tint or ink liner, pencils also do not dry up prematurely and are easy to control.
When shopping in Malaysia a few months ago, I couldn't stop my impulse (as usual) and purchased Clio Kill Brow Tattoo-Lasting Gel Pencil. The colour I chose No. 2 Light Brown was a versatile brown tone that can look ashy after evening it out with a brow brush. 
It also comes in another colour, No. 1 Natural Brown which leans towards a dark chocolate tone.
To use the pencil, just twist the top to extend the gel pencil. No sharpening is required. Once you are done drawing the brows, the soft brush on the other end will help to even out the strokes.
I've been a fan of Clio's eyeliner –  Clio Gelpresso Gel Liner.  So I carried the same high expectation when it comes to her other products. I'm glad to report that Clio Kill Brow Tattoo-Lasting Gel Pencil didn't disappoint either.
Must-Read: Best Smudge-Proof  Pencil Eyeliner | Clio GelPresso Waterproof Pencil Gel Liner
---
What's Good? 
1. Easy and Quick to Apply
Clio Kill Brow Tattoo-Lasting Gel Pencil is easy to use, even for beginners. The broad width of the gel pencil makes it quick to fill the brows in just a few strokes.  In comparison, ZA's Brow Liner which is also a rotating-type pencil took me much longer to fill my brows because the pencil was narrower in diameter.
Other than being quicker to apply, Clio Kill Brow Pencil was smooth and produces even-looking strokes. No harsh lines even when the strokes were overlapped. Most of the time, I didn't find the need to blend out the lines.
2. Smudge-proof & Water Proof
If you give it a about a minute to dry up, Clio Kill Brow Pencil doesn't smudge even if you rub it with your fingers. I didn't find this attribute particularly important because I do not have the habit of rubbing my eyebrows. But for those who have itchy fingers, you know this is made for you. *Smile*
Oh….it is waterproof too. I've just tested it out. So go ahead, use it and look pretty at the beach or water theme park.
3. Reasonably-Priced
At S$15, Clio Kill Brow Tattoo-Lasting Gel Pencil isn't the cheapest mass-market brow pencil in the market. But it sure is reasonably-priced considering how it cost just a fraction of other premium brands, including my No. 1 eyebrow pencil – Lancome Le Crayon Sourcils.
Furthermore, Clio Kill Brow Pencil comes in a generous net weight of 0.4 g as compared to mechanical brow pencil of other brands that typically weigh around 0.25 g.
4. Travel-Friendly
I remember how I'd to source for a sharpener in Ximending when the pencil tip of my No.1 Brow Pencil – Lancome Le Crayon Sourcils dropped off when I was overseas in Taiwan.
With mechanical attribute such as Clio Kill Brow Gel pencil, no sharpener is needed. Just twist and it's good to go. Convenient, yes?
---
What's Bad? 
1. Depletes Fast
Clio Kill Brow Tattoo-Lasting Gel Pencil depletes much faster than your typical brow pencil. After every two or three uses, I would need to twist the pencil out further. I'm sure it would run out within a few months, unlike my Lancome Le Crayon Sourcils which lasted me for more than a year or two.
2. Doesn't Fill Gaps Well
I'm recently trying to grow out my brows. Well, you know, thick brows are in now. Heh. With years of constant plucking, one portion of my brow just doesn't grow back as fast as the rest, forming an obvious gap. I tried covering the gap with Clio Kill Brow Pencil, but it didn't work. The gap remained obvious, probably because the colour wasn't dark enough to resemble my actual brow. So there was two-tone on my brows.
I tried evening out the strokes by using the given brush. That only made things worse because the blending actually took out most of the colour. If you are looking to cover gaps or to make your brows look thicker, do consider getting a shade that closer resembles your brow colour. For me, No.1 Natural Brown may work better in filling gaps.
3. Pencil Broke before Usage
The first time I opened the cap of Clio Kill Brow Pencil, the gel pencil (the 'lead') came loose and extended at least 5 or 6 cm out of its casing.  It happened almost every other time now.
No biggie I guess. Just need to stick it back in. It could be a flaw that was unique to this particular pencil I bought. Maybe someone dropped it during the distribution process?
---
Clio Kill Brow Pencil  VS  Lancome Le Crayon Sourcils
How does Clio Kill Brow Gel Pencil compare with Lancome Le Crayon Sourcils which is on my SUPER Holy Grail list?
Must-Read: Editor's Choice – Lancome Le Crayon Sourcils eyebrow pencil
Lancome Le Crayon is about twice as expensive, though I'm pretty confident it would last me twice or thrice as long as Clio Kill Brow Gel Pencil. I tend to prefer Lancome for occasions when I need my brows to look more defined and pronounced. When it comes to travelling, Clio Kill Brow is my first choice as it doesn't require sharpening.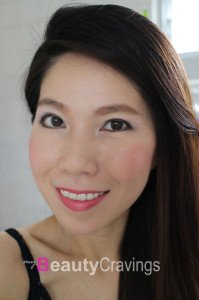 ---
Recommendation
For those who are looking for an easy-to-use brow pencil that is smudge and water-proof, Clio Kill Brow Tattoo-Lasting Gel Pencil is made for you. Rating: 4/5
I tend to use Clio Kill Brow Gel Pencil for casual outings, as I find the color 'No. 2 Light Brown' subtle and natural-looking. Being user-friendly, it is quick to apply and great for everyday use. So yes, I would definitely consider repurchasing this again.
To find out the latest price on Amazon, click HERE. 
---
Love more of such honest reviews? If you like to get notified of my new posts, you can click the button below to subscribe. I'll even give you some free and exclusive stuff. See you there!
This post may contain affiliate links, meaning I earn a commission if you make a purchase, at no cost to you. Read my full disclosure for more info.
(Visited 3,024 time, 1 visit today)