Last Sunday, we decided to do an impromptu hike after a filling lunch at Alexandra Village Food Centre. To burn off the calories, we drove to nearby Southern Ridges and decided to embark on part of the trail – from Telok Blangah Hill to Alexandra Arch. 
I didn't exactly keep track of the time, but a one-way trip would definitely take more than the 13 minutes reflected on Google Map. Maybe Google was showing the more straight-forward ground path, aka "Earth Trail". For us, we preferred an elevated trail since it was drizzling and we were both in our slippers.
I believe we took about 25 minutes to reach Alexandra Arch. Take a look at some of our sights through Forest Walk and The Singing Forest.
Map the Journey: Telok Blangah Hill Park (Carpark 3) > Forest Walk > The Singing Forest > Alexandra Arch
---
Telok Blangah Hill to Alexandra Arch (1.3km)
The entire 1.3km walk was via elevated walkway. So, it is ok to come in slippers! :) But if you prefer a more comfortable walk, a pair of cushy walking shoes would serve as better gear. 
Don't forget to apply sunblock and bring along insect repellent and water. 
I didn't take many photos as it was an impromptu after-lunch food-digestion walk, and I didn't intend to blog about it. But not to worry, you aren't missing much as the entire walk looks similar to the photos shown here, i.e. steel elevation and green forest canopy. 
You'll hear some sounds of nature (were it crickets or birds)? You'll also get to read about interesting write-ups of common flora and fauna in this "jungle". 
Soon, we reached our destination for the day, at Alexandra Arch. 
What is Alexandra Arch? 
To me, Alexandra Arch is one of the more prominent structures along the Southern Ridges trail, similar to Henderson Wave. You can take photos against the arch, which is basically a bridge that stretches over Alexandra Road.
This 80m-long bridge also serves as a link between Forest Walk and Floral Walk at HortPark.
Instead of venturing further to HortPark, we decided to keep to our plan and exit the trail by heading to Gillman Barracks. We wanted to take a short break at a cafe, and reward ourselves with some ice cream and coffee. Hey, it's a lazy Sunday! 
A short stay at Gillman Barracks
The Creamier Handcrafted Ice Cream and Coffee was our next destination. We took a short detour along Alexandra Road and headed towards Gillman Barracks.
Map the Detour: Alexandra Arch > Gillman Barracks > Creamier Handcrafted Ice Cream & Coffee
The first thing that welcomed us was this nice, ancient-looking red structure, which was really beckoning for us to take an Instagram-worthy photo with it. Unfortunately, I wasn't dressed for the day. LOL!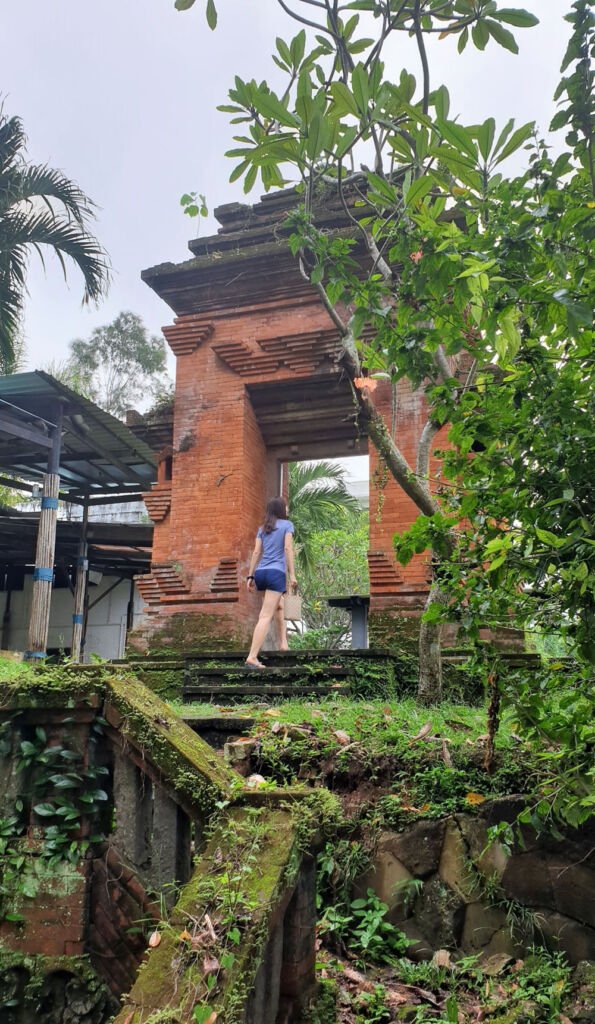 Finally, we reached the entrance of the cafe, only to find it fully packed. While there, each of us earned a few big mosquito bites.
Imagine this, we didn't get bitten throughout our 30-minute hike along jungle trail, but got badly bitten within just a couple of minutes outside the cafe. This was despite us being covered in insect repellent. Hmmm, the mosquitoes here were really 'powerful' and 'poisonous'!
Since most of the seats were outdoor, we decided against the idea of feeding ourselves to vicious mosquitos and made our way back to Alexandra Arch. Gosh, it's going to be a continuation of the trail without any rest in between. :(  My poor legs!
---
Backtrack from Alexandra Arch to Telok Blangah Hill
No one likes backtracking a trail, I supposed. We had no choice as we drove here and needed to walk back to our car, about 1.3km away.
With no rest in between, this backtracking journey felt somewhat boring and tiring, especially when the walk was now on an incline. Luckily, there were shortcuts along the way. After taking some direct staircase up, we cut short the long zigzag journey. 
And yes, we were finally back at Carpark 3, at Telok Blangah Hill. If you prefer not to do any backtracking, you can consider taking public transport here (not Carpark 3, but somewhere along the trail that is near to public transport, such as Alexandra Arch and Marang Trail (map)).  
---
Trail Recommendation
As a Singaporean, I've done the entire trail through multiple visits. For info, the entire Southern Ridges trail is 10km long and starts from somewhere near Harbour MRT to Kent Ridge Park (about 3-5hours). Here are various options depending on your interest:
Option 1 (Photo-taking Opportunities)
If you like photo-taking opportunities, you can head to Henderson Wave (map) and walk westwards and end at Alexandra Arch. 
Option 2 (Floral Lovers)
If you love flowers and gardening, continue your journey westwards towards HortPark. It's not very far from Alexandra Arch. There are many mini-gardens here, such as Herbs & Spices Garden.
To manage your expectation, this pales in comparison to Singapore Botanic Garden. Well of course, it's not fair to compare it with Singapore's first UNESCO Heritage Site. 
Option 3 (Conquer the entire trail)
If you want to complete the entire trail, you can find your way to Harbour Front or Vivocity, cross the road and head towards Marang Trail entrance (see map). There, you'll walk westwards through all the landmarks and end at Kent Ridge Park.
Check out this official guide to HortPark & the Southern Ridges. For info, our lazy Sunday walk only covered checkpoints 5 to 7 (return trip) in this article.
This post may contain affiliate links, meaning I earn a commission if you make a purchase, at no cost to you. Read my full disclosure for more info.
---
Ok, that's all to my Sunday impromptu walk. Want to read more on such posts? Just click the button below to subscribe. See ya!
SUBSCRIBE
(Visited 63 time, 1 visit today)