Guess what's my holy grail eye makeup remover? Strictly-speaking, I do not have one yet. But if Lancome Bi-Facil isn't that pricey, it would have easily been on my holy grail list. I have been using it for at least 10 years, albeit on an on-off basis.
A few months ago, I received some samples from Innisfree when I joined them as a member. The Innisfree Apple Juicy Cleansing Oil which I've reviewed earlier worked pretty well and scored a high rating of 4.5/5. Will the "lip & eye" version – Innisfree Apple Juicy Lip & Eye Remover – score as well when pitched against my favourite eye makeup remover? Let's find out.
---
Innisfree Apple Juicy Lip & Eye Remover

VS

Lancome Bi-Facil
1. Which is a better eye makeup remover?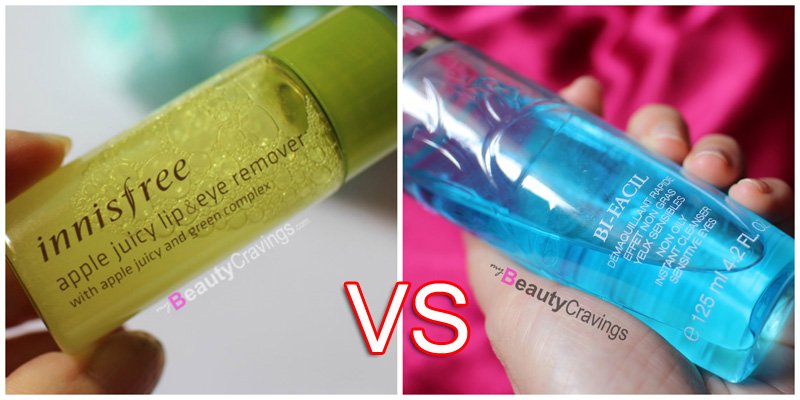 My first impression of Innisfree Apple Juicy Lip & Eye Remover wasn't that great. I thought it took longer to remove my mascara than what I was used to. But I didn't have any proof and it could all be a figment of my imagination. So, I devised a simple experiment.
Step 1: Apply smudgeproof makeup
I drew two triangles, with each being applied with both Lancome and Clio Gelpresso eyeliners. The latter has been known to be super smudge-proof and hence is a good candidate for this experiment.
Related: Best Smudge-proof Pencil Eyeliner | Clio Gelpresso Waterproof Pencil Gel Liner
Step 2: Pour small amount of eye makeup remover on cotton pad
Shake the bottles well to activate the formula. Then pour a small amount of each remover onto their respective cotton pads. If you notice, Bi-Facil is blue in colour and Innisfree Apple Juicy is translucent.
Step 3: Place cotton pads on top of test areas
Cover test areas with wet cotton pads. Press each cotton pad gently for 5 seconds to ensure contact and avoid any lateral movement.
I was surprised to see that the result was somewhat similar to the other experiment on Innisfree Cleansing Oil. After lifting the cotton pads, the left cotton pad (Lancome Bi-Facil) was more evenly stained, carrying with it a distinct outline and body of the triangle. On the other hand, the right cotton pad has a faint image of the drawing.
Step 4: Give it one swipe
The test area was each given one swipe. Makeup on the left area (Lancome Bi-Facil) was not entirely removed, but the triangle shape was no longer visible. On the other hand, the shape of the right triangle (applied with Innisfree) was still intact.
Step 5: Give it a second swipe
With another swipe, the left test area (Lancome Bi-Facial) was stain-free. The right triangle (Innisfree) faded a bit, but was still visible.
Which makeup remover works better?
Answer Revealed
Innisfree Apple Juicy Lip & Eye Remover took twice as long to remove the same makeup (5 swipes) as compared with Lancome Bi-Facil (2 swipes).
2. Which smells better?
From my experience with the face-version cleansing oil, I was expecting Innisfree Apple Juicy Lip & Eye Remover to carry the same distinct apple scent. Apple lovers may be disappointed. The scent (if any) was so light that with one sniff, you may not be able to tell it's an apple scent.
Still, I think it smells better than Lancome Bi-Facil which carries an oily smell.
3. Which is cheaper?
With reference to their official websites, Innisfree Apple Juicy Lip & Eye Remover is selling at 60% off Lancome Bi-Facil's price, i.e. USD10 for 100ml vs Lancome Bi-Facil's USD30 for 125ml.
---
The Ingredients
For those who are interested in the ingredient list, here goes:
Innisfree Apple Juicy Lip & Eye Remover

water, cyclopentasiloxane, hexylene glycol, pyrus malus(apple) fruit extract, 1,2-hexanediol, sodium chloride, caprylyl/capryl glucoside, lauryl methyl gluceth-10 hydroxypropyldimonium chloride, dipotassium phosphate, ethylhexylglycerin, disodium EDTA, potassium phosphate, butylene glycol

Lancome Bi-Facil

Water, Cyclopentasiloxane, Isohexadecane, Sodium Chloride, Poloxamer 184, Hexylene Glycol, Dipotassium Phosphate, Benzyl Alochol, Potassium Phosphate, Quaternium-15, Benzalkonium Chloride, Fragrance, Citronellol, Geraniol.
You may like to know that Lancome Bi-Facil is ophthalmologist-tested and is ideal for contact lens wearers or those with sensitive skin. Innisfree Apple Juicy Lip & Eye Remover is also described as being hypoallergenic (i.e. cause fewer allergic reactions).  
---
Final Recommendation
Given that the eye area is delicate and can develop wrinkles easily, I'm not willing to subject it to more rubbing than what is needed. Furthermore, I'm a frequent user of smudge-proof and waterproof eye makeup. So, it is unlikely that I will purchase Innisfree Apple Juicy Lip & Eye Makeup Remover. 
However, if you hardly wear any waterproof or smudge proof eye makeup, then Innisfree Apple Juicy Lip & Eye Remover is worth considering, given how cheap it is.  Rating: 3/5
To find out the latest price on Amazon, click HERE. 
---
Love more of such honest reviews? If you like to get notified of my new posts, you can click the button below to subscribe, or connect with me through facebook or instagram. See you there!
This post may contain affiliate links, meaning I earn a commission if you make a purchase, at no cost to you. Read my full disclosure for more info.
(Visited 2,616 time, 1 visit today)