You probably have read about how I was combating dry and flaky skin a while ago. One of the first few 'nourishing' items I purchased was Innisfree Olive Real Power Cream. I read that this cream was the most hydrating line under Innisfree and hence was extremely hopeful that it would help banish my patchy dry skin.
Did it work? Let's find out how well this thick and buttery olive cream performs.
About Innisfree Olive Real Power Cream 
The Olive range under Innisfree caters to those with overly-dry skin and who are in need of deep and lasting hydration. It contains tocopherol, vitamin E and oleic acid and these ingredients are said to retain moisture and improve skin suppleness.
The above is what Innisfree said the cream would do. Let's find out how Innisfree Olive Real Power Cream fares against her marketing claims.
---
What's Good about Innisfree Olive Real Power Cream?
1. Lasting Moisture 
Once you apply Innisfree Olive Real Power Cream, your face would feel hydrated for as long as the cream remains on your face. The cream doesn't dry up or get absorbed into the skin. It remains as a greasy and slightly sticky film over the face. This, according to Innisfree, is what the Olive oil does in creating a 'dense moisture shield' to hydrate overly-dry skin.
2. Plumped-up Skin
My skin feels plumped up and supple whenever I'm wearing Innisfree Olive Real Power Cream. It almost feels like the cream sinks into each and every single pore of mine, fills them up and make them bouncy to the touch. My cheeks were so full and lifted they made my undereye fine lines more pronounced whenever I smile. Sadly, that's the side effect of a very moisturizing cream for a middle-aged woman.
I'd indicated in my review diary these two words to describe how I felt when I touched my cheeks. "Diong Diong" – the sound of a bouncing ball. ;)
3. No Breakouts, but I'm only 98% sure! 
I have mixed results after testing this cream for 3 months. On most days (98% of the time), Innisfree Olive Real Power Cream did not trigger any breakouts. There were, however, two occasions when there were tiny bumps emerging the next morning.
Due to the rarity of such occurrences, I would like to think that the pimples were caused by external factors. If I do find out who the culprit was, I will update this post accordingly.
4. Thick Cream Lasts
Innisfree Olive Real Power Cream has a thick texture resembling soft butter. As with all thick creams, a little goes a long way. For the same quantity, cream typically lasts longer than lotion or emulsion. 
The photo below shows how much is left after 3 months of usage. Note, I'd alternated between two moisturizers. 
5. Lovely Scent
Innisfree Olive Real Power Cream has a refreshing and citrusy scent which I am certain everyone would love. While writing this review, I kept sniffing the pot of cream trying to figure out the fruit combination but failed as usual. If you know the possible fruit composition, do let me know, ok?
6. So Cheap! 
Innisfree Olive Real Power Cream was priced at SGD22.90 (that's USD17) when I got it at Singapore Changi Airport.
It retails at 40% premium (SGD32) if you get it from normal retail stores.  So if you want to save some money, do consider making it a habit to consolidate your beauty needs and get them from DFS outlets whenever you travel.
> RELATED: DFS Beauty Hauls from Singapore Changi Airport
---
What's Bad? 
1. Oily & Mildly Sticky
There's a trade-off between wanting a moisturized face and living with an oily and sticky after-feel. As mentioned earlier, Innisfree Olive Real Power Cream doesn't get absorbed and would remain as a greasy layer for as long as the cream is on your face.
If you use Innisfree Olive Real Power Cream as a night-time moisturizer, this shouldn't pose too much of a problem. In any case, Innisfree does have another product that's suitable for daytime use. I'll be testing this soon.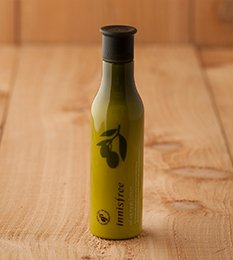 2. A Stuffy Feel
My face, being protected by 'Innisfree Olive Shield' felt warm and stuffy. This cream is best used when the climate is cool, such as during night-time or in an air-conditioned environment.
Please don't warm yourself further by wearing it outdoor under the summer heat. ;)
3. Did not cure my Patchy Skin
My ultimate aim of getting rid of my flaky and dried skin didn't come through. Although Innisfree seems to be able to prevent moisture loss, I was surprised that it did nothing to my flaky patches. In the end, what did the job was a swap of face wash – check out link below.
> MUST-READ: Hada Labo Hydrating Face Wash is a true beauty gem!
4. Hygiene Issue
As with any pot packaging, there's always the concern over hygiene and contamination. When we dip our finger into the pot, it inadvertently introduces bacteria into the product.
There's another inconvenience for those with long nails. The thick butter would get under my nails. In order not to waste it, I would scrape out the cream from under my nails and apply it over my face. Yucks. Ha Ha.
Of course, a spatula can be used, but that's an additional step. And it's another problem ensuring that the spatula stays contamination-free. Guess we have to live with this until someone invents another form of packaging for thick cream.
---
Recommendation
If you have dry skin and are looking for an ultra-rich night-time cream that won't clog the pores, smells good and provides lasting moisture, Innisfree Olive Real Power Cream should do the job well. However, those with flaky skin would need an even more hydrating solution. Rating: 4/5
Do you enjoy such honest reviews? If you like to get notified of my new posts, just click the button below to subscribe. I'll even give you some free and exclusive stuff. See you there!
This post may contain affiliate links, meaning I earn a commission if you make a purchase, at no cost to you. Read my full disclosure for more info.
SUBSCRIBE
(Visited 1,697 time, 1 visit today)