The yen is at an all-time low. Anyone heading to Japan soon? Don't forget to do your beauty research before boarding the plane. That little homework you do can mean enormous savings and hauling of great beauty products.  Hope I can be of some help here, as I'm adding another item to the Japan Must-Buy list – The Shiseido Eyelash Curler.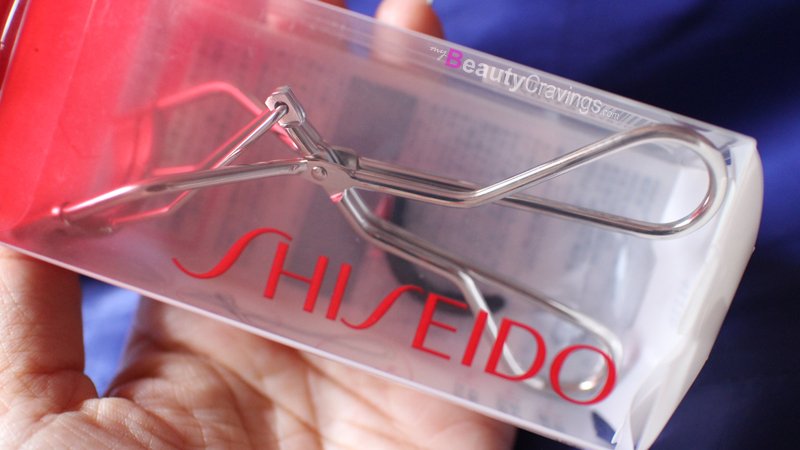 ---
3 Reasons why Shiseido Eyelash Curler is a 'Japan Must-Buy'? 
1. Great Fit
Shiseido Eyelash Curler catches every single strand of my lashes. Yes, even the shorter ones at the outer corners.  
I've also never experienced any pinching with this curler. I read that their edge-free design helps prevent pinching.
2. Curls Perfectly
It curls beautifully. Let the before-after photos do the talking.
3. Great Price (in Japan)
Shiseido eyelash curler retails in Singapore (SaSa) for $16+. I got it in Japan for half the price at only ¥657 inclusive of GST (SGD7 or USD5.40). You can find it in most drug stores in Japan.
Tips: Don't take the price printed on packaging as fixed. 
In Japan, it is common for prices to be printed directly onto the products. However, the price can be lower at some stores. For instance, the price printed on the clear box of Shiseido Eyelash Curler is ¥800 (or ¥864 inclusive of taxes). I got it for only ¥657 yen at a small-scale beauty store.
---
Shiseido vs Shu Uemura Eyelash Curler
Many people like to compare Shiseido with Shu Uemura eyelash curler. I happen to have both with me right now.
As a layman, I couldn't tell any difference at all between the two*. Both work really well in catching all the lashes and are great in curling.
Examining their curvature, both are almost identical. The image below shows the outline of both curlers, which I'd traced out on a paper. They don't look very much different, do they?
If I have to pick out one thing that's different, it's the size of the loop where you place your thumb in. Shiseido's is smaller.
Functionality-wise, there's no difference at all. My thumb fits into both pretty nicely.
Perhaps the only significant difference is the price? Shu Uemura retails in Singapore for almost twice the price, at $30.
*Comparing Shiseido eyelash curler (model 213) which is available at drugstores in Japan with Shu uemura which is available from Shu Uemura beauty counters.
So, what's the conclusion? Grab Shiseido Eyelash curler if you happen to be in the land of the rising sun. At SGD7, it's a steal! And it comes with a refill. Alternatively, Amazon has it at a pretty decent price. 
---
Do you enjoy such honest reviews? If you like to get notified of my new posts, just click the button below to subscribe. I'll even give you some free and exclusive stuff. See you there!
This post may contain affiliate links, meaning I earn a commission if you make a purchase, at no cost to you. Read my full disclosure for more info.
(Visited 11,813 time, 1 visit today)