Good day, darlings. Planned your weekends already? I'm going to share with you how I spent mine two weeks ago, at Aeon Mall Kulaijaya, Johor. By the way, this is an unplanned post, so do pardon the lack of strategically and well-taken photos. I've been a frequent visitor of Johor, but have never felt a compelling need to share it until this trip. Why? I had a great and fulfilling day and I did something out of the norm. Read on to find out.  
Breakfast at Tea Garden & Recce of Jalan Kenanga
The day started well when the crossing of both Singapore and Malaysia immigration took only 10 minutes. I'm not kidding. It was impressive considering how it normally took us about an hour or more to cross over. I guess people were still busy with home visiting on the 11th day of Chinese New Year.
Arriving at Aeon Mall earlier than planned, we'd to park along one of the streets opposite the mall. For some unknown reasons, Aeon's parking seems to be only available from 10am onwards…it was barricaded. I'm wondering how people who drive and work at Aeon are able to arrive earlier than operating hours. Hope someone can enlighten me.
Along the street of Jalan Kenanga 29/3 was a prominent-looking Chinese restaurant, named Tea Garden. Judging at the number of patrons in it, we reckoned the food must be nice.
Here's our random order!
Laksa
The Laksa came with a generous portion of prawns, fish cake, dumplings and Tau Pok, many of which you cannot see in this photo…sorry.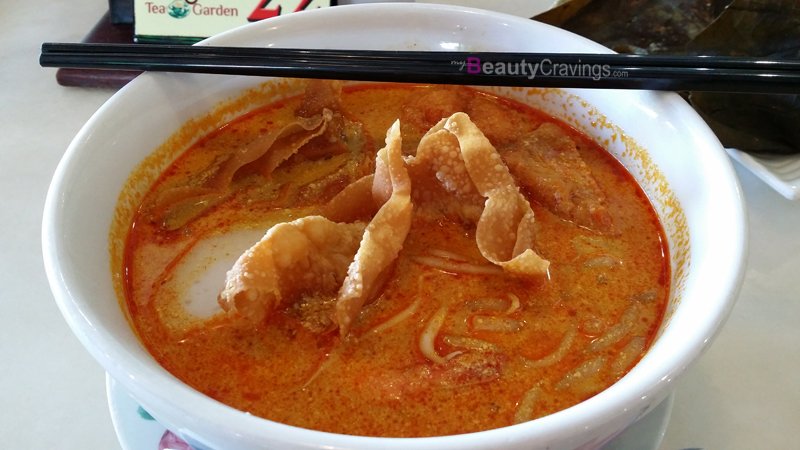 The thick bee hoon was unique – it was softer in texture than the commercially-made thick bee hoon you are used to. The less even surface made it seem like it was handmade.
Lotus Leaf Rice
I didn't expect the Lotus Leaf Rice ("Lo Mai Gai") to be so delicious because its presentation was quite average-looking.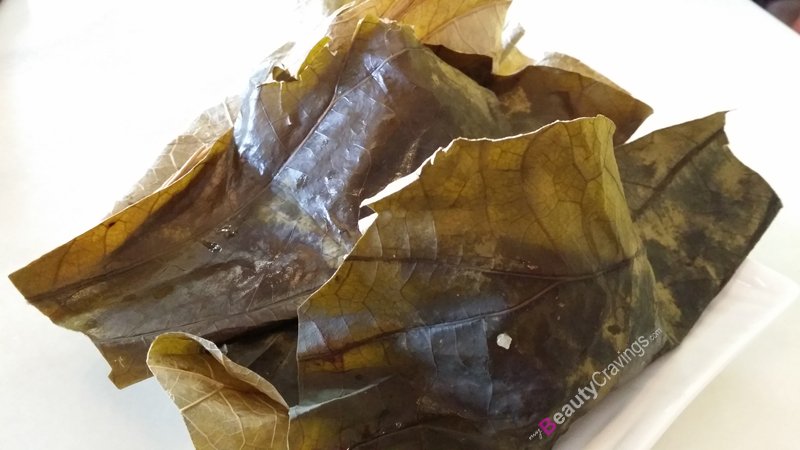 "好吃" was our first response once we unwrapped the leaf and had our first bite. I love that the rice was non-oily. The savory fillings with salted egg, mushroom and meat were so tasty, this is definitely one of the better and healthier lotus leaf rice I've tried.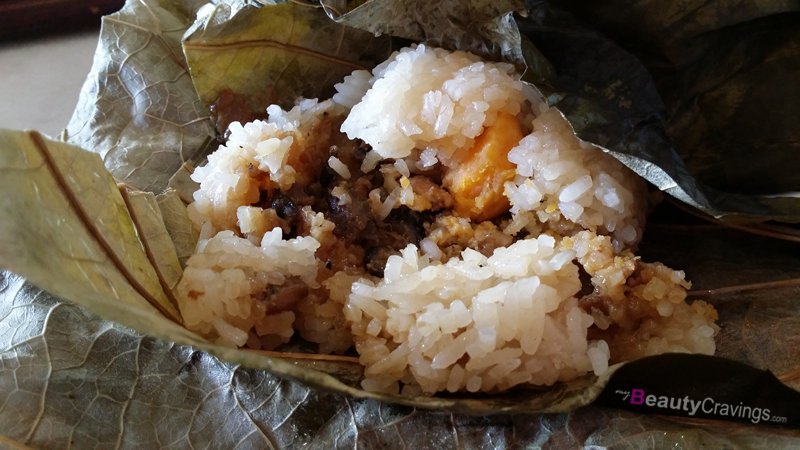 By the way, it came in two portions per plate. So it was definitely a great deal.
Chee Cheong Fun
What is the probability that the third dish is also outstanding? Not high, right? It was!
After the first bite of the Chee Cheong Fun, both of us exclaimed like little school girls: "So nice!".
The unique topping was what made it special. It was a concoction of fragrant and crispy dried shrimp and non-spicy sambal, topped with spring onion and some unique ingredients which I believe is their trade secret. I've never tasted anything like it. Super yummy!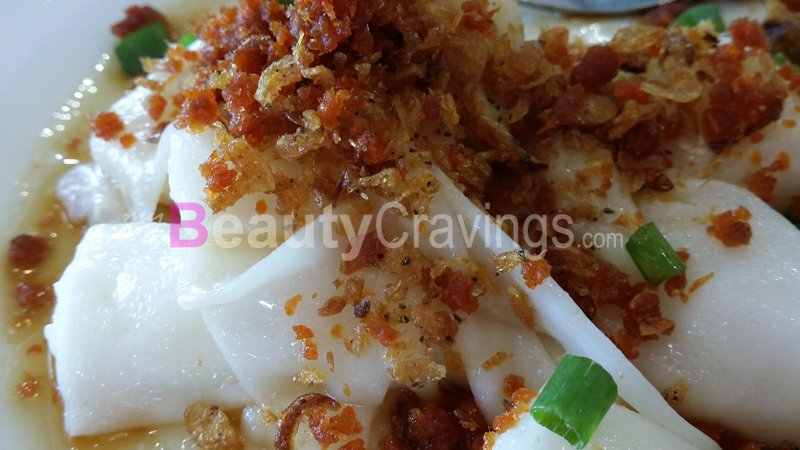 Guess how much we spent on breakfast?
RM27. Hello, that's 10 bucks only in Singapore dollars! Did I mention we had two drinks to accompany our delicious breakfast?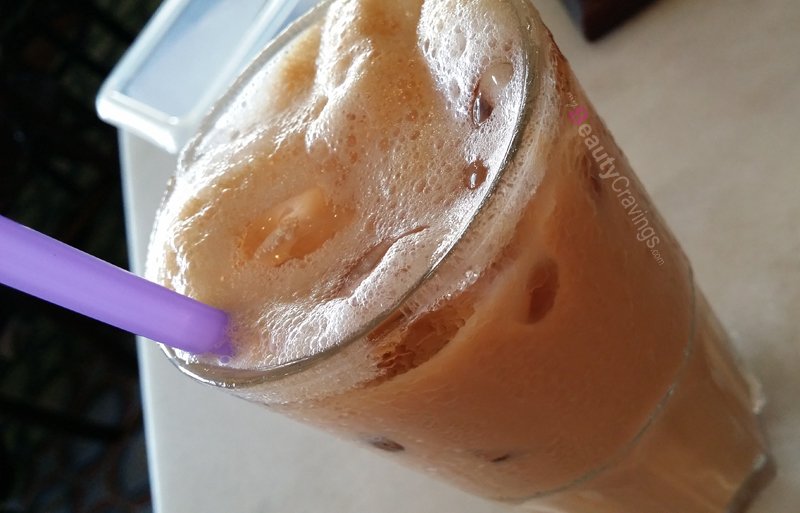 This place also has free wi-fi which we appreciated as it helped us kill time while waiting for Aeon Mall to open.
Recce at Jalan Kenanga Street
With more people entering the restaurant closer to 10am, we decided that we should hog the seats no more. Did a quick recce of the area and see hair salons, nail spas, stationery shop, a fitness centre and more eateries.
---
Aeon Mall Kulaijaya – Movie, Grocery, Lunch and Shopping
What's different about Aeon Mall Kulaijaya as compared with other Aeon malls is that it's newer (less than 2 years old) and less crowded. This is favorable to us as it means shorter queues wherever we go. One thing I adore is how this mall is well connected with free wifi. Yes, I'm talking about free wifi within the entire mall. This gave great convenience as we could split up to shop while staying connected via whatsapp. 
TGV Movies – Kingsman: The Secret Service
Did you know movie costs only RM8 per person? This is for morning screening at around 11am, and is limited to the rows in the front-half section of the theatre. Not too shabby a deal, right? Other seats cost RM10 to RM14, depending on the row and the type of seat (e.g. twin seat).
Have you done the math? RM8 is S$3. How much does it cost in Singapore?
Anyway, "Kingsman: The Secret Service" is one of the best movies I've watched in recent times. With a great storyline, the action-packed spy movie was entertaining from start to finish. It was cleverly produced such that it is brutal but not gruesome, violent but peppered with comedic effects. An excellent show I'll love to rewatch anytime.
Grocery Shopping
We did a quick round at Aeon Supermarket and loaded up on bread, eggs, biscuits, coffee/tea, milk and 100plus.  It's great that the queue here was short as compared with Bukit Indah and Tebrau.
Lunch at Tea Garden Again
It's rare that one eats at the same restaurant twice on the same day, right? As far as I can remember, this was my first time doing it.  Strictly speaking, this is the same brand, but different outlet. It's located within Aeon Mall Kulaijaya and carries a wider selection – from dim sum, noodles and fried rice to sandwiches, pasta and other western dishes.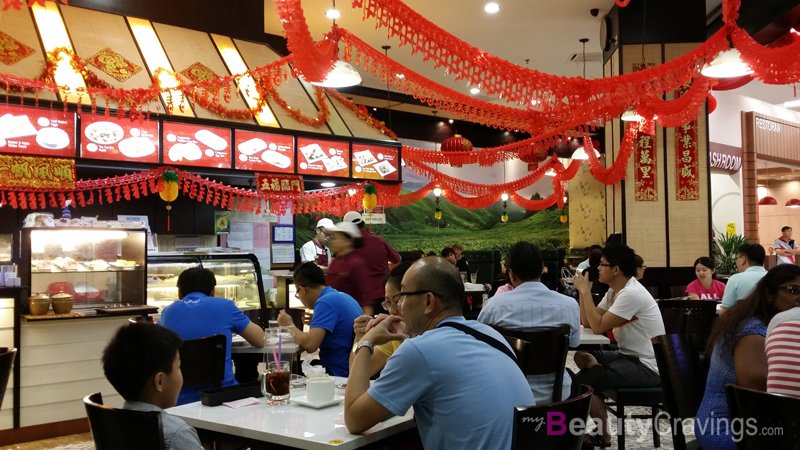 With the good experience we had in the morning, we decided to give this restaurant a second round of test. "This restaurant can't be that perfect, right? It's impossible that all the dishes are nice. Let's dig out something mediocre.", we thought.
Seafood Fried Rice
Another tasty dish with such generous portion of seafood it's pure crazy. I know you can't see a lot from this photo. Naughty Tea Garden likes to hide the good stuff underneath.  
Alright, my bad. I didn't do a good job in photo-taking because I didn't intend to blog about food in my beauty blog.
Tom Yam Seafood Bee Hoon
This dish was done really well. The gravy was rich and tasted like authentic Tom Yam soup. It was sour and spicy and served boiling-hot which I really like. There was so much seafood in it we were pushing them away to each other to cut down on our cholesterol load. Prawns, crabsticks, fish, mussels, you name it they have it.
Dug out some more good stuff.
Rojak
The rojak is different from what we get locally. It has less fibre and more carbo and protein such as You Tiao (Chinese Breadstick), Tau Kua (Beancurd) and fish cake. My friend said the sauce tasted like gravy of Mee Rebus.
Don't be deceived by the photo. This dish was extremely filling. 
Beverage
We rounded up our hearty lunch with Lemon Grass Ice Jelly drink and Passion fruit drink (not in photo). 
This meal set us back by only RM40+. That's S$15.
Shopping
There's a huge DIY store on the same level as the cinema which I think men can easily spent an hour within.
Mr DIY store carries a wide and diverse assortment of goods from tool kits, batteries, power plugs, light switches and bicycle locks to household items such as storage units, cutleries and laundry stuff. I was surprised to find party items too. Things here are well….you know it….cheap!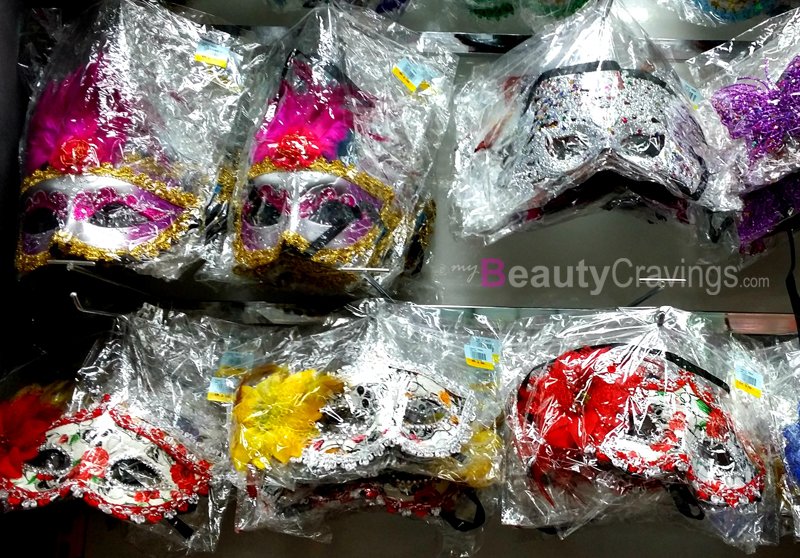 Other shops in the mall included Summit and Heatwave (shoe shops), The Face Shop, Personal Stores, Factory Outlet, Daiso and many more. My haul of the day included a pair of shoes, apparels, tit bits and some beauty products. In fact, I only managed to shop one level of the mall because I had a manicure appointment at De' Touch BeautyCare. 
---
Dinner Time
Our normal itinerary was to travel out of malls for dinner. This time round, we decided to have our dinner at the mall, so that we can continue with any last minute shopping. It was also partially because we didn't have a decent appetite for seafood dinner, since lunch was too heavy.
Walking about, we couldn't find anything appealing. Reluctantly, we walked into Tea Garden again because it carries light dishes. Ha Ha. This definitely sets a record for us – 3 meals in same eatery on the same day. 
Fried Carrot Cake
I prefer white carrot cake, i.e. those that are savoury and not sweet. So we made a request. The service staff said this couldn't be made 'white' after consulting with the kitchen. I was baffled but once I tasted it, I instantly knew why.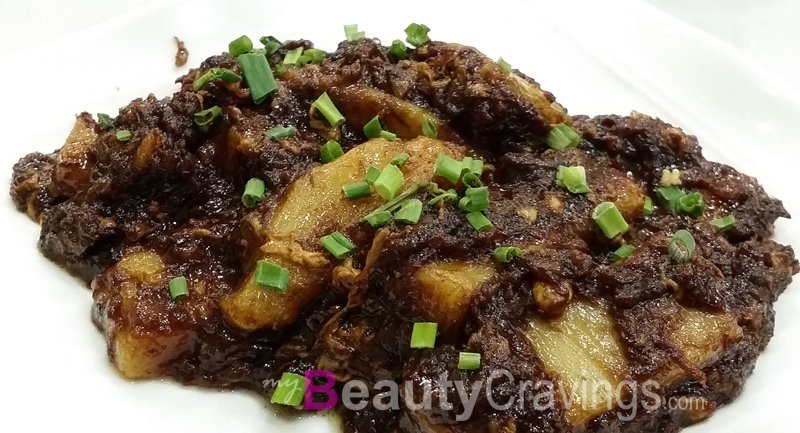 It was amazing how a simple local fare could taste that great. It was appetizing and yummy! Great for not-too-hungry souls like us. The black sauce was special, unlike anything I've tried for a carrot cake.
One of the ingredients was "Cai Bo" or diced preserved radish that you normally see on Chwee Kueh (Steamed Rice Cake). But it's much tastier. Another secret recipe? This humble-looking dish turned out to be the best dish of the day.
Abalone Kim Chi Soup
This is quite an average dish in my opinion. The Kim Chi soup was quite bland, although my friend said it was delicious. Once again, the portion of ingredient was generous. There were quite a few slices of abalone, many of which were hidden underneath (again), to our pleasant surprise.
Drinks
As usual, we ordered two drinks. Can't remember what the friend ordered, but here's mine.
A pot of lavender tea in the evening is great in promoting relaxation. I was impressed when I see the complete lavendar florets. The taste was rich and even slightly bitter that I had to request for them to add more hot water.
The liberal dose of soothing lavender made me fall asleep in the car.
Dinner cost only RM27 (S$10).
---
Back to Singapore
Now you know, the strangest thing I've done in a long while was to be fed by the same eatery the entire day. It was great that most of the dishes turned out to be splendid! And the food were served real fast. 
On the way back, we fed our car too. Petrol cost only S$0.85 per litre vs $2 per litre in Singapore.
Our fully-packed day-trip was so enjoyable we were thinking of an overnight trip next time, to let us cover nearby Johor Premium Outlet (JPO) and other sights. I'll definitely share it here if the trip is worth a mention. 
---
Love what you've read? If you like to get notified of my new posts, you can click the button below to subscribe, or connect with me through facebook or instagram. See you there!
This post may contain affiliate links, meaning I earn a commission if you make a purchase, at no cost to you. Read my full disclosure for more info.
(Visited 5,225 time, 1 visit today)