Woah…this smells like Chrysanthemum tea. That was my immediate thought after using Kiehl's Calendula Herbal-Extract Toner for the first time. Now, I didn't know I was paying $58 for something that smells like a traditional cup of Chinese tea, something so familiar since I've been drinking it since young. How exciting (yeah, right)! 
Since it is alcohol-free and comes with 'herbal extract', maybe Kiehl's Calendula Herbal-Extract Toner would work better than other toners? Its marketing claim states that it can…
"gently cleanse and soothe normal to oily skin types…and improve problem areas".
Before we find out if it works according to its claims, let's satisfy my curiosity first. Are Calendula and Chrysanthemum the same? Why do they smell the same?
---
Calendula vs Chrysanthemum
Similarities
Here's how the flowers look like. Don't they resemble each other?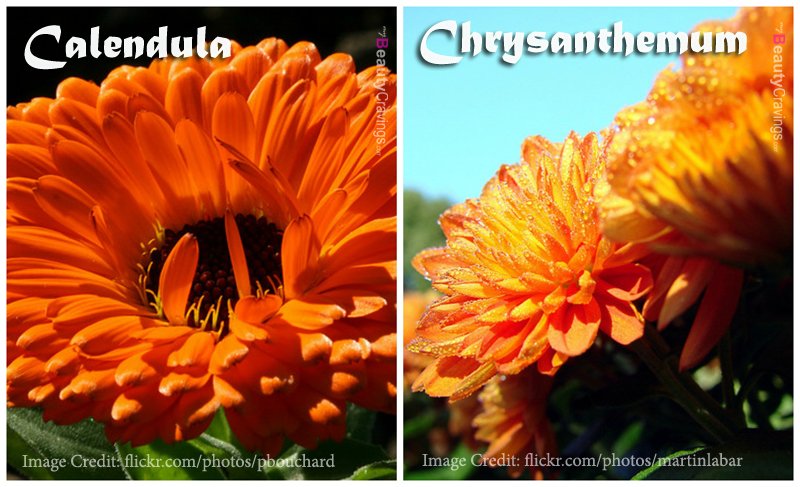 Here's their common characteristics:
Both are edible and can be made into sweet drinks

Both taste tangy and slightly bitter

Both are members of the daisy family (Asteraceae)

Both have anti-inflammatory properties and can help reduce acne redness or keep pimples under control
Now, seems like Chrysanthemum can do the same job as Calendula in meeting the marketing claims of "soothing" and "improving problem areas". If you do not already know, Chrysanthemum is a very cheap beverage that is served by the pot. So I'm not exactly that thrilled to learn that I've paid so much for something that could be easily brewed fresh at home.
Wait. Maybe there are genuine differences between the two flowers. Let's find out.
Differences
Calendula

Chrysanthemum

Known as marigold

Petals are orange in hue

Treats conjunctivitis, burns, eczema, wounds etc

Symbolic of death and used for funerals and on graves

Petals can be orange, yellow, red or white.

Reduce excessive internal body heat when consumed
Concluding the brief research, I'm pretty much convinced that both calendula and chrysanthemum are quite similar if we are talking about using them as skincare products.
Fine. So both flowers may bear the same properties. Let's just find out how great Kiehl's Calendula Herbal-Extract Toner is, despite its too familiar scent.
---
What's Good about Kiehl's Calendula Herbal-Extract Toner?
1. Softens the Skin
This toner works like most basic toners. It preps my skin as the first step of my skincare regimen and makes it softer.
2. Alcohol-free
Alcohol-free products are generally recommended for those with dry or sensitive skin.
For those who do not know, having alcohol in skincare products may not necessary be a bad thing. In fact, alcohol can help enhance absorption of ingredients. If it's balanced with a hydrating agent, it may not be drying to the skin at all.
Since I have normal/oily combination skin, I've always been fine using products that contain alcohol. Meaning to say, I probably didn't need an alcohol-free product at all.
Assuming that most normal/oily combination skin type (which Kiehl's toner is advertised for) can take alcohol products well, is it really necessary for this product to be alcohol-free? Sure, I don't mind an alcohol-free product. But if it costs a few times more expensive than one that contains alcohol, then no thanks.
Probably, this may be good for those with sensitive skin or with known allergy to alcohol.
3. Not Drying
This product doesn't contain alcohol or other harsh synthetic drying agents. Skin feels supple and hydrated.
---
What's Not So GREAT?
1. Pricey
I know there are toners of similar price point as Kiehl's. However, there are cheaper ones too that work equally well.
Having used skincare products for so long, I've never really felt that one needs to splurge on a basic toner (note: we are not talking about toners with special features, such as those that whiten or exfoliate).
Unlike products like moisturizer or sunblock where inferior ones can cause breakout, milia or other skin problems, toners are generally quite problem-free to the skin.
2. Pours Out Too Much
Due to some reasons, I tend to pour out too much of this liquid as compared to other toners that I've used. Maybe it's due to the soft plastic container. Each tiny squeeze dispenses an amount that's way too much for my face. Not exactly great when you spent $58 and want it to last. I've said it already? Ophs…Sorry.
3. Takes Too Long to be Absorbed
With patting action, this toner takes about 20-30 seconds to be absorbed. This is considered quite long and may be due to the lack of alcohol as an ingredient.
4. No Visible Improvement
If it helps in combating acne or pimples, I didn't realize or notice it. My pimples continued to occur periodically and took the same time to recover.
5. Smells like Food
This is personal. I don't mind skincare products that have fruity or citrusy scent. But I'm just not a fan of one that smells like a traditional cup of chrysanthemum tea.
As I've said, it's personal. Chrysanthemum is a cheap beverage and can be easily brewed at home. I don't get the luxurious or pampered feel that I expect from a $58 basic skincare product.
---
Recommendation
If you have sensitive skin, are allergic to alcohol-based products and didn't grow up drinking Chrysanthemum tea, this may be worth a try. Otherwise, there are cheaper alternatives. Rating: 3.5/5
Note: Photo was taken in October 2014. I've tried the toner for a few months now and it's half-empty.
Love more of such honest reviews? If you like to get notified of my new posts, you can click the button below to subscribe, or connect with me through facebook or instagram. See you there!
This post may contain affiliate links. Read my full disclosure for more info.
(Visited 14,070 time, 1 visit today)