Have you ever been lured by the dark blue elegant bottles of Kose Medicated Sekkisei when shopping in Japan? They were always prominently displayed on the shelves, and bundled with great discounts.
Although Kose was not on my Japan-must-buy list, I thought I had to get a product from this brand. After some thoughts, I bought a day lotion – Kose Medicated Sekkisei Day Essence SPF 25.
---
Tell me more about Kose Medicated Sekkisei
Kose Medicated Sekkisei carries a range of products – from toner and moisturiser to sunscreen and BB cream. It is revered for its whitening effects and ability to tackle pigmentation and freckles.
Having been around for decades since my mom's generation, I wasn't doubtful in the brand's efficacy. However, the product I've chosen – a day lotion – may not be the best representation of the brand's success.
It took me more than a year to complete my testing and review of Kose Medicated Sekkisei Day Essence, for reasons you will get to learn in a while.
---
Review of Kose Medicated Sekkisei Day Essence
Packaging: Elegant but Heavy
Kose Medicated Sekkisei Day Essence comes in an elegant-looking 50ml glass bottle. While it looks good, you wouldn't want to bring this heavy bottle along when you travel, for obvious reason.
One Pump is not enough
The pump works fine, though it would have been better if each pump is designed to generate enough lotion to cover the face and neck. I needed 1.5 pump for my smaller-than-average face.
Fragrance: Old-time Classic
The fragrance reminded me of a classic beauty lotion – feminine, perfumy and milky. For some reason, I'd thought of Nivea face lotion when using Kose Medicated Sekkisei Day Essence.
When writing this review, I took a deep sniff and I started to smell something herbal. The presence of alcohol was also obvious.
Light-weight Texture
This Day Essence is light-weight and has a texture similar to an emulsion – i.e. a bit runny. It absorbs quickly leaving behind a light layer of moisture that works suitably as a makeup base.
Low UV Protection in Today's Context 
I wonder why I'd bought this day essence.
Kose Medicated Sekkisei Day Essence offers a lower-than-average UV protection in today's market when most sunscreen face products come with SPF 50 PA++++.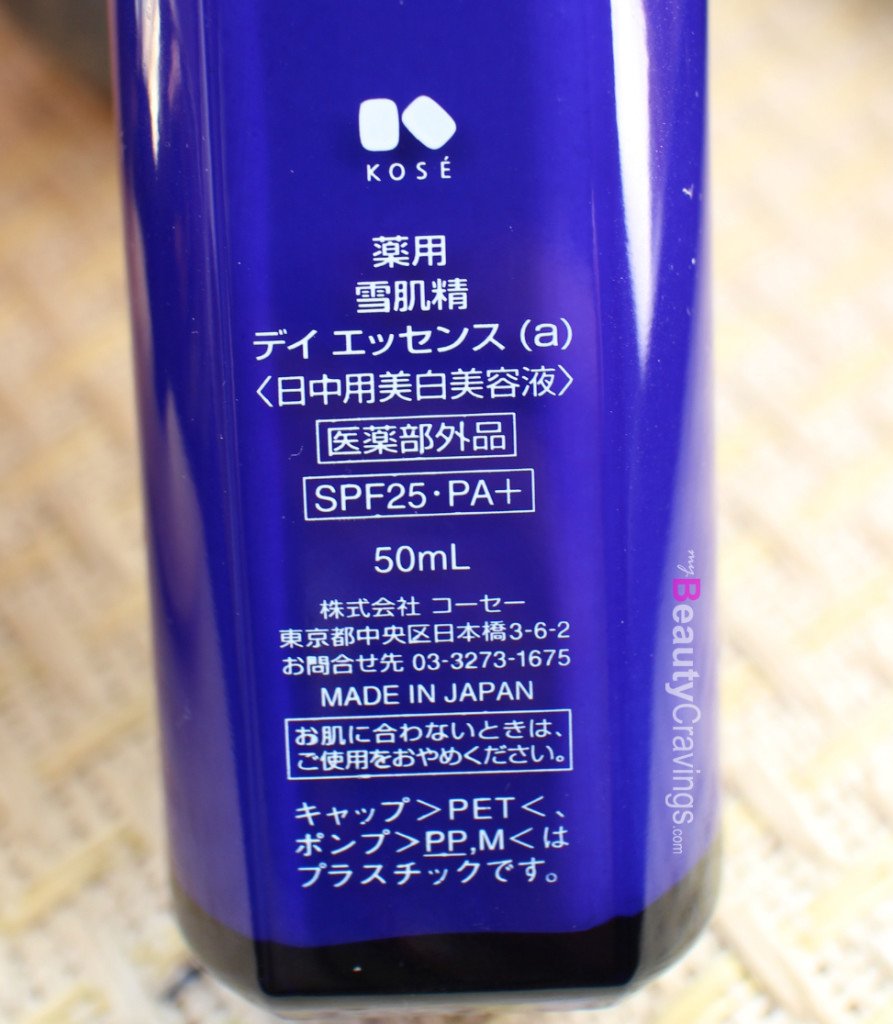 It could be the impulse. Or perhaps I knew that my holy grail makeup base and foundation – which would be layered upon – come with SPF too.
Does it cause Pimples? 
This is the reason why I took more than a year to review Kose Medicated Sekkisei Day Essence. After testing this lotion repeatedly, I couldn't rule out if this is safe for my pimple-prone skin. I tend to spot pimples whenever this lotion was included in my beauty regimen.
Testing Cycles 

The testing cycle is as such: 1) No pimple on skin >> 2) Apply product >> 3) Pimples spotted after a day >> 4) Wait till skin recovers >> Start testing again.
Premium Pricing
Kose Medicated Sekkisei Day Essence was priced at Y3780 (about S$47) when I got it last year. You can view its latest price on  Amazon, Ebay and Walmart.
It is common for drugstores in Japan to carry both mass and premium beauty products. 
In Singapore, it is sold in departmental stores at an even higher price – almost double the price seen in Japan.
Whitening Effect
With sporadic use, I couldn't verify the whitening effect of Kose Day Essence. I'd stopped using it whenever pimples started spotting on my face.
Ingredients
For those who have sensitive skin, here's the ingredient list:
Active ingredients: L-ascorbic acid 2-glucoside

Other ingredients:
Purified water, Ethanol, 1,3-butylglycol, Concentrated glycerine, Ethylhexyl paramethoxycinnamate, Dipropylene glycol, Phenylbenzimidazole Sulfonic Acid, Nylon powder, Triethanolamine, Methylpolysiloxane, Cetylstearyl alcohol, Honey suckle extract, Inula britanica flower extract, Japanese angelica extract (1), Peony extract, Poly phosphorylcholine glycol acrylate

Glycol dipropylene glycol, Propylene glycol dicaprate, Methylpolysiloxane, Gentiana lutea extracts, Wheat germ oil, Inula britanica flower extract, Citrus unshiu peel extract, Japanese angelica extract (1), Hamamelis (witch-hazel) extract filtrate, Peony extract, Polyphosphochorylcholine Glycol Acrylate, Melothria extract, Yokuinin extract, DL-a-Tocopherol, N-Stearoyl-N-methyltaurine sodium, Sodium edentate, Carboxymethylcellulose, Citric acid, Glycerin fatty acid ester, Dipentaerythrit fatty acid ester, Cetylstearyl alcohol, Ethylhexyl paramethoxycinnamate, Polyacrylamide , Polyethylene glycol 400, Polyoxyethylene lauryl ether( 7E.O.), Polyoxyethylene Sorbitan Trioleate (20E.O.), Sorbitan monostearate, Dibasic potassium phosphate, Liquid isoparaffin, Botanical squalene, Sodium chloride, Hydrogenated soybean phospholipid, Anhydrous ethanol, Para-hydroxybenzonate, Fragrance
---
In Summary
What's Good? 
1. Light-weight yet moisturizing
2. Elegant bottle
3. Cost half the price in Japan
What's Bad?
1. Low protection from the sun
2. May not be suitable for pimple-prone skin
3. Not cheap
4. Heavy bottle
5. Insufficient quantity per pump
---
Recommendation 
If you do not break out easily and happened to be touring in Japan, Kose Day Essence is a worthwhile buy because it is sold at a significant discount.
However, if you tend to break out easily especially from using SPF products, you may want to give it extra thoughts. I know I won't be repurchasing Kose Medicated Sekkisei Day Essence. In fact, I'm not sure if I would be finishing the 70% that's sitting in the bottle. Rating: 2.5/5
Still, this experience won't stop me from trying Kose's Best Seller – Kose Medicated Sekkisei Lotion. It is a clear and refreshing liquid that is to be used like a toner. I didn't get Kose Medicated Sekkisei Lotion then because of its weight – 200ml or 360ml. This will be on my to-buy list the next time I visit Japan.
View latest price on: Amazon | Ebay | Walmart
---
Love more of such honest reviews? If you like to get notified of my new posts, you can click the button below to subscribe. I'll also give you some free and exclusive stuff. See you!
This post may contain affiliate links, meaning I earn a commission if you make a purchase, at no cost to you. Read my full disclosure for more info.
(Visited 17,683 time, 1 visit today)