Searching for an effective eye makeup remover? Check out Clinique Take the Day Off Makeup Remover for Lids, Lashes & Lips! I love how a single cotton pad is all it takes to get rid of all eye makeup, including stubborn mascara.
In fact, it's so good I've gone on to purchase a full-size bottle since this post was first published in April 2019. Sounds good? Let's get to know this product better. :)
---
More about Clinique Take The Day Off Makeup Remover
Before we continue, let's count the number of words in its official product name. It's "Clinique Take the Day Off Makeup Remover for Lids, Lashes & Lips".
That's 12 words!!! Try reading it aloud and I bet you'll be out of your breath, like I was.
For our benefits, let me take the liberty to shorten it to "Clinique Take the Day Off Eye Makeup Remover". Naming it differently doesn't help my blog and its search engine optimization, but I feel that readability is more important!
You always come first! :)
What you see here is a Deluxe Sample
The product shown here is a deluxe sample that came as part of the Clinique Christmas Holiday Set. It contained only 50ml of liquid. Hence, you may want to take note that most of the product images in this review are smaller than the standard size.
INFO: You can get deluxe samples online. This will be good for travelling use (when we can travel again).
However, I've also shared that I've purchased a full-size bottle recently. Here's the latest photo to show you the 125ml bottle. They also have a larger bottle for sale, at 200ml.
What Clinique Take the Day Off Eye Makeup Remover Promises
Clinique describes its eye makeup remover as a "tugless" formula that dissolves long-wearing makeup, including waterproof mascara. It is also said to be non-irritating and non-stinging.
Similar to the pioneer eye makeup remover "Lancome Bi-Facil", Clinique Take the Day Off Eye Makeup Remover features a two-tier liquid, with one obviously floating above the other until you shake and mix them up before usage.
Now, one thing to clarify. The reason why I'm naming this as just an Eye Makeup Remover instead of one meant for "Lids, Lashes & Lips" is because I only use such products to remove eye makeup.
Lipstick would naturally come off after a meal. Hence, I don't need any special cleansing product for lips. Life is complicated enough, let's simplify things. :)
---
What's Good about Clinique Take the Day Off Eye Makeup Remover?
1. Removes Makeup Swiftly
I've always loved things that work simply and effectively. Clinique Eye Makeup Remover is one such product.
One cotton pad is enough to remove all my eye makeup including mascara. What I normally do is shake the bottle, saturate a cotton pad with the mixed liquid and place it over the eyelid for a few seconds. The makeup would come off easily with a swift wipe. I then flip the cotton pad and place the "clean side" over the other eyelid and repeat the process.
Not only does this proficient makeup remover saves time, it also saves the earth by consuming less cotton pad and producing less waste!
2. Effective Against Stubborn Waterproof Mascara
Whether it's a smudge-proof eyeliner or a waterproof mascara, I've never had to spend much time removing them using Clinique Take the Day Off Eye Makeup Remover. Therefore, Clinique's claim of this being a 'tugless' formula is valid.
Other than the added convenience, a tugless formula also prevents premature wrinkles by reducing excessive wiping and stretching of the thin skin area around the eyes.
3. Doesn't Sting or Irritate the Eyes
I've never deliberately placed the liquid in my eyes. Who does? :) Under normal usage, Clinique Take the Day Off Eye Makeup Remover has never irritated or stung my eyes.
This isn't necessary the case for other makeup remover, especially the generic ones, meant for the face. That's why I always have two makeup removers at any one time to take care of my face and eyes separately.
4. Reasonably-Priced
Clinique Take the Day Off Eye Makeup Remover is reasonably priced at US$20 over at Clinique.com, for the full-size (125ml) bottle.
Although Clinique eye makeup remover is pricier than equally-effective drug-store brands such as L'Oreal Gentle Lip & Eye Makeup Remover, we get to enjoy prettier packaging, dedicated counter service and probably a psychological feel-good effect.
Undeniably, packaging especially in the realm of beauty does enhance the user experience.
Check out its latest price.
5. Free of Questionable Ingredients
If you are bothered by questionable ingredients, Clinique eye and lips makeup remover is free of parabens, phthalates and fragrance.
Check out the full ingredients below.
Ingredients: Water\Aqua\Eau , Isohexadecane , Dimethicone , Cyclopentasiloxane , Trisiloxane , Peg-4 Dilaurate , Lauryl Methyl Gluceth-10 Hydroxypropyldimonium Chloride , Hexylene Glycol , Sodium Chloride , Potassium Phosphate , Dipotassium Phosphate , Dipotassium Edta , Phenoxyethanol
---
What's Not Great about Clinique Eye Makeup Remover?
1. Careful. Don't Spill it!
I remember spilling the makeup remover when I used it for the first time. The opening of the bottle is way too big as compared to similar products I've used. There's no stopper to slow down liquid flow if you know what I mean.
So, please be careful especially during your first usage. Subsequent applications didn't pose a problem for me as we, human beings, are known to be quick-adapting creatures.
2. Takes Extra Effort to Open the Lid
To get to the product, you'll have to first depress the lid before twisting it open. I understand that this may be a mechanism to prevent spillage. However, I'm not sure if it's truly necessary.
My drug-store L'Oreal makeup remover and most travel-sized bottles don't leak even though they're a normal twist-and-open bottle.
I'm a fussy girl. Told ya I like simple products, didn't I? :)
---
Recommendation: Who would love Clinique Eye Makeup Remover?
I'm happy to see that Clinique Take the Take Off Eye Makeup Remover met all her marketing promises. It's able to remove stubborn makeup quickly and effectively and doesn't sting the eyes. Therefore, I would happily recommend this to everyone.
Those who don't mind spending a little more on pretty packaging and presumably safer ingredients can consider giving Clinique Eye Makeup Remover a try. As shared earlier, I've since repurchased the full-size bottle. Rating: 4.5/5.
To find out the latest price on Amazon, click HERE.
---
Love more of such honest reviews? Feel free to connect with me if you like to receive more useful and honest reviews. Just click the button below to subscribe and you'll also get access to all my exclusive contents. Chat soon!
SUBSCRIBE
(This post was first published in April 2019 and last updated to include latest opinion.)
Pin This!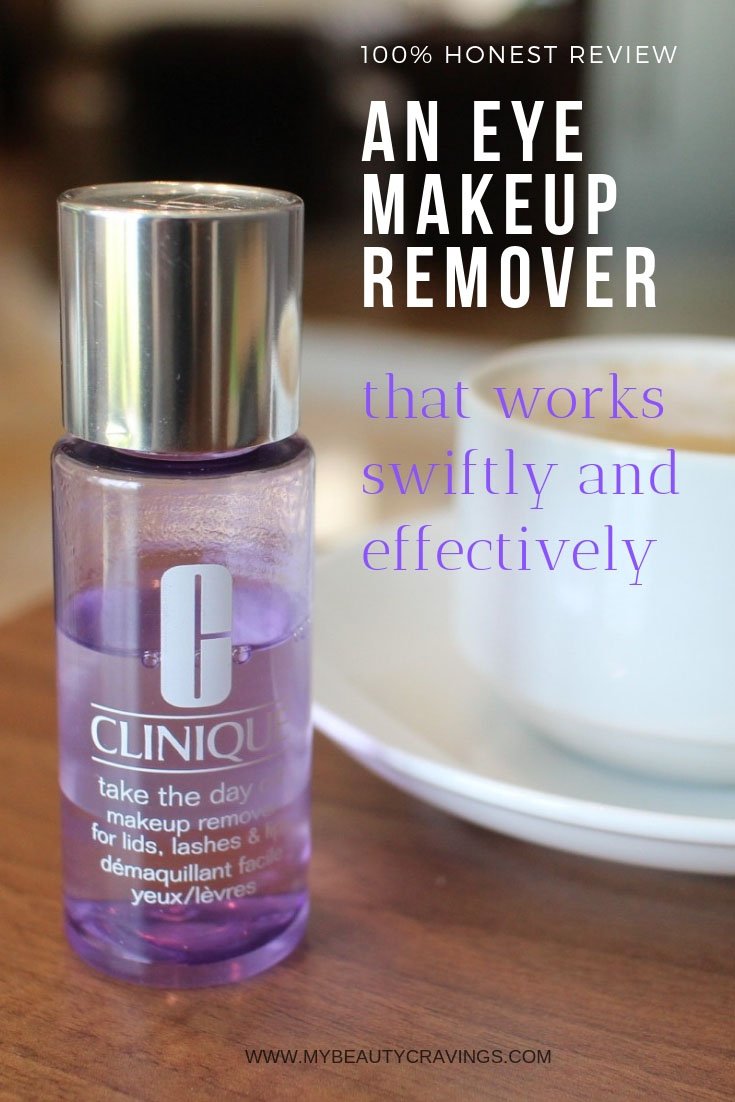 This post may contain affiliate links, meaning I earn a commission if you make a purchase, at no cost to you. Read my full disclosure for more info.
(Visited 2,004 time, 2 visit today)