A recent oil that I've tried was highly raved in the online blogosphere. But I absolutely hated it! Yes, I've used a very strong word because this Oshima Tsubaki Oil can transform your tresses into oily streaks of smelly hair. On the contrary, my favourite treatment oil as of now is Asience Intensive Treatment Oil. 
Over the past 20 years, I've had the chance to try quite a number of treatment oil or anti-frizz serums. My thick mane meant I needed such oil to either weigh down my hair, or to repair the damage caused by multiple rebonding/coloring sessions. So how did Asience Intensive Treatment Oil wow me? Read on to find out.
---
What's Good about Asience Intensive Treatment Oil
1. Smooth and Manageable Hair
As expected from a good hair oil, Asience Intensive Treatment Oil tames frizz and added a healthy sheen to my hair. My hair was smooth without feeling oily.
One additional benefit for hair as voluminous as mine – Asience Leave-on Treatment Oil was able to add weight to my hair to make it look less puffy, without overdoing it. This is a must-have for me right now, since I'm overdue for my next rebonding session.
2. No Oily Streaks
Unlike Oshima Tsubaki Oil, the first point of contact didn't end up looking like oil-soaked streaks. In fact, there was once when I accidentally pumped more oil than what was needed. Somehow, the oil has a way in rebalancing its distribution during application.
What this means is that the hair took on a luscious look. Not an oil-drenched mess. 
For better illustration, let me dig out a photo of my previous review of Oshima Tsubaki Oil, and place it side by side for comparison.
Now you know what oily streaks mean?
3. Nourish your Hair
This is a treatment oil that contains beauty essences (Lotus Flower, Camellia Oil, Pearl and Shell Ginger Leaf) and is said to provide intensive repair and moisturizes hair from within.
I know my dehydrated hair absorbs the essence within seconds like a thirsty camel. However, I don't think it's a magic potion to make your split-ends disappear. I don't think any treatment essence can do that. The only solution is to use the scissors.  
4. Affordable
Got this more than a year ago. I recall that Asience Intensive Treatment Oil retailed for about S$13 or so. 
5. Long Shelf Life
I've had this for at least 1.5 year. It's still smelling good. No rancid smell unlike Oshima Tsubaki Oil.
6. Travel-friendly
A small pump bottle of concentrated oil (28ml) makes it easy for you to carry it whenever you go. You can even carry it onboard the flight cabin.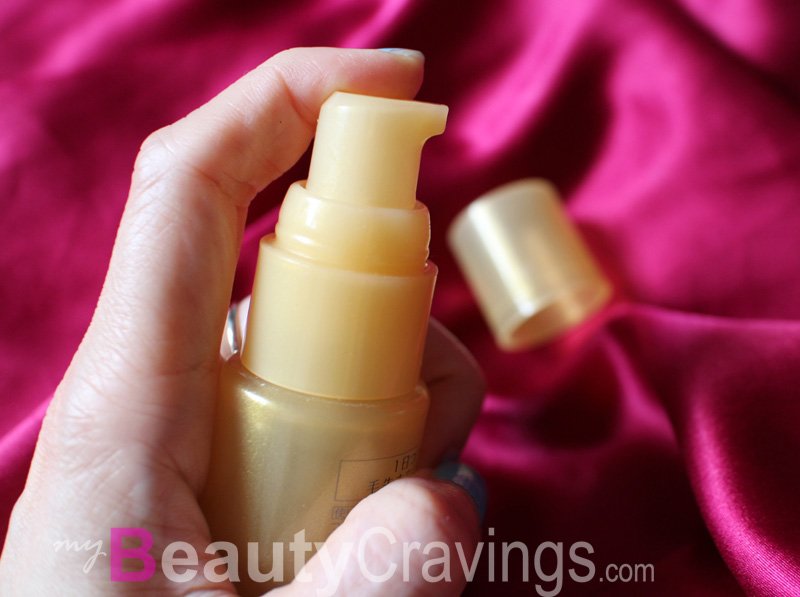 ---
Recommendation
For those who suffer from damage or dehydrated hair, you can count on Asience Intensive Treatment Oil to help your tresses regain its healthy sheen. Most importantly, people won't be able to tell that you have slathered oil on your hair. Go try it! Rating: 4/5
Hope this review has been helpful! If you like to get notified of my new posts, you can click the button below to subscribe. I'll even give you some free and exclusive stuff. See you there!
This post may contain affiliate links, meaning I earn a commission if you make a purchase, at no cost to you. Read my full disclosure for more info.
(Visited 1,344 time, 1 visit today)