Hey babes! Happy New Year to you. Did you have a great time counting down to 2015? I sure did, at Marina Bay, Singapore. It was crazy squeezing among the enormous crowd where you could hardly walk, waiting just for the clock to strike 12 and for the 8-minute fireworks display to kick off. I hadn't done a count down for years, and while it was an all-night standing affair, I thought it was memorable and well worth the experience.    
The first post of year 2015 is a review on THE FACE SHOP Real Nature Pomegranate Mask. In fact, this is the first face mask review I'm posting.
When I tried this mask last week, I had absolutely no intention of putting up a review. My personal preference is to post something that has a more permanent effect than something which would only give temporary benefits, as with most face masks. What changed my mind was the 'results' I got. Read on to find out.
Product Claims: The Face Shop Real Nature Pomegranate Mask 
"A skin-radiating mask sheet containing pomegranate extracts to improve skin resilience and moisturization."
It is interesting to note that its online website phrased it differently.
"Gives elasticity and glossy look" 
If I summarize them altogether,  THEFACESHOP is telling you to use this mask if you want brighter, firmer and more moisturized skin.
Does it work as per its claims? Based on a quick online research, pomegranate when used in skincare products can lead to firmer skin and reduce signs of aging. It's great for dry skin as the small molecular structure allows it to penetrate deeply into the skin. Pomegranate is also said to work well for oily/acne-prone skin and in combating breakouts.
So it really sounds like an ingredient safe for all skin types including pimple-prone skin like mine.
---
The Mask – How's the Fit?
The mask came soaked thoroughly with serum. It unfolded into a circular mask which sat a little too large on my face.
If you notice from the photo below, the mask appeared loose on my lower chin. It also extended over my hairline and all around. 
As you could probably tell by now, the fit was definitely not great on me. But I couldn't help wondering if it would fit well for others who own a larger face than mine. I understand that it's not easy for a one-size product to fit everyone. So this is not necessarily a flaw.
While the size may not be suitable for me, I do like the way it clings on effortlessly on my face. I could move around (even after 30 minutes*) without fearing that the mask would drop off. In addition, the quality of the sheet is good and did not feel flimsy at all.
---
The Serum – First Impression
Since there are no photos, let me attempt to describe the serum based on what I can recall. I remember it as a serum that appeared slightly whitish/cloudy. It's definitely much heavier than the regular serum we use on a daily basis.
THEFACESHOP Real Nature pomegranate serum has a certain slip to it. If you rub it against your skin, it spreads easily. After removing the mask 30 minutes later* , I tapped my face lightly for the remaining essence to be absorbed. It sure took me quite a while as the serum didn't dry easily, and when it did, it had a slight stickiness to it.
*I wore the mask longer than the 10-12 minutes indicated on the package. Once again, the website indicated a different instruction, i.e. to leave it on for 15-20 minutes. Anyone has any idea on the differing instruction for the same product?
I'd taken this photo a few days after the application. If you notice carefully, there's some dried-up serum on the package. They felt sticky to the touch.  There are other spots which are not visible, but were sticky too.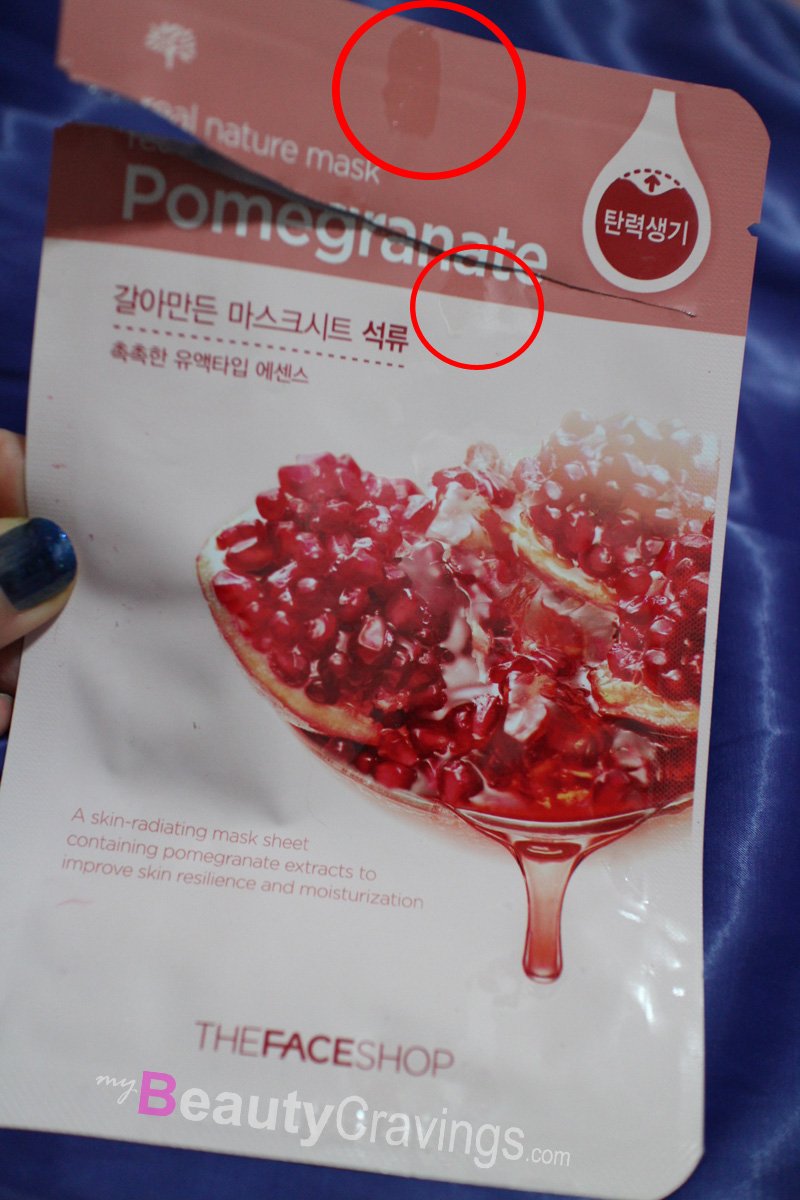 ---
Disappointing Result: The Face Shop Real Nature Pomegranate Mask
With the film that was left behind, my skin certainly felt moisturized. I couldn't even feel any whiteheads on my face, as I bet they were thoroughly soaked and softened.
Unfortunately, at least five medium-sized pimples and numerous smaller pimples popped up the next morning. Many on areas that's outside of my breakout zone, such as my hairline and brow areas.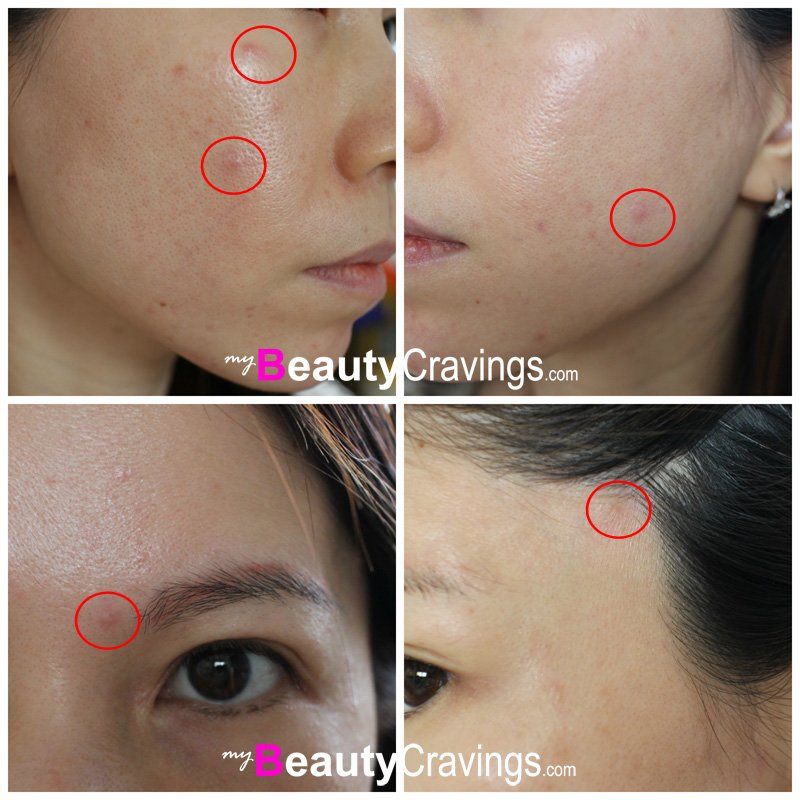 Although I do breakout easily, they normally emerged as smaller pimples. I seldom have this many medium-sized pimples on my face at the same time. Didn't they say pomegranate is good in combating acne?
To be fair, I wouldn't blame it on pomegranate as a raw ingredient. It's more likely due to the formulation of THEFACESHOP Real Nature Pomegranate serum that's incompatible with my skin type (I have combination/pimple-prone skin).
Since I didn't plan to review this, I don't have before-after photos to show whether my skin did brighten up or look firmer after using this mask. Based on naked eyes, I didn't notice any difference. Probably the new pimples were too glaring and distracting? 
---
Should you get it?
If you have pimple-prone skin like mine, you may want to be more conservative in your purchase of this mask. Perhaps buying one piece instead of multiple sheets to try it out first.
The reason why I'm not discouraging you from getting this altogether is because our skin types may differ. While it didn't work for me, it may work for you, just like how it'd worked for my ex-colleague. She was the one who gave raving review of this mask and indirectly influenced me into buying this. Rating: 2/5.
To find out the latest price on Amazon, click HERE. 
For those with sensitive skin, the ingredient list below may be of interest to you.
I hope this review has been of some help. If you like to get notified of my new posts, you can click the button below to subscribe, or connect with me through facebook or instagram. See you there!
This post may contain affiliate links, meaning I earn a commission if you make a purchase, at no cost to you. Read my full disclosure for more info.
(Visited 5,190 time, 2 visit today)