Do you face this problem when your tear troughs appear more obvious with age, creating shadows that make you look tired all the time? I started noticing perpetual shadows underneath my eyes when I hit my 30s. The "sunken" areas worsened quickly with every passing year. 
That's when specialized eye products targeting dark circles started to pique my interest. And Shiseido White Lucent Eye Cream was one of them.
While I knew at the back of my mind that off-the-shelf beauty products seldom produce significant results, I couldn't resist buying Shiseido White Lucent Eye Cream as Shiseido has boldly included "Anti-Dark Circles" in the product name itself.
Shiseido White Lucent Anti-Dark Circles Eye Cream is the official name, but I'll use a shorten version in my review for ease of reading. 
"I have to give it a go", I'd thought and bought it from DFS, Tokyo Narita Airport. Does Shiseido White Lucent Eye Cream work, and will it help delay my need for eye filler treatment?
---
Shiseido White Lucent Eye Cream's Marketing Claims
Here's what this eye cream claims to do: 
An intensive eye cream that effectively targets the two major causes of dark circles: pigmented melanin formation and poor microcirculation. Instantly, vivid brightness appears around the eye contour area. Dark circles are visibly reduced over time, revealing a youthful look and perfectly radiant skin.

・Formulated with SHISEIDO-exclusive Dark Circle Diminisher, which works three ways: targeting the root cause of pigmentation, inhibiting melanin production, and instantly boosting microcirculation to infuse fresh vibrance and radiance to the eye area.*
*in vitro tests
Let's find out if the claims were accurate.
---
What's Great about Shiseido White Lucent Eye Cream? 
1. Not Too Rich
Shiseido White Lucent Anti-Dark Circles Eye Cream has a light creamy texture that makes it suitable for those with normal skin. I believe even those who are young would find the eye cream just right for them. 
2. Absorbed Quickly
Due to its light texture, Shiseido Lucent Eye Cream absorbed quickly and served as a good base for makeup. My eye makeup sat nicely on my face without caking or running. 
3. The Bottle Lasts
Honestly, it might have lasted me for more than a year.  I can't remember when I started using it, but it could be more than 6 months ago or probably a year ago?  There's still a third of the cream left.
---
What's Bad?
1. Dark Circles did not Bulge
With its branding focusing solely on its ability to tackle or reduce dark circles, I was disappointed that it did nothing for me except moisturizing the eye area. But to be fair to Shiseido, I'm not sure if what I'm having are considered dark circles? Are dark circles and tear troughs the same?
What I can affirm to was the absence of "vivid brightness" and "fresh vibrance and radiance" to my eye area after applying Shiseido White Lucent Eye Cream.
2. Premium Pricing
I'd bought Shiseido Lucent Eye Cream for Y5520 at Narita Airport in 2014 (about SGD 67).  If you buy it outside Japan, I believe it would cost significantly more.
As a very basic eye cream, this is definitely on the higher end of the price bracket.
3. Hygiene Concerns
Shiseido Lucent Eye Cream came in a pot. Logically, it shouldn't be a hygiene issue if you use the spatula that came along, wash the spatula after application and do this every day. However, this is too much hassle for me and I tend to dip my fingers right into the pot. I'm not overly concerned about hygiene issue as I believe the ingredients/preservatives should be sufficient to avoid any contamination, but some of you here might be.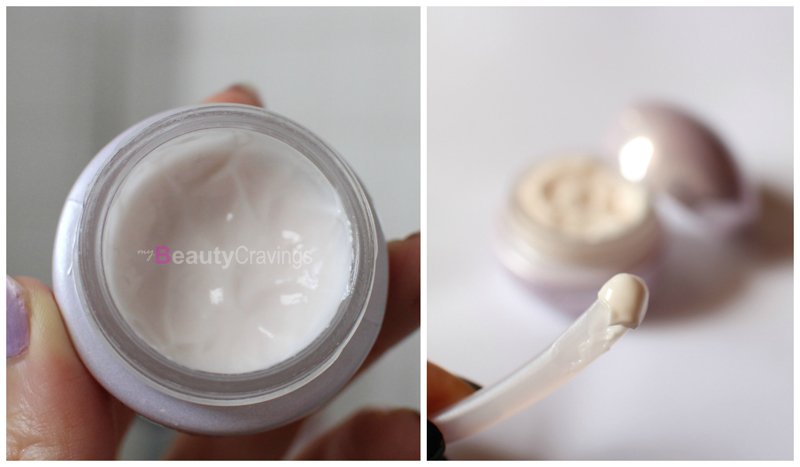 ---
Recommendation
Shiseido Lucent Eye Cream works well as a day-time eye cream. With its light texture, I thought it would be suitable for those who are younger or have normal to oily skin. Would I repurchase? Well, I would gladly finish up whatever's left in the tub. But I have to admit that there is no compelling reason for me to repurchase the expensive yet basic eye cream. Overall Rating: 3.5/5.
View latest price on:  Shiseido Official Site |  Amazon |  Ebay 
---
Love more of such honest reviews? If you like to get notified of my new posts, you can click the button below to subscribe. See you there!
This post may contain affiliate links, meaning I earn a commission if you make a purchase, at no cost to you. Read my full disclosure for more info.
(Visited 4,249 time, 3 visit today)