I'd been so busy to care about my hair and it had grown long, straight, thick and boring. A few weeks ago, I forced myself to take time off for my hair and visited Kimage at Tiong Bahru. If you can recall, I'd a successful hair transformation in 2018 at the same salon. Unfortunately, the stylist who gave me a nice perm left shortly after I visited him. 
> MUST-READ: How Kimage transformed my decade-long unchanged hairstyle (Part 1)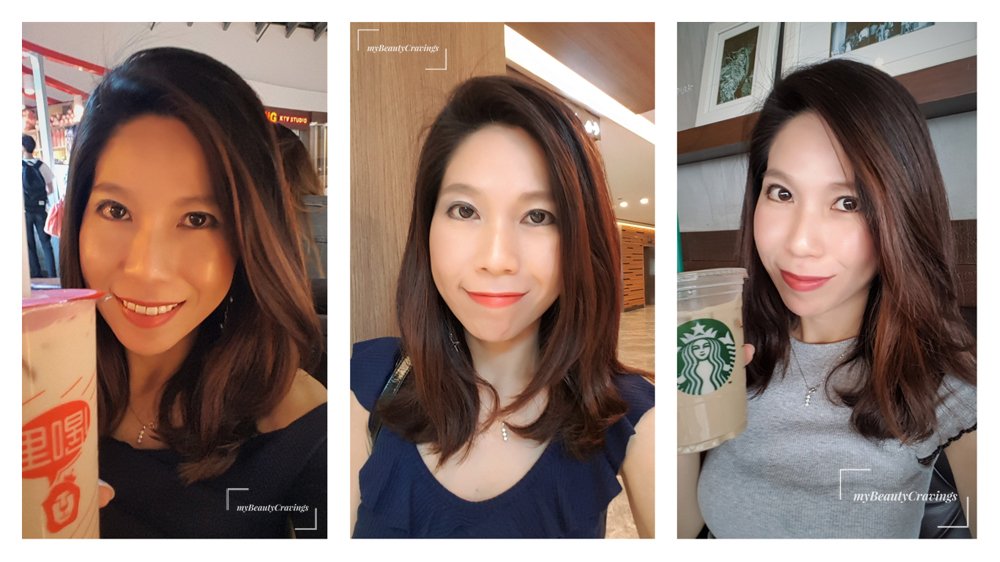 That's okay because Chris Tan from the same salon would give me a nice perm too. This time around, she recommended a shorter perm, or specifically a shoulder-length perm. Actually, I was quite wary but told myself to be open-minded. Never try, never know, right?
Read on to check out my before-after transformation by Chris from Kimage (Tiong Bahru).
Update (Jul 2021): This post was first published on 6 June. It is updated to share how the hair looks like after 6 weeks. Scroll down to view.
---
Before-After Hair Transformation (Shoulder Length Perm)
Now, check this out – a hair transformation from straight long hair into a shoulder length perm.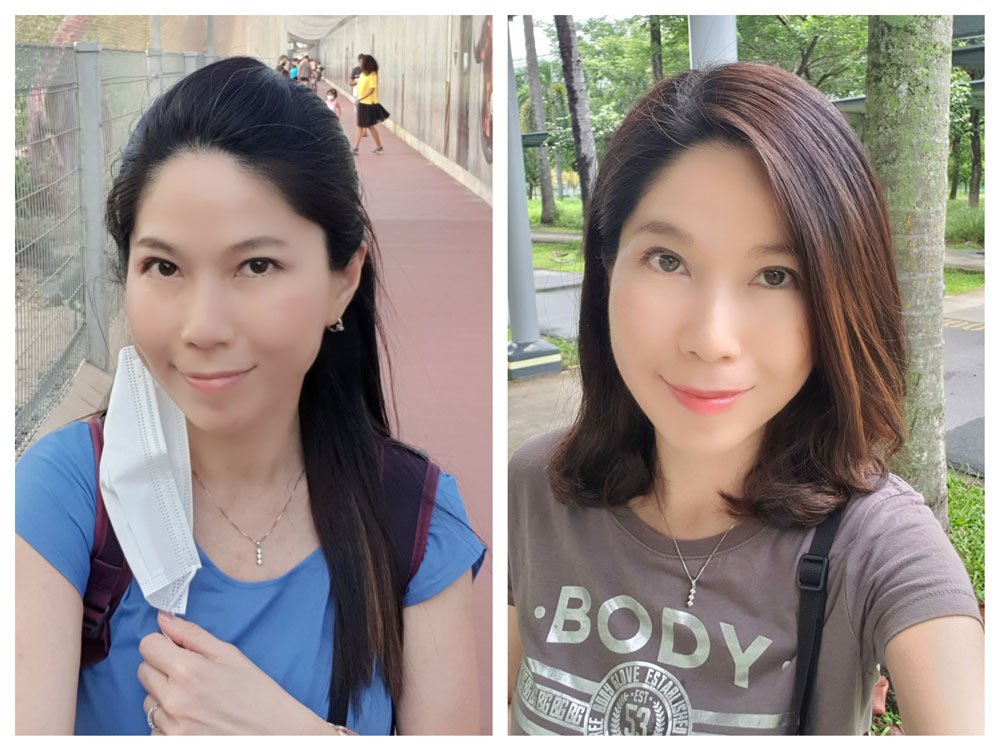 Quite a big change, isn't it? I guess I'm embracing a lifestyle full of changes. LOL! In any case, the reason why Chris recommended a shorter perm was that, well, it would grow out mah! I prefer a longer perm, but do appreciate that a good part of my really dry and unhealthy mane was chopped off. 
Actually, throughout the whole process, I was very concerned if my hair would be fried. Because the state of my hair then – after going through so many chemical jobs – was quite bad. I kept asking Chris if my hair could really go through another round of chemical job. She examined my hair and said it would be okay.
Dedicated and Dependable Hairstylist
I have to commend Chris, as I could see how she took the trouble to examine my hair at various stages of the process, to ensure my hair would come out in good form. Another thing I like about this experience was how, despite the fact that she had to attend to several walk-in customers, managed to complete the job within 3 hours. 
This is no easy feat, as if you can read from the earlier account, this perm job went through multiple process including rebonding the new roots of my super-thick hair and perming the bottom half.
Since we are talking about stages, let me show you some of the photos I took during the perm job. 
Stages of Digital Perm at Kimage, Tiong Bahru
Yes, you can imagine my fear when I first saw how short my hair was when the curls were first released. And the next fear was how "pong" (voluminous) the hair then became – like an inverted fan. 
It was really a guessing game then about what I would eventually get towards the end of the service.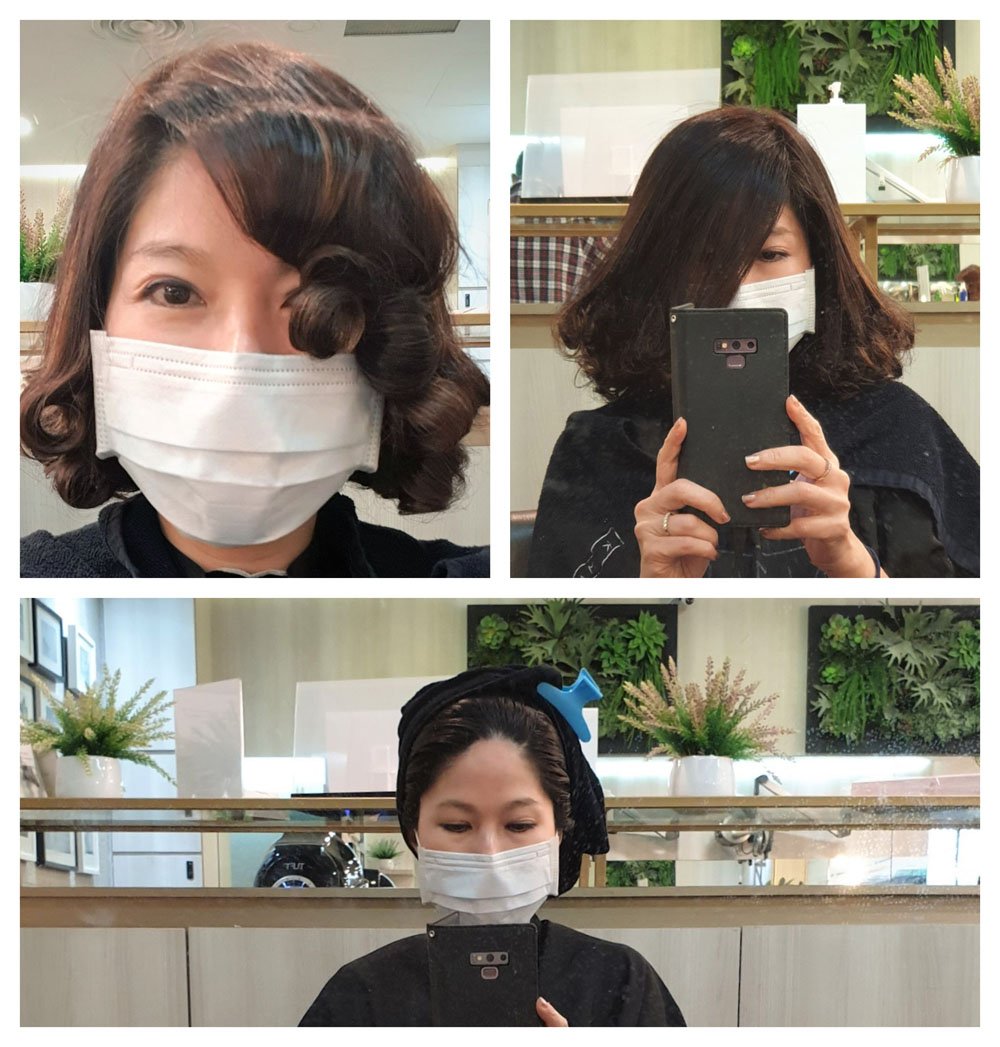 ---
My Newly-Styled Hair went into Soft Lockdown
Coincidentally, Singapore went into Phase 2 Heightened Measures (soft lockdown) a week after and I didn't have much chance to "showcase" my hair. LOL!
But the few colleagues who saw my new hairstyle in person said I looked great. One commended I looked like a doll – not quite sure what kind of doll he was referring to, though. :)
In any case, I could still "show off" my hair during zoom meetings. So the $260 is still well-spent!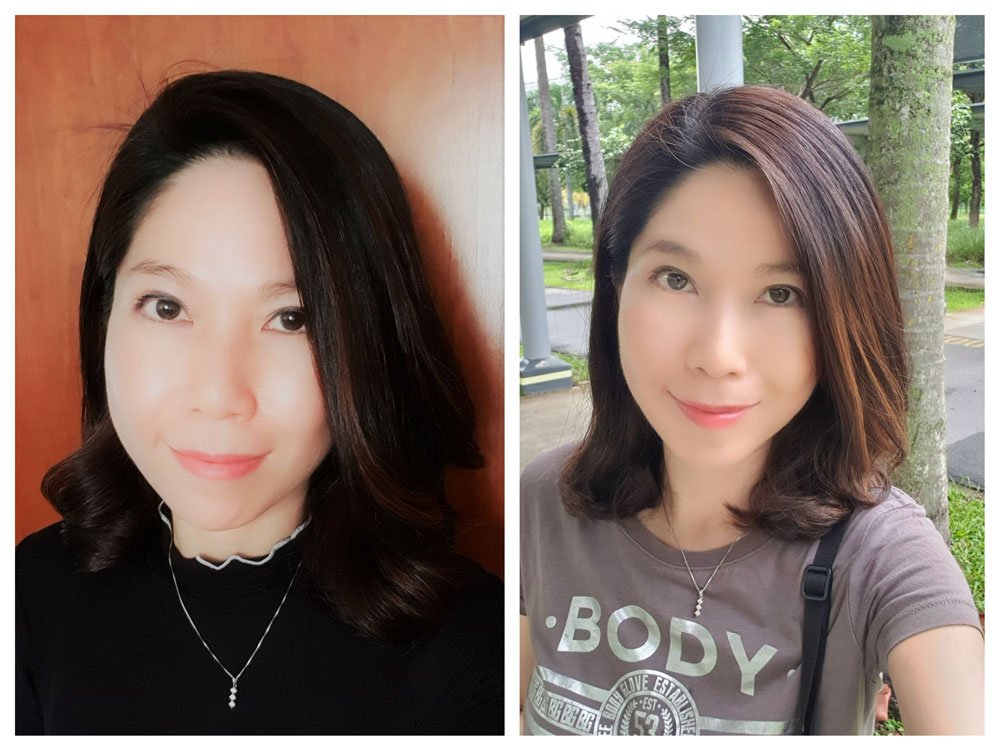 For info, the image you see on the left was when I just stepped out of salon. The right image was taken a few weeks later with absolutely no styling. Not even blow-drying. Yes, I love low-maintenance hair. :)
I also love stylist who is diligent, upfront and transparent about pricing. Hope it would stay this way for Kimage, Tiong Bahru! :) Thanks, Chris! I will visit you again.
---
Post-Update (After 6 Weeks)
I'm republishing this 6 weeks after the perm to show you how the hair looks like now. I love it even more! The curls is now more natural-looking and the length is just right at this point. 
Want to join me in this crab feast at Jumbo, Singapore? The crab was huge and due to dine-in restriction, it was to be shared by only 2 pax. :) The chilli sauce was really good, and you get to enjoy the sea view when you dine! It was a lovely dinner! :)
---
Love honest beauty reviews? If you like to get notified of my new posts, you can click the button below to subscribe. See you there!
SUBSCRIBE
(This post was first published on 6 Jun and last updated to include latest hair images.)
This post may contain affiliate links, meaning I earn a commission if you make a purchase, at no cost to you. Read my full disclosure for more info.
(Visited 345 time, 1 visit today)