After spending a lot of money at local aesthetic clinics, I can't tell you how excited I was when my overseas shipment of MUAC 40% Lactic Acid Peel arrived. MUAC stands for Makeup Artist's Choice and is a US-based company specializing in professional cosmeceuticals, skincare and mineral makeup. 
1/2 oz Lactic Acid Peel at 40%
I was so eager to use it such that I even skipped the patch test. Please refrain from doing what I did. All chemical peels involve a certain degree of risks, no matter how superficial the peel is.
I was willing to take the risk because I knew my skin could generally handle chemical peels quite well. After all, I've been through three rounds of VI Peel and one session of VI Precision Peel, which are considered medium-depth peels. Lactic Acid, being one of the mildest form of peels within the "Superficial Peel" family was something I thought my skin would be able to take to quite easily.
Here's the hierarchy of peel in terms of acid strength:
Superficial Peel (e.g. Lactic Acid, Glycolic Acid, Salicylic Acid)
Medium Peel (e.g. TCA, VI peel)
Deep Peel  (e.g. Phenol)
---
Why Chemical Peel?
There are different reasons why people do a chemical peel – be it to lighten pigmentation, reduce fine lines, minimize pores or to improve skin texture and wrinkles. 
For me, the motivation is to :
Rejuvenate (boost collagen)
Minimize pores
---
Makeup Artist's Choice 40% Lactic Acid Peel 
I ordered the smallest size which came with a 0.5 oz of MUAC 40% Lactic Acid, and a 0.5 oz pH Prep Solution. It costs USD18.75 from its website. You can view the latest price on Amazon and MUAC website.
I have not tried lactic acid at the clinics, but have spent $1,200 for a package of three VI peels, and $1,500 for a package of three VI Precision peels. So you can imagine how my jaw dropped when I saw how cheap this thing costs. And one 0.5 oz bottle can definitely gives me at least 6 peels, I reckon.
Placing the bottles beside a standard card size, to let you see how small the bottles are.
How to Apply 40% Lactic Acid Peel?
If you purchase the 40% Lactic Acid peel from Makeup Artist's Choice, you'll receive an instruction card that tells you exactly what to do. Let me briefly summarize the instructions:
Do a patch test on a quarter-size area such as wrist or neck. Wait for 24 hours.
Clean your skin. Allow to dry.
Apply pH prep solution with a cotton ball. Allow to dry.
Apply lactic acid serum with finger tips.
Leave on for 3 to 7 mins.
Rinse with soap and water.
Rebalance with pH prep solution
Here's how I did it.
There was a very slight tingling sensation upon the first touch of serum on the skin. But it was fine. No pain, no discomfort. I had it on for 7 minutes.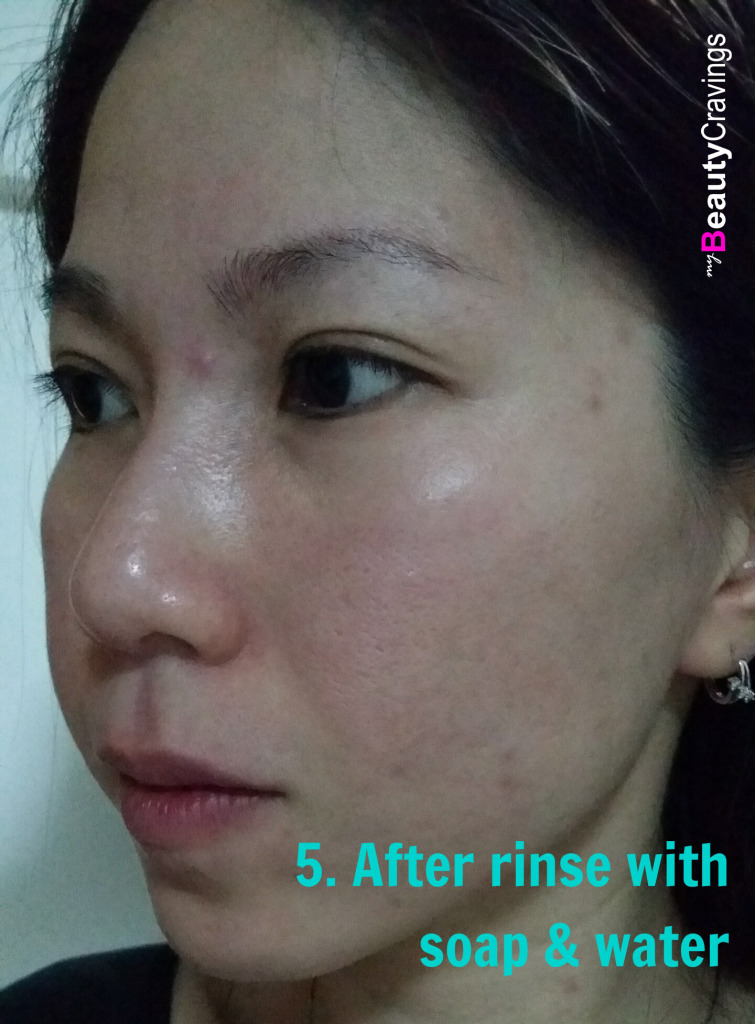 My face didn't turn red, just slightly flushed. This is a far cry from my lobster experience with VI peel.
---
Any downtime with 40% Lactic Acid Peel?
Not for me. Other than slight flaking on my nose and lips from Day 4 onwards, there was no visible peeling on the other areas. 
Lactic Acid Peel – 4 days later
By the way, no peel doesn't mean no good. Since this is a superficial peel, the 'peel' could be microscopic. If you want the real 'peel' that makes you look like a shedding snake, go try VI or TCA peel. The effect would be more pronounced, but includes a one-week downtime.
Of course, my palm (where I placed the serum during application), also enjoyed a convenient peel.
Related: Protect & Nourish Your Skin with PURITO Centella Buffet Serum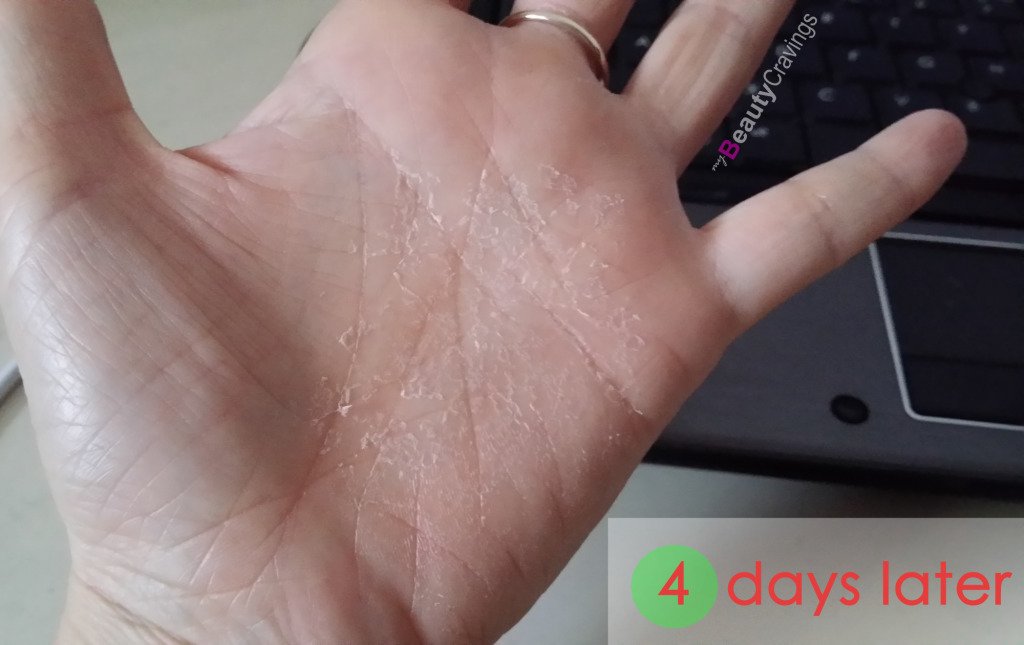 ---
The Results: 40% Lactic Acid Peel
My face looks more radiant and refreshed. Though I wouldn't say the difference was very pronounced. The pore size looks the same. Any pigments there are still there.
But I wasn't disappointed with MUAC 40% Lactic Acid because I know that the superficial peel, being a no-downtime peel, is a 'slow and less risky' option. It requires a series of weekly or fortnightly peels to achieve the same result of a medium peel. 
Furthermore, I'm using superficial peel as a maintenance peel, to be done in-between my medium-depth peels (which are more likely to produce instant results). Rating: 4/5 
To find out the latest price on Amazon, click HERE
---
Should Chemical Peel be left to the Professionals?
Many would advocate letting the professionals do the peels and not DIY. I am not here to advocate anything, as results (and implications) do differ from individual to individual. But my own comfort level is to start off with superficial peels. 
To help you decide, try answering these questions:
Are you diligent enough to do extensive research and reading?
Do you have a fair or medium skin tone?
Have you had at least a peel done by the professional?
Are you careful and meticulous by nature?
My answer to all the above is a resounding 'YES'. If you answer 'No' to any of the questions above, visiting the doctor may be a better option for you. 
---
Have you used a DIY Lactic Acid peel? Did you flake and peel? Let me learn from your experience too!
Thanks for reading and I hope you like our 100% honest reviews. Remember to click the button below to subscribe to more honest beauty and travel reviews. You'll also get freebies and exclusive contents as our email subscribers. See ya! 
This post may contain affiliate links, meaning I earn a commission if you make a purchase, at no cost to you. Read my full disclosure for more info.
SUBSCRIBE
(Visited 9,520 time, 1 visit today)