Another great product hauled directly from Japan – Suncut UV Protect Gel by Kose. If you are visiting Japan, sunscreen should be in your Japan Must-Buy List because it is significantly cheaper. You'll also get to choose from a huge array of brands and product lines.
Let's dive straight into the pros and cons of Suncut UV Protect Gel.
---
What's Good about Suncut UV Protect Gel?
1. High UV Protection of SPF 50+ PA+++
Suncut UV Protect Gel comes with an SPF factor of 50, which means that it can block out 98% of UVB rays. It also offers great protection against UVA rays (PA+++), the rays that cause wrinkles and photo-aging. 
Updated on 16 Mar 2016

Bought my fourth bottle when I was in Taiwan in Oct 2015. They now come with additional SPF coverage of PA++++, i.e. an extra plus.
2. Light Weight
Most sunscreens that are high in UV factor are heavy in consistency, and some are even sticky to the feel. Not for Suncut UV Protection Gel. It is a weightless formula that leaves no white residue or sticky feel.
On a scale of 0 to 10 (with water being 0, and cream-based body sunscreen being 10), Suncut UV Protect Gel's consistency stands at 1/10.
Must-Read: Check out review of Suncut Super Waterproof UV Protect Gel
As observed from the before-after photos above, there is no distinctive difference before or after the application. No shiny surface. No white residue. 
3. No Breakout
If you have read my earlier review on sunscreen, I do breakout easily. The hit-rate stands at 50% or more, i.e. one out of two UV products would cause me to breakout.
After using Suncut UV Protect Gel for a few months, I was thrilled to learn that it did not clog my pores or cause me to breakout.
4. Cheap
For a sunscreen that comes with such high UV protection, I was surprised to learn how cheap it was priced at. I got it at Sapporo Drug Store for 793 yen, inclusive of GST. That's only SGD9 or USD7.  
Did I tell you it comes in a generous quantity of 100g? This could easily be twice or thrice the quantity offered by many other brands in the market.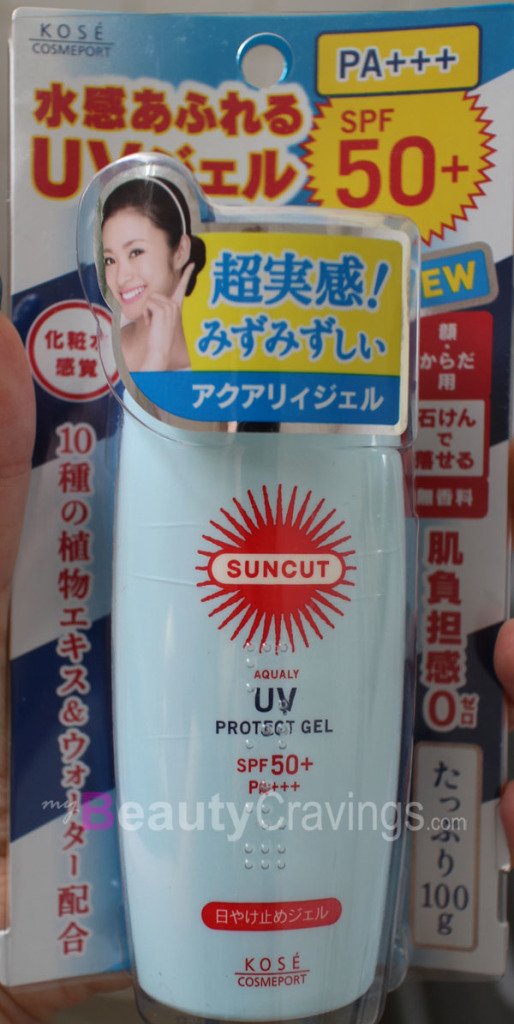 In conclusion, you get more quantity at a fraction of the price of many similar products in the market. This is unbelievably cheap!
5. Layers Well with Moisturizer and Makeup
Some gel-based products do not blend well when layered with oil-based makeup or moisturizers. Suncut UV Protect Gel does not give me such a problem. It works beautifully and can double up as a makeup base.
Based on my limited understanding of the characters (they do use some characters that's similar to Chinese), it seems to say the following – 1) Block UV, 2) Suitable for Everyday Use, 3) Serve as Makeup Base, 4) Hot Weather Condition
6. Fragrance & Colorant Free
Fragrance and colorant are common irritants to the skin.  It's great that Suncut UV Protect Gel stays away from such irritants. However, that also means that your sunscreen will smell like sunscreen, not perfumed lotion.
---
What's Bad?
None that I can think of. Oh…just thought of one. The only con is that I can't get it in Singapore. That's alright, my two bottles will last me for a while, and I believe I'll visit the country again very soon. I can also get a bottle easily from online retailers. 
---
Recommendation
If you are looking for a high protection UV sunscreen that is lightweight and affordable, and intend to use it under dry condition (i.e. not for swimming), Suncut UV Protection Gel is an excellent choice. Otherwise, you can consider the super waterproof version which is equally lightweight and pimple-safe. Rating: 5/5.
---
Do you enjoy such honest reviews? If you like to get notified of my new posts, just click the button below to subscribe. I'll even give you some free and exclusive stuff. See you there!
This post may contain affiliate links, meaning I earn a commission if you make a purchase, at no cost to you. Read my full disclosure for more info.
(Visited 15,410 time, 1 visit today)