Do you have thick and wavy hair? If you do, check out what I did at Kimage Parkway Parade because I've had the best rebonding job to date.
Nope, I'm not referring to the usual dead-flat and boring straight hair. I'm talking about C Curl Rebonding, a form of permanent hair straightening treatment that turns wavy and frizzy tresses into stylishly-silky hair 
All thanks to Kimage Parkway Parade, I enjoyed my shortest haircut in 30 years and still look modern and attractive. Ahem! :) Check out my hair transformation process!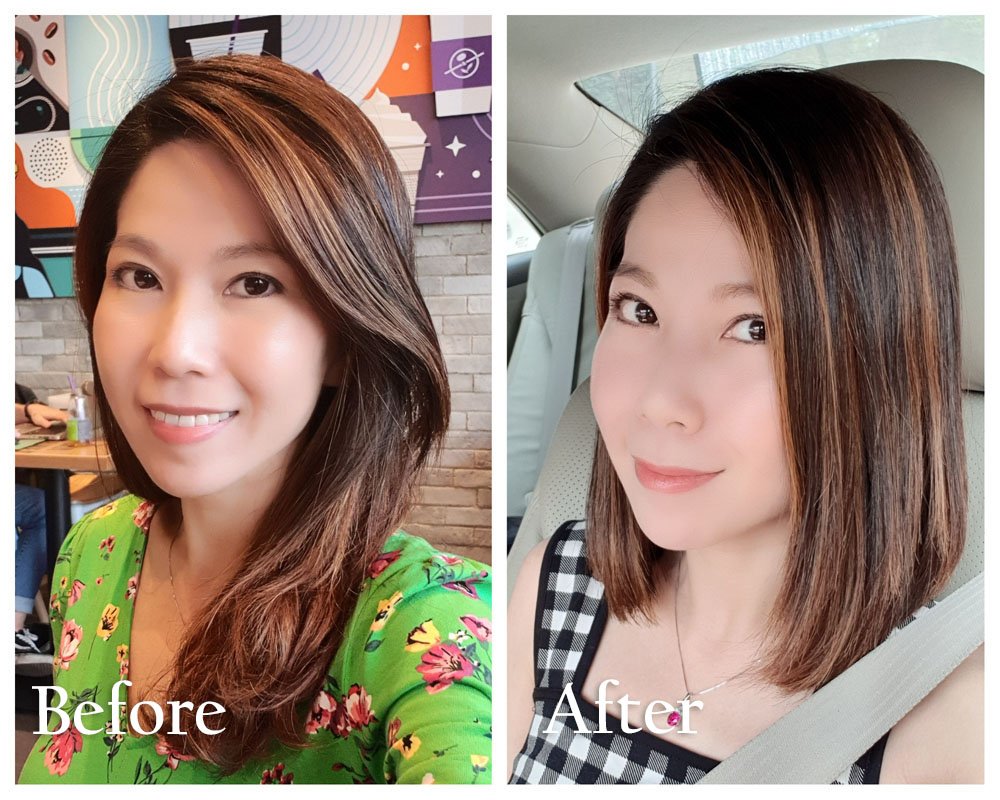 ---
Over 20 Years of Experience with Hair Straightening Treatments
Those with super-thick hair like mine would know how difficult it is to have our hair short and not look like we are wearing a helmet. The last time I had my hair short (as a kid), I was given the nickname of a mushroom. Haha!
INFO: Short hair doesn't have the volume to weight down thick and wavy hair. 
That explains why I never cut my hair short for the next few decades. I even have to go through permanent hair-straightening treatment to look decent.
Since my teenage years, I've tried countless straightening products and services, from drug-store straightening cream to relaxer (now defunct) and rebonding.
Therefore, I think it's fair to say that I'm quite experienced when it comes to rebonding since I've been doing it religiously every 9 months since this treatment was invented. 
When I say I've had the best hair rebonding job to date at Kimage Parkway Parade, I hope it carries more weight than if it had come from a "rebonding newbie".
---
Why did I chop off my hair? 
Why did I chop off my hair, knowing how doing so would cause my hair to explode in volume? 
Here's the short answer – my hair was badly damaged!
A year ago, I got so bored with my never-changing hairstyle that I subject it to multiple transformations and chemical jobs.
First, I cut my chest-long hair and permed it.
A few months later, I permed it again. And then fast forward a few more months, I decided that my hair can benefit from some obvious highlighting and colouring.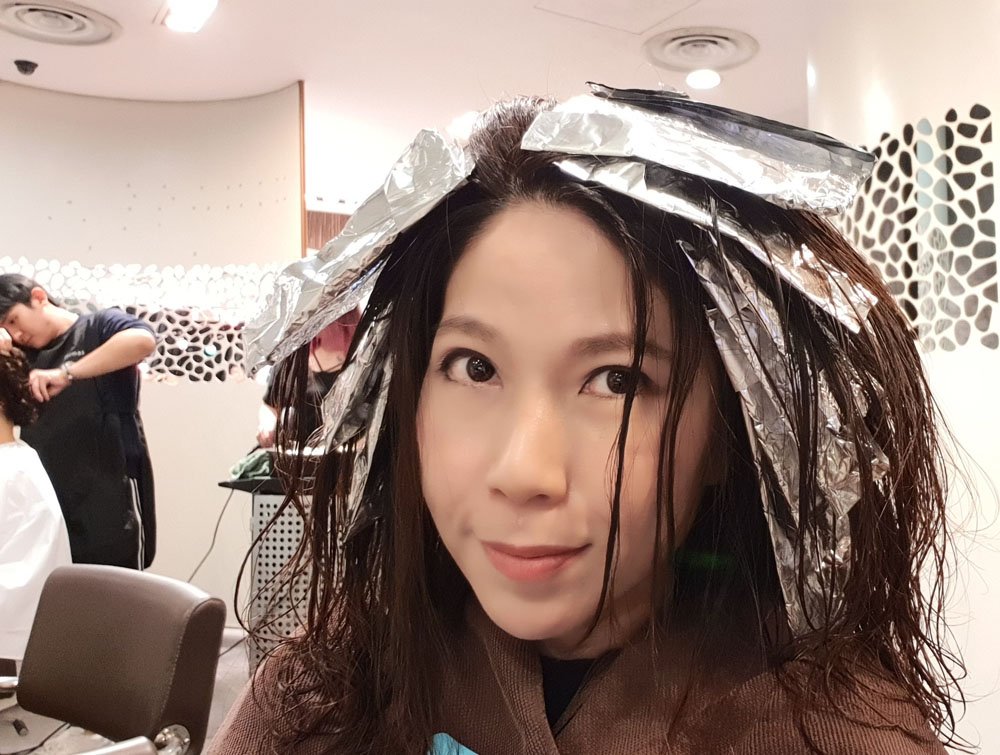 Within a year, I subject my hair to three chemical jobs which inevitably caused my hair to become dry, dull and brittle. The only solution was to CUT IT!
Ha Ha. I do not know what got into me. Something I didn't dare to do for more than a few decades (e.g. perm and cut) became so easy for me. There was no fear, nor hesitation.
Yes, please just cut off those hay!
A few weeks ago, I cut my hair to the shortest length I've ever had since I was 13 years old. See how this C Curl Rebonding by Kimage Parkway Parade succeeded in giving me a short and stylish bob – one that doesn't resemble a mushroom or a helmet. :) 
---
A Better Location at Kimage Parkway Parade
I was so pleased with the stylish hair colouring service that I received at Kimage (I12 Katong) that I followed the team when they shifted to Kimage Parkway Parade.
Here's the map location and address of the new Kimage branch:
Kimage Parkway Parade Address:

80 Marine Parade Rd, #02-46/47 Parkway Parade, Singapore 449269
Tel: 67432700 (Website: www.kimage.com.sg)
I prefer the new location as Parkway Parade is a larger and more vibrant shopping mall as compared to I12 Katong. With the better store mix, you can run all sorts of errands here – from grocery-shopping and bank visits to dining and shopping. 
I was also happy that I didn't have to walk deep into the mall alley to find the hair salon. Kimage Parkway Parade was prominently located next to an escalator, on the second floor. Very convenient indeed!
---
Promptly-Served & Expert Consultation Given 
Once I stepped into Kimage Hair Studio, I was quickly sat down and offered a cup of tea and biscuit. I could also deposit my bag into a cabinet located next to my seat. 
On the table was a stack of the latest beauty magazines to keep me occupied should I feel bored. I also noted Dyson hairdryers being used in the hair salon.
Not before long, my hairstylist – Thomas Goh – came over to examine my hair and listen to my requirements.
What's My Hair Requirements at Kimage Parkway Parade?
I told Thomas Goh from Kimage Parkway Parade that I wanted to:
Cut my hair
Still be able to tie it up when I exercise
Make my thick and wavy hair more manageable
Not resemble a helmet or mushroom when the hair is cut short :) 
Thomas listened to my requirements intently. 
Instead of giving me a plain-vanilla rebonding job that I'd asked for, he went a step further to suggest something I didn't know exist. This is what I appreciate about this hairstylist who is able to provide professional advice that can yield better results.
What is C Curl Rebonding? 
My hair stylist from Kimage Hair Salon wanted to give me a rebonding job that wouldn't end up looking dead-straight and lifeless.
"With C Curl Rebonding, your hair will curl in towards the end and look naturally-bouncy," Thomas Goh said.  
"However, this hairstyle requires maintenance. You'll have to blow-dry it. Otherwise, the ends may curl out."
Knowing how lazy I was in maintaining my hair, the hair stylist from Kimage Parkway Parade emphasized the "blow-drying" requirement repeatedly and left it for me to decide. Do I want dead-straight hair that's maintenance-free or stylishly-straight hair that requires blow-drying? 
After some thoughts, I decided that I would sacrifice my time and effort in exchange for something new. The only constant in life is change. So, yes. Let's go ahead and change the way I manage my hair from this point forward. *Keeping fingers crossed*.
---
Dedicated Singapore Hairstylist with an Eye for Perfection
Thomas began by snipping off my hair. Take a look and see how long it took for him to cut off my extremely-thick hair. If you take a closer look, that's just a part of my hair :)
Thereafter, he thinned my hair and proceeded to finalize the cut into a long bob that is longer in front and shorter at the back.
Special Efforts so that Hair won't get "Fried"
Once the haircut was done, the Kimage hairstylist followed up with the next step which was to place the rebonding solution on the hair. 
Instead of placing the chemical solution in one go, Thomas split up the process by first placing the solution on the untreated and "healthy" hair (first few inches from roots). After 15 minutes, he applied the same solution to the mid-section (those that had gone through chemical treatment) and sprayed water to dilute the strength. A while later, he returned to cover the final ends of the hair (the most chemically-treated portion).
"If I apply the solution in one shot, the hair nearer the ends may "burst", Thomas explained. 
Great. I like a hairstylist who places priority on the health of the client's hair even though it may take him longer time and extra efforts.
I deeply appreciate the kind of details this Kimage hairstylist put in. I know this is not a given as I've had my hair fried once at a salon located in Far East Plaza. My scalp was also burnt decades ago at a neighborhood salon.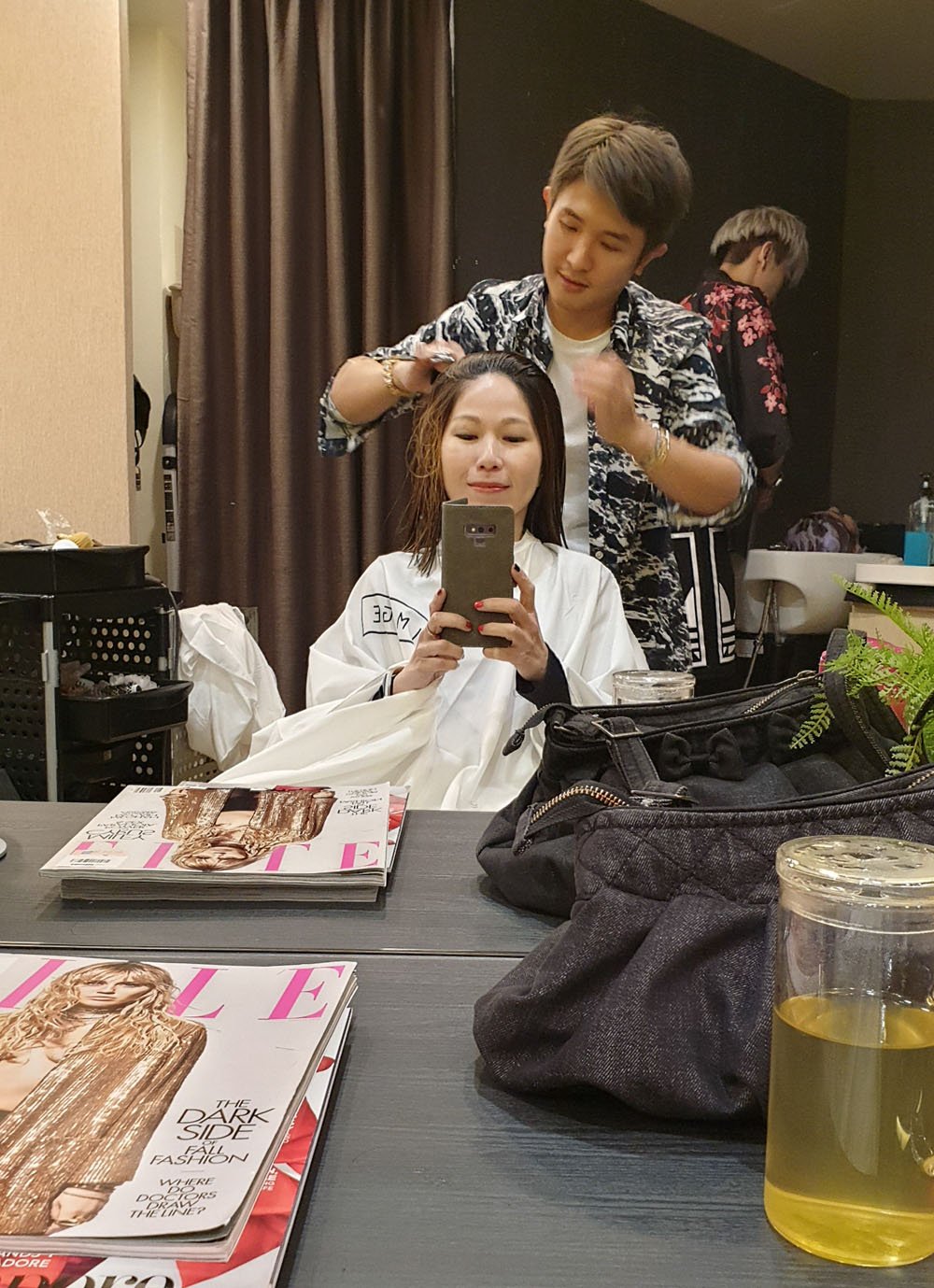 The Laborious Effort Kimage Hairstylist Put into C Curl Rebonding
I wonder why Thomas Goh from Kimage suggested C Curl Rebonding because it was an extremely laborious affair for the hairstylist, especially when the client's hair is as thick as mine. 
Instead of putting rollers on the hair and letting it do the work, my hairstylist painstakingly twirled my hair using a flat iron. That manual twirling took him two hours. I felt bad as I can imagine how taxing it would be to perform the same action for this long. However, I can't help it that my hair is born thick. :)
When I saw the blisters on Thomas's fingers, I formed an immediate conclusion. For someone to suggest something so laborious and time-consuming, he must be really passionate about what he does (like how I feel about this blog). He would also likely be a perfectionist or someone who takes pride in his work.
Obviously, the end result must have been as important to him as it was to me.
So, why didn't Thomas use perm curlers instead? 
"If I use perm rollers, the curl won't look natural. The transition of the curl wouldn't be as smooth." Thomas explained.
Kudos to the Kimage Parkway Parade Team: Thomas Goh was assisted by his assistant – Sunny, who helped to rebond the top half of my hair, while Thomas focused on the end-portion twirling.

Even with two hairstylist working on my hair, it took them 2 hours to complete the flat-ironing. And the whole job took 6 hours to complete. I think I'm a nightmare to any hairstylist. LOL!
---
A Perfect Short Haircut by Kimage Parkway Parade
I never knew I could look good with a short hairstyle. You know what? Everyone I've met after the haircut told me I looked better with this haircut.
"You look good! More youthful!" My friends said. 
"Why did I keep my hair long for the past many decades?" I questioned myself openly. 
"So that you can look good now." My sister gave me a witty reply. :)
Check out another response gathered through Instagram.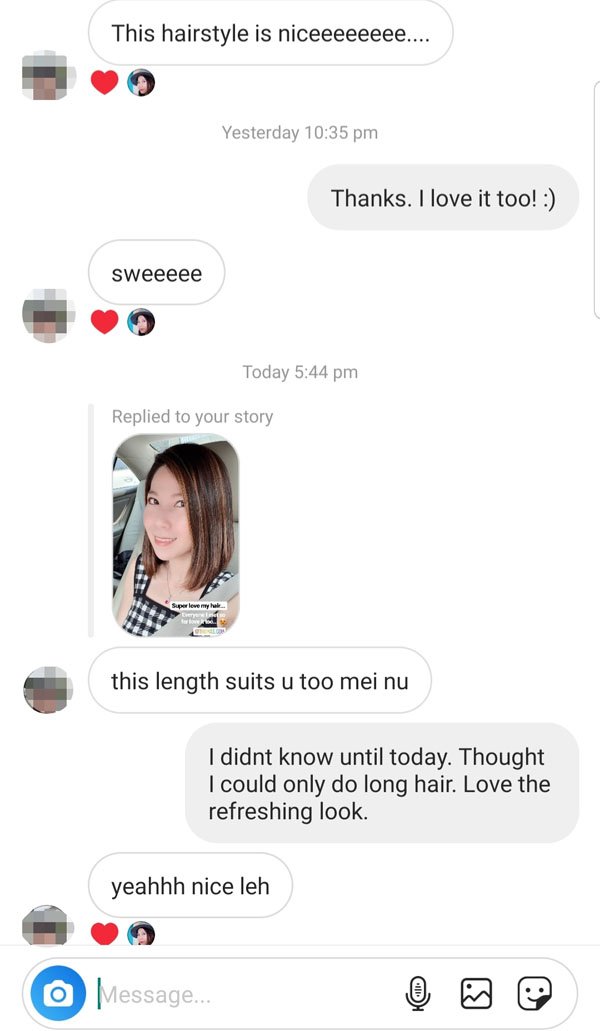 Successful Hair Transformation at Kimage Parkway Parade
This was the first time my parents actually noticed that I've done something to my hair. They didn't notice my previous hair transformation. So, I guess I can count this as a successful transformation, finally?!?!
And last but not least, I got smooched more often after the haircut. Hee! Someone is loving the refreshed look (or perhaps he thought he has gotten a new partner)?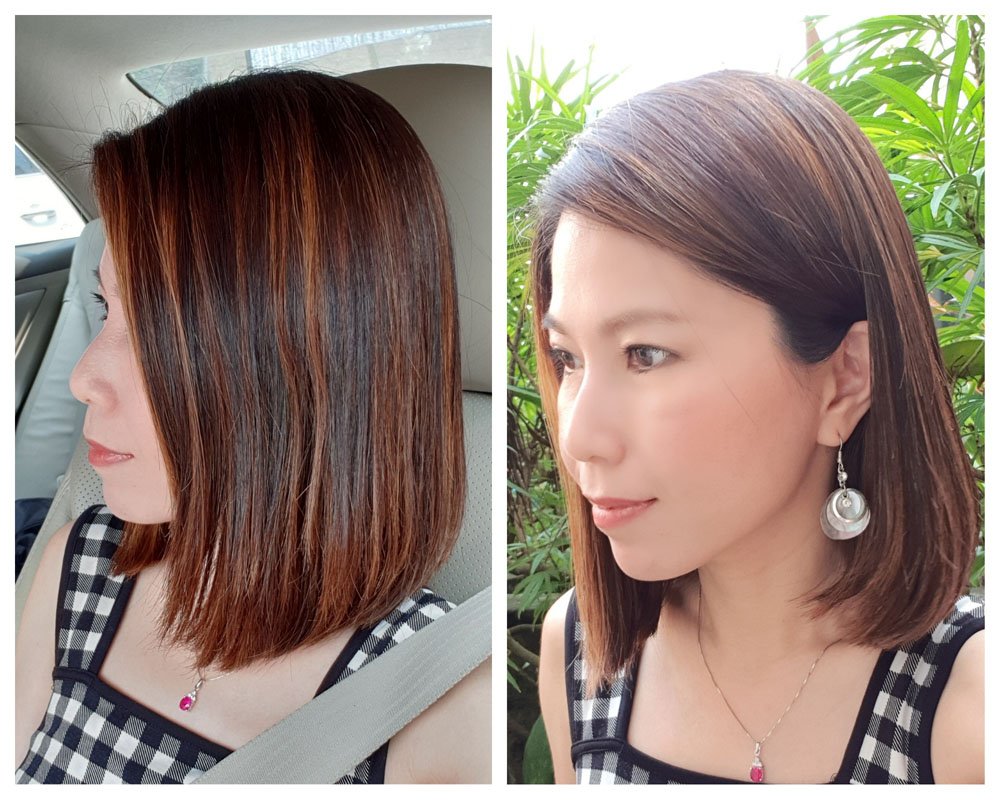 ---
Final Results: C Curl Rebonding & Haircut by Kimage Parkway Parade
Here's what I've gotten after the hair transformation by Kimage Parkway parade.
1. I've gotten a hair cut that I loved instantly
2. My hair was soft, silky and healthy, despite this being the 4th chemical job I've had within a year
3. The short haircut did not explode in volume
4. I can still tie up my hair when I exercise
5. My hair looks stylish and not dead-flat & lifeless. 
Although this is the shortest haircut I've had in a long time, it turned out to be the best. I couldn't believe that I waited this long to try out a hairstyle that looks so flattering on me. 
---
Kimage Price
I paid S$260 for this hair transformation which included a C Curl Rebonding, hair cut and scalp & hair treatment by Kimage Parkway Parade. I find it to be reasonably-priced because this is what I used to pay for a rebonding job without all the frills.
Don't believe, take a look at Kimage's normal pricing.
For an experienced hairstylist to spend 6 long hours on my hair, I find Kimage's price to be extremely value for money. 
Kimage Hair & Scalp Treatment: If you like to find out more about the scalp and hair treatment that I went through, check out my earlier post. This treatment will give you a therapeutic hot & cold sensation plus a relaxing head massage. :)
Exclusive Promotion at Kimage Parkway Parade
Check out the Kimage hair promotion below. This is an opening special exclusively for Kimage Parkway Parade and would end on 30 September 2019.
Therefore, if you are longing for a haircut or hair transformation, I earnestly suggest that you reserve your slot quickly at Kimage Parkway Parade. Their slots get filled up quickly.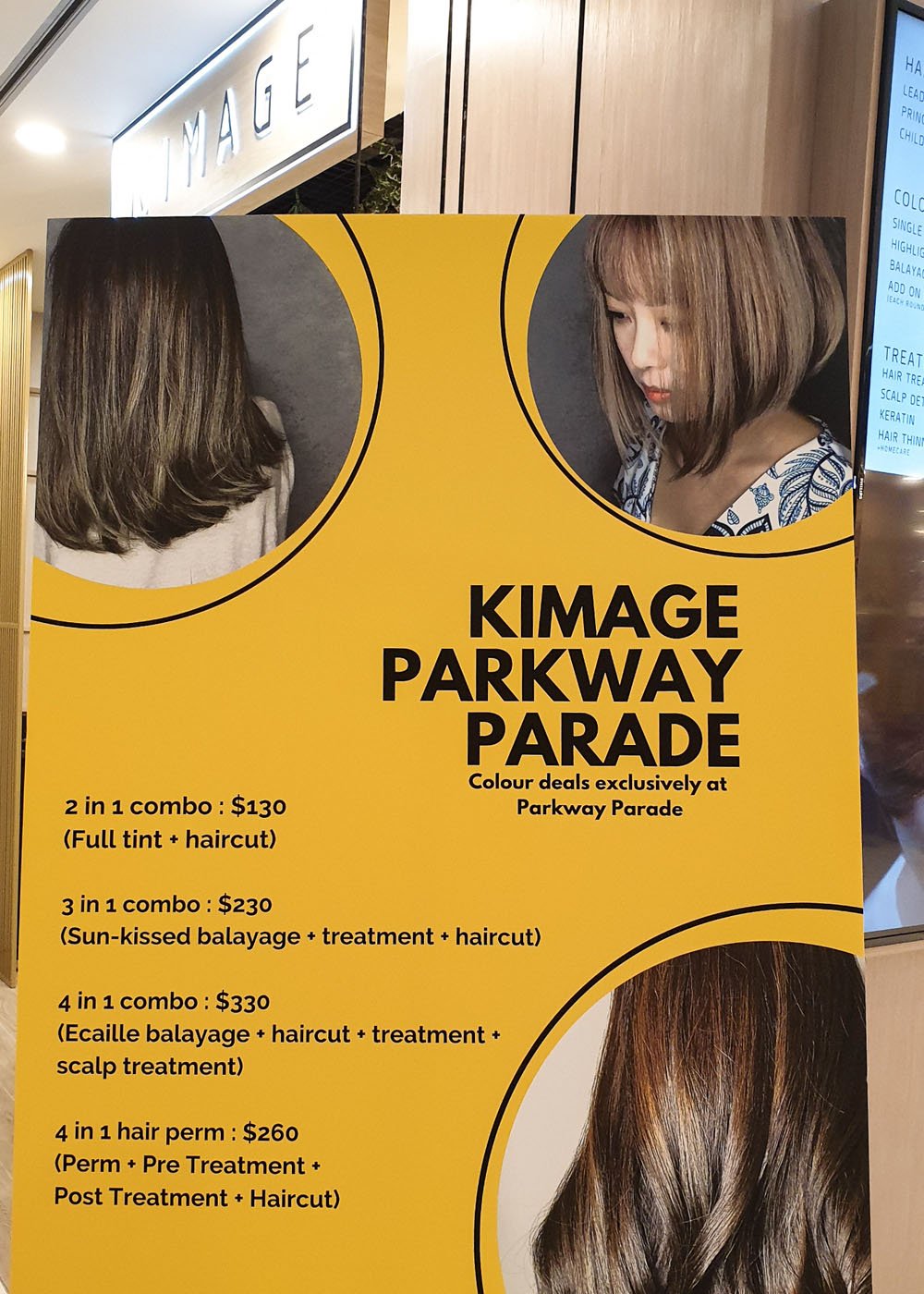 Am I Sponsored for this Post? 
Thought I'll do a bit of explanation here. I went through the haircut as a normal paying customer. When I saw how great the result was, I approached Kimage and asked if they like to sponsor a blog post so that you get to read about this. And they agreed. 
Did you know? The main reason for my salon visit was to colour my roots. However, my super thick hair took up too much time and I told the Kimage hairstylist that I would come back again for the colouring job. Good to also let my hair take a break from excessive chemical treatment.
So yes, this post is sponsored. But I am not biased when writing this review since I'd paid and assessed the service before sponsorship confirmation. In fact, I've already introduced Kimage Parkway Parade to my friends and family. :) 
And in case you wonder, Kimage doesn't vet through this review, just like all my sponsored posts. That's a condition I've included to allow me to stay unbiased. 
---
So, what are the cons of C Curl Rebonding? 
Most of my reviews would include both pros and cons. I've already mentioned the pros above. So what are the cons? 
For this 5-star rated review, I only have one "con" to share. This C Curl Rebonding requires maintenance, just like how I was advised during the consultation. No surprise, right?
Blow-drying is a must. Otherwise the last one inch of the hair may curl out, especially if you request for a length like mine (that can be tied up).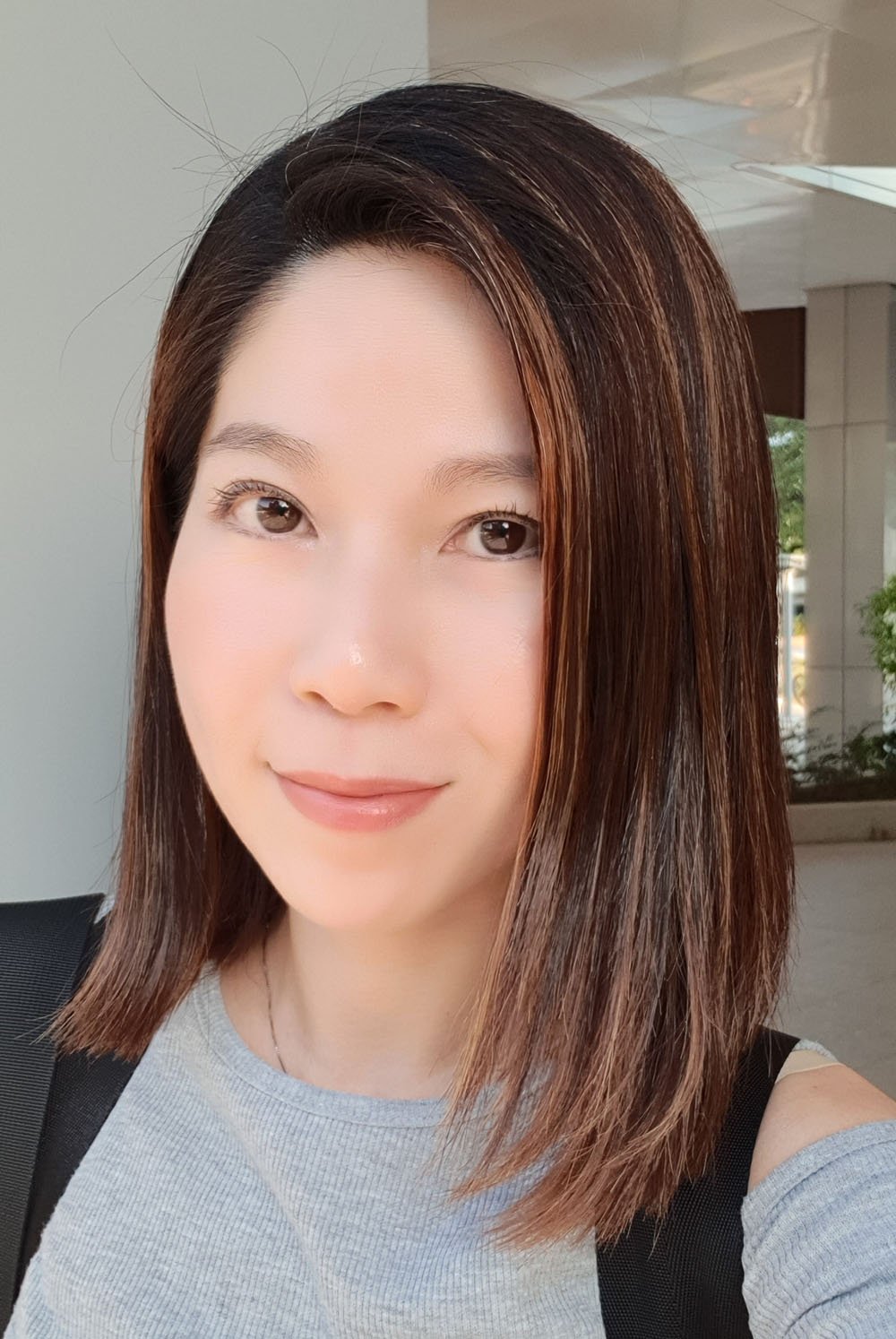 Such a length means that the shoulders may push out the ends. If you don't have a dying need to tie up your hair, you may want to have the hair shorter.
Even though my shoulder-clashing hair requires styling maintenance, it doesn't require as much effort as I thought it would. Let me show you how I maintain my C Curl Rebonded hair. 
How to maintain C Curl Rebonding?
I normally twirl my ends inwards when I comb my wet hair and let it air-dry naturally. When the hair is 80% dry, I will use a hot air brush to curl the ends in. This would typically take me no more than 2 minutes (Yes, I've timed the process! :)).
I don't need to curl the ends till it's completely dry because as long as the ends are guided towards the right direction, they would stay that way. 
Sometimes, I would find a portion of my hair (maybe 20%) curling out when I just got out of bed. Here's a trick – just spray the affected portion with water, then use the hot air brush to curl the hair inwards.
Simple isn't it? All you need is a simple spray bottle, a hot air brush and 2-3 minutes of your time.
TIP: You can also use a round brush and hair dryer in place of a hot air brush, but I prefer the latter as the two-in-one device is easier to manage for styling noobs like me.
---
My C-Rebonded Hair After 2 Weeks
I want to show you how my C-Rebonded hair looks like after two weeks, when it's not styled by an expert. 
See, the photo below shows me on a random weekday. I didn't spend any extra effort in styling my hair except doing what I've indicated above.
Practice makes Perfect: Actually, as at time of writing (post-3 weeks), I've already gotten the hang of things. My self-styled hair now looks prettier than what the photos below show as I've mastered how to curl both sides inwards using my right hand (dominant hand). 

I'll try to get some photos tomorrow to show you how pretty my self-styled hair is after 3 weeks of practice. :)
Not too bad for a 2-minute blow-dry effort, yah? 
I'm so grateful to Thomas Goh from Kimage Parkway Parade. No other hairstylists has attempted or succeeded in making me style or blow-dry my hair. I'm that stubborn! You will too if you have thick hair like mine that takes forever to blow-dry. :)
Would I do C Curl Rebonding Again? 
Considering how daily effort is required to maintain C Curl Rebonding, would I do it again?
Oh yes! Definitely! There's no doubts about it. 
The 2-minute I spend a day is nothing as compared to the stylish and flattering look I get the entire day. The C-Curl frames my face well and makes it appear slimmer and sharper. 
---
Recommendation
Are you getting bored of your long hair and dying for a change? Do you want your thick or wavy hair to look tame and frizz-free, but not dead-straight and boring? 
Are you open to trying new things? Do you prefer an opinionated hair stylist who offers professional advice over one who just listens and does what you request for? 
If you answer 'yes' to the above questions, then I highly recommend you to get a consultation with Thomas Goh from Kimage Parkway Parade. He may recommend C Curl Rebonding or other haircut/treatment that would suit your hair and features. Rating: 5/5
***
This content is brought to you by Kimage Hair Studio. I've paid for the service, recorded my unbiased review and invited Kimage for sponsorship. Kimage allowed us to retain 100% editorial opinion and did not vet through this review before publication. Thank you to Kimage for supporting 100% honest review. Thank you to my readers for supporting sponsored posts that add value to myBeautyCravings and help keep our website running.
---
Did you enjoy our honest reviews? Feel free to connect with me if you like to receive more of such reviews. Just click the button below to subscribe and you'll also get access to all my exclusive contents. Chat soon! 
SUBSCRIBE
(This post was first published on 10 Sep 2019.)
This post may contain affiliate links, meaning I earn a commission if you make a purchase, at no cost to you. Read my full disclosure for more info.
Pin This!
(Visited 1,287 time, 1 visit today)