Hey guys, remember how I said I was slowly letting myself go due to my obsession in growing this blog? One concrete step I took to "rescue" myself was to book a hair colouring session with Kimage Hair Salon. My main aim was just to cover my grays but I ended up receiving a lot more. Overnight, I became stylish and have so far received many compliments over my new hair colour.
It's been a month since I've had the hair colouring done and I'm ready to share with you my experience at Kimage Prestige I12 Katong.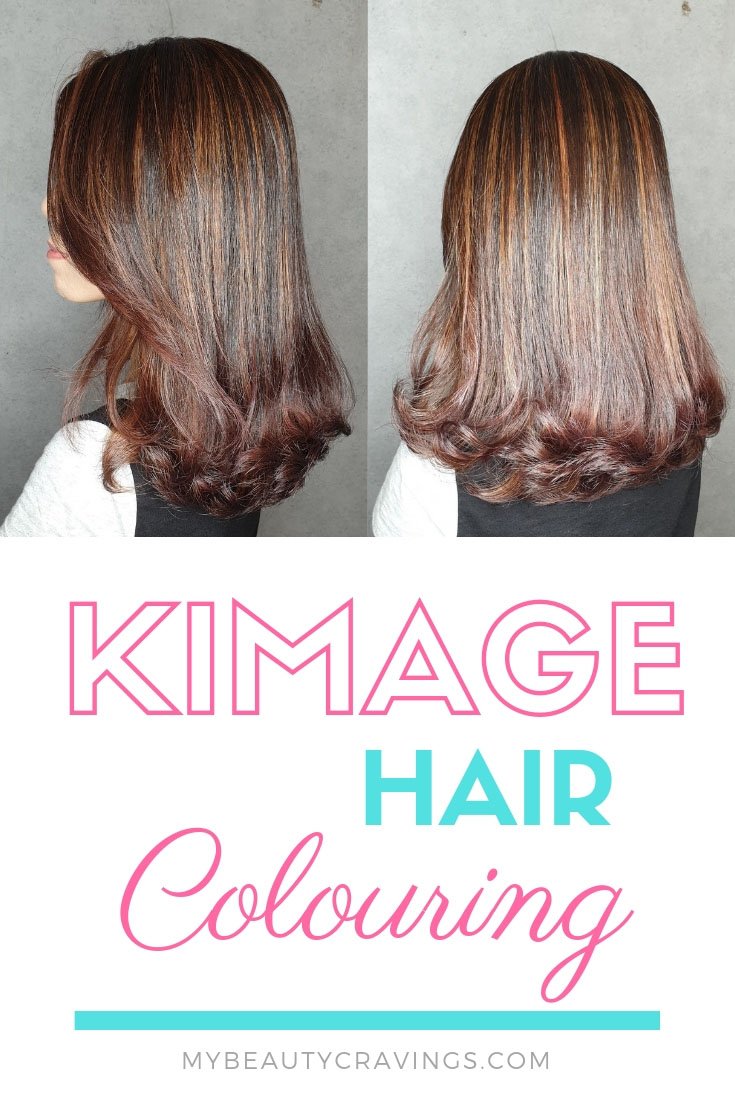 ---
I Was a "Mystery Shopper" at Kimage I12 Katong Hair Salon 
As my old-time readers know, I like to keep my reviews honest. One good way to do this is to hide my identity as a blogger. Not only do I get a good gauge of what real service is like, I thought it'll place less stress on the service provider.
A few days after I promised to turn my life around, I called and booked a hair colouring appointment with Kimage Hair Salon. The I12 Katong branch was chosen because there were quite a number of positive online reviews especially on its hair colouring service.
"Do you have any hair stylist in mind?", the Kimage phone receptionist asked.
"I've not been to this salon. Can you recommend a hairstylist who can provide good consultation on hair colouring service?" 
Based on my request, Thomas Goh, a principal stylist from Kimage I12 Katong was recommended as my hair stylist for the job.
Update (2019): Kimage I12 Katong has relocated to Parkway Parade, an even bigger and more popular mall in Singapore. Here's the address: 80 Marine Parade Road, #02-46/47, Parkway Parade, Singapore 449269
---
What's Great about Kimage Hair Colouring Service at I12 Katong?
For better story flow, I thought I'll write this in a chronological format. Let's start off with the pros of Kimage hair colouring service before we moved on to the cons.
1. Promptly-Served at Kimage Hair Salon (I12 Katong)
When I arrived at the hair salon, I was immediately led to my seat and served a cup of hot tea and biscuit. My hair stylist for the day – Thomas Goh – stood next to me and was ready to attend to me.
I'm happy and somewhat surprised that I didn't have to wait at all as this isn't always the case in other hair salons. Perhaps, I was just lucky that the salon wasn't crowded that day due to a rainy weather? But I have the feeling that the staff were making conscious efforts to make waiting less apparent. You'll read more about why I feel this way later.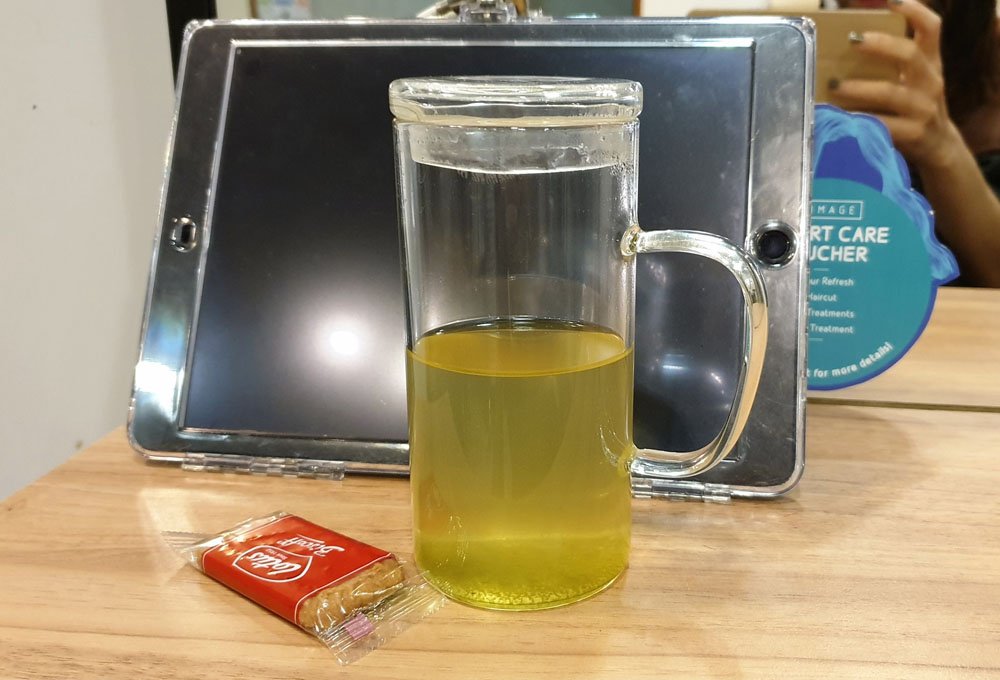 2. Thorough Hair Consultation Given by a Confident Hair-Stylist
I'm not exactly a stylish person. I mean I do take the effort to look presentable, but I've never really been one to follow trends.
Therefore, it was important that my hairstylist is able to offer expert advice, from hair colour prescription to suitable dyeing method (e.g. ombre, balayage). Yah, you can call me a clueless beauty blogger. LOL!
I felt comfortable with Thomas because he fitted the bill. He was confident, observant and opinionated without being overbearing. He told me he knew exactly what I needed without telling me what I would be getting. Ha Ha!
It's all about trust!
He didn't show me the colour chart and I didn't insist. Neither did I show him any images of hair colour that I was looking for. It's all about trust and I was game for the surprise. So I allowed him to steer the ship.
Now, if you know what you want and love more certainty in life, you can ask to view the colour chart or show Thomas an image of your preferred hairdo. But for me, I prefer to receive professional advice on what would suit me best. :)
3. A Haircut that Retained My Old Curls, Changed my Parting & Reduced Excessive Volume
After the consultation, Thomas from Kimage Prestige I12 Katong proceeded to cut my hair. He told me my hair was too heavy on the bottom and how he would reduce the volume without affecting my old curls.
Successfully Changed My Stubborn Center Hair-Parting
My only requirement to Thomas was for him to change my stubborn center part to side-parting. Thomas took up the challenge, layered my fringe and viola, he succeeded in giving me a side parting that could stay with a light spritz of hair spray.
One thing to commend – I didn't have to remind Thomas about my side-parting requirement. He remembered it right to the end when doing a final blow-dry 3 hours after I'd made my initial request.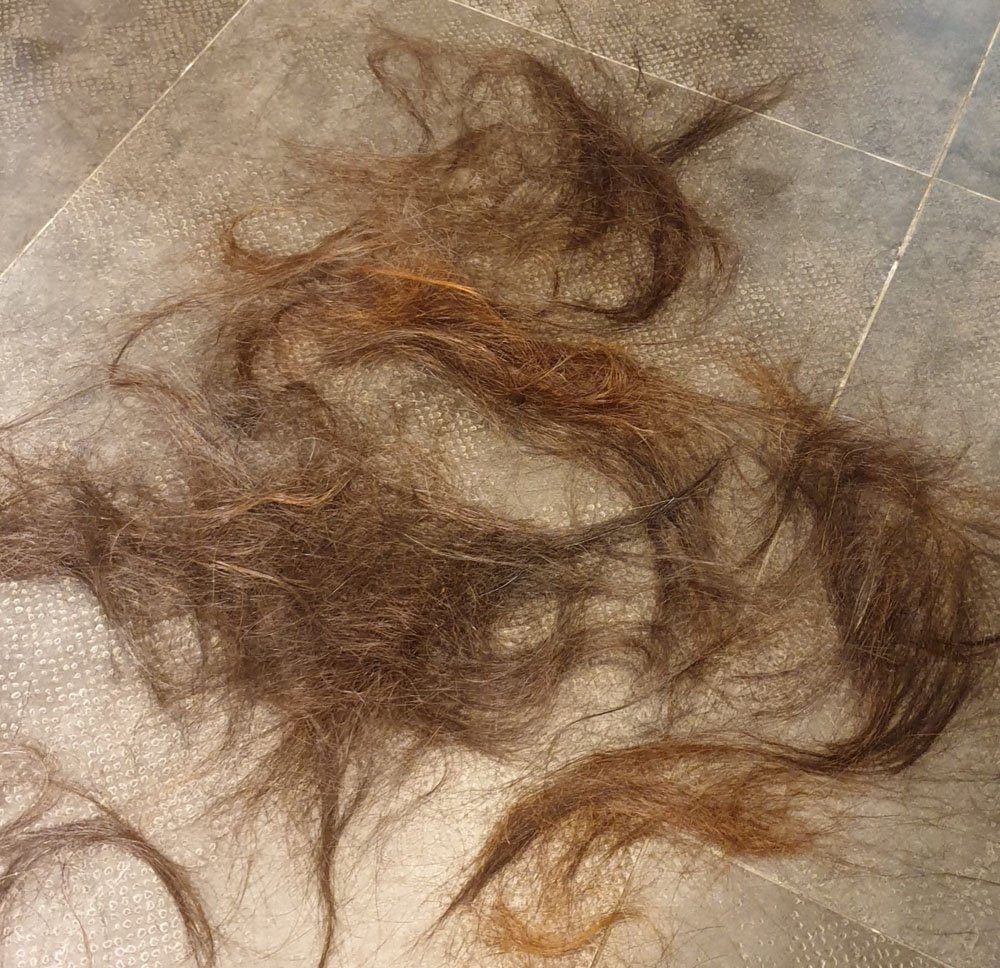 Significantly Thinner Hair Volume
When the haircut was completed, I didn't observe significant changes other than a lot of hair on the floor. A few days later, I was pleasantly surprised when I tied my hair into a pony tail. The circumference was probably just 1/3 of my original volume. That was the day when I realized how much my hair was thinned.
Info: Thomas thinned my hair by snipping off some hair near the roots. So if you have hair as thick as mine, you may want to take note of his thinning style. :) Those short hair were hidden and didn't cause any inconvenience. However, i do find myself addicted to touching my scalp non-stop to feel the pricks.

Quite shiok coz I've never felt pricks on my scalp since I've never had my hair cut this short. Oh dear, I'm touching my scalp again. Can someone slap my fingers, please? :) 
To someone who has been struggling with super-thick hair since young, I really appreciated how much lighter my hair was. I'm also happy that my 4-month old digital perm (now 5 months) which I invested more than $200 on wasn't affected by the hair cut.
4. Excellent Hair Colouring Job by Kimage Hair Salon
As you know, I only wanted my gray hair to be covered. Not only was this requirement met, I also walked away with a stylish hair colouring job.
So far, I've received numerous compliments such as this feedback from my IG Story.
I was also delighted to see how the hair highlights would change depending on how I part or flip my hair. And most importantly, they stand out on photos, making me look *ahem* so stylish lor. He he!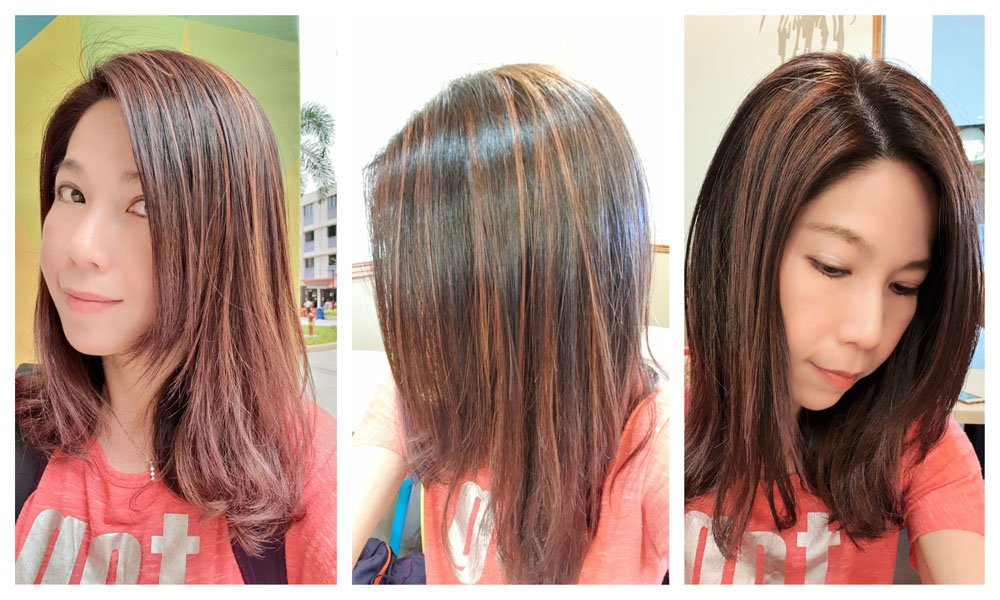 Eh…pardon my laziness in styling my hair. These photos here show you how my old curls were like when I let them air-dry naturally.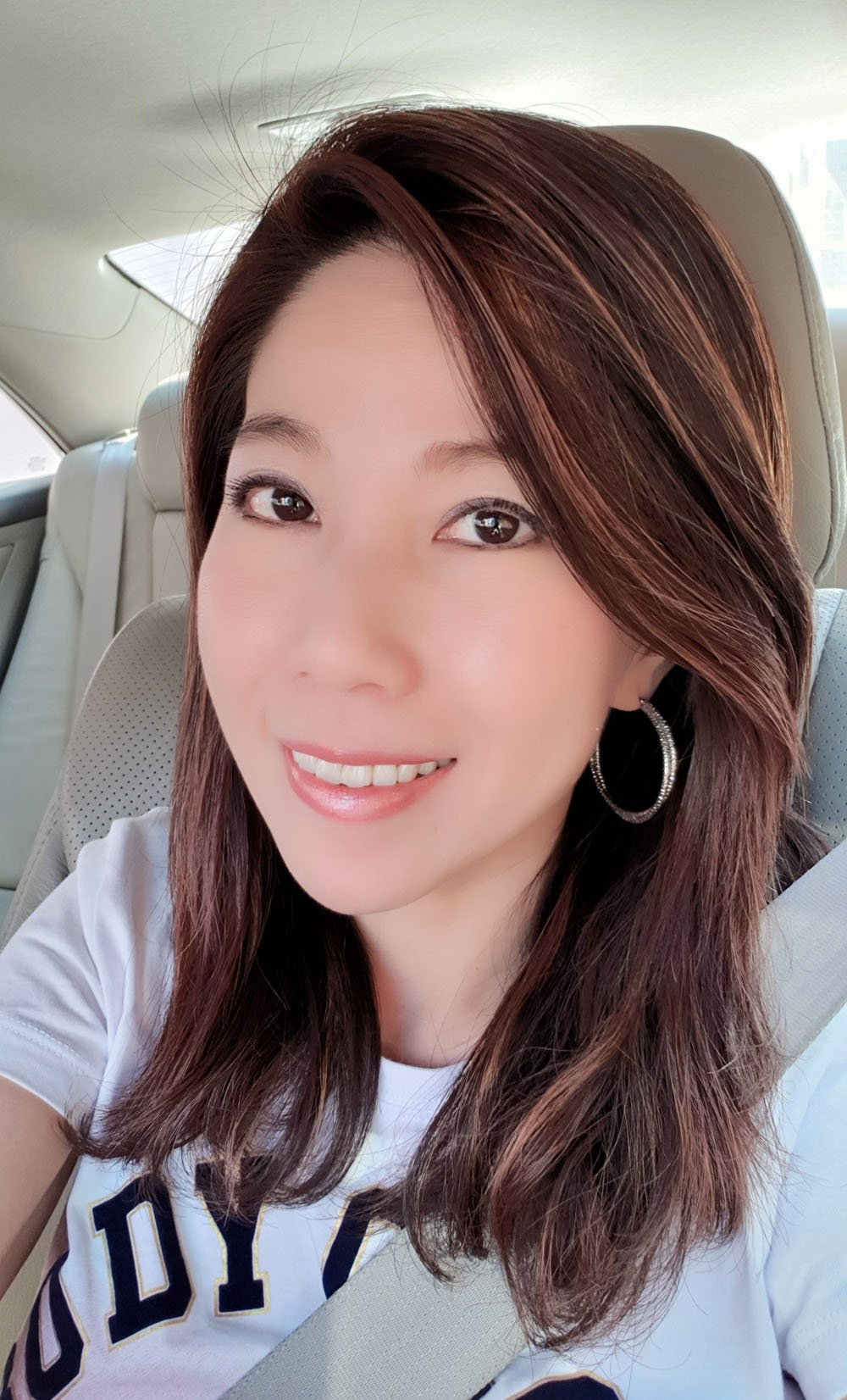 A Customized Hair Colouring Job that Suited my Personality
If you wonder how Thomas Goh from Kimage I12 Katong did the highlights, he used a comb tip and manually picked out the hair to highlight, layer by layer. Some strands were thicker, some thinner and they were deliberately chosen that way for an overall better aesthetic.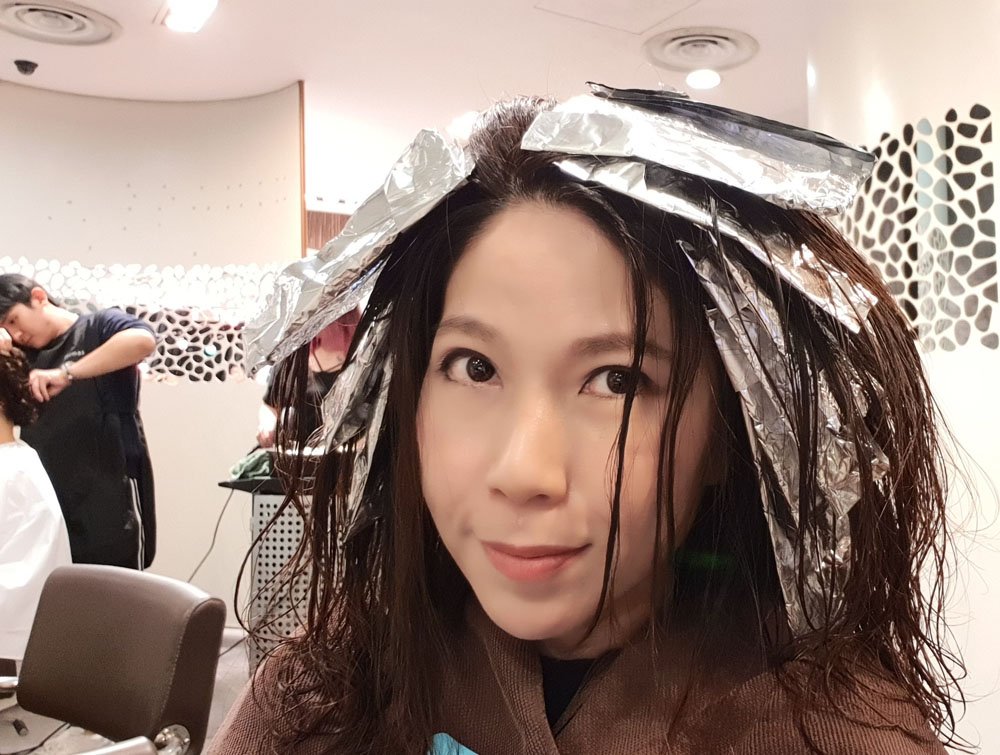 I'm impressed that Thomas, who met me for the first time, could give me a hair style that fits my personality and lifestyle. I didn't tell him what I loved or needed because as I've said, I was pretty clueless. I only wanted the grays to be gone.
I'm so happy that I walked away with a customized hair colouring that's not too over-the-top and yet not too subtle. I could walk into an office and still look proper without appearing boring. :)
This fellow is really 'buay pai' (not bad).
Well, if you think his hair colouring is too conservative, it's because I'm conservative. :) Check out the other more "happening" hair colouring jobs done by this Kimage hair stylist.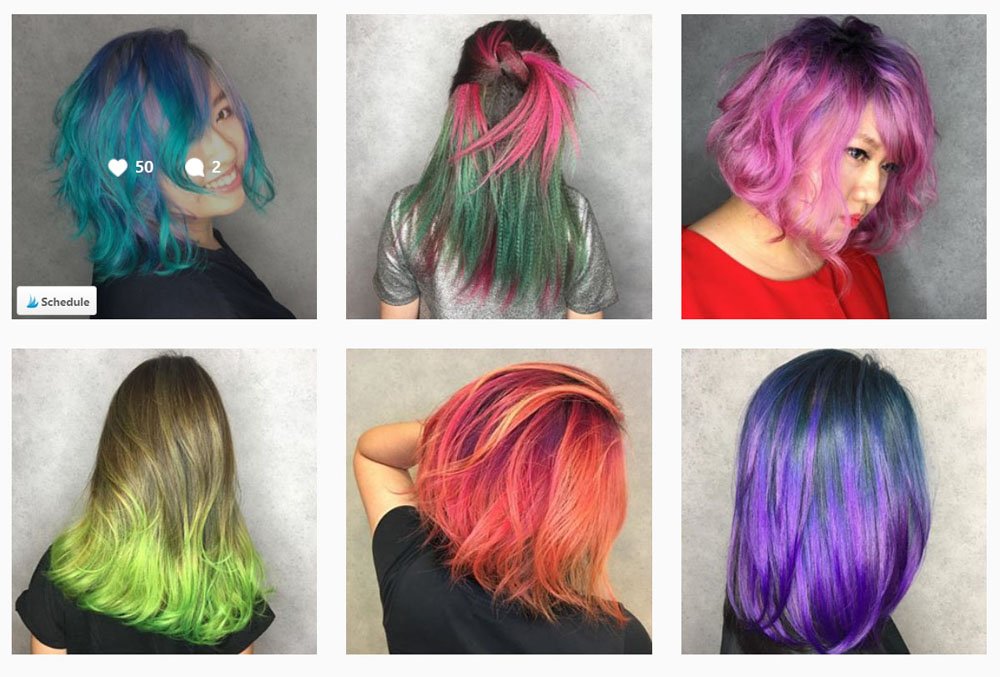 5. A Luxurious Scalp Treatment that I wasn't Expecting
When I was told that this Kimage Hair Colouring Package included a hair treatment, I felt lukewarm because most of the time, such "free" hair treatment would be an extended version of a "hair conditioning" session.
But this treatment was so different I think it's the most-pampering experience I've ever enjoyed in a hair salon.
Cool & Minty Scalp Treatment & Massage
First, something cooling and minty was placed over my scalp. Then, I was given a relaxing head and neck massage. Yah, just think about how shiok it is when someone massages your temples, exerts some fingers-pressure to stimulate your scalps and continues down to your neck to release the tension.
The sweet lady assistant, Sunny then placed a hot towel over my neck. At this moment, my scalp felt cool and my neck felt warm they produced an indescribable sensation that felt both relaxing and stimulating at the same time. For a moment, I thought I was in a spa.
The experience was so comfortable I fell asleep during the first half of the session and only woke up later to enjoy the massage session.
Purple Hair Treatment
After the scalp treatment, it was my hair's turn to be treated. Thomas came into the wash area and told Sunny to give me a "purple" hair treatment. I later learnt that what this purple thing does is to give the hair an ashy tone which you may notice near the ends/curls.
Thomas told me that once the purple effect faded off, my highlights would be even more pronounced. Great! Happy to hear that. LOL!
The whole treatment session could have been an extended one lasting more than 30 minutes. If you refer back to an earlier point I made regarding how the salon might have made conscious efforts to reduce customers' "waiting time", I'm suspecting that the extended massage could be one way to make waiting less apparent.
It's a win-win for everyone as customers get to be pampered and the hair stylist could attend to another customer at ease.
6. A Friendly Hair Stylist Who Can Brighten Up One's Day
Being reserved, I normally take some time to warm up to a stranger. Thomas from Kimage Hair Salon was one of the few who made me feel absolutely at ease like how old friends feel when they meet up.
I think it's because of his bubbly, jovial and positive demeanor. This spirit can be infectious as the whole salon felt like one with a positive energy. You don't see bossy or angry seniors talking down on juniors.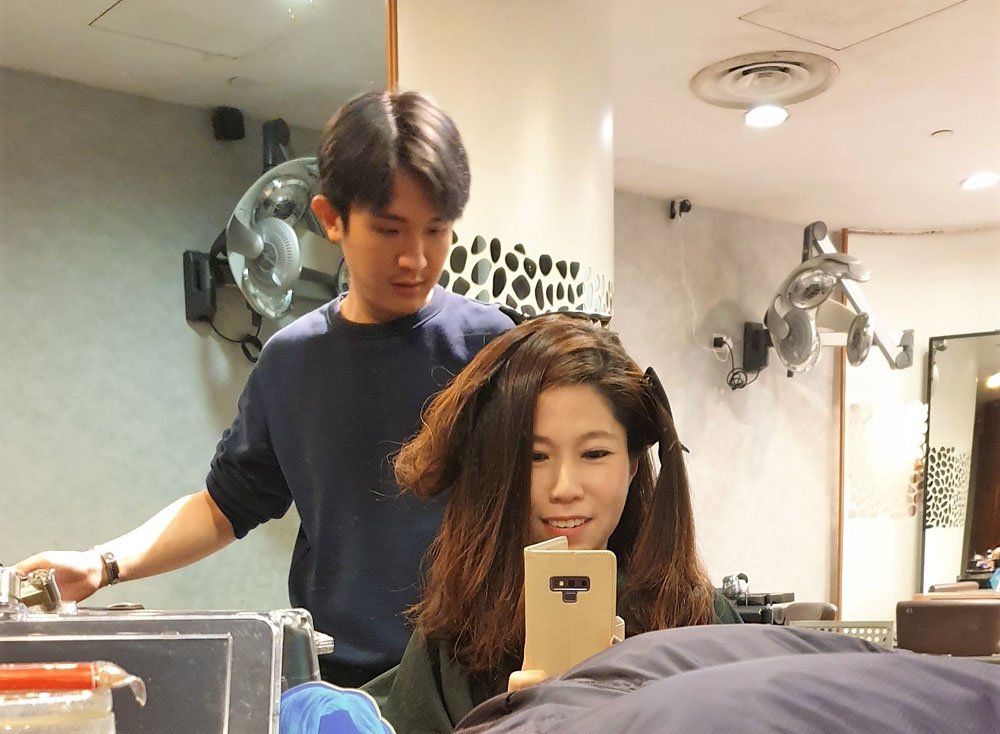 A Jovial Guy with an Infectious Positive Energy
"Why you keep taking photos, huh? Are you a photo-siao (selfie-addict)?" Thomas asked when he saw me taking photos constantly.
I didn't reveal my identity as a blogger and so I told him, "Ya lor!" I'm an old vainpot."
See what I mean when I said he's a funny, casual and direct guy? I felt so relaxed even though it was my first time interacting with him.
Here's another example of our conversation: "Wah! Your hair looks like leopard prints!" Thomas told me during the initial consultation when he examined my DIY-coloured hair. I was amused at his choice of words. A leopard…not bad leh. Didn't know I'm so skillful! :P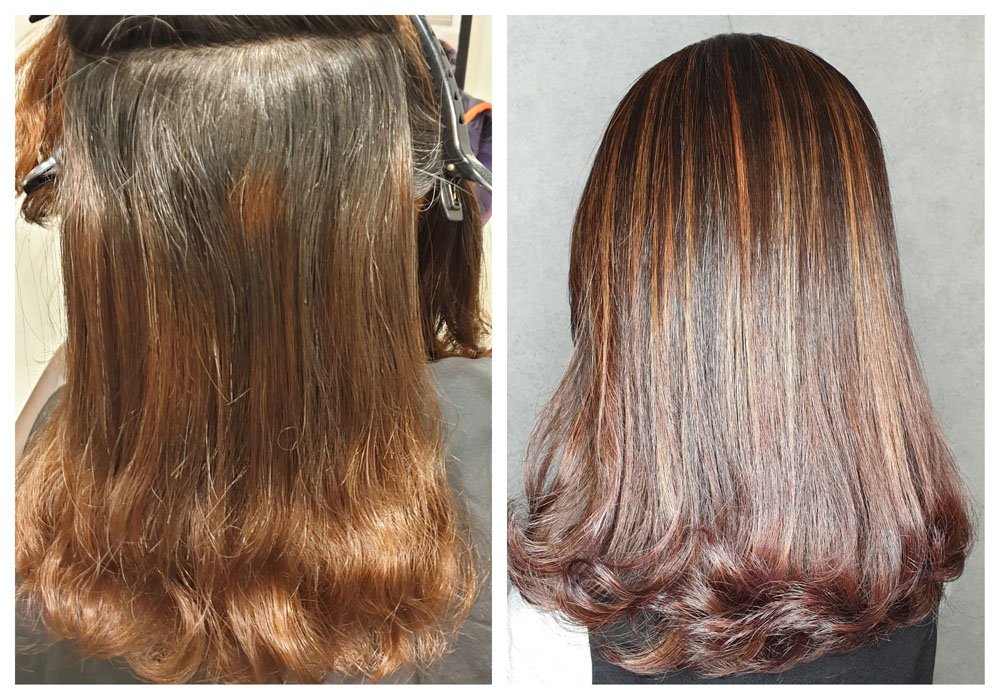 He transformed me into a sociable person
I normally do my own stuff such as surfing the net when receiving my hair service. This was the rare, if not the only occasion when I sat through the whole 3-hour session chatting with Thomas.
He really did brighten up my day because humans tend to feel happier when they interact and socialize. He made me interact. LOL!
7. Kimage Hair Colouring Service was Reasonably-Priced 
I paid S$230 for Kimage's Hair Colouring Service which included a base hair colour, customized highlighting, hair cut, scalp treatment and hair treatment. The whole session lasted about 3 hours.

For the great result that I've gotten and the comfortable and relaxing experience I've enjoyed, I thought this hair colouring service from Kimage was great bang for the buck.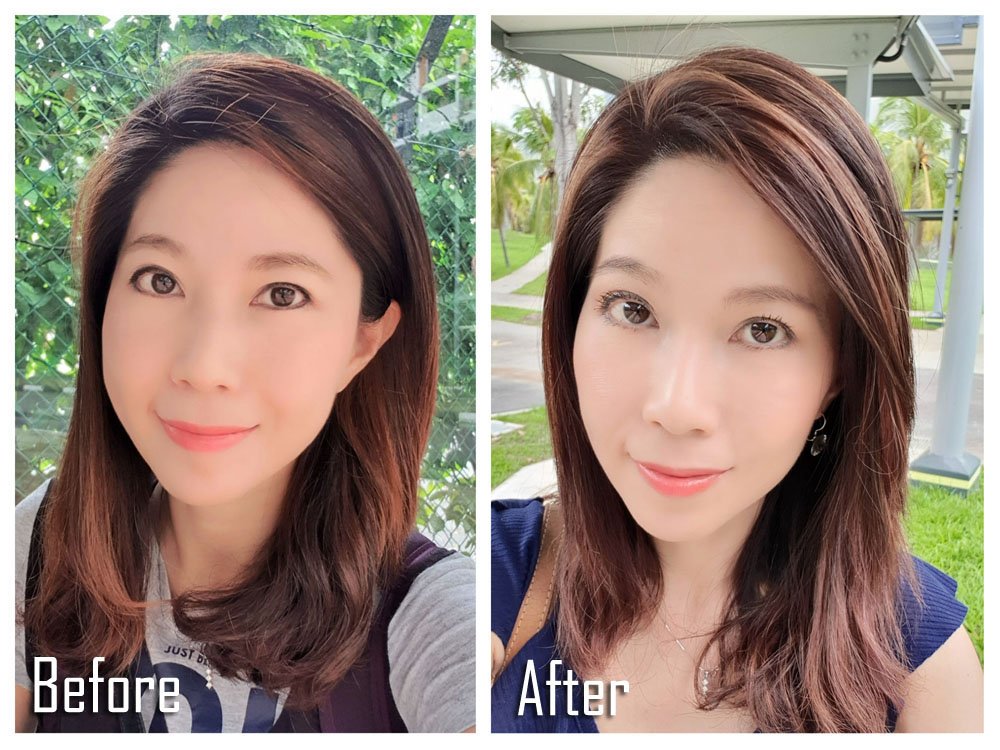 Update (2020): The price has gone up significantly during my last visit in June 2020. Do call and enquire for the latest price so as to manage your expectation. Unfortunately, my expectation wasn't managed as the new price was only revealed after the service was completed despite enquiring several times before and during the service. 
---
What's Not Great? 
Nothing is 100% perfect. Therefore, let's balance this review by talking about the cons of this hair service from Kimage I12 Katong.
1. Ammonia Hair Colouring Was Used
Ammonia hair dye was used on me. I'm not sure if Thomas had chosen ammonia dye because of my thick and stubborn hair or if this is the standard dye for everyone.
Personally, I'm not anti-ammonia hair dye because I know they are effective. I also know based on experience that my thick hair can be stubborn to hair colouring job. In my younger days, I often have to choose a much lighter shade to get the colour that I really want. E.g. to buy a blonde hair dye kit when I wanted a medium brown effect.
So I have no complains about ammonia. But I'm listing it here in case you prefer an ammonia-free hair dye or are not comfortable with putting up with the smell.
2. Self-Promotion in a Jovial Manner
My hairstylist from Kimage I12 Katong Hair Salon was such a confident chap he wouldn't shy away from promoting his capability and experience. There would be self-promotion going on throughout the session, but trust me, it's done in a jovial and absolutely non-annoying manner.
If you guys know me personally, you would know I'm not someone who appreciates boastful characters. But this hairstylist boasts in a way I couldn't stop giggling and thinking how funny he was.
"That customer said I'm very 'haolian' (boastful)," Thomas giggled and said this out loud to everyone in the salon. And everyone just started laughing at his self-deprecating joke.
---
Recommendations
I walked out of Kimage I12 Katong feeling happy, relaxed and rejuvenated. Most importantly, Kimage gave me a stylish hair colouring job that suited my personality and have so far earned me many compliments.
If you are seeking a hairstylist who can provide you with expert advice on hair colouring, I highly recommend Thomas Goh from Kimage I12 Katong. I know for sure I'll be going back to him for future hair colouring jobs. Note: Recommendation is based on first hair colouring service received in 2019. Rating: 5/5.
***
This content is brought to you in partnership with Kimage. I've visited the hair salon as an anonymous customer, made full payment, recorded my unbiased review and invited Kimage for sponsorship. Kimage allowed us to retain 100% editorial opinion and did not vet through this review before publication. Thank you to Kimage for supporting 100% honest review. Thank you to my readers for supporting sponsored posts that add value to myBeautyCravings and help keep our website running.
---
Did you enjoy our honest reviews? Please feel free to connect with me if you like to receive more of such reviews. Just click the button below to subscribe and you'll also get access to all my exclusive contents. Chat soon! 
(This post was first published on 6 May 2019 and last updated in June 2020)
This post may contain affiliate links, meaning I earn a commission if you make a purchase, at no cost to you. Read my full disclosure for more info.
(Visited 1,264 time, 1 visit today)