Every night after my shower, I would slather a generous layer of Marks & Spencer Lavender Cream all over my body. This body moisturizer boasts a soft lavender scent that is known to lower anxiety and relax the mind. 
In this unprecedented time of great uncertainty, I find this lavender cream especially useful in balancing the mood and promoting a feel-good sensation. Read on as I'll share with you why this UK-made moisturizer makes a good summertime body moisturizer.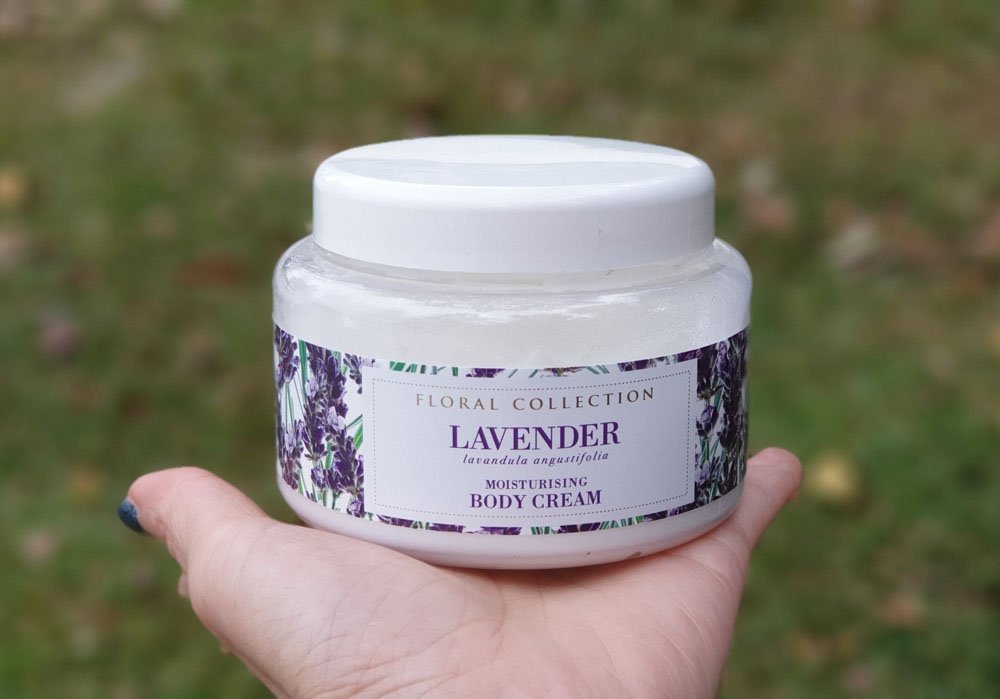 ---
Shopping for Marks & Spencer Lavender Cream
Marks & Spencer (M&S) is one of my favourite bodycare brands – one that I've started using since I was a teenager. Products I've often purchased from the brand include body lotion, hand cream, shower foam and deodorant. However, one product I'd yet to try – until a few months ago – was the body cream. 
When shopping at Jewel Changi early this year, I chanced upon an M&S store and was drawn by Marks & Spencer Lavender Body Cream. I tested the sample and love its scent. But I hesitated prior to purchase because the cream appeared a bit runny as compared to other body creams I've used. 
That got me worried as I wondered if the "cream" would provide enough moisture. But I decided to give it a try after reading the marketing label. Here's what it says: 
Marketing Description: "This luxurious body cream with carefully balanced pH will leave your skin beautifully scented, feeling soft and moisturised." 
'Soft and moisturised' sounds good to me? Let's see how the actual experience turned out to be.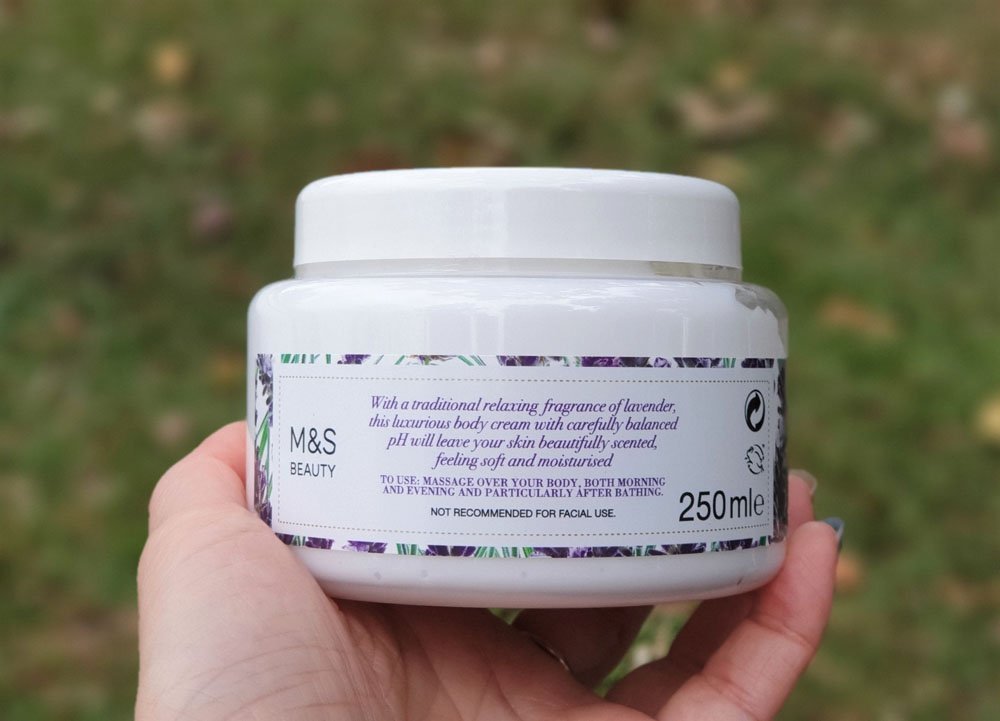 ---
What's Good about Marks & Spencer Lavender Cream
1. Soft & Relaxing Fragrance
Lavender is known for its relaxing fragrance, and has been used as a popular natural treatment for anxiety, stress and insomnia. While I cannot say for sure if lavender is useful in my experience in combating the mentioned symptoms, I do enjoy the scent. 
I'm glad that M&S Body Cream has the same lavender scent that I'm familiar with and love. The reason why I'm highlighting this is because not all lavender-scented skincare smells the same. For instance, I don't love the scent of L'Occitane Lavender Hand Cream as much.
Another thing I love about M&S Lavender Body Cream is how it is beautifully-scented, but not in an overpowering way. It leaves a faint fragrance that won't cause you (or others around you) to choke unlike brands like Bath & Body Works or Victoria's Secret.
2. Feels Comfortable even on hot days
As at time of writing, Singapore is hovering above 31 °C and I'm referring to indoor-nighttime temperature. Despite the hot and humid climate, Marks & Spencer Lavender Cream feels very comfortable on the skin, whether it is used during the day or night.
It absorbs fast, feels refreshing and doesn't leave behind any stickiness or obvious grease. There's no burden to the skin at all. 
Confirming my earlier in-store observation, this is the most lightweight body cream I've ever used. In fact, I don't think it's wrong to describe this as a lotion-in-a-tub. The afterfeel is very similar to what you get from a body lotion. 
So should you then get a Marks & Spencer body lotion instead which normally comes in a convenient pump bottle?
Well, they are not the same. :) M&S body lotion is even more lightweight. To put it simply, if you are looking for a lotion-like afterfeel, go for M&S Body Cream. If you are looking for a very lightweight and almost-invisible lotion, go for M&S Body Lotion.  
3. Perfect Moisture Level for Warm Climate
I think M&S Lavender Body Cream has the perfect moisture level when used in hot climate or during summer. It gives the right level of moisture protection, but doesn't overwhelm the skin with heavy and stuffy cream.
This is probably the only body cream I can use during the day as Singapore is summer all-year-round. And not to forget how we have to stay at home – and not be in air-conditioned office/malls –  because of covid-19!
> RELATED: Singapore is now in partial lockdown! What happened to the successful measures?
For those who are interested, the image below shows you the ingredients that goes into M&S Lavender Cream (click to enlarge).
4. Reasonably Priced
Although Marks & Spencer isn't as cheap as drugstore moisturizers such as Vaseline (which uses similar ingredients – mainly Petrolatum and Glycerine), it is a lot cheaper than brands such as Loccitane and Kiehl's. 
I believe I got the M&S Lavender Body Cream for less than S$15 in Singapore. If you visit or reside in UK, you are lucky because it cost only £4 per tub. 
---
What's not great about M&S Lavender Cream? 
1. Not moisturizing enough for some
This light and runny body cream works for me because of the hot country I'm residing in. But if I'm travelling to a dry and cold country, I doubt I'll bring Marks & Spencer Lavender Cream along. 
Marks & Spencer Lavender Cream is good in giving a bit of moisture and scent, but not great in healing skin dryness or flakiness. 
2. Depletes fast 
Because of the light viscosity of M&S lavender cream, I find myself using more product per application and depleting it a lot faster than I normally would for a body cream. 
This sets the record for the shortest time I've taken to empty a tub of body cream.
3. Scent won't linger for long
I've mentioned earlier how the scent is faint and subtle. You'll be able to enjoy the lovely lavender scent during application. But a short while later, the scent won't be easily noticeable, unless you bring your nose close to your skin and take a deep sniff.
Therefore, if you prefer a strongly-fragranced products that have long-lasting scent, M&S Lavender Cream probably won't make you happy. 
---
Recommendations: Who will love M&S Lavender Cream?
Marks & Spencer Lavender Cream would suit someone who loves a lightweight body moisturizer that has a soft lavender scent and is inexpensive. It's especially useful during summertime or when the weather gets hot and clammy.
With this cream, you'll get some moisture nourishment without the burden of heavy cream. Hence, it's without a doubt that I would repurchase the M&S Lavender Body Cream since Singapore is perpetually in summer all-year-round. Rating: 4/5.
That's all to today's beauty review. If you like to get notified to more of such beauty reviews, click the button below to subscribe. You'll also get free and exclusive stuff as a subscriber. See you soon!
SUBSCRIBE
Pin This!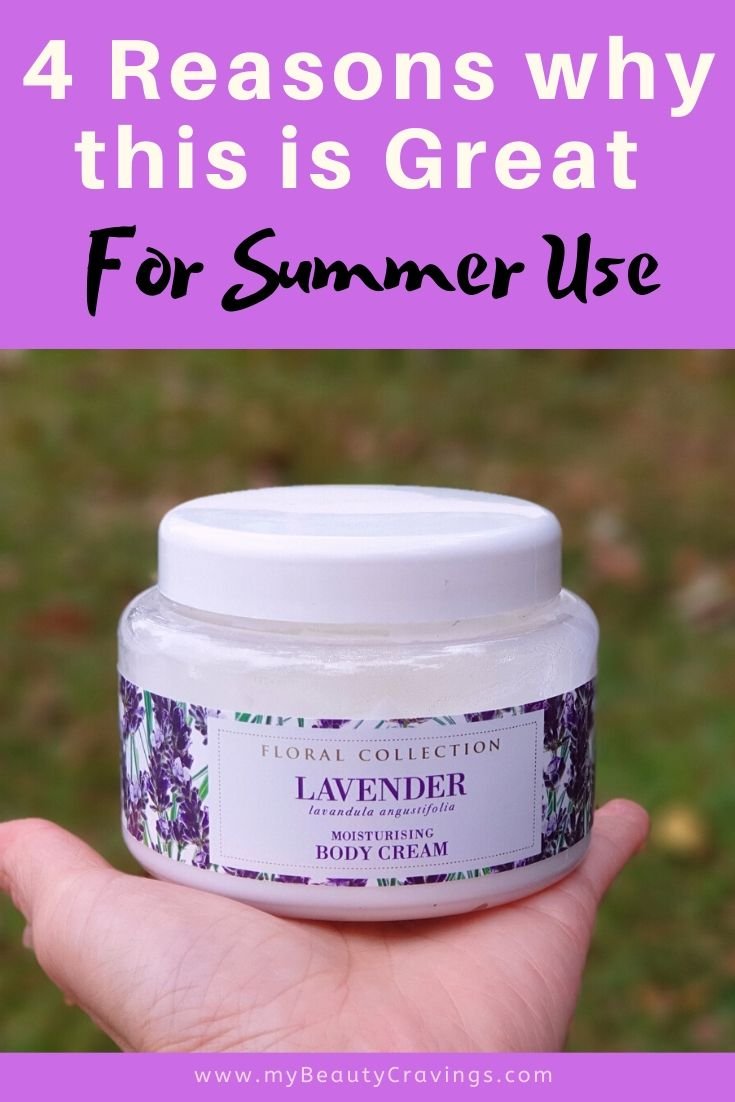 This post may contain affiliate links, meaning I earn a commission if you make a purchase, at no cost to you. Read my full disclosure for more info.
(Visited 641 time, 1 visit today)