Having unruly hair these day? All thanks to Covid-19 pandemic, I haven't rebonded my thick and coarse hair for 9 months. And the new-grown roots are starting to look poofy. Luckily, I have with me a styling product known as Utena Matomage Hair Arrangement Water.
This styling water that I brought back from Japan has allowed me to look presentable even though my then-perfect bob hairstyle has since turned into an unsightly mop. What Matomage Arrangement Water does is to tame frizz and flyaway hair.
Based on the image included in the packaging, it seems that this product is most suited for updo hairstyles, such as pony tails, braids and buns. Therefore, if you have long hair that you tie up often, Matomage Hair Arrangement Water is something you would want to find out more about. 
---
About Matomage Hair Arrangement Water
Matomage Hair Arrangement Water is a product by Utena and originates in Japan. Even though I got it in Osaka, you can easily find this styling product from local stores, such as Watsons Singapore and Don Don Donki. If I recall correctly, I've also seen it in Malaysia.
If your local stores don't carry this styling water, here's where to find the product online. 
What's so special about Matomage Hair Arrangement Water?
Matomage Hair Arrangement Water is a product that holds your hairstyle together, while keeping it sleek and glossy. According to the product description, this "Cosme No.1" product doesn't cause your hair to look rigid like what a hard-hold hairspray does. 
The water also contains moisturizing ingredients to keep your hair soft and healthy. If that's not good enough, Matomage styling water is said to hold well even in humid climate, which in the context of Singapore, means EVERY DAY. :) 
Sounds like a useful product, isn't it? Let me now share the pros and cons of this styling water from Japan.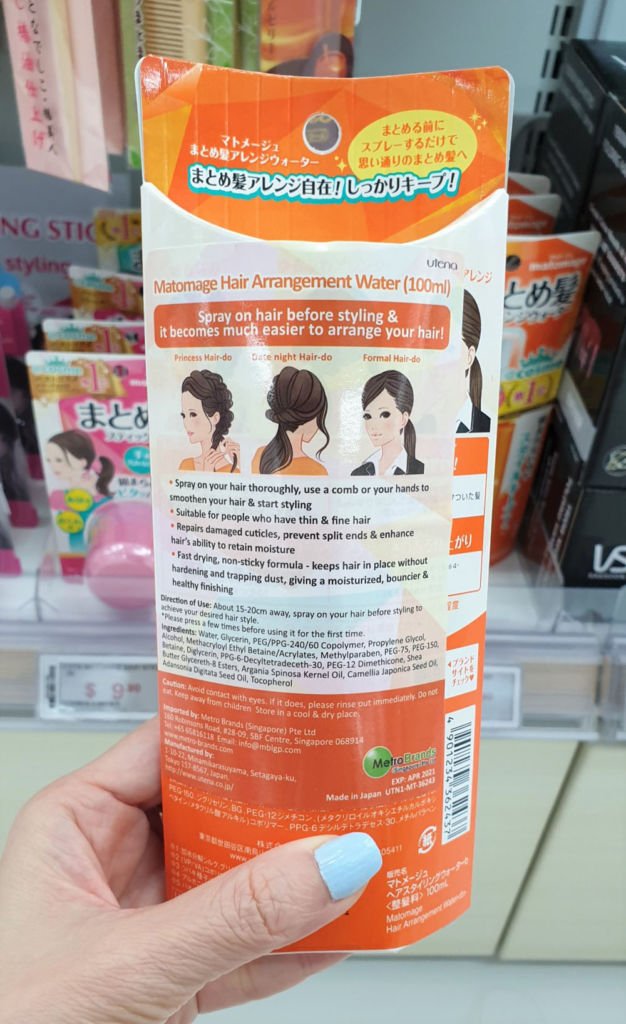 ---
What's Great about Matomage Hair Arrangement Water? 
1. Sprays out fine & even mist
Matomage Hair Arrangement Water is very easy to use. The handy 100ml bottle has a great nozzle that dispenses fine mist evenly without any drippage.
Directions for Use:
Before styling, spray to lightly dampen your hair. Hold the bottle 10 to 15cm from the hair when you spray. Then brush your hair with your hands or a comb and begin styling.
2. Comfortable Non-Sticky Afterfeel
I hardly use hair styling products, especially those that are sticky to the feel. My habit of constantly touching my hair would make my hands sticky all the time.
Therefore, I'm really happy that Matomage water doesn't make the hair tacky. Instead, it'll leave your hair feeling smooth and moisturized, as if the hair is covered with a light serum.
3. Natural-Looking with a Healthy Shine
Matomage Hair Arrangement Water gives the hair a dose of healthy shine without looking like you have oil on your hair. The effect is natural such that others may not tell you have stuff applied on your hair.
Another thing I love about this product is how it styles without leaving clumpy strands (think of those left by hard-hold spray). Neither does it stiffen the hair.  
What you get is soft, smooth and shiny hair that stays together.
4. Sleek & Polished Hairstyle
Let's talk about the performance of Matomage Hair Arrangement Water. How good is it in styling the hair? 
As shared earlier, this product seems to work better for hair updos. I did an experiment and sprayed the product on ONLY one side of my hair. Here's how my pony tail looks like 2 hours after application.
Two Hours Later
The side that was sprayed with Matomage Hair Arrangement Water (left photo) looks neat and sleek after 2 hours, but not the other side that was left unstyled.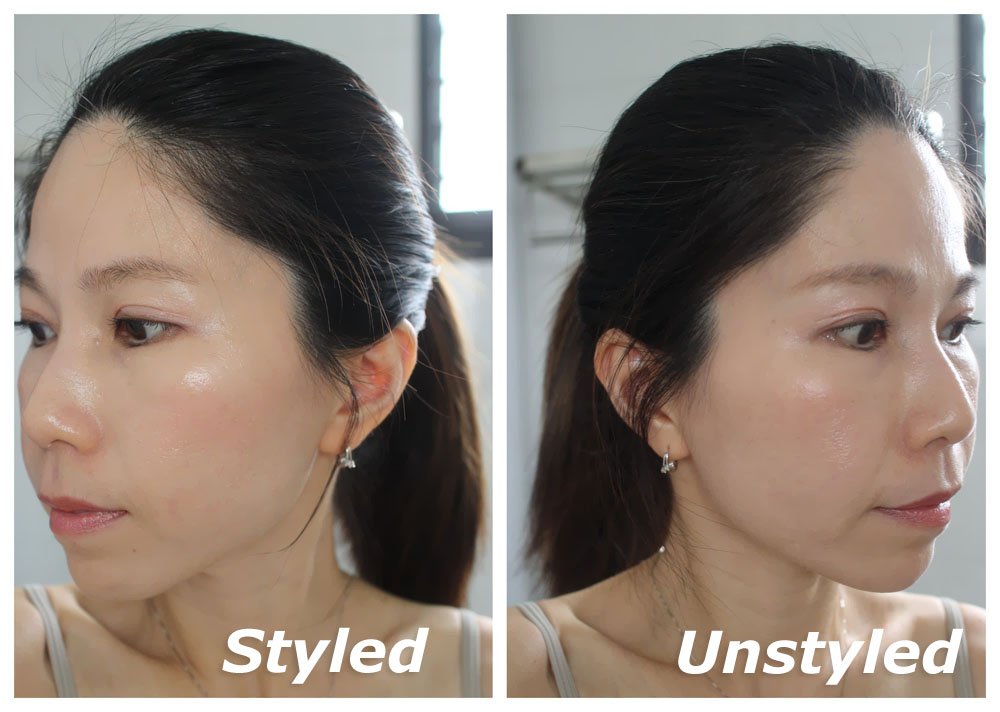 In the second photo collage below, I lifted my pony tail to show you how messy the base of the hair was on the "unstyled" side (right photo), after 2 hours. The other side that was sprayed with Matomage Arrangement Water looks immaculate.
5. Moisturizes while it styles
Isn't it great when a styling product does its work while keeping your hair in tip-top condition? 
Matomage Arrangement Water contains a few moisturizing ingredients such as Glycerin, Camellia Oil, Argan Oil and Baobab Oil. These components are known to work wonders for skin and hair.  
Here's the full ingredient list:
Ingredients (Matomage Hair Arrangement Water)
Water, Glycerin, PEG/PPG-240/60 Copolymer, Propylene Glycol, Alcohol, Hydrolyzed Silk, VP/VA copolymer, Camellia Japonica Seed Oil, Argania Spinosa Kernel Oil, Adansonia Digitata Seed Oil, Betaine, PEG-75, PEG-150, Diglycerin, Butylene Glycol, PEG-12 Dimethicone, Methacryloyl Ethyl Betaine/Acrylates Copolymer, PPG-6-Decyltetradeceth-30, Methylparaben

(source)
6. Affordable Pricing
I got this product in Japan at a lovely price – just 618 yen (tax-free). In Singapore, I've often seen it priced at around S$10, which is still quite affordable. 
Here's the latest online price.
---
Two things you may not like about Matomage Arrangement Water 
1. Hand feels sticky during styling
Yes, I've mentioned that the hair and hands don't feel sticky after applying Matomage Arrangement Water. However, at the stage of styling, the product would leave your hands sticky. And you'll be forced to wash your hands once you are done with the styling.
I'm not sure what cause the difference – sticky during styling and non-sticky thereafter. Perhaps, the tacky feel vanishes once the water is fully absorbed or dried up.
2. Doesn't hold as well as a Firm-hold Spray
Now, I'm being finicky here. Of course this water doesn't hold hair in position as well as a firm-hold spray.
I'm listing this here so that you won't count on it to give you a 100% neat appearance. Do expect some hair to come loose especially those positioned against the pull of gravity, e.g. base of pony tail. You may want to use a firm-hold spray if you need long staying power.
---
Recommendations: Who should get Matomage Arrangement Water?
I recommend Matomage Hair Arrangement Water to those with long hair and who often keep their hair up, whether in the form of a pony tail, bun or braid. It will keep your hair looking fine and immaculate for hours, just like those well-groomed ladies we often come across in Japan.
Other than the polished and fresh-out-of-home appearance, I also love its non-sticky afterfeel, healthy shine and affordability. The only group of people who I think may dislike this product are those who prefer a voluminous (and intentionally messy) hairstyle. Rating: 4/5
To find out the latest price on Amazon, click HERE
That's all to today's beauty review. If you like to get notified to more of such honest reviews, click the button below to subscribe. You'll also get free and exclusive stuff as a subscriber. See you soon!
SUBSCRIBE
This post may contain affiliate links, meaning I earn a commission if you make a purchase, at no cost to you. Read my full disclosure for more info.
Pin This!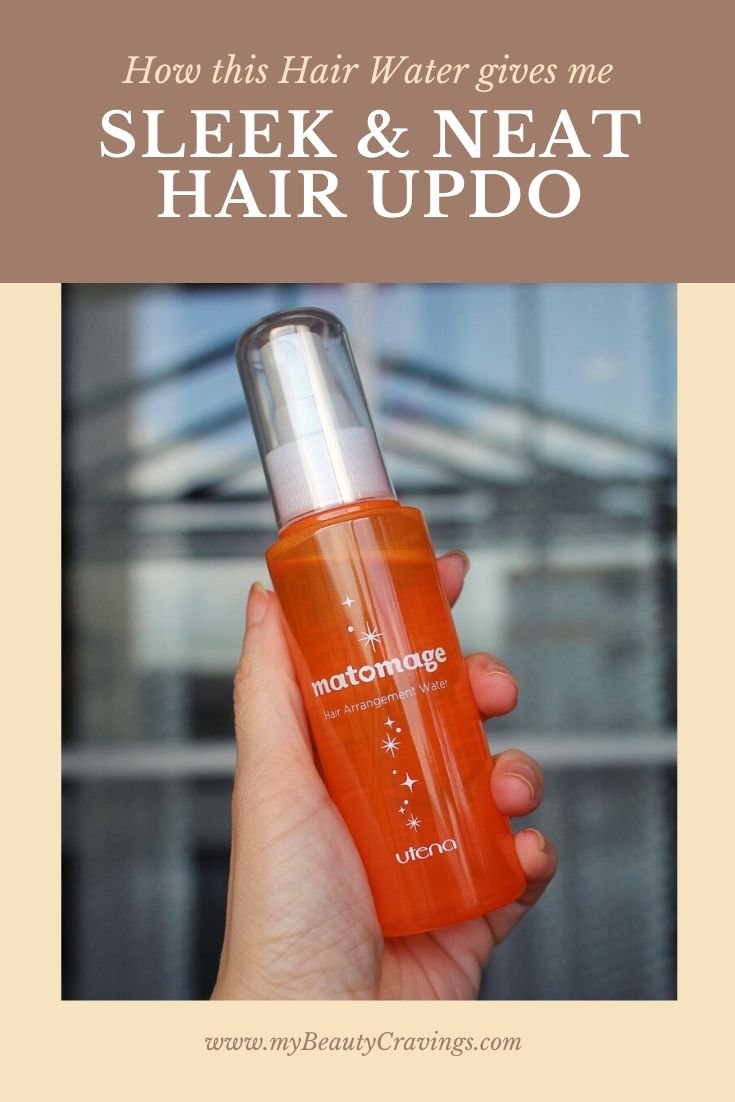 (Visited 183 time, 1 visit today)