How do you avoid getting scammed by online beauty stores? Today, I'm going to show you how one dubious company stole my before-after photos and use them to cheat unsuspecting people into buying their beauty products.
Read on and check out how these online scams work. I've intentionally left them unreported to let you get a quick glimpse of how they function, but not for long.
---
Alerted by a Reader Who Saw My Photos Being Misused
What's the downside of having an online profile, or worse a blog where your photos are pasted all over the world wide web? Sadly, it means that someone can easily steal your photos and use it for deceitful acts without you even realizing it.
I was lucky to have received an alert from one of my readers, Miss J. She kindly took the trouble to inform me about how my photos were misused.
Apparently, an online company – FineSkin Group – has placed my before-after photos alongside their skincare product, to give people the impression that my shrunken pores and refined skin were a result of using their skincare products (see stolen photo here).
I've Never Used These Beauty Products
Unfortunately, the truth is that I've never used any products from FineSkin Group. The before-after photos that you see above was stolen from this blog post that talks about a 40% Glycolic Acid Chemical Peel.
FineSkin Group blatantly used these photos to con unsuspecting customers into thinking that their skincare products can produce the same result as what a chemical peel could.
And if stealing photos and scamming customers weren't bad enough, this online beauty company had the cheek to place their copyright watermarks over my images.
For a company that has no ethics and moral values, do you really dare to place their products on your face?
---
How Such Online Beauty Scam Works
I've done a brief investigation to study how this online beauty store operates and scams her customers. Let's take a look at some telling signs of a dishonest online "store".
1. An Incredibly Huge Number of "Miracle" Photos
Am I the only victim? Take a look at their Facebook page and see how many photos they have in their archive.
As at time of writing, there are more than 2,500 photos. You may want to check out their archive to see if yours or your friends' photos have been misused too.
Now, how easy is it for a company to amass 2,500 before-after photos from their customers? Have you seen similar scenario coming from established companies such as Estee Lauder, Shiseido or L'Oreal?
If these long-established giants can't gather such overwhelming feedback and response from their customers, how did a dubious and unknown store do it?
2. Inconsistent Use of Company Name
Now, let's take a look at their company's name.
Most marketers know how important it is to be consistent in their use of a brand name. If I use "myBeautyCravings" on this website, but change it to MBC True Media on Facebook and "Nicole Lee" on Instagram, will you be confused as a first-time reader?
So, I really wonder why this online company uses "FineSkin Group" as their company name, "twinbeautyresources" as their Facebook username and Paris Victoria as their product brand. These names have absolutely nothing in common.
My guess is perhaps, they had to create a new Facebook account after the original one was banned due to scam operation or reported against copyright infringement.
3. Scarce Info on Company Details
I can't find any registered website or registered address on this company.
Based on Facebook's indicative location, FineSkin Group operates out of Asia. Here's what Google Map showed me when I did a street view verification.
I don't see any stores that look like a luxurious skincare company. Yes, it's possible that they do not have a physical storefront. However, I'm more inclined to think that this is a bogus address.
4. Elusive Contact Information 
For a company that sells products online, I was surprised that I couldn't find any official contact details listed on their profile page. No email, no contact number, no website address.
The only way to communicate with FineSkin Group is through Facebook messaging. If they take down their Facebook page, you will probably find it hard to reach them.
5. Are These Blatant Lies?
Look at what they wrote on their Facebook Posts. Let me take the honor to do a translation:
"Don't ask me why these products are remarkable. Why are they priced at a premium? Because you pay for what you get….

#ChallengeCompleted. See how these enlarged pores and rosacea were improved after using our products.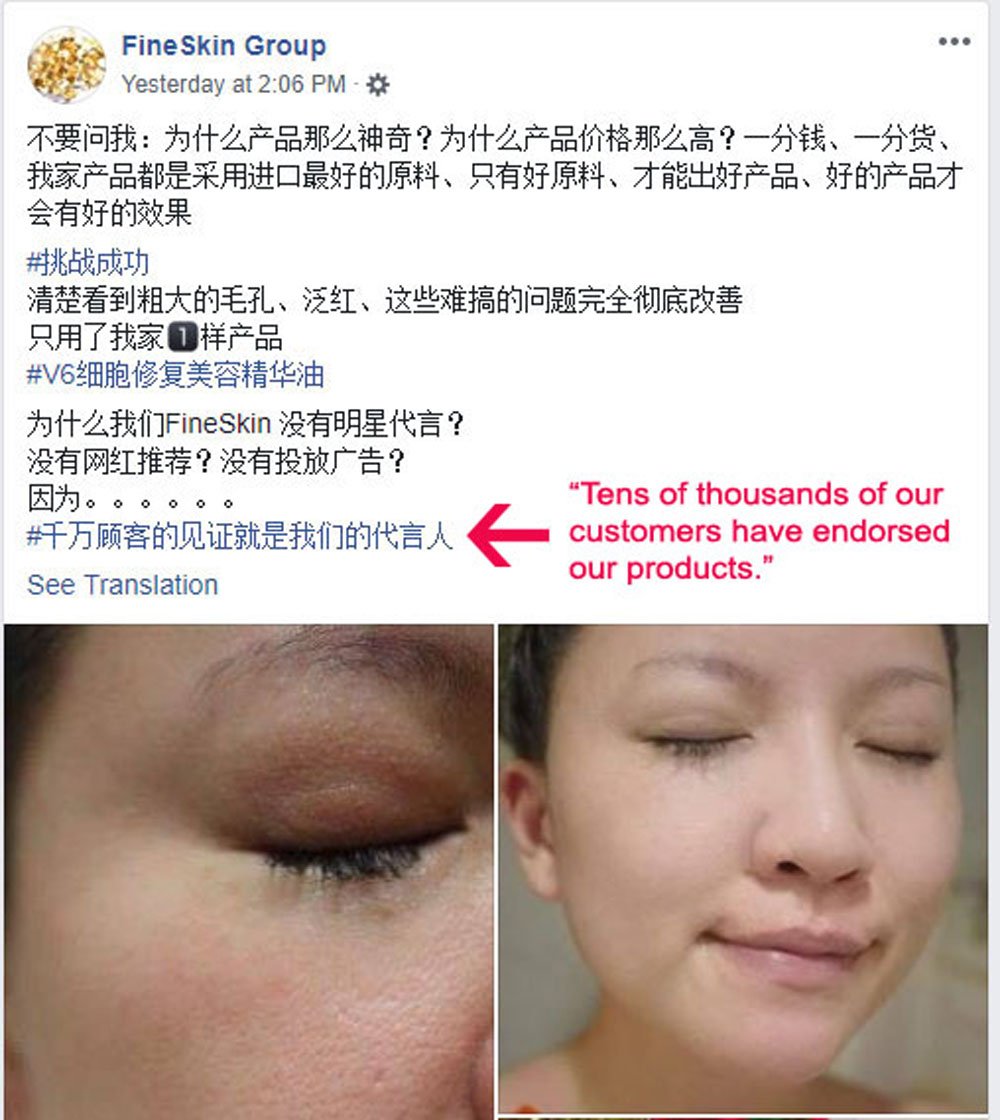 FineSkin Group added that they didn't need celebrities to endorse their products because tens of thousands of their happy customers have endorsed their products and are their best ambassadors.
Really? I didn't remember endorsing their products. I've never even heard of or used their products. If these are not blatant lies, I wonder what are.
Here're more of their marketing pitch, if you are interested.
---
Who's Behind this Dishonest Beauty Online Store?
As shared earlier, I can't really find much official background information of this online beauty company.
I did however find some videos where some ladies were actively promoting the products. Are they the people behind the company or influencers who were engaged to share about these products?
I think it may be the latter.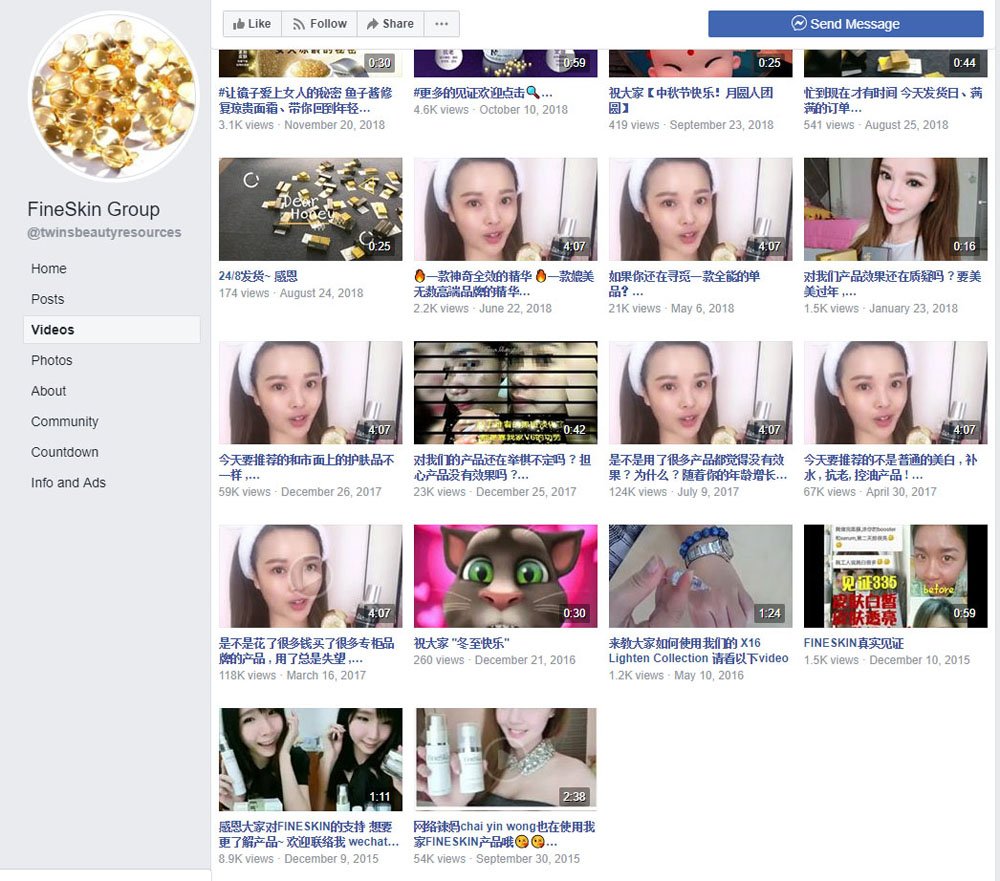 Which comes to a similar conclusion, that is, we do not know who is behind this company.
Well, maybe some do, because this company has more than 20,000 followers.
---
How to Protect Yourself Against Online Beauty Scams?
First of all, we should probably stay away from buying anything from companies who don't even have an official website. And all the more we should start running if contact details can't be easily found.
If the product appears too good to be true, it probably is. Trust your intuition!
---
Conclusion
Let's refrain from buying things online if the sources appear dubious. A legit company need not hide their identity. Make sense? If you notice similar modus operadi as highlighted in this article, you may want to think twice before parting with your money.
Do share this article with your friends and family members if you feel it'll help them avoid online scams.
UPDATE: I'd reported this as spam to Facebook, but this page is still around after a year. I've reported it again in 2020. 
---
Love more of such honest reviews? Feel free to connect with me if you like to receive more useful and honest reviews. Just click the button below to subscribe and you'll also get access to all my exclusive contents. Chat soon! 
Pin This For Later!
This post may contain affiliate links, meaning I earn a commission if you make a purchase, at no cost to you. Read my full disclosure for more info.
(Visited 688 time, 1 visit today)