Hey all, have you been exercising as much as when things were still normal (pre-covid19 days)? 
Singapore has officially entered a Circuit Breaker mode on 7 April 2020, which is effectively a partial lockdown. People are encouraged to stay at home as much as possible, with schools, non-essential businesses and most shops closed for a month. Luckily, exercising is not being discouraged during this period as long as safe social distance is maintained. 
The start of the Circuit Breaker happened to coincide with the end of my 30 Days Slim & Fit Challenge for March/April. So, you can say that it didn't affect my completion of the challenge by much. But even after the challenge has ended (and circuit-breaker began), I did not allow myself to slacken.
> RELATED: What I did to reduce my thigh and waistline
I believe that at this time, all the more we should exercise and stay fit and healthy to boost our immunity. Hence, I'm still recording my Live Fitness & Diet Record HERE. I intend to have this page as a perpetual record because it keeps me motivated.
---
Covid-19 isn't an excuse not to exercise 
Many of us (including me in the past) may use life inconveniences as an excuse not to exercise. Thankfully, I've had a mindset switch a few years ago – all thanks to my partner. He made me realised that everything is doable if one sets the mind to do it.
He is fit and muscular, but he doesn't even visit the gym at all. And if you are wondering, he doesn't have massive and sophisticated machines at home either. Neither does he take any protein powder. Just a few dumbbells and a lot of determination and discipline. 
Oh. Plus lots of egg whites. LOL!
Even if it's inconvenient to go out or you are not able to venture outdoor at all, there are many exercises that can be done at home. For example, most of the exercises I've done in the 30-day Challenge can be done indoor, such as Squats, Sit-ups and strength exercises. You check out this post to see video links to the indoor exercises I've been doing.
In case you wonder if the exercises have been useful, I'm going to share with you the results of my 30-Day Slim & Fit Challenge.
---
Results of 30-Day Slim & Fit Challenge
Having gained experience from an earlier Slim & Fit Challenge, I did not expect to see visible results after 30 days. Two months is a more realistic timeline to see a fitter body and/or slimmer frame. This is especially so since I am not doing it in a drastic and crazy manner, like those you see in Fat-to-Fit TV reality shows.
> MUST-READ: Results after 30-Day Slim & Fit Challenge in 2019
For instance, I've not starved myself at all – just merely focusing on maintaining a healthy diet than overeating. I've also not engaged in super-strenuous exercises because I like this habit to be sustainable.
But, I was caught by surprise – a pleasant one! I actually see visible results in just 30 days. :)
I've slimmed down in 30 days
1. My waistline has reduced by 0.5 inch 
2. My thigh has gone down by 0.5 inch
3. My thigh GAP is visibly wider – the thighs no longer threaten to merge as one. :)
4. My shorts feel looser
5. I'm healthier and sleep better
Although the reduction in inches may seem small in absolute terms, that's because I'm quite petite in frame. So, I'm very happy with the result and aim to continue this healthy lifestyle. 
I may not need to lose any more inches off my waist, but there is room for improvement for my thigh and butt. :P I like them to be firmer and the cellulite to be fully eliminated. 
Sorry if you are hoping for some before-after photos. If you know the old-fashioned me by now, I'm not very keen to show a close-up of my thigh, abdomen or body parts in public domain. :) But you can take my words for it.  
And that's all to my Results Report. If you need inspiration to stay healthy daily, follow my Live Exercise Log. Take care and stay healthy!
Don't venture out too often, okay? If you need to jog, remember to keep a good distance of at least 10m from the person in front of you. 
This post may contain affiliate links, meaning I earn a commission if you make a purchase, at no cost to you. Read my full disclosure for more info.
Pin This!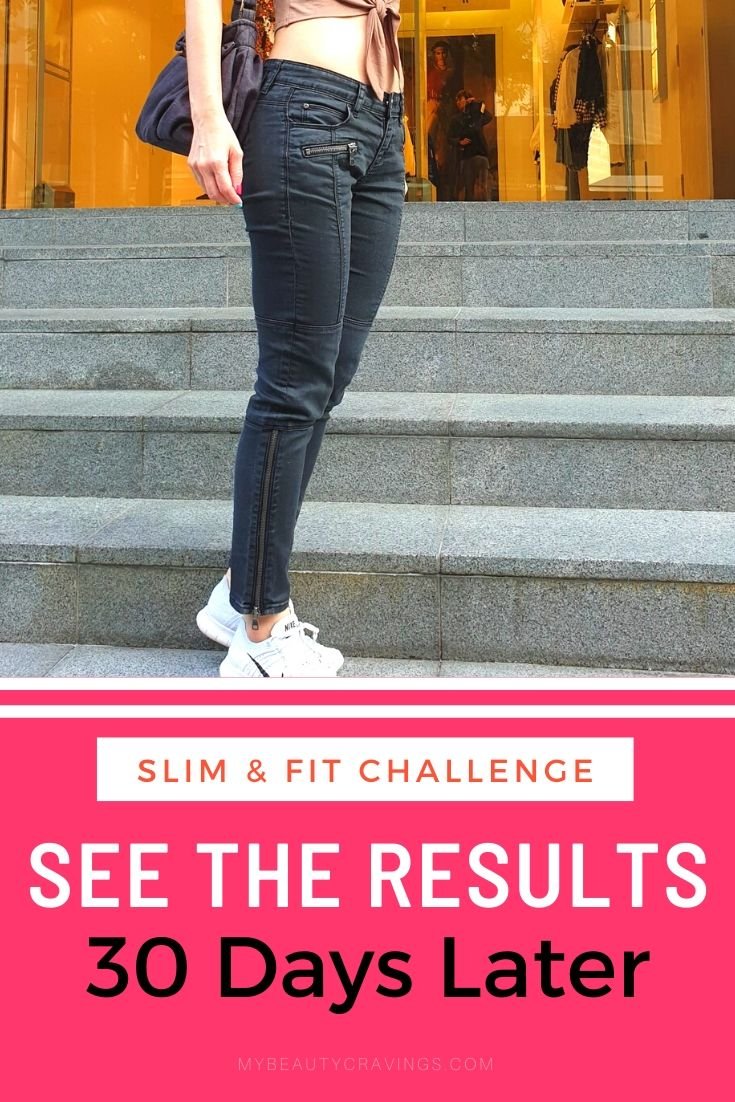 (Visited 75 time, 1 visit today)