A couple of years ago, cleansing oil is synonymous with Shu Uemura, the brand that introduced and popularized the use of cleansing oil since 1960s. However, in recent years, I've noticed many Korean and Japanese brands introducing their own 'cleansing oil' into the market. DHC Deep Cleansing Oil is one of them.
No doubt Shu Uemura is still the No.1 makeup remover brand in many Asian Countries such as Japan, Korea and China. However, should she be concerned that the influx of similar products will shrink her pie?
More importantly (at least to us), do these cleansing oil from other brands perform as well as the market leader? In this review, DHC Deep Cleansing Oil will be put to the test.
Questions we want to ask:
1) Can DHC remove makeup as well as Shu Uemura?
2) Does DHC require double cleansing?
3) Does DHC maintain the moisture balance of the skin?
---
DHC Deep Cleansing Oil
1. The Price
Although Shu Uemura has been my holy grail makeup remover for years, I just couldn't help trying new beauty products. Especially so when I was in the land of origin of numerous renowned beauty brands. Yes, that's right. It's Japan that we are talking about.
I bought a twin pack (2 X 200 ml) of DHC Deep Cleansing Oil for 4000 yen, making each bottle about S$25 or USD19. Once again, this is almost 40% off the retail price in Singapore. You can view the latest price on Amazon, Ebay and on DHC's website.
DHC vs Shu Uemura
Using Japan's pricing as a general gauge, DHC beats Shu Uemura in terms of pricing. DHC deep cleansing oil is 40% cheaper when the quantity is equalized (450ml of Shu Uemura cleansing oil costs 7200 yen while 400ml of DHC costs 4000 yen).
However, to be fair, they never really belong to the same spectrum in the first place. DHC can be found in drug-stores while Shu Uemura is mainly sold through premium counters or outlets that offer personalized service. 
2. Makeup-Removing Ability
Both work equally well! I've conducted various experiments, testing both oils with the most stubborn makeup products that I own. Both DHC and Shu Uemura can remove makeup effectively and speedily when used in the right way.
If I have to force an answer out of which cleans better, the experiment below may provide some clues:
Experiment Design
Since my previous experiments did not generate any conclusive answers as to which oil cleans better, I redesigned my experiment such that minimal force/swipes were used to massage off the makeup.
I drew two heart shapes using a smudge-proof eyeliner. The left heart is meant for the testing of DHC Cleansing Oil while the one on the right is reserved for Shu Uemura.
I patted some oil onto the hearts (making sure that the action is gently done as normal swiping would remove the makeup quite easily).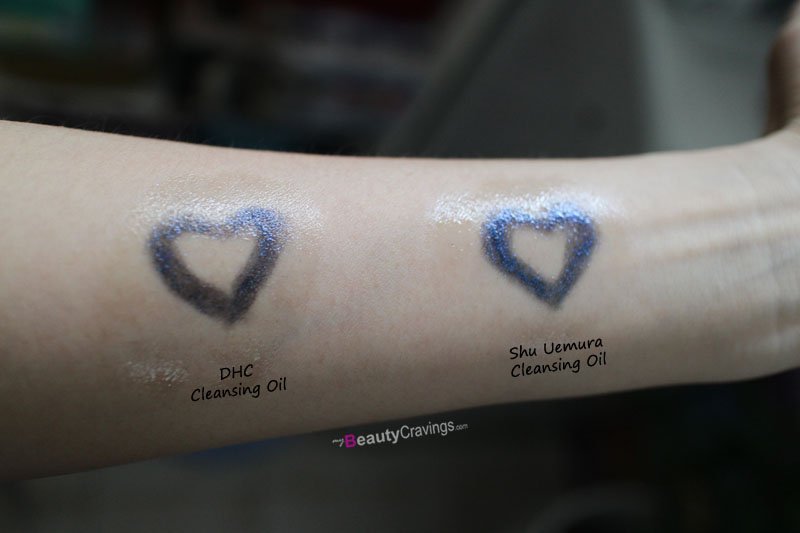 Then, I gently placed cotton pads that were soaked in water onto each drawing.
After one minute, I gently lifted the cotton pad. I only see makeup traces on the right cotton pad (Shu Uemura). The subsequent tests include giving each a single swipe, and then a second swipe. Refer to the photos below.
The photos above are quite telling and gave consistent results. Shu Uemura seems to be the winner in this category. The heart on the right (Shu Uemura) was fainter in appearance as compared with the other heart.
Conclusion
The experiment above shows that Shu Uemura may be more effective in removing makeup.
However, as mentioned above, both products work equally well when applied using the recommended approach. Let's do another test with DHC to see how effective it is in removing makeup if done the right way.
A new heart is drawn on the hand. DHC deep cleansing oil is applied and massaged through. Then water is added to emulsify the oil. After a wash, the makeup is 100% gone.
3. Moisture Balancing Ability
Since I have combination skin, and my face can get oily by mid-day, I couldn't quite tell any difference between DHC and Shu Uemura cleansing oil. It was only when my mom complained about the drying effect of the DHC Deep Cleansing Oil, that I realized that DHC may not be suitable for those with dry or mature skin. 
More about my mom. She is in her 60s, and hence her skin is naturally drier. She had been using the DHC Cleansing Oil for about a month before she figured out that her flaky face was due to the makeup remover. For the first time in my life, I actually saw her face and lips flaking. I've since asked her to stop using DHC Cleansing oil and to switch to Shu Uemura instead. 
4. Packaging
DHC Deep Cleansing Oil comes in a simple packaging, and the oil is well, your typical 'cooking oil' color. The bottle looks like something I'll find in a clinic.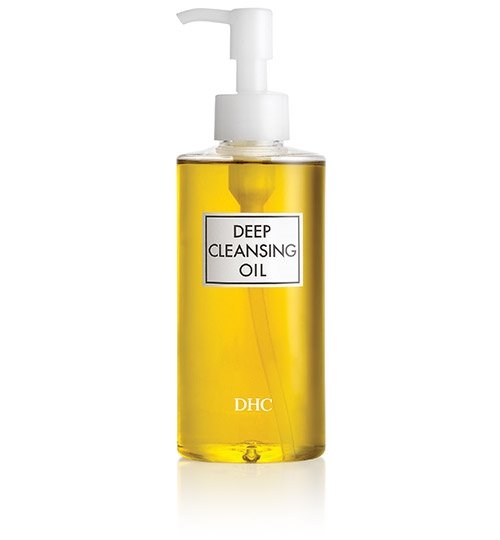 In my Japan trip, I bought a limited edition which has cute 'Alice in Wonderland' cartoons printed on the bottle. This is a good effort by DHC to beautify the packaging. However, the kiddish cartoon designs seem to deflate the value of the product, making it seem like a product meant for kids. I'm guessing that DHC wants to appeal to a younger audience.
On the other hand, Shu Uemura comes in more classy packaging. Its' oil is available in different vibrant colors such as yellow, green, pink and blue. It also collaborates frequently with artists and designers to come up with designs that gravitate towards a style of elegance and artistic than cartoonish.  
5. Double Cleansing
Unlike Shu Uemura which marketed its oil as being a one-step cleanser (no need for 2nd step soap cleansing), I couldn't find any declaration or indication from DHC's website that its oil performs the same. On the contrary, its website pairs DHC Cleansing Oil with a mild bar soap and claims that the use of both products can lead to cleaner and smoother skin.
What does this tell us? Perhaps, it's safer to do double cleansing with DHC Deep Cleansing oil.
6. Does it Sting?
Both DHC and Shu Uemura cleansing oils are stinging to the eyes, although I'm hardly stung by it since I don't use it on the eye areas. My experience tells me that specialized eye makeup remover, such as Bi Facil works better in removing stubborn eye makeup. 
Related: Review of Clinique Take the Day Off Eye Makeup Remover
---
Final Recommendation
When used in the right way, both products remove makeup equally well. DHC Deep Cleansing Oil wins in terms of pricing, while Shu Uemura provides better moisture balance, comes in prettier packaging and does not require double cleansing. Shu Uemura also comes in different formula to suit different skin types. I've included both in my Japan Must-Buy List. Rating: 4.5/5.
All in all, I'll recommend DHC cleansing oil if:
1) You do not have dry or mature skin
2) You are indifferent to product packaging
3) You do not mind double-cleansing
4) You are new to the concept of 'cleansing oil' and want to give it a try before splurging on Shu Uemura, the leading cleansing oil in the market.
View latest price on: Amazon | Ebay | DHC website
---
Do you enjoy such honest reviews? If you like to get notified of my new posts, just click the button below to subscribe. I'll even give you some free and exclusive stuff. See you there!
This post may contain affiliate links, meaning I earn a commission if you make a purchase, at no cost to you. Read my full disclosure for more info.
(Visited 28,811 time, 1 visit today)