I'm so glad that I've discovered Makeup Artist's Choice (MUAC) products a year ago. Since my first purchase, I have been their loyal fan. Most of their products have worked exceptionally well in helping me combat aging and the pricing has been really reasonable. But, when it came to trying out MUAC BellEvolve Liquid Mineral Skin Therapy Foundation, I hesitated a bit. 
First of all, this was my first time trying a makeup item from MUAC. All previous purchases were skincare products, such as at-home peels (which by the way worked really well).
Secondly, although there were numerous positive online reviews of MUAC BellEvolve Foundation, I noted that many came from those of a more mature age (>50 years old) than mine. So I was wondering if this would turned out to be too hydrating or greasy on my 38 year-old skin. Lastly, some not-so-positive reviews mentioned about developing breakouts or blackheads. OMG, if you do not already know, I am super-prone to pimples.
Still, I gave in to the temptation and decided to "just do it" and ordered MUAC BellEvolve Liquid Mineral Skin Therapy Foundation in colour "Fair 2".
---
First Impression of MUAC BellEvolve Liquid Foundation
The silver 30ml pump bottle looked sturdy and elegant. It was different from the no-frill MUAC bottles that I was used to. I guess that's because "BellEvolve" belongs to the luxury line of MUAC products.
A great first impression, right? Not really. Looking at the colour of "Fair 2" now that it's in front of me, I thought "Oh no! It's gonna be too dark on me!"
The colour appeared much darker (or too pinkish) than what I was used to.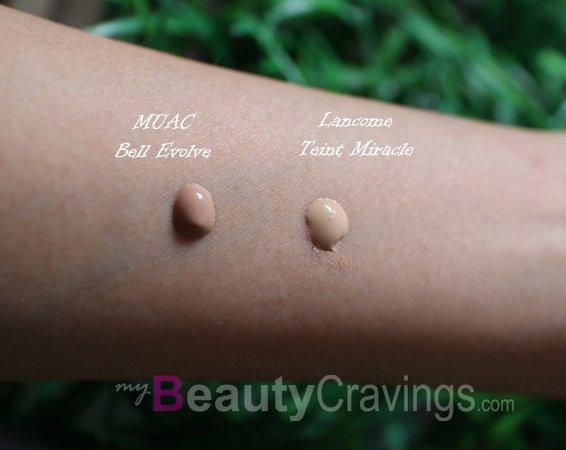 For your info, I'm a Mac NC20/ Innisfree 21 / Lancome P0-03. From the swatch above, it doesn't take a fool to tell that the colour I chose was off.
Within 15 minutes of receiving the package, I rushed to my dresser to try it out fearing that I might have to throw it away. 
Surprisingly, the colour matched me rather well after blending. It was amazing how such an 'off' colour actually blended in so nicely. Phew!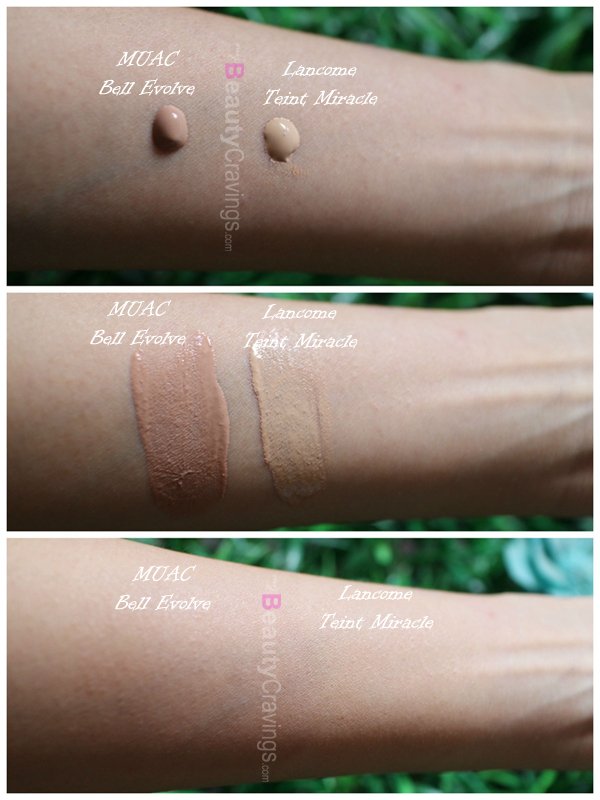 Notice that once the foundation is blended through, it actually took over a tone that's closer to the skin tone. Here's another photo under a different lighting.
---
What's Good about MUAC BellEvolve Liquid Foundation?
1. What a Lovely Glow!
I've always been wary of products that promises radiance. Many of them ended up magnifying my already-enlarged pores.
> MUST-READ: Why Lancome Teint Miracle Loose Powder Failed to Impress
In any case, I didn't know MUAC BellEvolve Liquid Foundation was supposed to give me a radiant look. It wasn't explicitly spelt out on the website…err….wait…maybe it was, but was not emphasized upon very strongly.
Upon wearing it, I love the healthy, natural glow it gave. Definitely, more radiant than Lancome Teint Miracle. When compared to Innisfree Water Glow Cushion, this is a more natural glow, less shiny (oily) looking. So it's the perfect glow for me. And no, it didn't magnify my pores. Hooray!
2. Looking Au Naturale 
I have always preferred my foundation to be sheer and natural-looking. MUAC BellEvolve Liquid Foundation falls under this range. The texture is so sheer people may not be able to tell that you have makeup on, although they may secretly be jealous of your evenly-toned skin.
For reference, MUAC BellEvolve is sheerer than Lancome Teint Miracle Foundation, but thicker in coverage as compared to Innisfree Water Glow Cushion.
3. Blur Pores
Despite being lightweight and "glowy" in coverage, MUAC BellEvolve Liquid Mineral Skin Therapy Foundation was able to blur my pores effectively.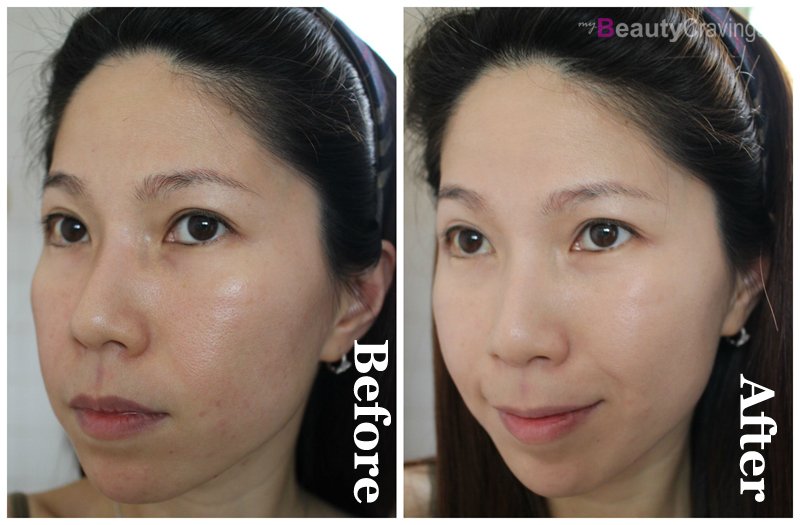 4. Doesn't accentuate fine lines
Now we know why many of the online reviews on their website were made by people who were aged over 50. That's because MUAC Liquid Foundation doesn't emphasize fine lines. As many have said, this foundation melts into your skin or lines.
5. No Pimples
This product has been described on its website as being non-comedogenic.
It's true! I've not had a single pimple after testing this for a couple of weeks.
6. It's Cheap!
A 30ml bottle of quality foundation cost less than USD20. This may be even cheaper than some mass-market brands out there in the market.
7. Anti-aging Foundation
This foundation is 86% organic and advertised as an anti-aging foundation. 
"…contains high concentration of ceramides which keep the skin moist, more elastic, and resistant to aging. .. anti-inflammatory, anti-microbial properties."
I'm not able to tell you if my skin has stopped aging since I've only been using this for a month. But I am certainly delighted that this foundation carries such promise. Most foundations don't. They just say that it's suitable for mature skin.
8. Great for Younger Skin too
Remember my fear that this would be too greasy for me, since most online reviews were from people over 50 years old? Well, rest assured that this is really meant for all skin types as advertised. It sat really well on my skin the entire day, with no sign of it melting off, even under humid weather condition.
I didn't even need to set the foundation with face powder, because there wasn't much stickiness or oiliness after application.
---
What's Bad?
1. Choosing Colour over the Internet
Thankfully, the colour I've chosen blended in pretty well on my skin, although it did give me a scare initially. Still, at the back of my mind, I was wondering if there would be an even more perfect colour for me. Don't get me wrong, this colour actually matched me quite well already. People probably won't even know I have makeup on. I'm just a curious cat who yearns for perfection.  
The cat will find out "the truth" when she replenishes the foundation, probably getting the sample pack in "Fair" or "Light Beige". If you have the same concern on not getting the right shade through online purchase, try getting the sample size first. It costs only USD2.25.
2. Too Sheer for Some…
This foundation is quite diluted. For those who have a lot of red pimple marks or pigmentation, MUAC Liquid Foundation may not be the right foundation for you. Yes, it's great in blurring pores. But I can't say the same about its effectiveness in hiding intense redness or dark spots. 
3. If your skin is severely dry…
Remember I'd said that this foundation is not greasy and sticky and does not even need a powder to set? Those with dry to normal skin should take to this foundation really well. But those with severely dry skin may find BellEvolve foundation not hydrating enough.
There's actually an easy solution. MUAC's website said you can add argan oil to the foundation for added moisture, that is, if you need it.  
---
Recommendation
If you yearn for a natural and radiant look and do not have obvious marks to hide, MUAC BellEvolve Foundation is worth a try. It's non-comedogenic and costs only half the price as compared to product of similar quality.
And don't forget that it is an anti-aging foundation that's suitable even if you are not that old. But forget it if you yearn for a good coverage and flawless complexion. Overall Rating: 4/5
UPDATE (June 2020): This product seems to have been discontinued.
To find out the latest price of highly-recommended MUAC products on Amazon, click HERE. 
---
Love more of such honest reviews? If you like to get notified of my new posts, you can click the button below to subscribe, or connect with me through facebook or instagram. See you there!
SUBSCRIBE
(This post was first published in Sep 2015)
This post may contain affiliate links, meaning I earn a commission if you make a purchase, at no cost to you. Read my full disclosure for more info.
(Visited 1,016 time, 2 visit today)