Thanks to my sis and her overseas haul, I got hold of The Ordinary Marula Oil. This antioxidant-rich oil is described simply as a "daily support formula for hair and skin".
Are you having dry and damaged hair? If yes, read on as The Ordinary 100% Cold-Pressed Virgin Marula Oil may help restore your crowning glory.
---
Tell Me More about The Ordinary
The Ordinary is a brand from the Canada that became a hit quite quickly despite its young age (since 2016). This may be due to its emphasis on "clinical formulations with integrity" and its' affordable pricing.
Most of the products carried by The Ordinary focus on skincare, with some of more popular ones being The Ordinary Hyaluronic Acid, The Ordinary Niacinamide, The Ordinary Buffet and The Ordinary Peeling Solution.
You may also like to know that all products under this brand are free of undesirable ingredients such as parabens, sulphates, mineral oil, formaldehyde and oxybenzone.
What does The Ordinary Marula Oil do?  
The Ordinary Marula Oil is said to offer hydration and radiance when used on the skin. On the hair, it promises to "support healthy hair" and tame frizz.
I like the convenience of having one product for two uses. In fact, this is the first time I could remember applying a hair oil on a daily basis. All I needed to do was to extend the usage to my hair after face application.
In terms of ingredient, this facial oil only contains one thing, i.e. Sclerocarya Bierrea Seed Oil. Yep, that's it. That's why it's described as a 100% virgin cold-pressed marula oil.
How do you use The Ordinary Marula Oil? 
For skin application, apply a few drops to the entire face once daily or as needed. On the hair, you should apply it to damp and clean hair daily when needed.
I've since used The Ordinary Marula Oil for a few months on both my face and hair, and am ready to share the results with you.
---
What's Good about The Ordinary Marula Oil?
1. No Pimples
Many people are fearful of using facial oil because they believe that oil can clog pores. After using The Ordinary Marula Oil for a while, I'm about 85% confident that this is safe on my pimple-prone skin.
Why only 85% certain? I didn't get any pimples from using this thick oil in the first trial. When I resumed using it in recent weeks, I experienced a few pimples, but that could be due to other new products that I've switched to – I'm still trying to find the culprit. :)
2. Face Feels Soft & Moisturized
After applying three drops of The Ordinary Marula Oil on my face, my skin feels soft and moisturized, like it has been guarded by a nourishing veil.
3. Healthier-Looking Hair
I love The Ordinary Marula Oil when it's used on my hair. Not only does my dry and damaged hair regain a healthy shine, the oil also kept my old curls in better shape. They were more defined.
I could brush my fingers through my hair without experiencing any tangles and the hair isn't as frizzy as before. On top of that, my color highlights stood out better and I think it's because my hair was able to reflect light when layered with the marula oil.
INFO: My hair is dry because it went through two chemical jobs within a span of 6 months ~ perm & hair coloring.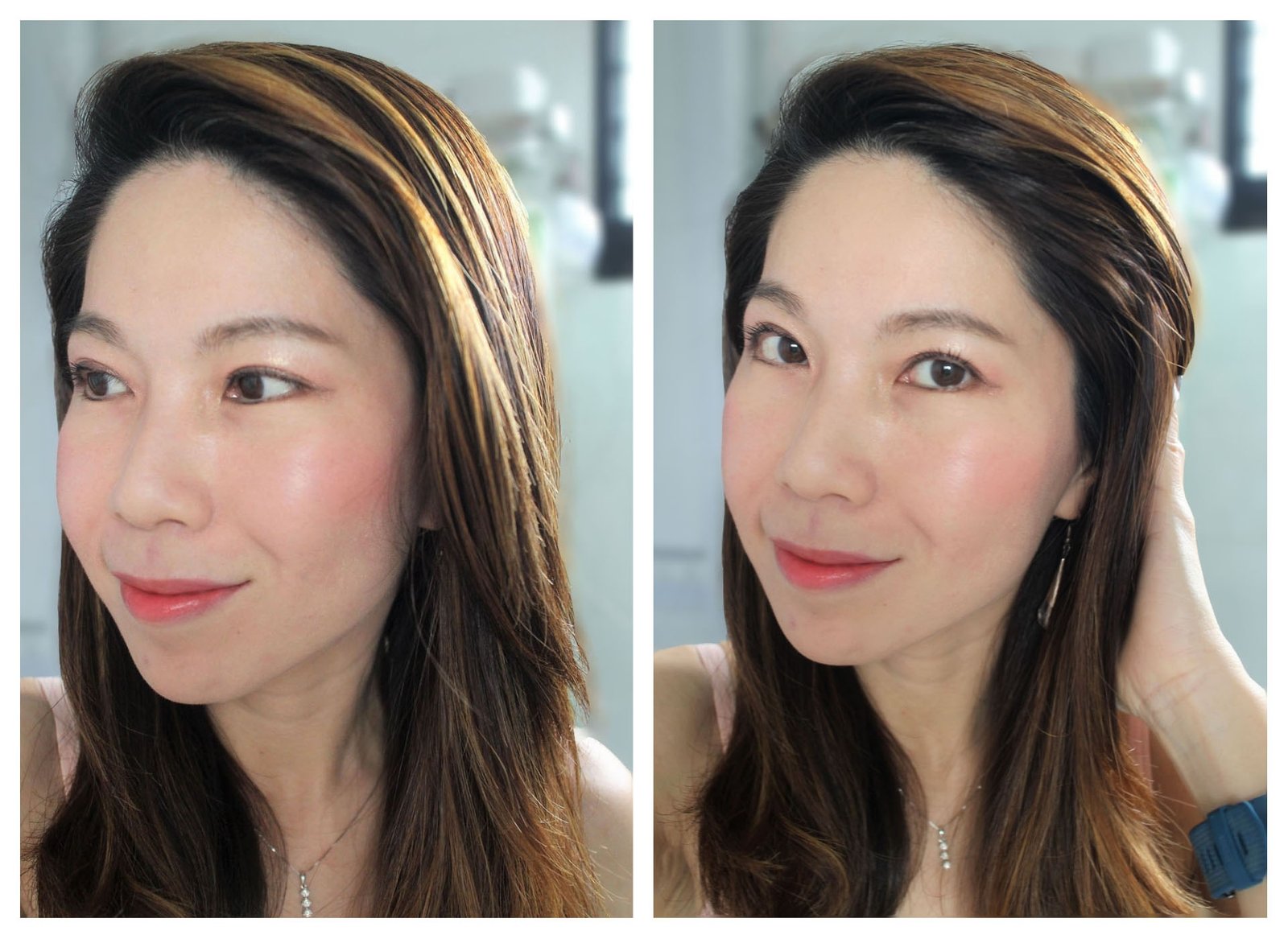 4. Non-Greasy Hair 
I guess most people were wondering if the hair would appear oily just like what this hair oil did.
Well, good news, folks! I'm impressed by The Ordinary Marula Oil because my hair was able to regain a healthy sheen without any hint of greasiness. Nobody would be able to tell that I had oil on my hair.
How to apply The Ordinary Marula Oil?
I work about 6 drops of Marula Oil on damp hair and let it dry naturally.
5. Affordably-Priced Facial Oil 
The Ordinary is known for its very economical pricing. This 100% virgin marula oil costs about $15 (See current price on Amazon).
---
What's Not Great?
1. Slight Tugging During Application
The Ordinary Marula Oil spreads less easily than what I thought an oil would. There's slight tugging involved and I was forced to adopt a multi-dot system to get the product onto the entire face. Can I call this a friction oil? :)
2. Greasy Afterfeel (On Face)
Many said that this facial oil absorbs fast and doesn't feel greasy. My experience was quite the opposite.
The thick oil feels so greasy on my face that I could only use it at night. The greasiness lasts for…well…until the next face wash? Maybe staying in a humid country leads to such a different experience?
3. No Visible Improvement to Dehydrated Skin 
With the marula oil being so thick and slow to absorb, I was expecting it to work well on my flaky and dehydrated skin. Sad to say, my skin hydration level did not improve by much. I also didn't notice any boosted radiance as promised by the brand.
---
Recommendations
I like it that The Ordinary Marula Oil is safe to use on my pimple-prone skin. However, it does feel a little too greasy on the face, which I would have been okay if the oil could cure my dehydrated skin. Sadly, it couldn't.
Even though I didn't love it as a facial oil, I found The Ordinary Marula Oil to be a perfect oil for my dry and damaged hair. It nourishes my hair and helped it regain a healthy sheen without creating an oily appearance. The curls also looked more defined. Hence, this is high on my to-buy list as an anti-frizz hair product. 4.5/5 (for hair use)
---
To find out the latest price on Amazon, click HERE. 
---
That's all for today's review. Hope you've found it useful. If you love more of such honest review, feel free to connect by clicking the button below. You'll also get access to all my exclusive contents. Chat soon!
This post may contain affiliate links, meaning I earn a commission if you make a purchase, at no cost to you. Read my full disclosure for more info.
Pin This!
(Visited 1,032 time, 1 visit today)