I recently visited River Wonders Singapore and had a great time. The experience was so-so initially, but kept getting better as I ventured further into the park. This attraction, next to the zoo, and previously known as River Safari has an interesting theme – which is…yes, you know it…about "The River". 
And in case you wonder, it's not about Singapore's river, but rather river in general, such as Amazon River, Yantze River and Congo River.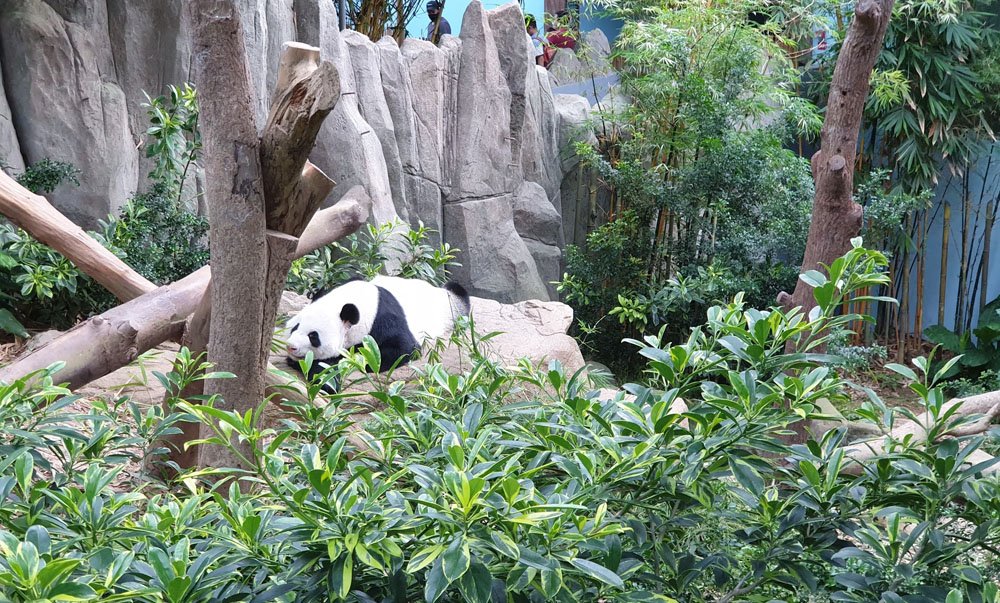 Best of all, you'll also catch a glimpse of pandas at rather close proximity. It was one of the better panda experience I've had as compared to other zoos I've been to.
What has panda got to do with river? Well, I'm not exactly sure. But who cares! 
If you visit River Wonders now, you can even see a baby panda that was proudly born in Singapore in Aug 2021. Without any further ado, let me run through with you chronologically on my pleasant afternoon visit to River Wonders.
---
Let's Start the Tour at River Wonders Singapore!
1. Aquarium First & Lots of Fishes!
Stepping into the park didn't excite me immediately because I'm not a fan of aquariums or fishes. River fishes also didn't seem as attractive as the colourful fishes I've seen in the popular Okinawa Aquarium. 
> RELATED: Don't miss Okinawa Churaumi Aquarium & Ocean Expo Park
The aquarium with its reflective glass wall didn't product great photos. I could see light reflections in many of the photos, such as the one below. Thankfully, the overall experience would improve, rather tremendously – read on!
2. Prettier Aquarium – Blue Water & Bigger Fishes
As I moved deeper into the park, I see bigger fishes and bluer aquarium water. It is definitely more interesting and worth a few photos, but still not exciting enough as most fishes are dull in colours.
Not to worry though as an exciting experience was imminent.
Did you know? River Wonders offer child-friendly wagon. Up to 2 children (max 35kg) can sit on it and get pulled along. I think children would enjoy the experience more so than being on a stroller. However, it comes at an $18 price tag.
3. Water View (Upper Seletar Reservoir)
To ensure we do not miss out the Amazon River Quest, we bypassed the Panda Forest, crossed a scenic bridge overseeing Upper Seletar Reservoir and reached the queue that would bring us for an adventure fun enough for adults, and safe enough for kids (see #4).
4. Amazon River Quest was fun and worth every penny!
The Amazon River Quest requires add-on ticket, which you can only purchase online (see link). At $5 per adult ($3 per child), we thought it was a no-brainer to top up for the mini adventure.
Now, the only con about this ride is the super long queue that took us 25 minutes to clear on a Saturday afternoon (around 4pm). Luckily, we'd decided to bypass everything to do this first, so there was no stress in us missing the ride.
For info, the ride ends earlier than park operating hours, at 6pm.
Let the Amazon Cruise begin!
Due to safe distancing, each "boat' could only sit up to 6 pax – we were allocated the back row.
When the journey began, the boat was lifted vertically to higher ground before letting the force of gravity guide it downstream, with splashes and all (but we didn't get wet – maybe because we were in back row). 
Love how the boat exposed us to animals while meandering through the "river".  Therefore, the river ride turned into a mini zoo experience for us!
Here are some animals we saw during the short 7-8 minutes ride along "Amazon River".
5. Let's visit the Pandas 
After completing the river cruise, we backtracked to the Panda Forests. That must be the best decision of the day to skip this attraction earlier, as the queue nearing closing hour at 5.15pm was almost negligible. This was a big contrast as compared to the long queue we saw earlier. 
Red Panda 
If you are luckier than us, you may be able to catch the red panda. My partner kept telling me how much he'd wanted to see them as they are known to stand adorably on their hind legs.
Sample photo below that I googled for your reference.
Unfortunately, the red panda at River Wonders were busy with pre-breeding preparation. Hopefully, we get baby red pandas soon?
Giant Panda
We'd visited the park in early Dec 2021, before baby panda joined the public exhibit. During then, only daddy Kai Kai was viewable as mommy and baby were still nursing, I supposed. 
Among the panda enclosures I've been to, I thought this one, at River Wonders Singapore, offered the best panda experience. The enclosure was well landscaped and the panda was rather close in proximity. 
The panda also looked clean and well-groomed. Furthermore, the place was air-conditioned and yet still looked like it's a part of nature. 
>> RELATED: Spending a day at Taipei Zoo and Shenkeng Old Street
It was interesting to read about parent panda, Jia Jia and Kai Kai's character. You can also take photo with a sculpture of Mommy and Baby Panda.
6. Close contact with Monkeys
Crossing the bridge once more, we continued our journey and entered the Monkey Forest. I didn't expect to get a chance to interact so closely with animals – or pretty monkeys.
A few hyperactive squirrel monkeys jumped or ran quickly across twigs bridge above our head. We also saw a couple of rodent-like animal (Azara's Agouti) crossing our path. Read that they are the only animal that is capable of opening a brazil nut without a nut cracker.
Glad to see this South-American species here in Singapore.
As if the experience wasn't great enough, a big white-faced Saki Monkey with long bushy tail – totally oblivious to our presence – stood by the walkway and was busy eating.
What a great experience thus far. Would there be more to come? 
7. See Otter swimming above your head
Soon, we walked through a water tunnel with otter swimming over the translucent tunnel ceiling. Here's what we saw when we raised our head.
That's a cool experience! Now you know why I said this River Wonders in Singapore offers varied experience to tickle our senses. What's next?
8. The finale reminded me of Okinawa leh!
River Wonders Singapore didn't disappoint. The finale, in the form of a big water tank, reminded me of Okinawa's Chuarumi Aquarium. Not to say that it's as good since there wasn't any giant whale shark to see, but it was a good surprise. 
Sitting on the row of seats and watching chubby manatees swimming with the other fishes was a relaxing experience. It was also a good spot to rest the foot after a long walk.
And this pretty much sums up my interesting afternoon at River Wonders Singapore.  All in all, we spent about 2.5 hours there.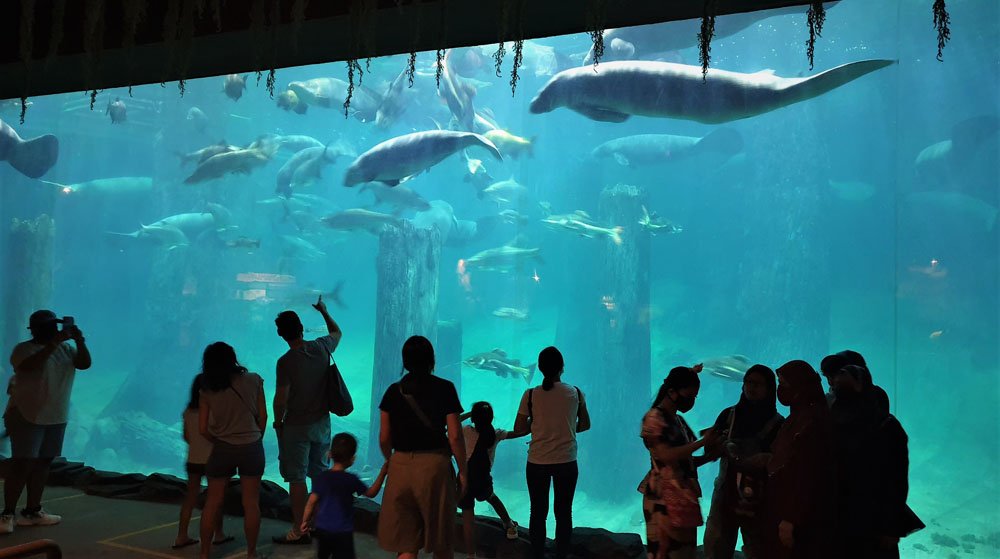 ---
Key Park Info: River Wonders Singapore
Interested to visit River Wonders Singapore? Let me share some essential information that can help you plan your trip. 
1. How to get to River Wonders, Singapore?
River Wonders Singapore is located in northern Singapore, at 80 Mandai Lake Road – see map location. It's not easy to get there via public transport since it isn't connected to any MRT. 
The easiest method could be by Mandai Khatib Shuttle that operates daily between Khatib and Singapore Zoo. For tourists, do make sure you have an EZ-link card as cash is not accepted.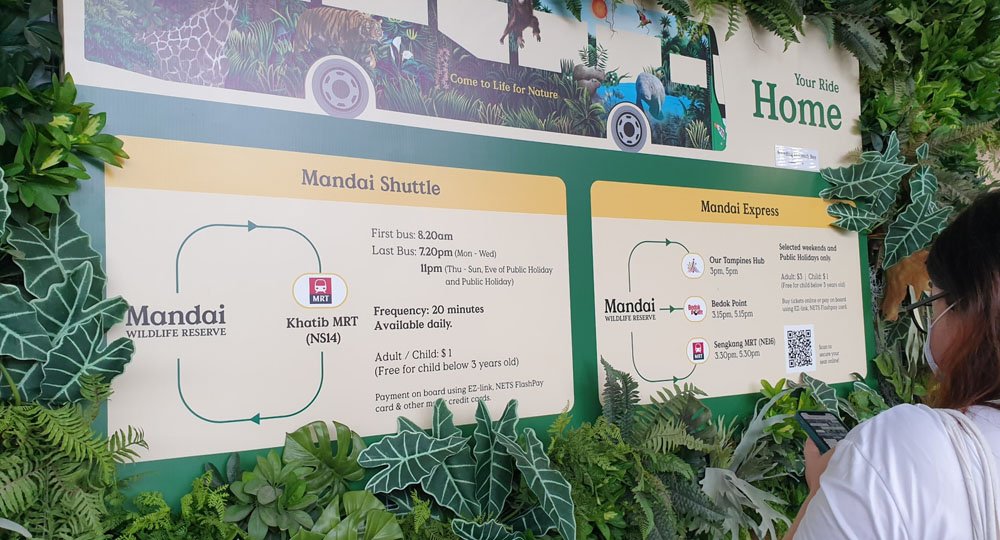 TIPS: Other ways to get to the zoo are shown on this official website. 
2. Map
Once you've reached River Wonders, navigating within the park is easy as the path is uni-directional. You don't have to spend time figuring which way to go.
Referring to the map below, you'll start your journey from the bottom central portion of the map, and take the path towards the left and come back from the right.
3. Opening Hours
River Wonders is opened from 10am to 7pm as at time of writing. But do note that some segments, such as the Amazon River Quest and Giant Pandan Forest, may have different operating hours.
You can refer to the official operating hours here. 
4. Admission Ticket Prices
How much does it cost to enter River Wonders? Here's the price as at time of writing, but do always refer to latest price on its official website.
TIP! You can get admission ticket at cheaper price here, as at time of writing. 
---
And that's all I have for you today. Hope this gives you an idea of where to go in Singapore this weekend. :) If you want to read more of such posts, click the button below to subscribe. See ya!
This post may contain affiliate links, meaning I earn a commission if you make a purchase, at no cost to you. Read my full disclosure for more info.
SUBSCRIBE
(Visited 314 time, 2 visit today)